In Hawaii, Some Lahaina Families Are Torn Between Distance Learning And Schools
The state's distance learning program faced overwhelming demand in August. What will happen now that students can go back to schools in Lahaina?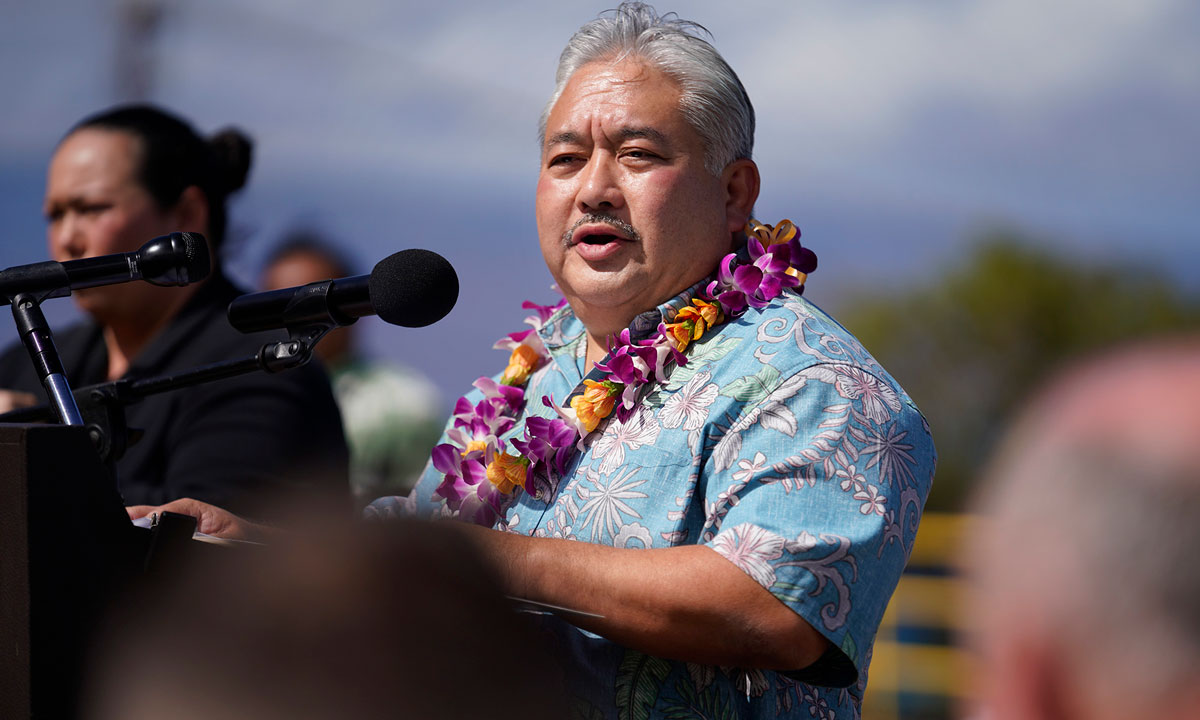 Support The 74's year-end campaign. Make a tax-exempt donation now.
With Lahaina schools set to reopen in about two weeks, Stefanie Hegrenes said her two youngest children are ready for a semblance of normalcy and eager to return to their friends and extracurricular activities on campus.
But she's not sure she's ready to pull them out of the distance learning program they began attending along with hundreds of other children after the deadly Aug. 8 fire that left much of their town in ruins. One school — King Kamehameha III Elementary — was destroyed beyond repair, while the other three temporarily closed for repair and cleanup efforts.
In the coming days, Hegrenes hopes to see for herself if the three Lahaina schools set to reopen over three days beginning Oct. 16 have clean air and safe water. State education and health officials have repeatedly assured the public that extensive air, drinking water and soil quality testing at the schools detected no dangers.
"As a parent, I just want to make absolutely sure that my kids are going back to a safe environment," Hegrenes said.
As concerns about schools' reopening abound, Lahaina families continue to seek alternatives even as the DOE scales back its distance learning options. A waitlist for the DOE's West Maui distance learning hub, which provides in-person support for children taking online classes, suggests that demand remains high.
Distance Learning Hub To Close But Program Continues
The DOE plans to close the hub on Thursday, although the state distance learning program will remain open for families. The department is assessing families' future plans before making staffing decisions, said Teri Ushijima, assistant superintendent for the DOE's office of curriculum and instructional design.
Demand for distance learning spiked in late August and early September, with the DOE's program increasing by approximately 500 Maui students as some parents sought alternatives to enrolling their children in schools elsewhere on the island that took in many of the displaced students. For comparison, the distance learning program currently enrolls 192 students elsewhere in the state, Ushijima said.
Many displaced families went from emergency shelters to federally funded hotel rooms and had lost their cars, making distance learning an attractive option. The state DOE also provided Chromebooks to students in the distance learning program and hotspots to families with connectivity issues.
The state's learning hub at Citizen Church has served more than 350 additional Maui students, who are counted separately from those completing their classes entirely online, according to DOE spokeswoman Nanea Kalani.
At the peak of families' interest in distance learning, students enrolling in the program had to wait for three to four weeks to start their programs as the DOE ordered 400 more Chromebooks and assigned Lahaina educators to online classes, Ushijima said.
Hegrenes signed her two youngest children — a sixth and an eighth grader — up for the program at the end of August, but they ended up on a waitlist. With no indication how long they would have to wait, Hegrenes bought every homeschooling book she could find and set her children to completing activities via the Kumon program.
She added that, during those two weeks of uncertainty, she briefly thought about moving her family to her home state of Minnesota, where the school year wouldn't start until early September.
Although the online application for Maui families to enroll in distance learning states that the program still has a waitlist, Ushijima said this information is incorrect. The department no longer has a waitlist, although it takes around five days for students to receive their Chromebooks and start their remote classes, Ushijima added.
The distance learning hub in West Maui, however, currently has 58 students on its waitlist, Kalani said.
Mindi Cherry is one of 18 Lahaina teachers temporarily reassigned to the state's distance learning program.
Cherry, who had been a first-grade teacher at King Kamehameha III Elementary, currently co-teaches an online kindergarten class consisting of four Lahaina students. Her daughter, a seventh grader originally enrolled at Lahaina Intermediate, also takes online classes as part of the DOE's distance learning program.
As both a parent and teacher, Cherry said she understands the benefits of distance learning, adding that the flexibility of online classes provided her daughter with stability and allowed her students to remain with their families during the day. But she and her daughter both plan on returning to their respective Lahaina campuses in October.
'I'm On A Waitlist Here, I'm On A Waitlist There'
Families have other options. When Rita McClintock heard about the DOE's waitlist, she enrolled her daughter in Hawaii Technology Academy, a charter school offering hybrid and distance learning options to students across the state. Within a month of the fires, HTA opened a new campus in Lahaina, enrolling over 115 students in kindergarten to eighth grade who attend classes at the school two to three times a week.
Once again, families' demand exceeded available space: interim executive director Matt Zitello said HTA's waitlist quickly filled to 300 students, forcing the school to close its applications in early September. Some of the families at the Lahaina campus sought out HTA after unsuccessful efforts to enter the DOE's distance learning program, Zitello said.
"A few families had said, 'Oh, I'm on a waitlist here, I'm on a waitlist there,'" Zitello said. "They're dismayed by the fact that they didn't get into us."
Smaller-scale efforts also emerged to meet families' educational needs after the fires. McClintock runs a learning group for Lahaina families, relying on community volunteers and donations to teach approximately 20 kindergarten to sixth grade students for four hours a day. McClintock said half of her families came to her learning group when they were unable to transport their children to and from the West Maui learning hub, which provides instruction in two-and-a-half hour blocks.
While McClintock plans on ending her learning group once Lahaina schools reopen, HTA has no intention of closing down its Lahaina campus. Instead, the school plans to hire more staff and relocate to a permanent location pending final approval from the State Public Charter School Commission, Zitello said.
He added that, despite the DOE's announcement to reopen Lahaina schools, he has not heard of many families who plan on leaving HTA.
McClintock plans to keep her daughter enrolled since she appreciates the school's stability and challenging curriculum.
"She's in the program that's right for her," McClintock said.
Civil Beat's education reporting is supported by a grant from Chamberlin Family Philanthropy.
Civil Beat's coverage of Maui County is supported in part by grants from the Nuestro Futuro Foundation.
This story was originally published in Civil Beat.
Support The 74's year-end campaign. Make a tax-exempt donation now.