Rotherham: Kick Out School Resource Officers? Sure. But Counselors Must Be Brought In to Take Their Place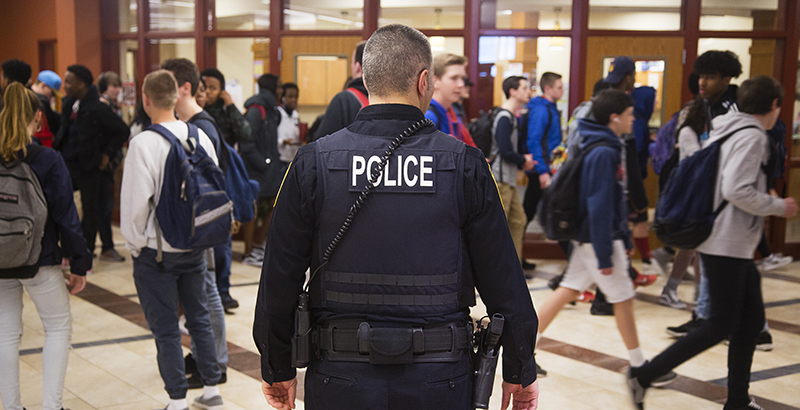 The killing of George Floyd is rightfully sparking a hard and overdue look at the American relationship with law enforcement, in particular, about race and policing. In the education world, that means the role of police in schools — especially school resource officers, or SROs — is again under scrutiny.
When schools in Minneapolis announced plans last week to end their relationship with the police department there, the move impelled school systems around the country to quickly follow suit. In some cities, such as Chicago and New York, mayors have sought to change the police-school relationship over the past several years. In other large school systems, districts maintain their own police forces. Los Angeles's made news a few years ago when it was pressured to return military weaponry from a controversial federal program.
In this important national moment, it's easy to see how ending these relationships is a way school officials can signal solidarity. Yet there is more to it: Doing so can have educational benefits for students.
There is evidence that police in schools work at cross-purposes with educational goals. This is particularly true for black students, who are arrested at school at a far higher rate than members of any other racial or ethnic group. For African-American boys, some research indicates that their higher exposure to policing in general significantly lowers their test scores.
This isn't because all cops are bad news, racist or prone to violence (though the past two weeks have been a national iPhone-fueled tutorial on why a broad swath of Americans are concerned about police conduct). This is worth keeping in mind in the school context, because along with horror stories about SROs and police in schools, there are plenty of accounts of young people who got the mentorship and attention they needed thanks to SROs, who often do more than what we think of as policing. And sure, some SROs are castoffs from their departments, but others are popular and effective figures with students.
That's why any conversation about getting rid of SROs in schools must go hand in hand with a discussion about more guidance counselors and mental health supports for students. Cops in schools are emblematic of an approach to social policy that too often criminalizes rather than prevents. There is a long-standing counselor shortage in many communities — disproportionately impacting students who most need good schools to launch them in life. Among other roles, guidance counselors and school psychologists can address minor behavioral issues before they become major ones, provide additional support and help older students with postsecondary planning.
Having more counselors also means more deep adult-student relationships in schools, which helps ensure that students get attention according to their individual circumstances rather than clumsy initiatives based on broad assumptions, or nothing at all.
Black students (and first-generation college students) are more likely than other students to identify counselors as having played a pivotal role for them, but, perversely, as with many things in education, these students are less likely to attend schools with an adequate number of counselors. "Hire more counselors" may not have the same ring to it as "toss the cops," but the equity implications and potential to change lives are obvious, and counselors are themselves a security strategy — a more positive one than arming school personnel.
For one thing, while counselors are not security guards, they can help with the work of changing the in-school culture that should be the cornerstone of any security approach. Bringing in counselors as police move out can minimize the risk that school districts will simply turn instead to education's bustling private security business.
Counselors can help implement effective and equitable approaches to student discipline and head off the chaos — or worse — that can result from poorly planned or supported discipline transitions. If your go-to discipline move is to call the police on young children, then focusing on whether the cops are school-based or a phone call away misses the broader problem: the absence of quality discipline strategies and a mindset that treats kids as if they were criminals.
Finally, if you are outraged to hear the United States secretary of defense describe American streets as a "battle space," you should maybe be equally appalled to hear people in and around education casually discuss "hardening the target" in conversations about schools. A misperception about the prevalence of school shootings has fueled a counterproductive focus on physical security and cops in school and a rise in armed guards of one kind or other. Given that 4 out of 5 school shooters telegraph their intentions in advance, we might ask if there, too, guidance counselors are a better path.
None of this is to say we don't need police in and around schools at times. That's an unfortunate fact of life, from kids getting hit by cars because drivers have their faces in their phones to acts in schools that legitimately rise to the level of criminality and occasional, more serious, threats. But as with our relationship with laws and law enforcement more generally, we should ask hard questions about whether that presence is too regular, too prevalent and too aggressive.
And while we're asking questions, we might ask why we don't have a lot more guidance counselors, given pretty clear evidence of how they can help students.
Andrew J. Rotherham is a co-founder and partner at Bellwether Education, a national nonprofit organization working to support educational innovation and improve educational outcomes for low-income students, and serves on The 74's board of directors. In addition, among other professional work, he is a contributing editor at U.S. News & World Report, writes the blog Eduwonk.com, teaches at The University of Virginia and is a senior advisor at Whiteboard Advisors.
Support The 74's year-end campaign. Make a tax-exempt donation now.