Analysis: Now Critics, Unions Supported Build-Up of Police in Schools for Years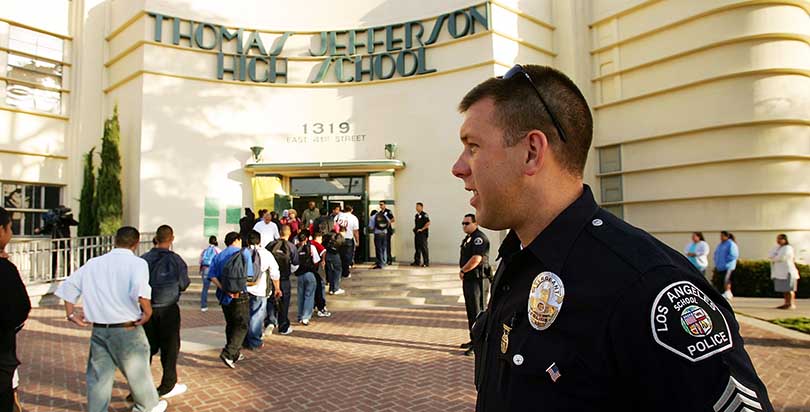 Mike Antonucci's Union Report appears Wednesdays; see the full archive.
"The presence of police in schools has escalated dramatically in the last several decades, and the figures on arrests and referrals to law enforcement show disproportionate targeting of Black and Latino students and students with disabilities," reads the organization's press release. "This is just one aspect of the school-to-prison pipeline, where some students are denied an opportunity to succeed, and instead are pushed out of school and into the juvenile or criminal justice system."
The campaign follows controversial uses of force by school resource officers (SROs), who are usually sworn police officers assigned to public schools. Their duties and responsibilities, however, vary from state to state.
The use of SROs expanded greatly after numerous school shootings in the 1990s and 2000s. There are now an estimated 10,000 SROs in U.S. public schools. "Let's give school resource officers to every school that wants one," said then-Senator Joseph Biden as he introduced an amendment to provide a multi-year appropriation for the Cops in Schools program in 2001. "Let's give parents a little peace of mind that their kids are safe when they get on that school bus and head off to learn. Let's give teachers a hand in maintaining order in their classrooms."
That last sentence suggests the source of most school security problems. Law enforcement officers are trained to protect people from dangerous criminals, but they may not be trained to handle a disruptive sixth-grader. Even if physical encounters are rare, parents and students have a genuine fear that classroom misbehavior could end in a visit to the criminal justice system, which makes school a place to avoid.
Concerns about the "school-to-prison pipeline" prompted the National Education Association to create new rules for school discipline.
"Zero-tolerance discipline policies, increased police presence in classrooms and hallways, insufficient services and support, and rising class sizes are pushing more and more students out of the public schools and into the juvenile and criminal justice systems," the NEA said.
The union cited a "law and order mentality" for the increase of SROs and security guards in public schools, particularly in schools that serve predominantly students of color.
"The use of law enforcement in our schools puts both students and staff into the mind-set that schools are prisons and that student misbehavior is appropriately dealt with through the juvenile justice and criminal system, rather than by the school community," said the union.
The NEA's efforts should be applauded — but it appears to have whitewashed its own long-running role in the placement, funding and advocacy of SROs.
The union's support goes back as far as Biden's 2001 amendment and continued well past 2013. In March 2008, NEA Today published a laudatory story about SROs, calling them "role models for students and staff." In an August 2011 story about school safety, the publication noted that "so-called 'hard' responses are sometimes necessary. These include metal detectors, surveillance cameras, evacuation drills, and allowing police officers to work on campus."
In January 2013, after the Sandy Hook massacre, President Obama proposed legislation which, among other things, appropriated $150 million to hire SROs. Both NEA and the American Federation of Teachers supported the bill.
Their support was echoed by the National School Boards Association and a solid majority of the American public. Indeed, Barbara Boxer, one of the Senate's most liberal members, introduced legislation that would have supplied federal funding to deploy National Guard troops at schools and pay for metal detectors and surveillance cameras.
But even then the Dignity in Schools Campaign foresaw problems with this approach. "Based on a significant body of research and decades of lived experience, we know that these strategies will fail," it said in a January 2013 report titled "Police in Schools Are Not the Answer to the Newtown Shooting."
"They will do nothing to create school environments that reduce violence in our communities, catch early indicators of mental health needs, identify root causes underlying violence, or utilize the skills and resources of law enforcement in an effective way," the report said. "They also fail to consider the host of unintended consequences — measured in educational, emotional, and economic costs – of placing more police in schools."
Understanding that student safety and student discipline require separate tactics is a step forward. But we should be skeptical about solutions from classroom experts who conflated the two in the first place.
Get stories like these delivered straight to your inbox. Sign up for The 74 Newsletter