Rotherham: Bloomberg's $750M Grant Is the Jolt the Charter Sector Needs — and a Litmus Test for White Democrats Who Claim to Back School Choice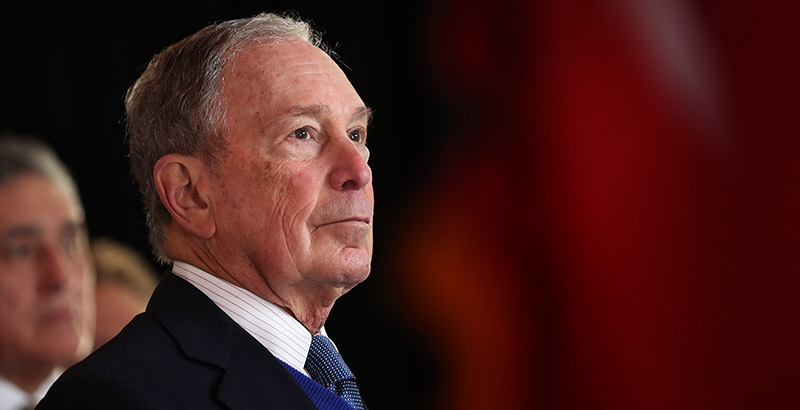 If education reform were a religion, then professing to just "follow the evidence" and "listen to communities" would anchor the liturgy. Charter schools, however, are a curious case that tests the faith. Urban charters have proven to be an effective reform, at scale, and parents in many communities are clearly demanding them. Raise that in a lot of education spaces, though — including among many of the well-heeled who consider themselves reformers or allies — and you'll be branded a heretic, or at least quietly not invited back to church. That's why it was so refreshing to see former New York City mayor, media mogul and philanthropist Michael Bloomberg announce a $750 million effort to create more high-quality charter school seats in communities around the country.
The $750 million that Bloomberg's foundation plans to spend over five years may seem like a pittance against the backdrop of a system that annually spends 1,000 times that amount, and especially as almost $200 billion in federal COVID aid is working its way through the system. Yet one lesson of decades of education reform is that relatively small amounts of money, well targeted, can leverage more change than larger but diffuse slugs of funding. Bloomberg's $750 million isn't small in any real sense — it's a lot of money, and the kind of commitment that can tangibly change lives —  but let's hope this ends up being a down payment on a longer-term commitment. 
It's also an exciting jolt to a sector that needs it.
All this is why the lack of enthusiasm from the education reform and charter school world over the Bloomberg announcement was as noteworthy as the commitment itself. Whether from COVID fatigue or punch drunkenness after years being politically back on their heels, there was not the reception from reformers that you might expect for three quarters of a billion dollars for charter schooling. Especially as other funders quietly back away. Critics, meanwhile, trotted out decade-old talking points about privatization and how charters don't "work." Places, everyone!
Since their inception, charters have been a hybrid solution to introduce more choice into the public education system. They give school systems less control than district-run schools but are less free-market than vouchers, tax credits and other options. At a time when the public education system is hemorrhaging students and parents are clamoring for alternatives, strategies to preserve vital aspects of public education and while making it more responsive to families seem like a place for policymakers to again focus.
Charter schools are not a panacea or silver bullet or whatever rhetorical excesses critics or advocates want to ascribe. Everyone knows that, and it's old news. Sara Mead and I wrote a whole analysis on that 15 years ago, based on a series of city-based studies we led. The debate these days is mostly political rather than empirical.
Meanwhile, charters are getting results. On average, urban charter schools outperform other public schools in their communities — often substantially. This, too, is well documented. There is a lot of work to be done to make getting to and through postsecondary, especially college, the norm, but the evidence makes it plainly understandable why parents want these schools.
And they do. Wait list data is tricky because parents are often double-counted on lists of multiple schools, but across the country there are more parents wanting their children to attend charters than there are seats. In Washington, D.C., for instance, more than 7,800 individual students are on a wait list. In Texas, more than 55,000 kids are waiting, and two-thirds of charter schools report having a wait list. Collectively, we can assume more than a million students would choose to attend a charter now if there were space.
Meanwhile, public opinion research consistently shows Black and Hispanic parents disproportionally support expanding school choice — especially Black families. This is a pretty consistent finding over the years. Support for charter schools is above 70 percent among Black Americans.
You know who disproportionately doesn't vigorously support more school choice? White Democrats. It's noteworthy just how much of the opposition to greater educational choice is from white progressives who are, on average, to the left politically of Black Americans and Hispanic Americans on pretty much every issue except educational empowerment.
Are there equity issues associated with charter schools? Of course. Charters are not consistently serving English learners or special needs students well, and in some cases add to the challenges facing traditional public schools. And charters face many of the same problems as other public schools. Bloomberg's team is aware of all this and say they're going to focus on equity, diversification of talent pipelines and some of the systemic challenges that surround charter schooling. They're committing a lot of money, and they should be accountable for that, given how much we've learned in three decades of charter schooling.
Still, on balance, charters are an equity solution in public education because they give low-income parents power and choice and help create good schools in communities too often denied them. The next time someone tells you with great solemnity about how they "center" parents and just humbly follow the evidence, ask how excited they must be about a $750 million commitment to try to do that.
Andrew J. Rotherham is a co-founder and partner at Bellwether Education, a national nonprofit organization working to support educational innovation and improve educational outcomes for low-income students, and serves on The 74's board of directors. He and Bellwether have advised Bloomberg Philanthropies in the past, but not related to this initiative.
Support The 74's year-end campaign. Make a tax-exempt donation now.