New CDC Guidance Could Be Gamechanger on Restrictions as Students Return to School
Experts say recommendations could curb student absenteeism, but also create 'needless frustration and confusion'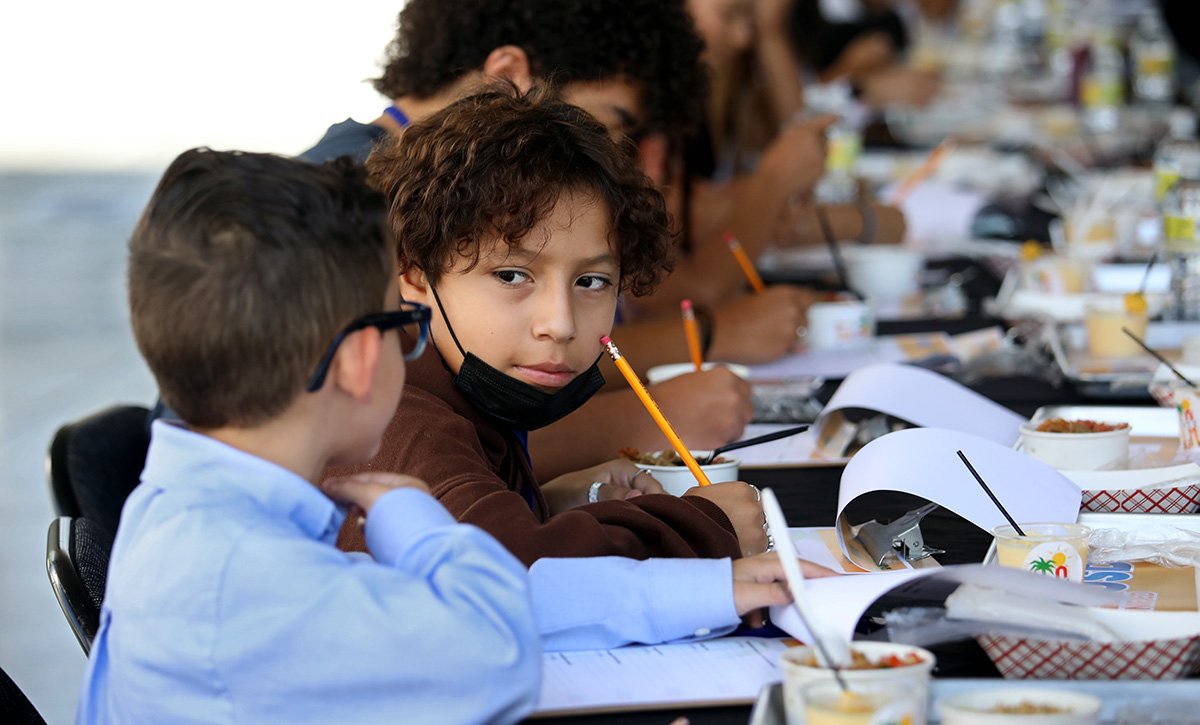 Support The 74's year-end campaign. Make a tax-exempt donation now.
Updated August 11
Students won't have to quarantine or take a COVID test to attend school if they were exposed to someone who tested positive, according to updated guidance from the Centers for Disease Control and Prevention released Thursday. The guidance is in line with a version leaked last week.
Students also won't have to stay in groups, called cohorting, which was intended to limit transmission and make contact tracing easier. And schools are no longer urged to conduct screening tests of students participating in "high-risk" activities, such as contact sports, band or theater.
Education Secretary Miguel Cardona said the new recommendations allow families and educators to "head back to school this year with a sense of joy and optimism."
But Leah Perkinson, director of research translation and evaluation at Brown University School of Public Health, said it's important not to forget lessons learned over the past two years.
"A lot of schools [and] districts might be relieved to turn the screening testing corner if it means that teachers, leaders and staff focus more on the social, emotional and learning needs of students," she said. "But we'd be remiss if we didn't take time to look in the rearview mirror and document what worked [and] what didn't … when we need to stand up school-based testing again."
Quarantine rules last school year may have prevented COVID from spreading, but they also contributed to high absenteeism, with some students sent home multiple times because they were a "close contact" of someone who tested positive.
Students missed an average of 15 days between September and January alone due to quarantines, according to one poll. But now, after more than two years of disrupted learning, new guidance from the Centers for Disease Control and Prevention could keep more students in the classroom.
The agency is expected to update its recommendations to say that those who are unvaccinated can continue to attend school if they wear a mask and test negative five days later, according to multiple news outlets, including CNN and CBS News. Current guidance recommends that those not up-to-date on vaccinations stay home for five days after coming in contact with someone who tested positive.
"Since the beginning of the pandemic, [messaging] has mostly focused on encouraging students to stay home as a strategy for keeping healthy," said Hedy Chang, executive director of Attendance Works, a research and advocacy organization. "We think a more balanced approach would be to emphasize that showing up to school matters for health, well-being and learning."
The guidance would reflect the direction that many states and districts were already moving toward, noted John Bailey, a strategic adviser at the Walton Family Foundation who has monitored COVID policy since the beginning of the pandemic. In July, for example, Virginia Gov. Glenn Youngkin said students exposed to the disease don't need to quarantine if they lack symptoms. Many districts aren't requiring masks this fall, and Los Angeles Unified recently backed off last year's strict protocols involving daily health declarations and weekly testing. By next week, over half of the nation's students will be back in school, according to Burbio, a data company.
"The CDC should have released updated guidance in June or July to give schools time to adjust their plans and preparations," Bailey said. "Releasing it this late creates needless frustration and confusion, which just further erodes confidence in both the CDC and administration."
Critics have pointed to multiple lapses at the agency since the beginning of the pandemic, such as allowing teachers unions to heavily influence guidance for schools and fumbling updates to mask recommendations for early-childhood programs.
Some experts think it would have been difficult to start the new school year enforcing the same protocols school districts implemented before — like masking and frequent testing. That's despite a highly contagious BA.5 variant, over 40% of the country being in the high transmission range, and low vaccination rates among young children and 5- to 11-year-olds.
"The problem is that these comprehensive efforts are meeting two powerful forces — exhaustion and apathy from the American people, and the clash of politics and public health in ways I've never seen in my lifetime," said John Bridgeland, founder and CEO of COVID Collaborative, a team of experts that has provided recommendations throughout the pandemic.
Quarantine policies also contributed to a lack of academic progress last year even at a time when students were back in school, researchers with NWEA, a nonprofit assessment organization, said when they released their latest results in July.
Parents complained about inconsistent rules. Some also violated them. In California's Marin County, last year, parents knowingly sent a child who had tested positive to school. And three Arizona men with zip ties threatened a citizen's arrest on a principal last fall when the administrator told one of them his child had been identified as a close contact and would need to quarantine. They were charged with criminal trespassing.
"I think that school will be much more 'normal' than it was even last year," said Annette Anderson, an education professor at Johns Hopkins University and deputy director of the Center for Safe and Healthy Schools.
'Seem appropriate'
District leaders certainly hope so.
"Attendance rates had never been lower, and certainly impacted student learning," said Tony Sanders, superintendent of School District U-46, outside Chicago. "The significant drops in attendance always correlated with spikes in COVID cases, mostly following periods when students were on break."
The week after winter break, when the Omicron variant was prevalent, attendance fell to 72% in the district.
As the new school year begins, some districts are dropping all COVID protocols, according to Burbio.
Some parents, however, still want reassurances that schools will take precautions to limit exposure. Alexis Rochlin, a Los Angeles parent, said her preschooler was quarantined multiple times last year, "which was a huge pain." But she's comfortable with the county's current guidelines. Close contacts are required to mask for 10 days after exposure and test three-to-five days later. Those who test positive can stop quarantining on the sixth day as long as their symptoms improve and they test negative.
"These policies seem appropriate to keep kids safe and limit learning loss. Anything less would be concerning to me," said Rochlin, who also has a son entering second grade. "But we are in a post-COVID world, I guess, where everyone wants to live with it by ignoring it."
Disclosures: The Walton Family Foundation provides financial support to The 74. Andy Rotherham is a member of the Virginia Board of Education and sits on The 74's board of directors. He played no role in the reporting or editing of this story.
Support The 74's year-end campaign. Make a tax-exempt donation now.