Q&A — Learning Math Through Carpentry With 'Wise Young Builders': Founder Elijah Moses on Learning Pods, Exposing More Students to Trades & Post-Pandemic Schooling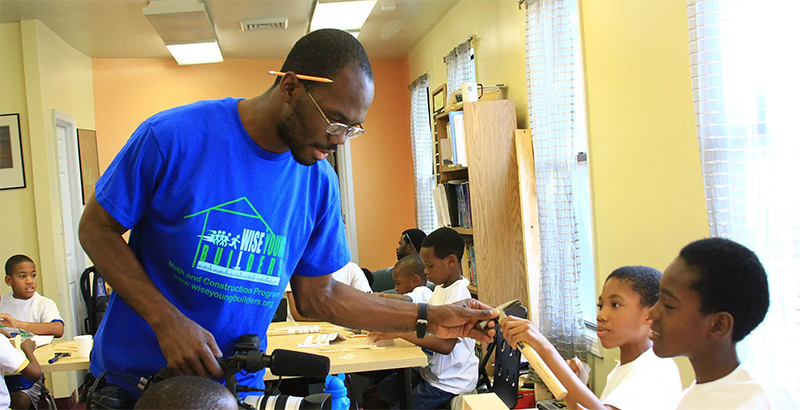 About a decade ago, Elijah Moses set out to teach his son some basic carpentry skills.
He soon found himself building a nonprofit to teach young people how to use a tape measure, work with tools and apply math to real life.
"I was teaching my son, who was 9 years old at the time, and a group of moms found out about it and said, 'Hey, you need to teach our sons,'" recalled Moses who along with his wife was homeschooling their two children and participating in homeschool cooperatives where families shared resources and parents taught classes in their areas of expertise.
"And I told my wife, 'Tell the women to leave me alone. I'm not doing any of that work.'"
The moms kept asking.
"I realized that I had the space, I had a building, I had the tools. I could build the curriculum, and we did a six-week class in 2010 or 2011, and we never looked back," Moses told The 74.
Today Moses runs Wise Young Builders, a nonprofit that operates in-school, after-school and summer programs in both schools and community centers in Washington, D.C., and Buffalo and Niagara Falls, New York, with plans to expand.
Kids ages 8 to 12 not only learn to build bookshelves, chairs, furniture dollies and other small crafts but also study the math concepts needed for their projects and read works by Booker T. Washington and other African American authors.
Moses grew up in Buffalo, New York, where many of his relatives owned property, and he and his five brothers were "the labor force" for everything from shoveling snow to carrying supplies.
He took both vocational and college preparatory classes in high school before attending college. He later worked for a trade union and then in youth development programs at the University of Buffalo and the U.S. Department of Labor.
Moses is set to join a March 25 panel of parent-educators and national experts to discuss the future of learning pods amid the pandemic. You can sign up here to watch the conversation that will be hosted by the VELA Education Fund, The 74 and the Center on Reinventing Public Education. (Note: The Vela Education Fund has provided financial support to Wise Young Builders)
The 74 recently spoke to Moses about his background, Wise Young Builders curriculum and the future of education. Here are some of the highlights:
On getting students' attention back after COVID-19 interrupted traditional schooling:
I do believe that students have been divorced from traditional classrooms, and sat on a couch. You have to do a lot to get them immersed again. When you're in school, you generally can't go to your refrigerator, right? You generally can't ignore [the teacher] and turn on your video game.
So when you go back to traditional school, teachers are going to be fighting for the attention of kids, to immerse them and involve them. What better way to do it than excite them about what they're doing? …
[Teachers tend to be trained to focus on] "Here's the theory of it," not, "Here's how you use it in tandem." And if you don't do that, I think that when students go back, you're really going to be struggling for their attention. You're going to sit them back in a building, the heat's going to be turned up, they're going to be falling asleep on the desk.
We never have students fall asleep, ever.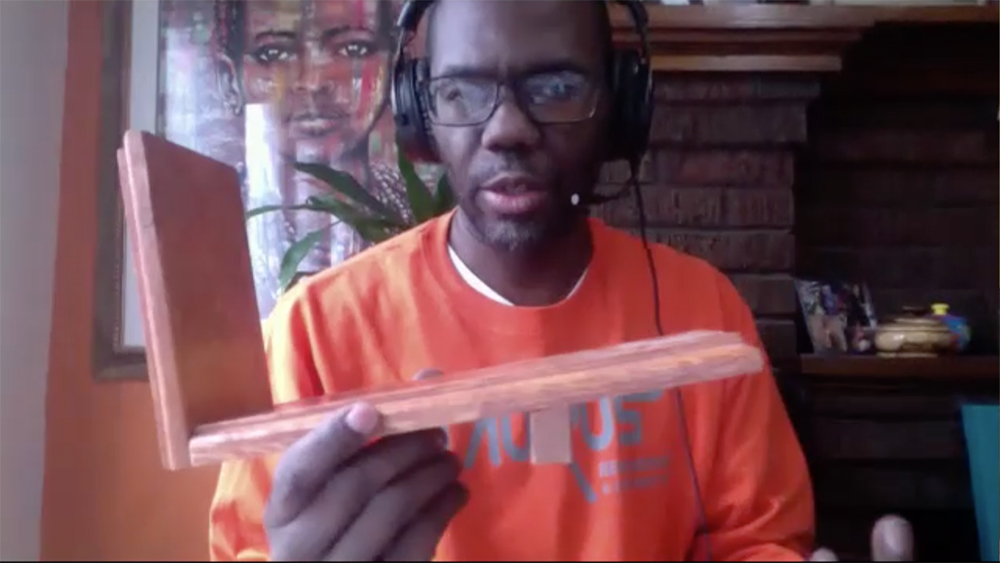 On how education could change after the pandemic:
One, people are more accepting of homeschool. … It's broken the nomenclature of what school looks like, which is great.
The second thing is, pods, for example — learning communities that are not an institution — have been going on for a long time. I've been part of homeschool co-ops that our program reaches out to in a few different jurisdictions….It's really successful. …
[Some parents] have realized, "I don't need (schools)." And some people will keep that modality after the [pandemic].
On some of the benefits of pods:
[With pods,] people can go to a field and look at flowers and search for frogs and talk about science. … Many construction sites have not shut down, so we can take kids on tours of construction sites, and you can see, "Hey, here's Joe Schmo, the real estate developer. And here's an electrician." That's an activity that's still happening, and you can see whether it's building directly in your community, or building that you see in another community.
On having students read books as part of Wise Young Builders:
Reading literature is a problem-solving tool, is a way to be informed, and is also a way to learn history. Students generally read a book by Booker T. Washington called Sowing and Reaping, and it's about whatever you put in is what you get out. So if you put in a little bit of work, or a little bit of seeds in the ground, so to speak, then you should expect a bountiful harvest …
[Students also read] a book called Up from Slavery… because Booker himself, as a historian and educator, was literally a slave up until he was 9 or 11 years old. He went to a trade school, which is now Hampton University in Virginia. He was eventually a teacher and then went down to Alabama and built what is now Tuskegee University. … The students need to know part of their history and why are we building, it's not just something fun to do. But everything has to be built. The known world and the tangible world should not be divorced from students.
On exposing kids to the trades:
I think that traditionally, people look at education in the sense of, "We fill your head with information, and we tell you how you should use it." We break that. We open your horizons and pour into you and show you what's possible, and you determine how you use it. …
What we do is expose people to building. We don't dictate how they use that knowledge. We don't necessarily encourage kids to be carpenters. But if you become a carpenter, then that's OK.
We don't necessarily discourage students from being real estate developers — that would be a great thing. But if you don't do it, then that's OK, too.
Disclosure: The Walton Family Foundation provides financial support to both the VELA Education Fund and The 74.
Get stories like these delivered straight to your inbox. Sign up for The 74 Newsletter