Photo Gallery — New York City Public Schools Reopen for Their First Fully In-Person School Year Since the Pandemic Began
By Marianna McMurdock | September 13, 2021
The nation's largest school district welcomed all of its roughly 1 million students for in-person instruction today for the first time since the pandemic shuttered New York City schools in March 2020.
"This moment is what we've all been working for," Schools Chancellor Meisha Ross Porter said during an opening press ceremony at P.S. 25, a bilingual elementary school in the Bronx.
She implored families to get vaccinated so that children could safely learn throughout the pandemic and be "in the places where they're loved by their principals, superintendents, teachers and parents — and the whole school community is wrapped around them."
Porter was later joined by U.S. Secretary of Education Miguel Cardona for a meet-and-greet with students and classroom visits at P.S. 121 Throop in the Bronx. Cardona, along with educators from across the country, was in New York this morning to host a "Coronavirus and the Classroom" town hall on the Today Show.
Thanks, @SecCardona for joining us at PS 121 #inTheBronx for #BackToSchoolNYC! We are excited to welcome @NYCschools students back to school communities where they can learn and grow socially, emotionally, and academically. pic.twitter.com/Jh22xpMlHk

— Chancellor Meisha Porter (@DOEChancellor) September 13, 2021
One P.S. 25 parent wished she had been made aware that her child's school would be the first stop on the DOE's tour, feeling confronted by a swarm of press just after a night shift. Chancellor Porter and the DOE's team went on to welcome students throughout the city's five boroughs, including visits to a school vaccination site and soccer practice at two Queens high schools Monday afternoon.
In late August, Mayor Bill de Blasio announced all student athletes participating in "high-risk" sports are required to get one dose of a COVID-19 vaccine by their first competition. Though there are not yet COVID-19 vaccine mandates for any other student group, all NYC school employees are required to get at least a first dose by Sept. 27 — staff cannot opt into weekly testing as an alternative, making it one of the country's strictest vaccine mandates.
Last week, an arbitrator ruled that members of the United Federation of Teachers with certain medical or religious exemptions must be offered non-classroom assignments while other UFT staff who refuse vaccination can either resign by Nov. 30 or be placed on unpaid leave through September 2022. The union represents most of the city's 73,000-plus educators and other school personnel.
As the Delta variant surges, the city estimates that just about two thirds of New York youth over 12 are vaccinated. As a part of the DOE's efforts to monitor and prioritize student safety, a mandatory COVID health screening form must be completed daily by anyone entering school buildings.
The site temporarily crashed this morning, likely due to surges in traffic across the city. Some schools turned to paper surveys to try and get students inside more quickly and alleviate crowded sidewalks, but parents and others were frustrated by the tech failure.
It's the first day of school and I'm seeing first-hand from parents that the @NYCSchools health questionnaire app is down! Luckily paper health screenings are being provided but this is going to add another burden to parents and students on an already fraught day. pic.twitter.com/SRkCO1gIoK

— Gale A. Brewer (@galeabrewer) September 13, 2021
And though Mayor de Blasio dubbed today's return "joyous" during the press gathering at P.S. 25, for some parents, it was anything but. Discouraged by the in-person only model, loosened social distancing guidelines and vaccine ineligibility for children under 12, NYC parents threatened to strike and others have opted for alternative schools where virtual learning is still an option.
Fourth-grader Catherine Camila Estefens was one of P.S. 25's earliest arrivals, patiently waiting for her classmates to find their line and join her along the school's fence. A student at the bilingual school since pre-K, she is not among the thousands still seeking virtual instruction.
Estefens said she hated feeling isolated and is particularly excited to get back to in-person math.
"I'm happy because we don't have to be in the house [any] more. I have no siblings, so I'm mostly alone," she said.
Her peers huddled together in the schoolyard, hugging their teachers for the first time in over a year and a half. Some cried, having to face a school day without their family or at the reality of finally reuniting with friends. Here are some moments from their historic return: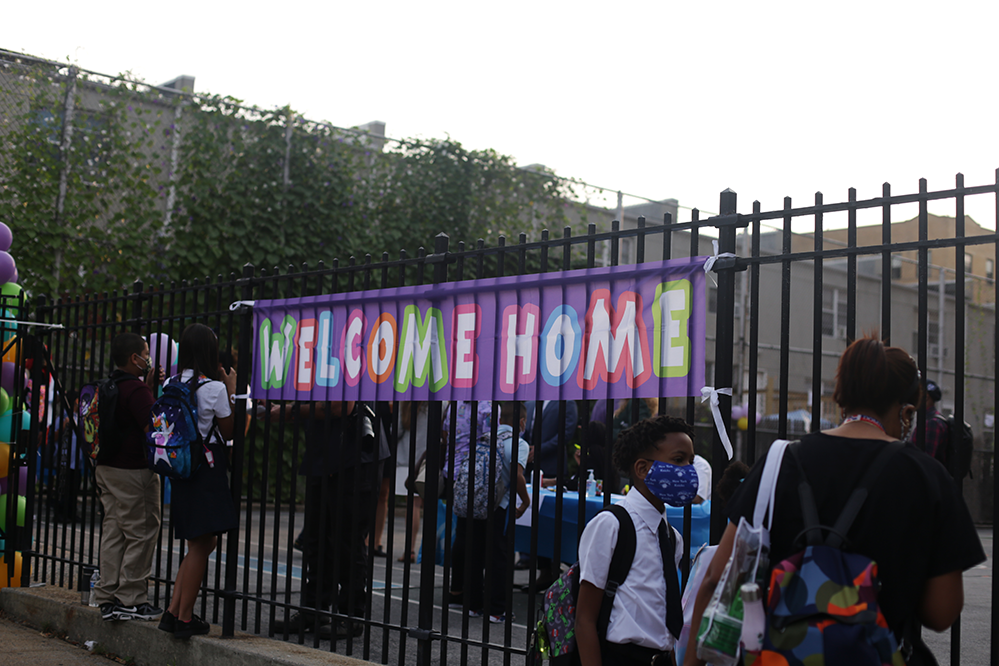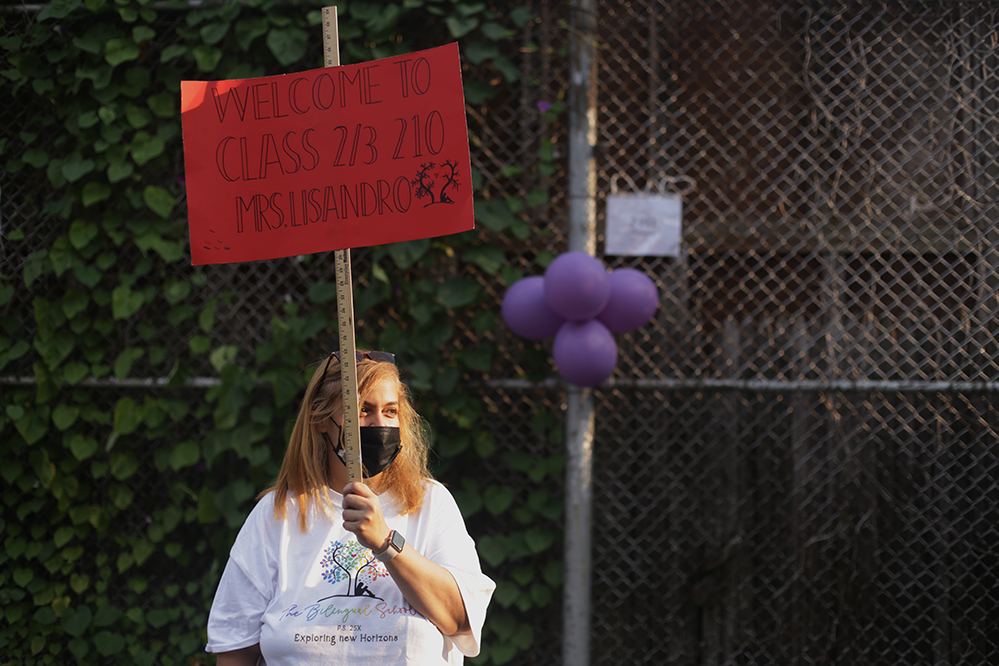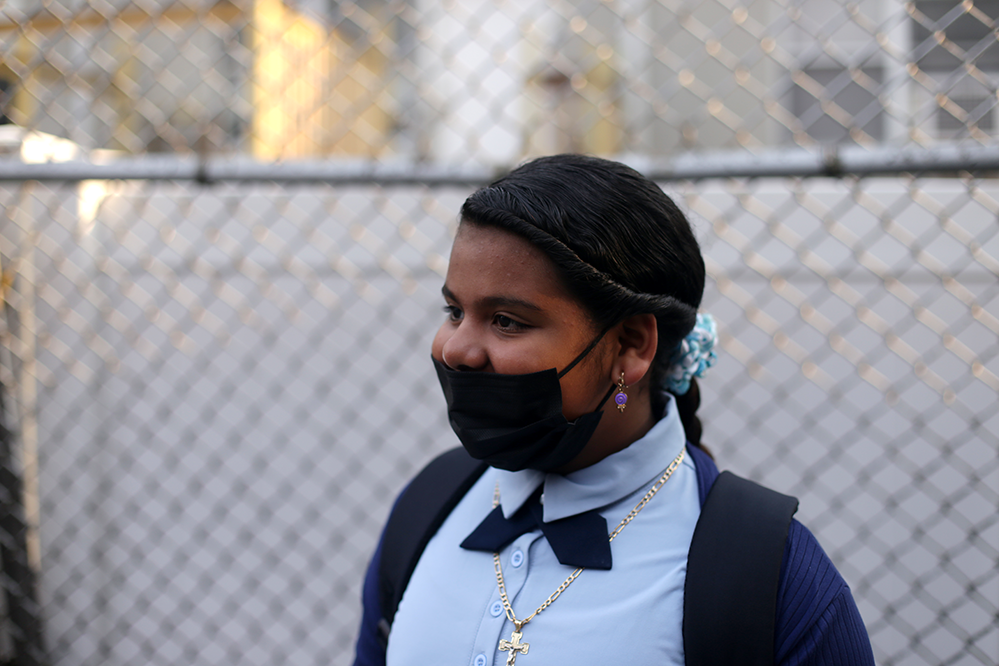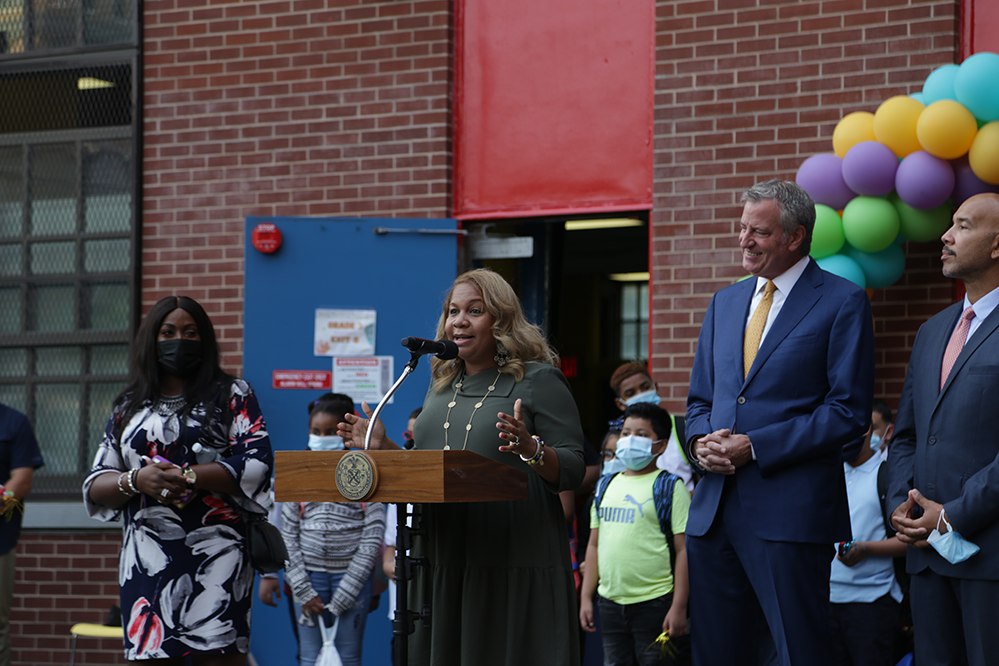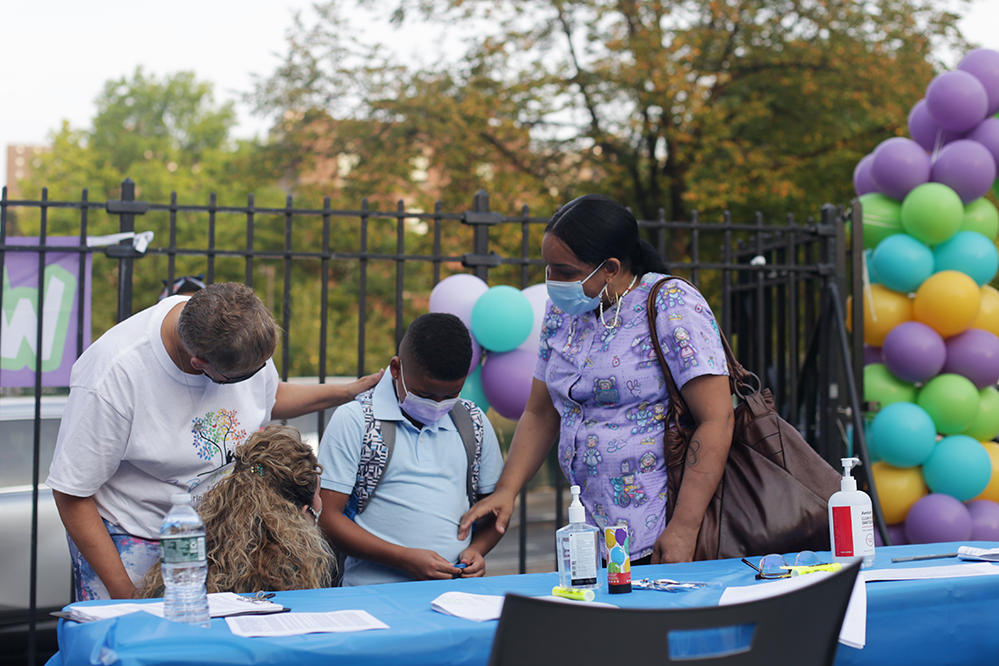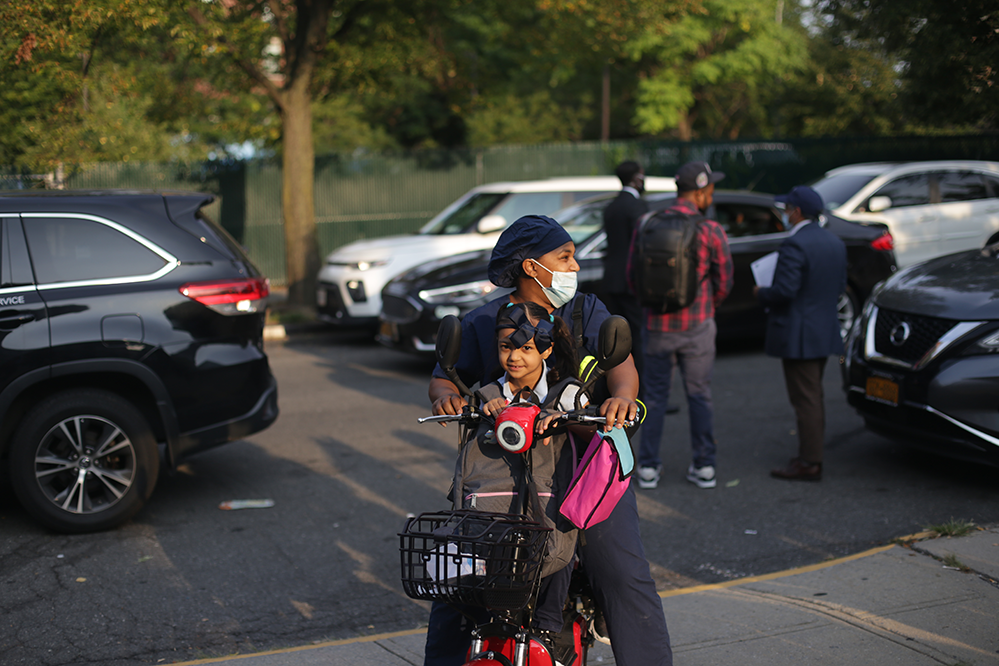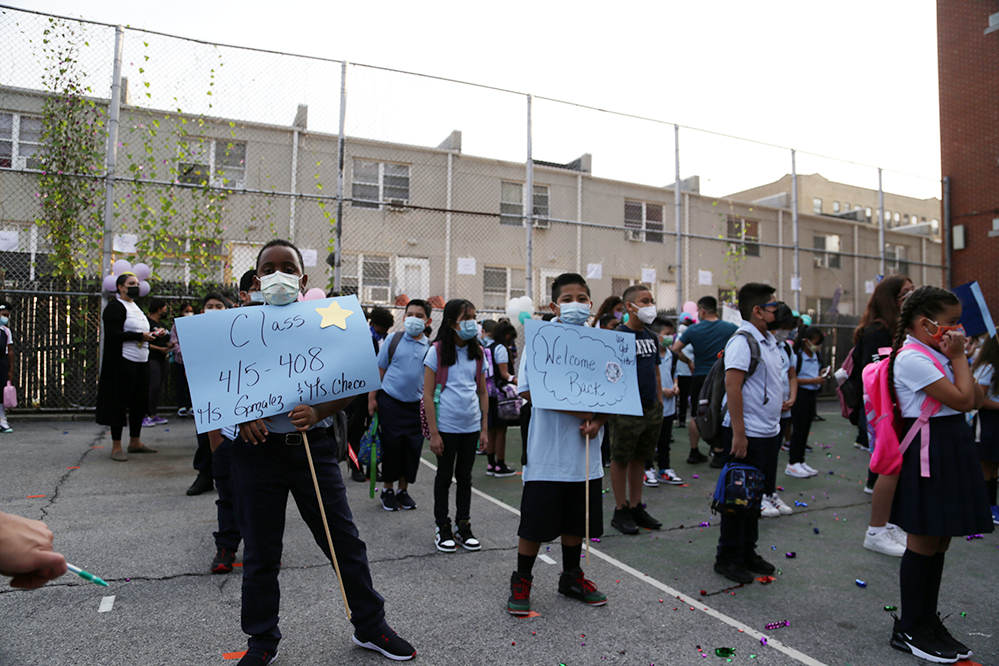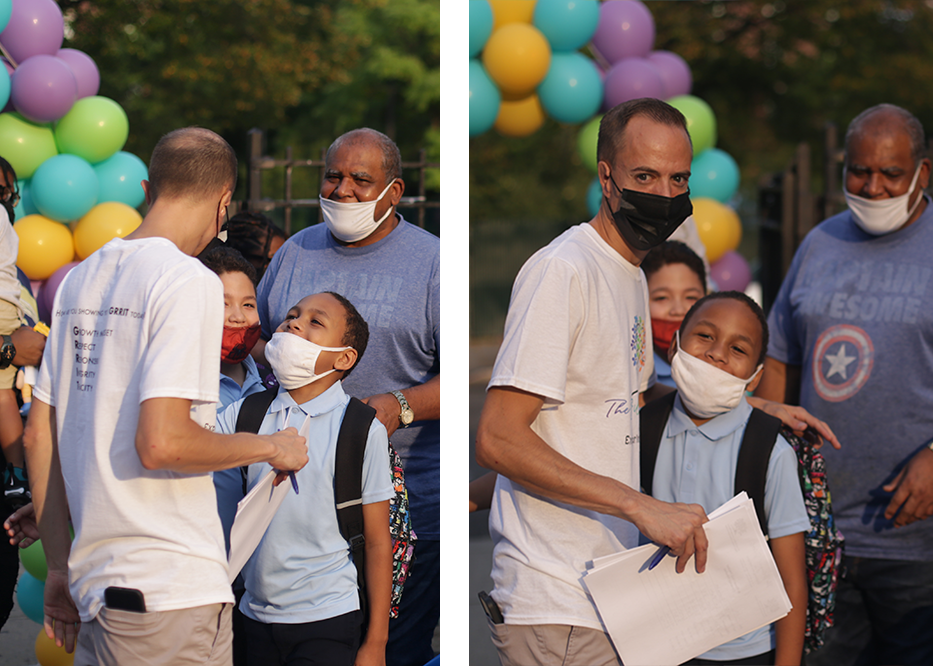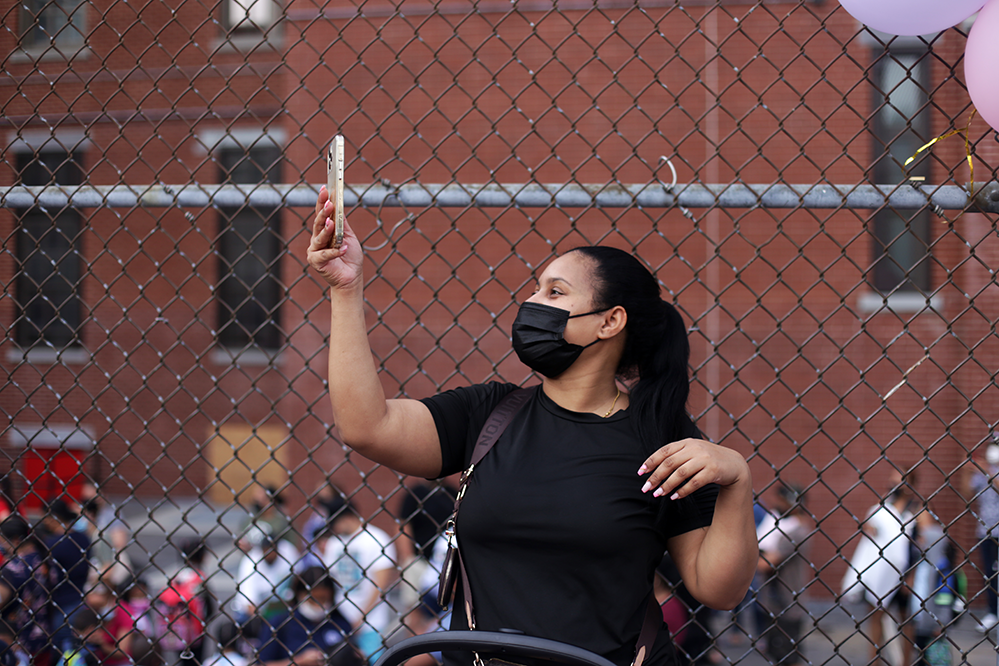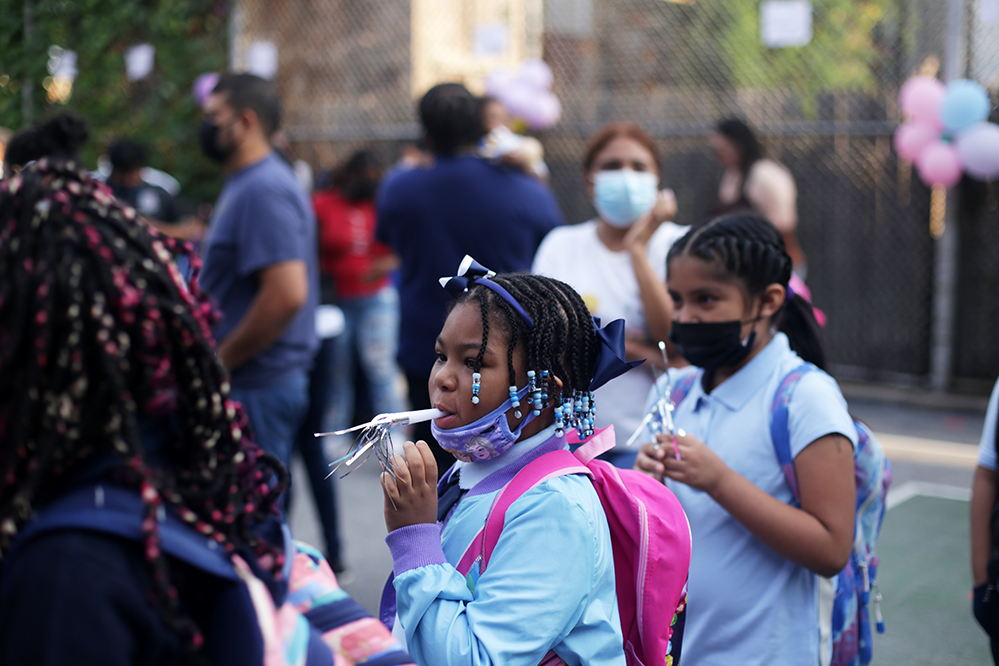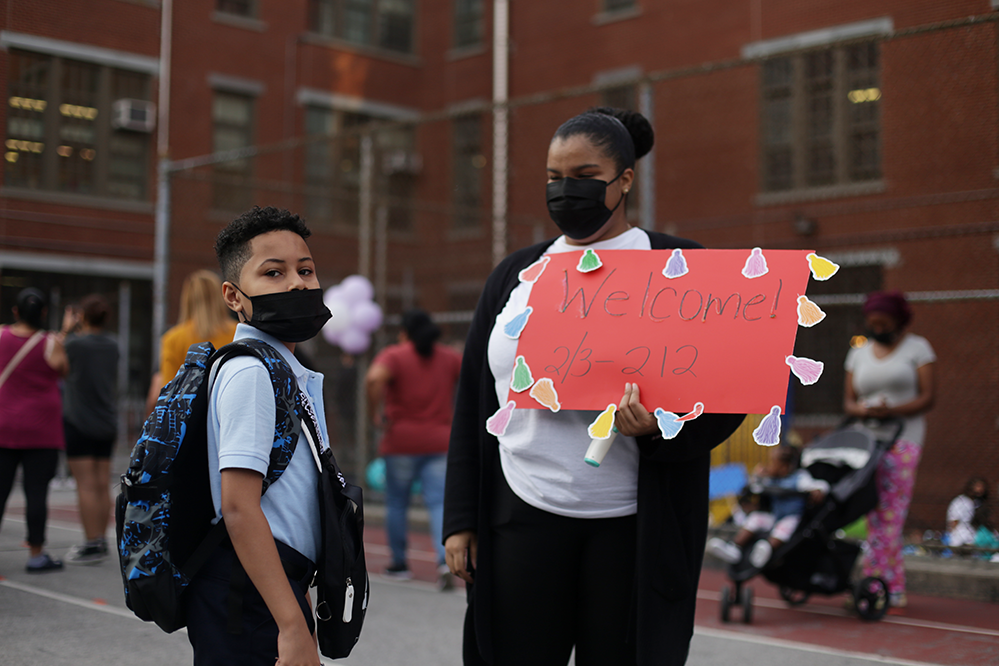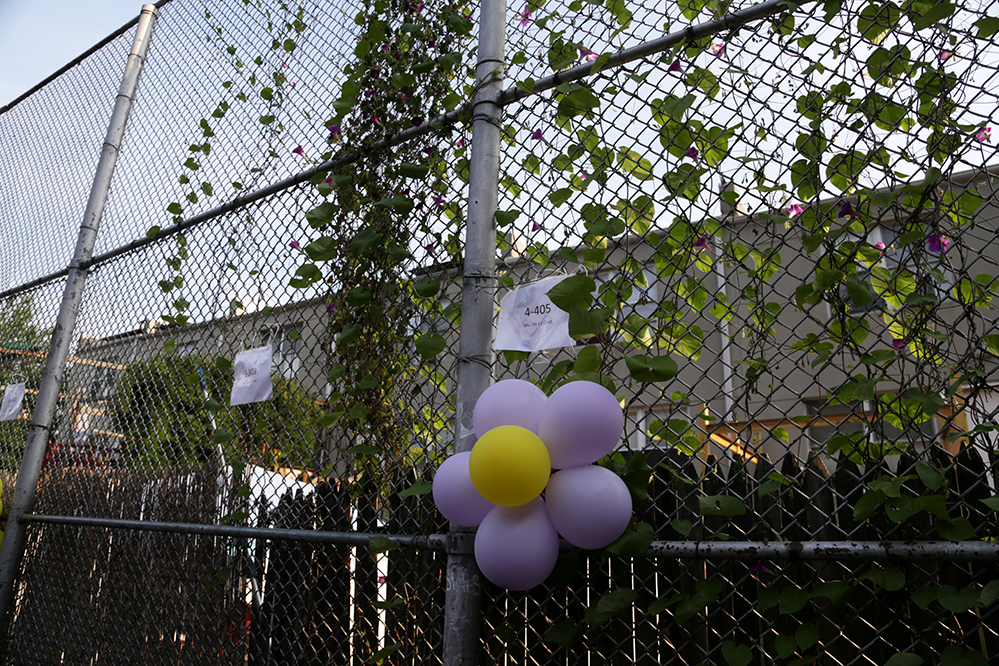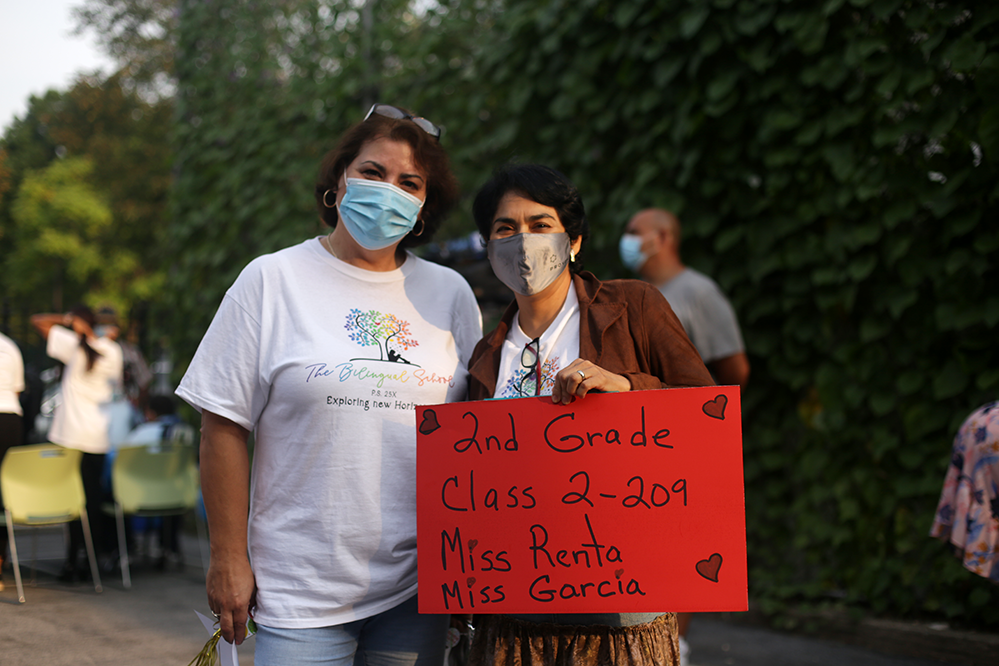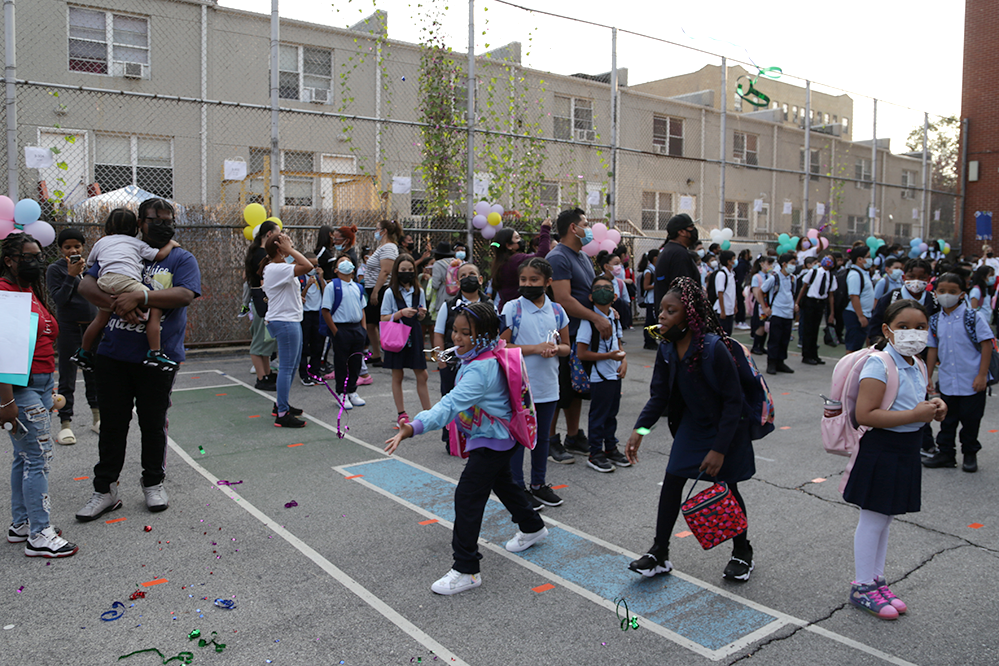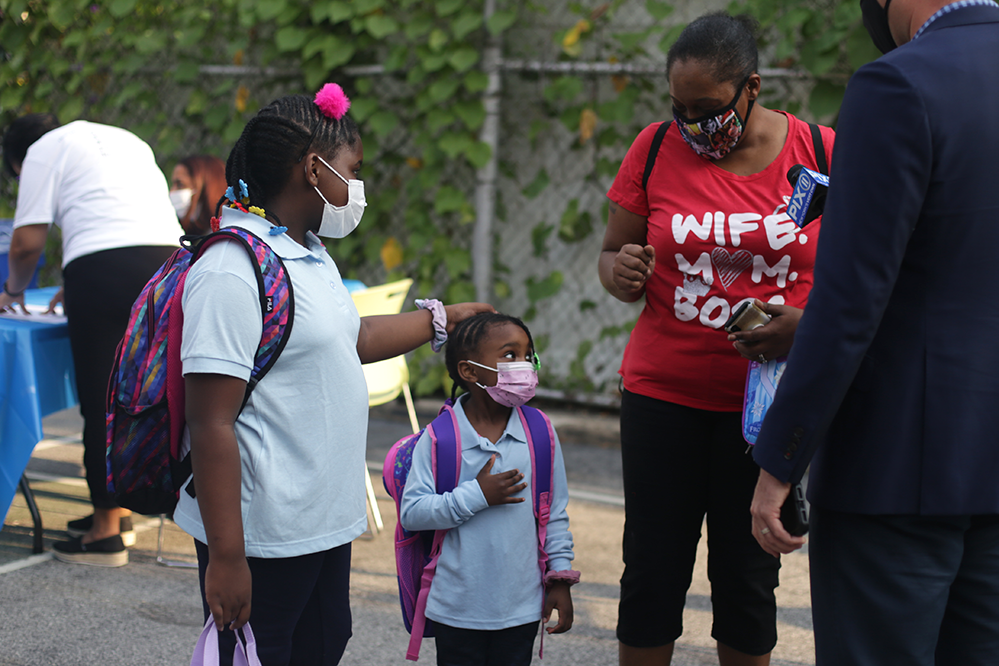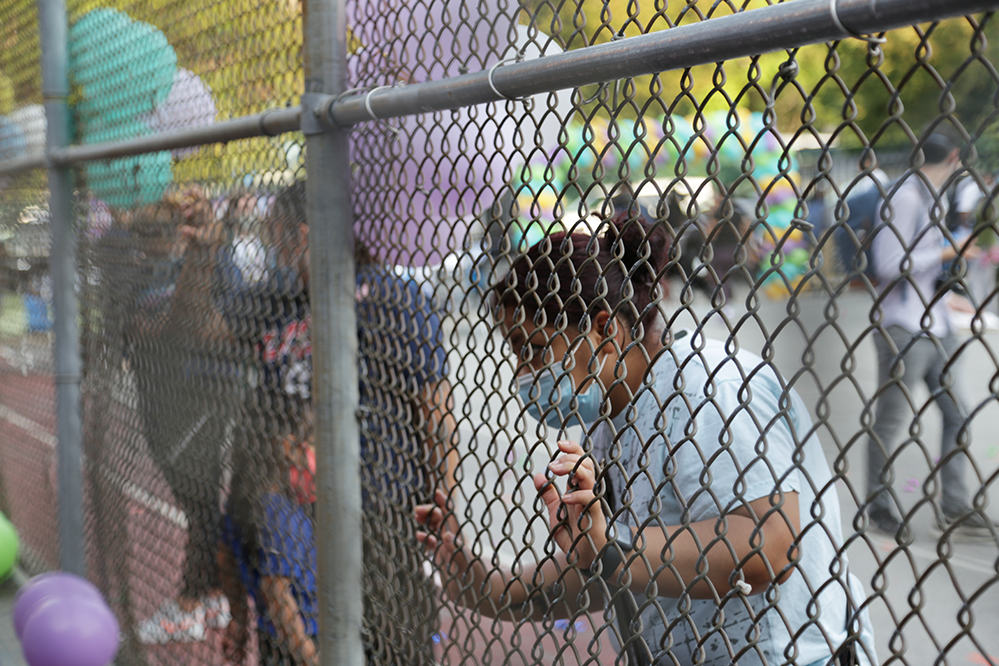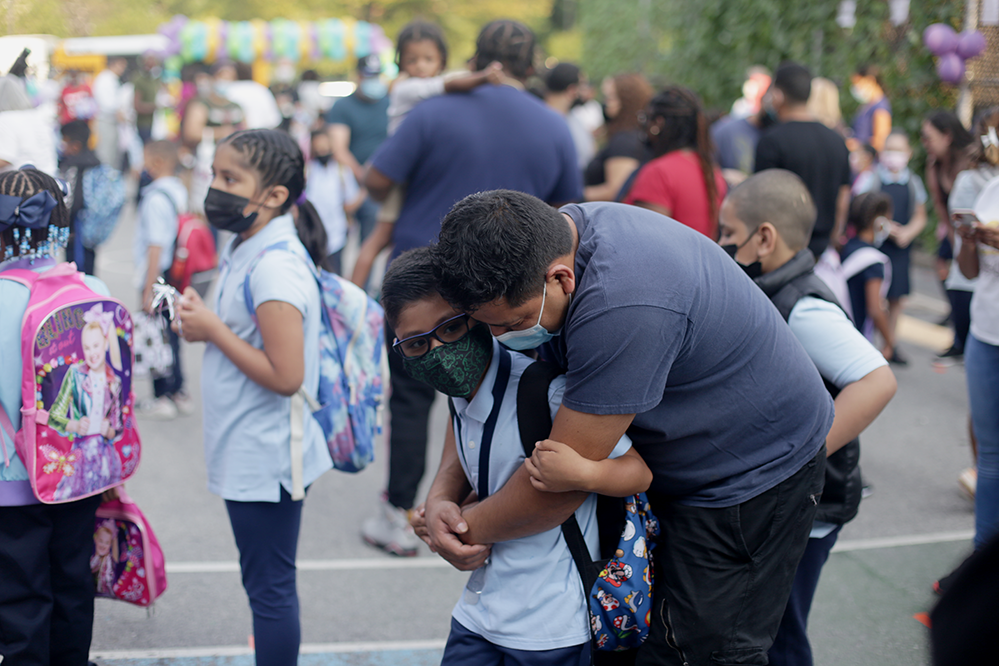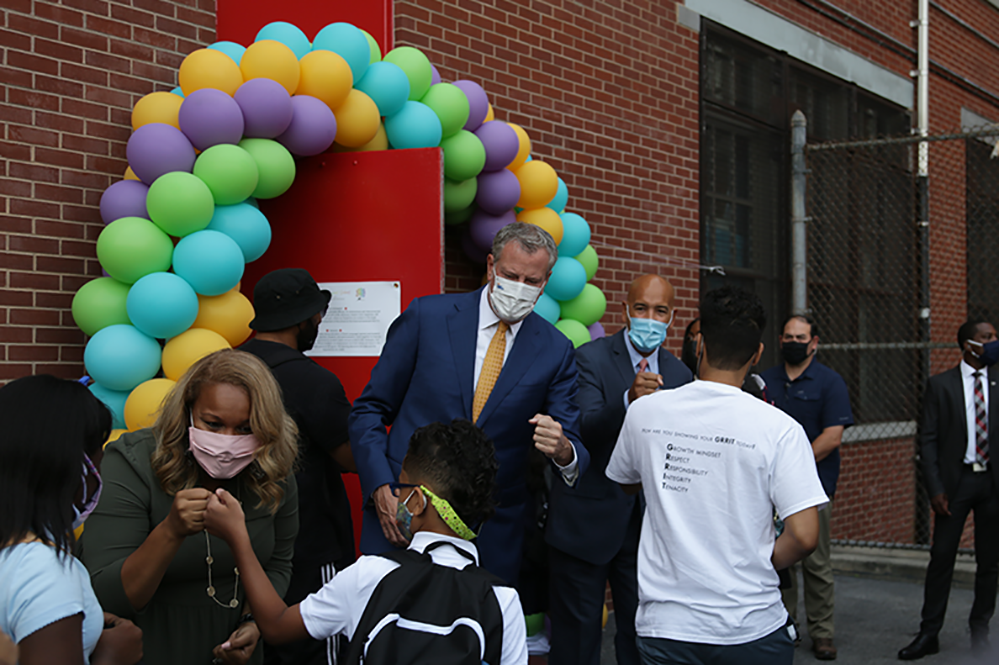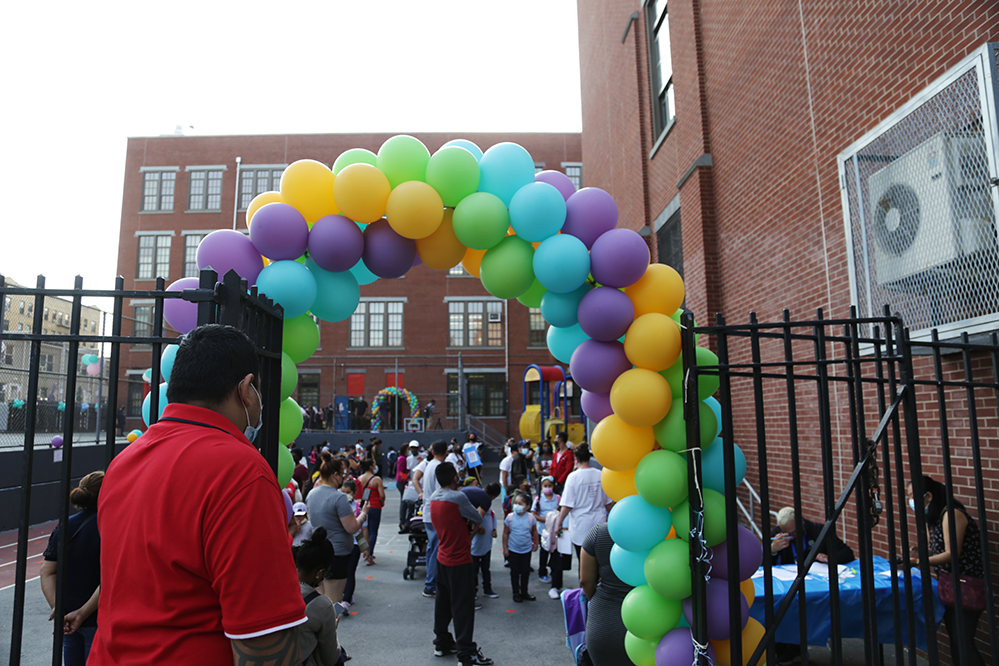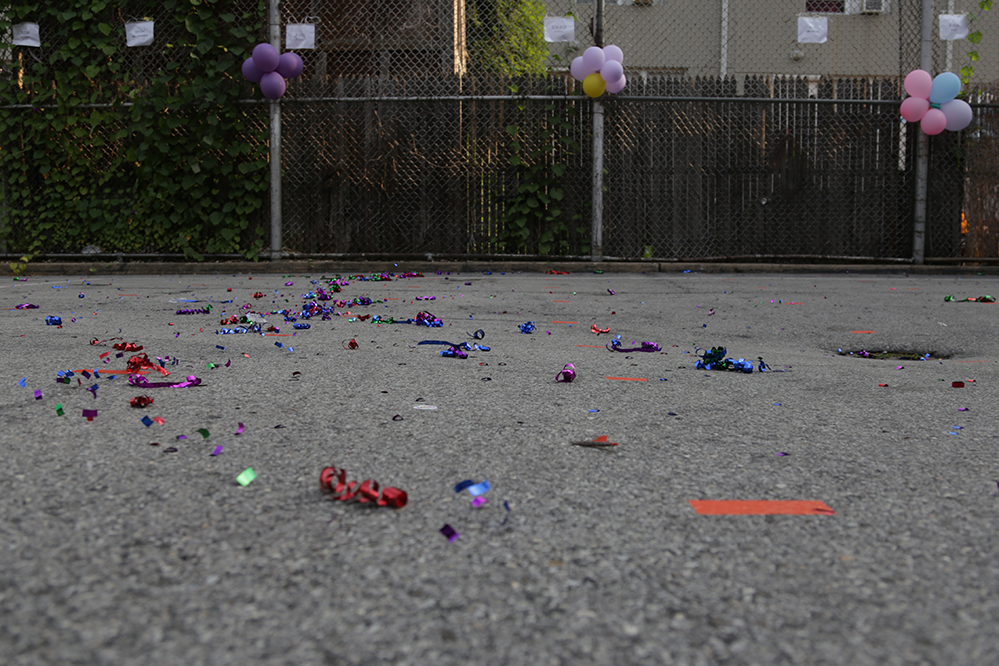 All photos by Marianna McMurdock for The 74.
Get stories like these delivered straight to your inbox. Sign up for The 74 Newsletter