Sweltering Classrooms, Leaky Roofs, Outdated Curriculum: Lancaster Schools Chief Paints Bleak Picture in Pa. School Funding Trial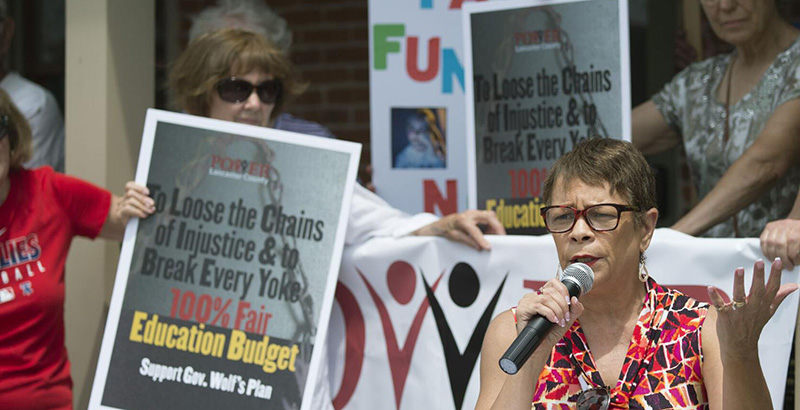 No paywall. No pop-up ads.
Lancaster schools Superintendent Damaris Rau painted a stark picture of life inside her district's classrooms during testimony this week in a long-awaited Pennsylvania school funding trial, telling the court her students have passed out from the heat in aging buildings with no air conditioning.
Ceiling tiles have fallen directly onto desks, she said, and garbage pails have lined hallways to catch rainwater seeping through leaky roofs. Some curriculum hasn't been updated in years and neither have materials: High school physics textbooks are 12 years old and history books reference countries that no longer exist. Student achievement sinks as children move through the district without the academic support they need.
"As our students get older and go into higher grade levels, the gap widens further and further," Rau said. "I know we are not providing them the quality of education the state expects us to."
Lancaster is one of six districts suing the state and its leadership for implementing a school funding plan they say relies too heavily on local property taxes, leaving poor communities at an enormous disadvantage. The districts and the other plaintiffs — including four parents and the NAACP-Pennsylvania State Conference — want the current funding mechanism to be declared unconstitutional and replaced with one that sends more money to low-income schools. The defense has argued that the legislature, not the courts, maintains authority over school funding.
The suit, William Penn School District et al. v. Pennsylvania Department of Education, et al., was initially filed in 2014 but did not make it to court until November. It's expected to stretch into January as dozens of witnesses testify about what schools can and cannot afford under the current system. The trial is available via livestream.
Test scores show children in Lancaster perform worse as they grow older because the district is unable to hire the type of interventionists that would help them master the material, preparing them for the next level, Rau said. Four reading specialists serve 13 elementary schools housing some 6,000 children. Those campuses do not have math interventionists though test scores show students need the help, the superintendent told Commonwealth Court Judge Hon. Renée Cohn Jubelirer.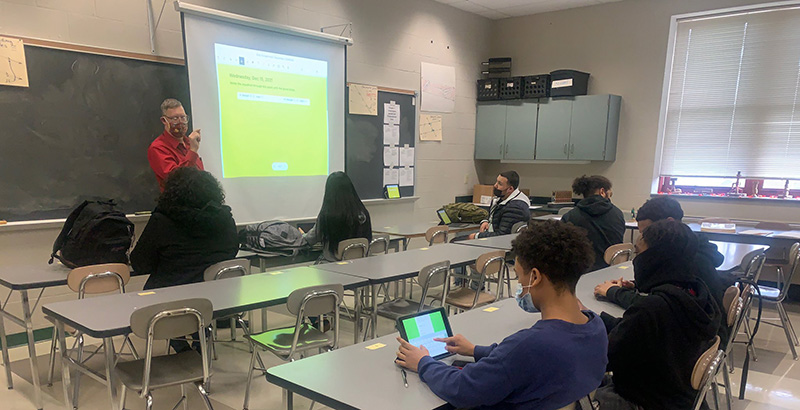 The lack of resources harms other groups, too. Rau said Lancaster provides only the bare minimum of support for special education students, adding the approach "doesn't enable us to catch those kids up. It doesn't make enough of a difference."
These and other educational disparities haunt Lancaster students well into adulthood, she said: Just 18 percent of those who graduated in 2013 earned a college degree within six years compared to 42 percent at the state level.
The entire school community is well aware of the school district's struggles and shortcomings. Parents are informed by letter that their children are performing at a sub-par rate, which Rau called "pretty demoralizing for families and for kids."
But defense attorneys pushed back, citing the district's ability to offer the world-renowned college preparatory program, International Baccalaureate, as well as its robust athletics, solid workforce training and hundreds of millions spent on renovation in recent years.
Attorney Anthony R. Holtzman, representing Pennsylvania Senate President pro tempore Jake Corman, made note of the district's pre-K program — many schools across the country are not even required to provide kindergarten — and that Lancaster's student population recently shrunk by 1,000 students, suggesting the strain may not be as great as in years prior.
And while it claims to have few means, the district has managed to grow some services, he said, while renovating 15 of its 20 campuses. The lawyer said Lancaster recently purchased 23,000 books and had begun buying devices for students long before the pandemic as part of an effort to boost online learning.
But Rau held firm. She said a shortage of counselors, social workers and psychologists means many children in her district do not have the mental health support they need: She's already sent emergency workers to students' homes when she believed they were a threat to themselves or others.
"What we see when there are not enough mental health workers in a school is … an increase in violence," she testified.
Busing is also severely limited. High schoolers must live more than two miles away from campus to qualify. Students of all ages regularly miss class during inclement weather. A quarter are chronically absent. The district has just three attendance officers, who conduct home visits, to address the issue.
Students from 4th to 12th grade are typically not allowed to take books home for fear they might be lost or destroyed, limiting the opportunity for homework. This is particularly harmful for reading and math, Rau said, adding that both require practice.
Rau is forced to close schools when temperatures creep into the 90s — teachers send her pictures of their classroom thermometers on particularly sweltering days — causing a further disruption to learning.
The district's many challenges, including its generally lower salaries, can make it an unappealing workplace: It opened this school year with 100 vacancies, including 25 for teachers.
Lancaster serves some 10,500 children: 20 percent are English language learners and 20 percent have a disability. The district is home to some 500 refugees, many of whom have suffered tremendously in their home countries or during their journeys to America, leaving them badly traumatized. Some 500 students are currently experiencing homelessness, Rau said.
Rau admitted the district has an active sports program. She said she's kept it in place to engage students who might not attend school without it. But its facilities are lacking: Holes in the track and a failure to comply with ADA standards keep it from hosting many events, she said.
Rau, who hails from a poor family, said she understands the needs of her students. She's taught such children in the lower-income sections of Greenwich and New Haven, Connecticut, improving achievement in both cases, Rau said, because she was given the resources to make change. But that was never the case in Lancaster, where she's served as superintendent for six and a half years.
"I was not able to move those achievement scores … because I hadn't had the resources to make that happen," she said, adding that she had expected struggling districts like hers would receive more state funding. "I didn't realize that was not the norm here in the state of Pennsylvania."
Get stories like these delivered straight to your inbox. Sign up for The 74 Newsletter