Parents Want Debate Moderators to Ask Democrats Whether They Support Black and Latino Families on Public School Choice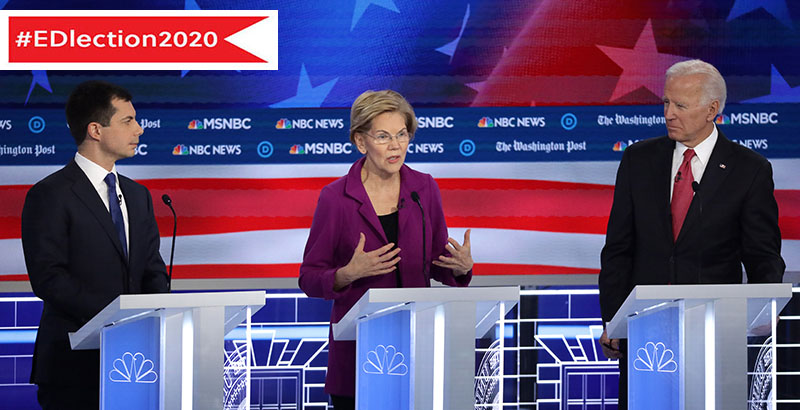 Too often, families of color are the object, not the subject, of education policy discussions. We are told what is best for our kids — we have things done to and "for" us, not decided with us.
But in the past five Democratic presidential debates, we have barely surfaced at all — not even as the object of the discussion. With the exception of a brief exchange on busing — and our own research into candidates' plans — it's hard to hear much about the issue affecting most of our kids. While there is ample room for lively debate on college affordability in these nationally televised events, K-12 education continues to be dismissed with one-liners.
We — the parents of The Oakland REACH — are calling for that to change in this sixth debate, the final one of 2019, on Thursday in Los Angeles. We want a substantive discussion of K-12 education, focused on quality for all kids.
So we wrote to the PBS NewsHour and POLITICO debate moderators with our ask. We're reaching out on behalf of black and Latino parents in Oakland — but we're standing up for parents like us all over the country.

The Oakland REACH's letter to the moderators of Thursday's Democratic debate in Los Angeles — PBS NewsHour anchor and managing editor Judy Woodruff, POLITICO chief political correspondent Tim Alberta, NewsHour senior national correspondent Amna Nawaz and NewsHour White House correspondent Yamiche Alcindor. (The Oakland REACH)
We are families who have been failed by the school system in this country for generations. We are in desperate need of something better for our kids, and we deserve to hear what the candidates will do — or won't do — about it.
And right now we are worried that a lot of the candidates just don't get it. Many plans, like Sen. Elizabeth Warren's, would make it harder to create decent choices for parents in need — and then blame them for failing to fix their schools. This weekend's education forum was set up by unions that have made no secret of their desire to destroy the limited choices parents like us have.
The truth is, for families like ours, sometimes public school choice gives us the only chance we've got. So we want to know where candidates stand on more choice of public schools. We believe every candidate should tell us how — and will — they support families who don't have good options.
There's no question: Establishing new choices for families can have complicated consequences. But you know what is worse than complexity?
Sending your kids to failing schools. Knowing they won't be set up for the future.
We need to talk less about saving certain types of schools, and more about saving students. Every candidate's focus needs to be on getting more kids into quality schools — a reality that is painfully far away right now.
In truth, we need to start talking about our families, period. Thursday's Democratic debate stage is a good place to start.
Get stories like these delivered straight to your inbox. Sign up for The 74 Newsletter