With NYC Preschool Families Facing Disparities as Some Classrooms Are Closed, America's Largest District Announces Return of 5-Day Instruction for Youngest Learners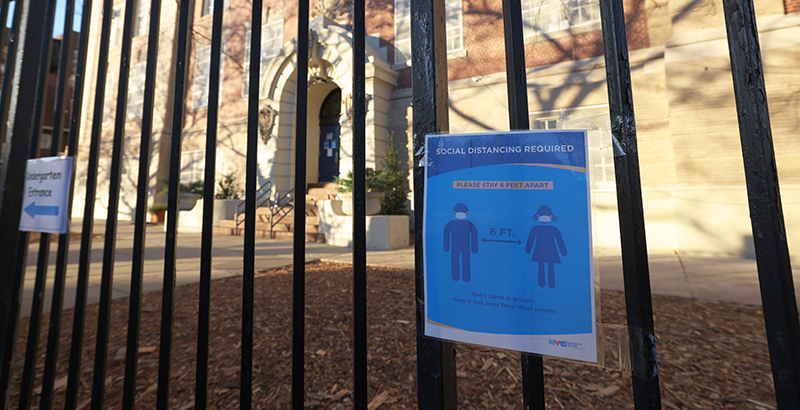 Updated, Dec. 1
Mayor Bill de Blasio announced major changes to reopening schools on Sunday. The city's youngest students, those in 3-K, pre-K and K-5 elementary school, can return to school Dec. 7. Special education students in District 75 schools, which serve students in all grades with the most profound disabilities, will be brought back Dec. 10. The mayor said there was no plan in place yet to reopen buildings for middle and high school students. 
In two other seismic shifts, the Department of Education is doing away with the troubled blended learning model, where students spent several days a week in school and the rest of the time learning remotely. Roughly 190,000 of the 335,000 students who chose in-person learning, either at the beginning of the school year or by the DOE's Nov. 15 deadline, will now be able to attend school five days a week. The remainder of NYC's 1.1 million students will receive all-virtual instruction, including middle and high school students who had been receiving some in-person learning and the far larger student group who opted for fully remote in September. The mayor is also abolishing the much-criticized 3 percent average positivity rate as the threshold for closing schools, which is what triggered the Nov. 19 shutdown.
Preschooler Kaiden Elliott gets confused these days when he watches his uncle, who's in first grade, participate in online classes.
The older boy, King, who attends a charter school in Far Rockaway, pulls on his school uniform every morning and sits down in front of his tablet for live Zoom instruction. Kaiden had been receiving in-person instruction at P.S. 327 in Brownsville, but when New York City schools closed Nov. 19, he was sent home without a device or learning materials, his father Rondell said.
"He'll wake up and think it's playtime and try to play with [King]," Rondell continues. "I say, 'You have school, too.' He asks, 'Where's my teacher? If [King's] on school, why am I not doing the things he's doing?'"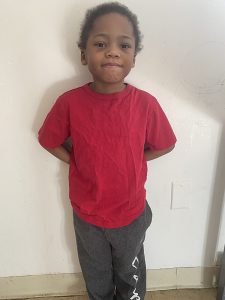 Like King, some of Kaiden's classmates are learning remotely on Google Classroom and Zoom, but Kaiden, so far, is locked out of remote instruction. Instead, the preschooler wakes up every morning to an unstructured day, as Rondell scrambles on his phone or his mother's computer to find online worksheets for his young son.
"It's hard to juggle," Rondell said. "I'm telling him, 'It's time for school; you're gonna sit here with me at the kitchen table.' At 4, he's like, 'This is not school.'"
The Elliotts are one of many New York City families who now face an especially pronounced disparity around access to early childhood education, an area Mayor Bill de Blasio prioritized with the introduction of universal pre-K, which is generally considered the most significant educational accomplishment of his tenure.
When the coronavirus hit the city in full force in March, all schools were shut down and REC centers were established to care for the children of essential workers. This fall, de Blasio shuttered the nation's largest public school system after the city hit a 3 percent average positivity rate for new virus cases over seven days, a threshold he set back in the summer. Unlike the spring closures, this round allows charter schools, public preschools run by community-based organizations, private and parochial schools to remain open.
When asked Nov. 18 how the Department of Education planned to navigate the disparity in pre-K access, school officials did not reply.
On Monday, the mayor said special education students attending specialized schools would be the first to be brought back. "Next, the youngest grades, early child education, such a difference-maker for children, bringing that back. 3-K, pre-K will be a high priority followed by elementary school and we'll keep building from there," de Blasio said.
The mayor didn't give a timeline for school reopening, other than to cite "upcoming weeks," and to stress the importance of testing. All students entering school buildings will have to have testing permission forms on file.
"If you're a parent, you want your kid back in school as soon as they reopen, get that test consent form in," de Blasio said.
Until schools can safely reopen, the current situation threatens to exacerbate already-yawning educational opportunity gaps between New York's youngest students, at a time when the pandemic has particularly upended the lives of those in low-income communities. While many families who could afford it decided in September to keep their preschoolers in tuition-based private programs, others who enrolled in public pre-K are using whatever they have at their disposal to fill the void left by the closures. For caretakers lacking financial resources, the uphill battle against learning loss is especially steep.
"As a parent, I can teach him as much as I know, but it's a little bit different when you're in school," said Rondell Elliott. "Now that he's not [at school], every day feels like it's the weekend. I lose a lot of hours; I lose out on sleep."
The closures have had a disproportionate impact on working families. Elliott, for instance, is a single dad, and he's had to readjust the hours at his restaurant job to accommodate recent changes in his son's schedule. An analysis by the Citizens Committee for Children of New York showed that in school districts with the highest economic insecurity — including Brownsville, where Kaiden is enrolled — on average at least 20 percent of students didn't have any interactions with remote learning each day during the spring 2020 term.
Although he and his son would qualify, Elliott hadn't heard of Learning Bridges, the public resource that the city has made available to essential workers. He intends to try enrolling his son there, although most of the program's 40,000 spots have already been filled, according to the DOE. Officials have said they want to more than double that capacity by the end of the year.
Rafael Lima is father to twin preschoolers, both of whom have autism. His daughter attends a special needs public pre-K run by a CBO, called Rising Ground in East Harlem, in person every other week and remotely the rest of the time. His son goes to P.S. 138, also in upper Manhattan, a District 75 school for students with profound special needs, two to three days a week in-person, but his pre-K is now closed.
"They're not getting the services they need," Lima said of his children, whom he's seen struggle with remote learning since the pandemic began.
"How are you going to do occupational therapy over the phone?" he wondered. "It's wasting time for children. Children with special needs are regressing and regressing."
He says that since the pandemic started, he's seen his daughter advance a little: she's started recognizing what money is, for instance. "When it comes to the boy, I haven't seen progress with him," Lima says. "His needs are deeper."
Like Elliott, Lima, a travel agent, has had to make sacrifices since the pandemic started. Today, he pays $80 an hour out-of-pocket for his son's applied behavior analysis, a commonly used treatment that breaks down everyday tasks and behaviors for children with autism.
"Daily life is very different," Lima says. "When they are home, you need to do what you need to do. We need to be there for them. Our daily activity changes."
Parents like Lima have looked outside of the school system to get their children instruction. Others, like Frank Wu of Long Island City, are considering leaving it altogether.
Wu attended public school in California and always wanted to send his son to public school, he said, but the latest closure was "the straw that broke the camel's back."
"I've had arguments with my wife about this," he said on a recent call. "'You should send your kid to public school,' she's always been on the edge, erred towards private. Now she's like, 'The private schools are safer, public schools are closed. We should go there.' Why are we even bothering with this?"
Wu, who works in software sales, has spoken with other parents — one who's a friend, another at his local park — and said both recently decided to enroll their preschoolers in private school.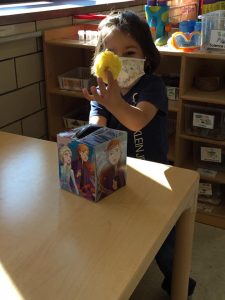 His son turns 5 next year and attends the District 30 pre-K center on Jackson Avenue, which is co-located with an elementary school and an adult learning center, all of which shuttered earlier this month.
"It's the inconsistency," he said of the closure. "People have a lack of trust with the DOE. If you're gonna do [the school shutdown], it has to be consistent."
Amy, another Queens parent and former teacher, who asked that her last name not be used because she hopes to return to a DOE job post-pandemic, has seen one of her 4-year-olds develop a tic — a change she attributes to the back-and-forth school closures. Her twins attend pre-K in a Forest Hills public school that is now closed, and Amy said that if the DOE doesn't return to typical five day-a-week scheduling next year, she'll pull them out of public school.
"They're definitely anxious about when things are open or closed," she said. "Now school is closed for two weeks. It's this insecurity; nothing is constant."
That need for consistency may be reflected in the relatively small number of students — about 35,000 — whose families switched from full-time virtual instruction to a blend of in-person learning one to three days a week in school and remote learning the rest of the time, when given a last-chance Nov. 15 deadline. When New York City schools do reopen, about a third of the district's 1.1 million students will be spending any time in classrooms.
Wu's son may not be one of them. His parents are considering moving their child to the NYC Kids Club, where the preschooler has been receiving some afterschool playtime, and which also offers a five-day-a-week, 4-year-old program with "physical science, social studies, gymnastics, dance and art." Upcoming tuition from late January to early June is about $12,850 for a six-hour school day, and $14,500 for a nine-hour day.
The thought of leaving the public school system troubles Wu.
"They're gonna lose a lot of funding," he said. "The inequalities are gonna be even greater. It's a downward spiral. How do you change that?"

Get stories like these delivered straight to your inbox. Sign up for The 74 Newsletter