Mayor Closes New York City Schools as COVID Cases Climb and Parents Protest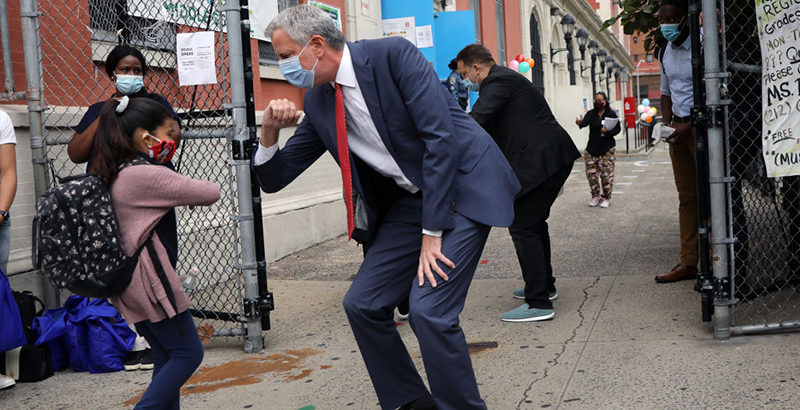 Updated, Nov. 20
Responding to a steady uptick in coronavirus cases after a day of chaotic and delayed communication, Mayor Bill de Blasio announced mid-afternoon the closure of New York City's public schools, temporarily ending in-person learning for some 300,000 students in the nation's largest school district.
The city had been bracing for a disruptive shutdown for about a week, as its seven-day positivity rate reached 2.6 percent last Thursday and 2.74 on Tuesday, creeping ever closer to the 3 percent threshold the mayor determined would trigger a shutdown after discussions with city doctors and negotiations with the teachers union this summer.
The mayor said the city hit that number on the head Wednesday and that confirming its accuracy and conferring with the state about next steps, including COVID restrictions that would stretch beyond schools, caused the delay in notifying parents.
"You live by a standard, and sometimes, you know, it feels better and sometimes it feels worse, but it's still a clear standard. And so, that 3 percent was a really conservative standard. And, of course, we've all felt some pain that the last thing we wanted to see is the schools close, but there's been resolve about the fact that the game plan so often has worked of sticking to those tough standards," he said. "And that's why I'm resolved about the fact that to bring schools back, we can do it – we've done it before, we'll do it again."
Calling the 3 percent blanket threshold outdated and arbitrary, parents in the #KeepNYCSchoolsOpen movement lost no time in announcing that they would hold a protest rally at City Hall Thursday morning and present a petition with 12,000 signatures calling for schools to reopen.
"You heard the news. Schools are closed tomorrow. Adding insult to injury, the mayor told us at 2 p.m. the night before," parent organizer Daniela Jampel wrote. "It is offensive to school administration, it is offensive to parents, and it is offensive to children. We had already planned a rally for tomorrow, but now we're furious."
The mayor indicated that the earliest school could return to in-person learning would be the week after Thanksgiving and that universal buy-in to mandatory student testing would be required for that to happen.
"I want that to be clear. We have a stringent health and safety standard right now. We're going to have to raise that up even higher to be able to bring our schools back but that's exactly what we intend to do," de Blasio said. "We're going to have to focus even more on testing. And I want to emphasize, testing is going to be crucial to the successful reopening of our schools and everyone has got to get engaged even more on testing."
New York City was the only large district in the country to reopen to some measure of in-person learning amid the pandemic. United Federation of Teachers President Michael Mulgrew cited that as a point of pride in a video Tuesday, where he said the 3 percent threshold was appropriate.
"Now, learning is going to continue while we are in remote," Mulgrew said. "But let me be clear, we want our schools open again."
Early Wednesday, it appeared the announcement that schools would close would come sometime in the morning as the mayor had initially laid out — instead, hours of waiting and confusion followed. In the afternoon, a testy Gov. Andrew Cuomo called his own press conference, where, after announcing the city had a 2.5 percent seven-day rolling average positivity rate, dodged questions about whether he or the mayor had the final say over closing schools Thursday. The confusion stems largely from the two politicians — known for their antipathy toward one another — measuring that metric differently.
"They close at 3 percent," Cuomo said of the city. "There's a differential in some of our numbers, which is due to the timing of the numbers, which is complex but is really irrelevant," he said, before finally adding, after urging from reporters, "On schools, their numbers govern."
Minutes later, NYC principals received an alert from DOE Chancellor Richard Carranza saying schools would be closed starting Thursday. The mayor tweeted the announcement at 2:19 p.m.
De Blasio immediately faced a barrage of criticism from parents and others over the city closing schools while keeping bars, restaurants and gyms open, despite the positivity rate for students and staff tested inside schools remaining extremely low at 0.19 percent.
"This could have been different. We could close down everything else first. We could give parents' several days notice. We could invest in our schools & treat our kids as a priority. So frustrating, sad and disruptive," tweeted Justin Krebs, director of campaigns at the progressive advocacy group MoveOn.
While 52 percent of the district's students had already chosen full-time remote learning as of mid-October, moving all 1.1 million to that model promptly raised the issue of students lacking devices, such as iPads. Schools Chancellor Richard Carranza said during the mayor's press conference Wednesday that 40,000 had been delivered, and that 60,000 more were still needed.
Denise Watson-Adin, principal of P.S. 32 in Brooklyn, wrote in a Nov. 13 email to parents that she was told four to six weeks would elapse before the devices they needed would arrive.
"I can only imagine how frustrated and upset you must feel at this moment," she said of the prospect of schools shutting down again.
Unlike the first citywide school shutdown in March, some private and Catholic schools, including 69 parochial schools in Brooklyn, will remain open, creating an immediate disparity in access to in-person learning.
For at least some teachers, the latest transition to all-remote instruction has thus far felt smoother than it did in March, when educators had just one week to move an entirely in-person curriculum online.
Leton Hall, a middle school science teacher in the Bronx, said he had already invested time in remote teaching strategies, which turned out to be helpful, after a recent COVID scare in his building sent faculty and students home days before the mayor's announcement.
"We knew that if we got to a point where we'd have to go remote again, we as teachers knew better how to handle it," he said, minutes after that became a reality.
But the extent to which another abrupt move to all-remote learning will negatively affect families depends partly on the decisions that have been made by individual principals — and the degree to which each student body has been plagued by issues of access that have endured since the beginning of the pandemic.
Attendance, for example, remains a major problem. While Hall said that he expects the transition to remote learning to be relatively easy for his school, given the sizable share of students there that have already been learning that way, many kids still aren't showing up to learn: 10 to 12 are missing from each of his five classes, he said.
The students who have lost contact with their schools also remain a matter of concern for Randi Levine, policy director at Advocates for Children, a nonprofit fighting on behalf of the city's underserved youth. On Tuesday, her group published a statement saying, "Educating children is one of the most essential services the City provides, and the Mayor should do everything possible to keep schools open while keeping school communities safe."
While Levine said students are better equipped now than they were in March, she explained that "we're still very concerned about students who don't have the technology to participate in remote learning."
Levine noted that, as in March, the transition to all-remote will disproportionately undermine the learning process of students with special needs. It's unclear whether Learning Bridges, a program that's been serving the children of essential workers several days a week since the summertime, will be available to special education students.
"Going to no school would be another big change, and some of these students are just starting to make progress after months of learning loss," she said. "We hope the city will prioritize getting in-person services for students with disabilities who have struggled with remote learning. But we have not yet heard of any plans for providing in-person services during a systemwide shutdown."
City Council member Helen Rosenthal said Tuesday night that only about 18,000 of the 39,000 Learning Bridges seats offered to families have been filled. During his press conference Wednesday, de Blasio said essential workers will still be first in line for Learning Bridges seats, but then others will be given preference, including families in shelters and those with "particular challenges."
District 75, which serves students with profound disabilities, had one of the first student cohorts to return to in-person learning this fall. The mayor said in a press conference early this week that he will try to prioritize those students' needs by getting them back to school quickly, but he has not detailed how.
As in March, the closure will also disproportionately affect the city's youngest learners. The DOE did not immediately respond to a request for clarification on whether city pre-K programs in public school buildings will be forced to shutter while public pre-Ks based elsewhere could possibly stay open.
As the coronavirus crisis grows more dire throughout the country, cities and states are parsing their responses when it comes to schools. In Chicago, which has yet to reopen, plans were announced this week to bring back preschoolers and some special education students in January, and all elementary school students at the start of February. D.C. Public Schools on Wednesday welcomed back more than 400 students — prioritizing those with disabilities, homeless students and English learners — to 29 schools for monitored virtual learning, but not in-person instruction by unionized teachers. In Michigan, in-person classes were canceled this week for high schoolers and college students but allowed to continue for elementary and middle school students.
Hall, the Bronx-based science teacher, recognizes the impact New York City's announcement will have on its youngest kids, including his 5-year-old son, who was recently counting down the days until he could return to kindergarten.
"They crave the interaction," he said. "I know a lot of the students are not too happy with being remote. I imagine for elementary school, [that transition] is super hard."

Support The 74's year-end campaign. Make a tax-exempt donation now.