North Carolina Lawmakers Recognize School Setting Newcomer Kids Up for Success
Students get extra support at the school and families are welcomed intentionally as partners in the educational process.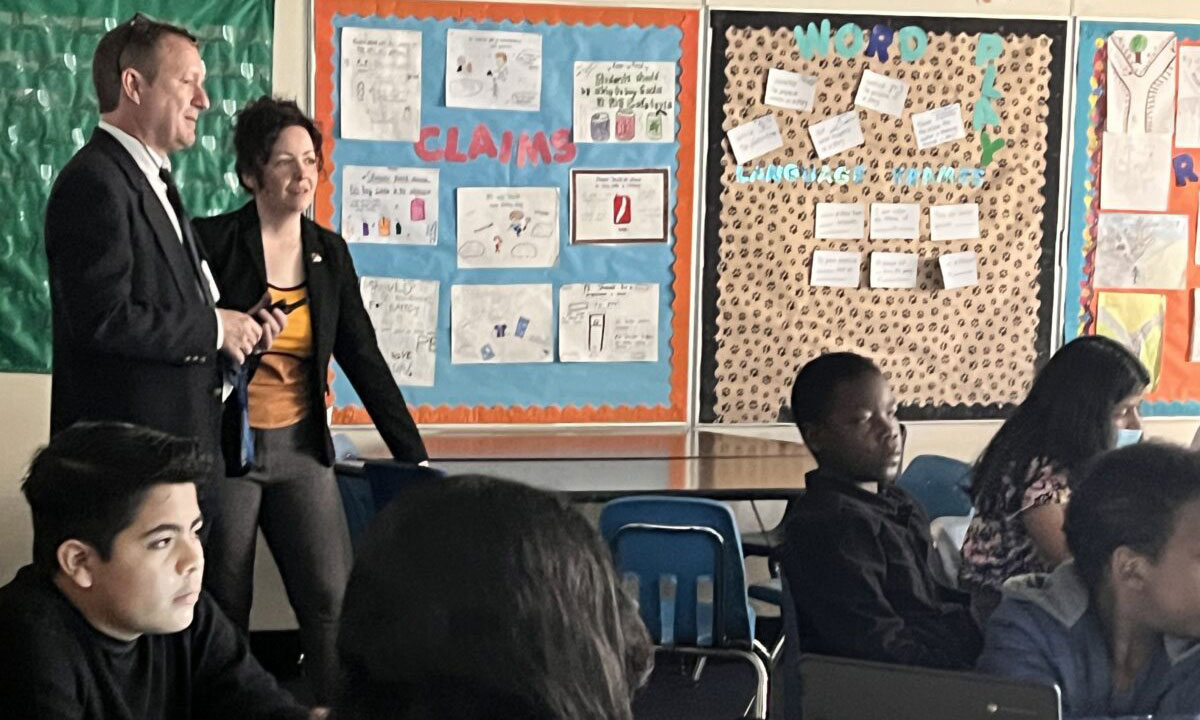 No paywall. No pop-up ads.
When Lindsey Prather was a teacher in Buncombe County Schools, she saw dozens of flags hanging around one of the district's most diverse schools. The school housed a Newcomers Center, where students of immigrant and refugee families spent a semester acclimating to the United States and North Carolina's education system.
The program closed in 2015 because district officials feared it conflicted with Department of Education guidance on English Learner students. The guidance explained that these students must have meaningful and equal access to participate in educational programs.
Prather, now a member of the state House, said she felt disappointment when she learned that the program had closed. She swelled with hope after leaders at LatinxEd told her about a district with an entire school devoted to newcomers.
The Doris Henderson Newcomers School in Guilford County is so popular the district is opening a second newcomers school in August.
Prather, D-Buncombe, said there is a need in Buncombe County to support newcomer students. She made a visit to the Doris Henderson school this week, along with Reps. Maria Cervania, D-Wake; Ray Pickett, R-Watauga; and Caleb Rudow, D-Buncombe.
Cervania said Wake County has dozens of new arrivals every day, echoing the need for robust newcomer programs. And the public school system is distinctly able to provide supports to both students and their families.
"I would argue that the public aspect is a massive factor here," Prather said. "It is so holistic. It's optional for families, but they know that it's a resource here because (the school) works so well with the base schools. The whole idea is to get them ready to go back into their base school where they can both contribute to that school community but also become part of that local community, as well.
"The fact that this is open to everybody and doesn't cost the families is essential to the feeling that they created here."
What makes the newcomer school special?
At Doris Henderson, students are able to participate in all of the things offered at the district's other schools. Students enter an English-only speaking environment, with support available from translators and, often, from other students who speak their native language.
They learn about the education system. They receive instruction designed to catch them up in English, literacy, mathematics, and other subjects. And they take field trips to develop background knowledge on American culture — like going to baseball games.
Families are also central to the school — welcomed intentionally as partners in the educational process of their students. The school provides adult literacy classes to families, empowering them to progress in their English language development. The school makes child care available during those sessions.
These students also put on international days, creating performances and presentations to teach other students about their cultures.
"This is actually doing something — when they went into other schools to share," Pickett said. "I've seen too many DEI programs that are doing nothing. This is actually doing something."
A model that could serve other counties
The equal opportunities are key to Doris Henderson's compliance with the law. Students spend a maximum of one year in the program before moving to their base school.
Prather said her school board is eager to hear about what she learned on her Doris Henderson visit. Asheville has a growing newcomer population. Refugees from Ukraine, for example, have come to Buncombe County for several years. That trend has picked up since Ukraine was invaded by Russia last year.
For Prather, it's an example of the necessity of public programs, and public schools in particular: Where else can families get a comprehensive host of services that reach both them and their kids?
Other school districts offer newcomer programs, but often these look similar to Buncombe's, housed inside a base school. Doris Henderson, as well as the second newcomer school opening, receive a lot of local funding from a large district.
"I think this program perfectly exemplifies the choice that is and can be available in public schools when we do fully fund and provide resources to our public schools," Prather said. "Yes, we understand that not every teacher and not every school is the perfect fit for every student.
"But when you have an area like this, that has the buy-in from the community, that has the resources, that has the funding, that has the staffing to create something like this within the public system, I think that just shows that, when given the opportunity, we can provide all those choices."
This article first appeared on EducationNC and is republished here under a Creative Commons license.
Get stories like these delivered straight to your inbox. Sign up for The 74 Newsletter