New York Student Caught Up in Gang Dragnet Is Freed After 5 Months in Immigration Detention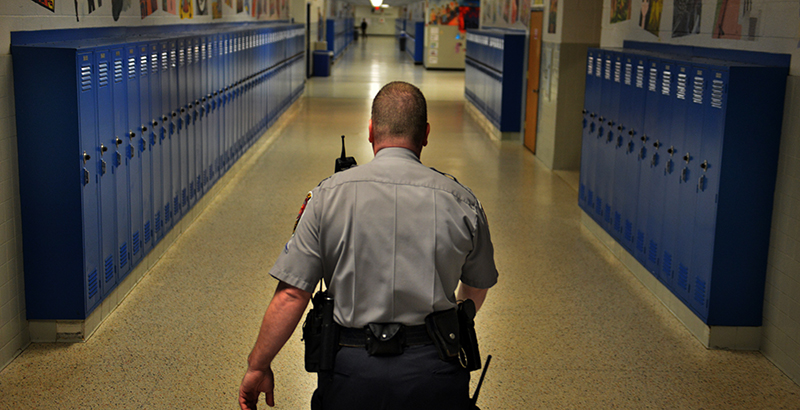 An undocumented teenager accused of gang affiliation was released last week after spending five months in federal immigration detention. Attorneys for the student say the accusation was unfounded — and that it originated with officials at his New York high school.
The 17-year-old is at the center of a lawsuit against the Trump administration as local, state, and federal officials crack down on the deadly street gang MS-13. Immigrants rights advocates contend that more than a dozen innocent teens who moved to Long Island as unaccompanied minors have been caught in the dragnet, often with help from school resource officers who work for the Suffolk County Police Department.
On Nov. 21, an immigration judge in New York City ordered the student, identified in court documents as F.E., released to his family because federal officials had failed to provide evidence that justified his arrest and detention, according to a press release by the American Civil Liberties Union of Northern California. The civil rights group filed a class-action lawsuit in August on behalf of three teens from Suffolk County, including F.E., after they were locked up in California. On Nov. 20, the U.S. District Court for the Northern District of California ruled that the government must release the young adults back to their families by Wednesday unless it can present evidence of gang affiliation.
The two other teens, identified in court documents as A.H. and J.G., are awaiting hearings.
Advocates say federal immigration officials wrongly interpreted hand gestures exchanged with classmates, graffiti in a notebook — even a Chicago Bulls T-shirt — as proof of gang affiliation and shipped the teens off to detention facilities thousands of miles from home without notifying their families or lawyers.
"These boys were torn from their families. The Trump administration wrongfully denied them any opportunity to respond to the charges against them, and the court's order recognizes their rights to a fair and impartial hearing when they are threatened with deprivation of their liberty," Julia Harumi Mass, a senior staff attorney with the ACLU of Northern California, said in a media release. "The federal government cannot arrest and indefinitely detain a person, let alone a child, simply because a police officer reports that they wear a certain color shirt or visit a pizza parlor frequented by a known gang member."
F.E., who is applying for lawful immigration status, fled to the U.S. alone when he was 14 to escape death threats from gang members in his native El Salvador. In February, he was accused of loitering in a Brentwood High School hallway, and a school resource officer employed by the county police searched his property and found the number "503" scribbled on a piece of paper, according to court documents.
The number — El Salvador's area code — has been co-opted as a sign for MS-13, but the student said he needed the number to call his home country. He said he began to have frequent encounters with county police after a days-long suspension from school, and that the officers "seem to think that everyone who looks like me is a gang member."
"I have never been a gang member," he said. "I do my best to avoid gangs. There are gang members at Brentwood High School, and I am not friends with them, but I can't be enemies with them, either. I have classes with some of them, and sometimes, I have to talk to them."
In June, an officer from the department, which has a partnership with federal authorities to crack down on gang violence, arrested F.E. for disorderly conduct and transported him to federal custody.
Although the department wasn't named as a defendant in the lawsuit, attorneys contend local officials view federal immigration enforcement as a way to remove suspicious youth from their community, "even in the absence of evidence sufficient to support a criminal arrest, much less a criminal conviction."
In August, Suffolk County Police Commissioner Timothy Sini told WNYC radio that "there are a number of ways" school suspensions can reach federal immigration officials. "And kudos to school resource officers for being diligent."
President Donald Trump was elected on a promise to ramp up federal immigration enforcement. That crackdown includes a focus on unaccompanied minors, hundreds of thousands of whom have immigrated to the U.S. without their parents in recent years. As lawmakers in Washington negotiate a legislative fix to replace the Deferred Action for Childhood Arrivals program, a list of key "principles" from the White House proposes eliminating protections for unaccompanied minors, "so long as they are not victims of human trafficking and can be safely returned home or removed to safe third countries."
During a visit to Long Island in July, Trump promised to "dismantle, decimate, and eradicate" MS-13 with the help of local officials. New York Gov. Andrew Cuomo announced plans in September to deploy state troopers to 10 Long Island schools to prevent gangs from recruiting students.
Get stories like these delivered straight to your inbox. Sign up for The 74 Newsletter