Undocumented Students Arrested and Locked Up in New York as Trump Cracks Down on Immigrant Gangs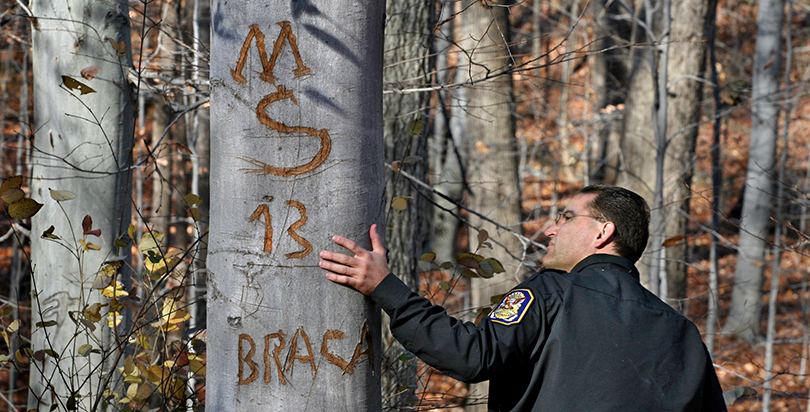 President Donald Trump's high-profile speech last week encouraging law enforcement officers to rough up "thugs" came at a turbulent moment for residents on Long Island, New York, which in recent years has become a deadly enclave for MS-13, a notoriously brutal street gang with close ties to Central America. But as officers work to halt the carnage and the Trump administration gears up its crackdown on undocumented immigrants, students and schools have found themselves in the spotlight.
Those students include at least nine teens in Suffolk County, Long Island, who the New York Civil Liberties Union said were falsely accused of gang affiliation and sent to secure immigration detention facilities. In a letter last week, NYCLU attorneys accused the U.S. Office of Refugee Resettlement of detaining the students, who had not previously been charged with criminal gang activity, without conducting an independent investigation. The office oversees undocumented children who enter the country without their parents.
Federal law requires the office to detain children in the "least restrictive" conditions, unless an independent investigation determines they pose a threat or face criminal charges, the group wrote. Allegations of gang involvement stem from benign incidents, the NYCLU said, including wearing clothing that features the Chicago Bulls logo — a possible gang symbol — and playing soccer with suspected gang affiliates.
"These practices are forcing children to fear both the gang and the government," NYCLU Suffolk County Chapter Director Irma Solis said in a news release. "We've heard from children who are afraid to go to school or go outside their homes because they're scared they will be picked up by [Immigration and Customs Enforcement] and separated from their loved ones — and all because someone may have misunderstood a T-shirt."
Attorney Peter Brill told the Associated Press that federal immigration officials detained a student from Central America who had been suspended from Bellport High School in Suffolk County. District officials didn't respond to a request for comment.
The NYCLU letter followed a story in Reuters that exposed an ICE memo directing field officers to target unaccompanied minors who are 16 and 17 years of age and suspected of gang activity. ICE told the news agency it identifies as gang members people who have gang tattoos, frequent areas notorious for gang activity, and wear gang apparel. Though all undocumented immigrants face possible deportation, federal immigration law grants unaccompanied minors additional protections, including through custody arrangements by the U.S. Department of Health and Human Services.
The memo also directed agents to target parents who crossed the border illegally with their children and unaccompanied minors who have since turned 18, according to Reuters.
(From LA School Report: Educators Call for End to Raids on Undocumented Families, See Toll on Kids)
On Friday, the day Trump promised to "dismantle, decimate, and eradicate" MS-13 in a speech at Suffolk County Community College in Brentwood, Long Island, the New York City Police Department announced the arrest of two MS-13 gang members in Hempstead, located in Long Island's Nassau County. The men, both of whom are from El Salvador, were accused in the May killing of a man outside a Queens convenience store. Four times in his speech, Trump called MS-13 members "animals," putting the blame on undocumented children.
"In the three years before I took office, more than 150,000 unaccompanied alien minors arrived at the border and were released all throughout our country into United States communities — at a tremendous monetary cost to local taxpayers and also a great cost to life and safety," Trump said. "Nearly 4,000 from this wave were released into Suffolk County — congratulations — including seven who were indicted for murder."
Local officials have blamed a recent uptick in the number of unaccompanied minors for helping to drive Long Island's surge in MS-13 gang activity. The gang, which was founded in the 1980s in Los Angeles but has its home base in El Salvador, has relied for years on teens as recruits. Angel Melendez, the ICE special agent in charge of New York City Homeland Security investigations, said in June that schools are "ground zero" for MS-13 recruitment.
In early 2016, educators and immigrant rights groups from across the country decried actions by then-President Barack Obama to crack down on unaccompanied minors and families. Those actions, however, prioritized individuals who were charged with crimes and those who recently entered the country.
Support The 74's year-end campaign. Make a tax-exempt donation now.