New York Democrats Could Win Big in the State Senate this Fall. Here's What That Could Mean for Education Funding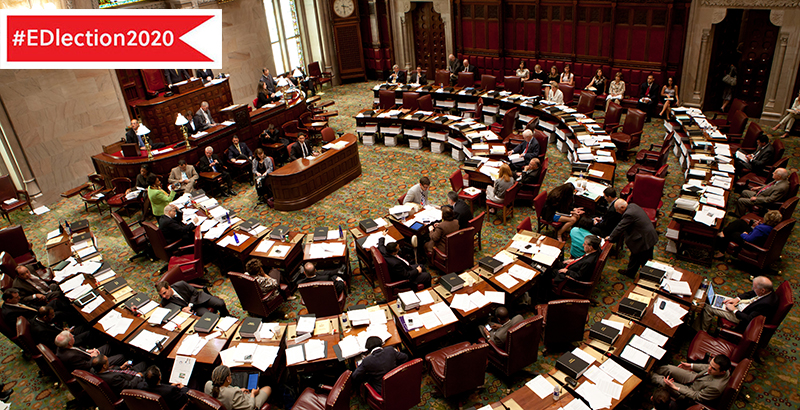 New York Democrats could achieve the once-unthinkable this month: a two-thirds supermajority in the state Senate that would buttress the one they hold in the Assembly and make the chamber veto-proof to Gov. Andrew Cuomo.
The party already has 40 of 63 Senate seats; it needs only two more to gain the supermajority, barring defections.
That victory would be the first time in over 100 years of Albany politics that one political party has held such sway over both legislative bodies, and would result in Cuomo, a more moderate Democrat, losing veto power. That could have big implications for public schools statewide, as lawmakers attempt to pull them out of the dire fiscal crisis caused by the pandemic.
The Empire State's Senate has become more liberal since President Trump's 2016 election, with Democrats scoring eight seats in 2018 to win the majority and dismantle the Independent Democratic Conference, which would caucus and vote with Senate Republicans. Since then, progressive lawmakers have passed a number of education-related bills, including a gun control measure that limited educational institutions' ability to approve the possession of a weapon on school grounds.
Some candidates poised to flip Republican seats this time around are hoping to use their momentum — and, if achieved, their supermajority — to deliver schools more money. Those contenders are based primarily on Long Island and in Western New York and the Hudson Valley; several have made the school funding promise to voters on the campaign trail.
Finances have been a source of strain for New York families and educators for months. Over the summer, the state withheld 20 percent of the funds that public schools were supposed to receive before later restoring them. Cuomo has said the state needs additional funding to avoid other cuts in the 2020-21 school year, and his state budget director stated early last month that the administration is awaiting further information on federal aid before making more decisions about tackling the budget crisis.
Governor Cuomo's office did not respond to a request for comment.
Alliance for Quality Education Executive Director Jasmine Gripper said Tuesday that she's hopeful that newly elected progressive lawmakers will throw their weight behind solutions that render cuts to schools unnecessary, like taxing the state's wealthiest residents. Her organization, a parent advocacy group that was partly founded by the United Federation of Teachers, has been battling the governor over school funding for years.
"The alternative [to taxing the very rich] is really devastating," she said. "The legislature will have a hard time coming back to their communities, explaining why they passed a budget that cut their schools … in the middle of a pandemic, when there was [another] option."
Ray Domanico, the education policy director at the conservative Manhattan Institute, said he thinks progressive legislators will need to pick their battles carefully, given the governor's negotiation abilities.
"The supermajority does not mean that the governor doesn't hold some of the cards," he said. "The governor still has a lot of control over the budget." Domanico added that he believes the threat of wealthy New Yorkers leaving the state over tax increases will scare Democratic lawmakers away from the idea.
Gripper cited several bills pending in the legislature that would redistribute money from millionaires and billionaires to schools during the pandemic. The proposed tax increases, which Cuomo has consistently opposed, would affect individuals making a minimum of $1 million a year.
"We just have to make the pot bigger," Gripper said. "We understand the state is facing a deficit and a financial crisis; nonetheless, we don't want to balance the budget on the backs of the working poor, on the backs of our children." She pointed to a recent survey supported by the Communications Workers of America and conducted by Hart Research Associates, which found that appetite for raising taxes on the wealthy to tackle the state budget deficit crossed party lines.
The first two pieces of legislation, Senate Bill S7378, sponsored by Sen. Robert Jackson (D-Manhattan) and Senate Bill S8329, sponsored by Sen. Shelley Mayer, (D-Yonkers), who chairs the Education Committee, specifically earmark money for education. The third, S6203A, sponsored by Sen. James Sanders Jr. (D-Queens) doesn't, but Gripper explained that the bill, which seeks to repeal rebates on stock transfer taxes paid by Wall Street, would immediately pull in revenue if passed.
If the governor chooses to pursue further cuts to the public sector, including education, the highest-needs districts would feel the impact the most, Gripper pointed out. "Stopping those cuts at all costs is our top priority," she said.
An interest in taxing the ultra-rich to fund schools appears to be gaining traction around the nation, particularly among Democrats, as schools struggle to fund basic precautionary measures during the pandemic. As Education Week recently noted, the idea is a centerpiece of Joe Biden's education platform, and it received attention during the Democratic primaries. Arizona voters will reach a consensus on the issue Tuesday, when they vote on a ballot proposition that would authorize an income tax surcharge on individuals making over $250,000 a year.
Meanwhile, Republican cosmetics billionaire Ronald S. Lauder is pouring money into an independent expenditure group that he founded to fight for six Senate seats, four of which have Democratic incumbents. Lauder's group, Safe Together New York, has made law and order concerns and opposition to bail reform key issues in its campaign to keep — and possibly gain — GOP seats in the Senate.
Ten seats are currently held by retiring Republicans, including two in Rochester, a district with some of the most chronically underfunded, underperforming schools in the country. Both Democrats in those races have made the fight for public school financing a focal point of their campaigns.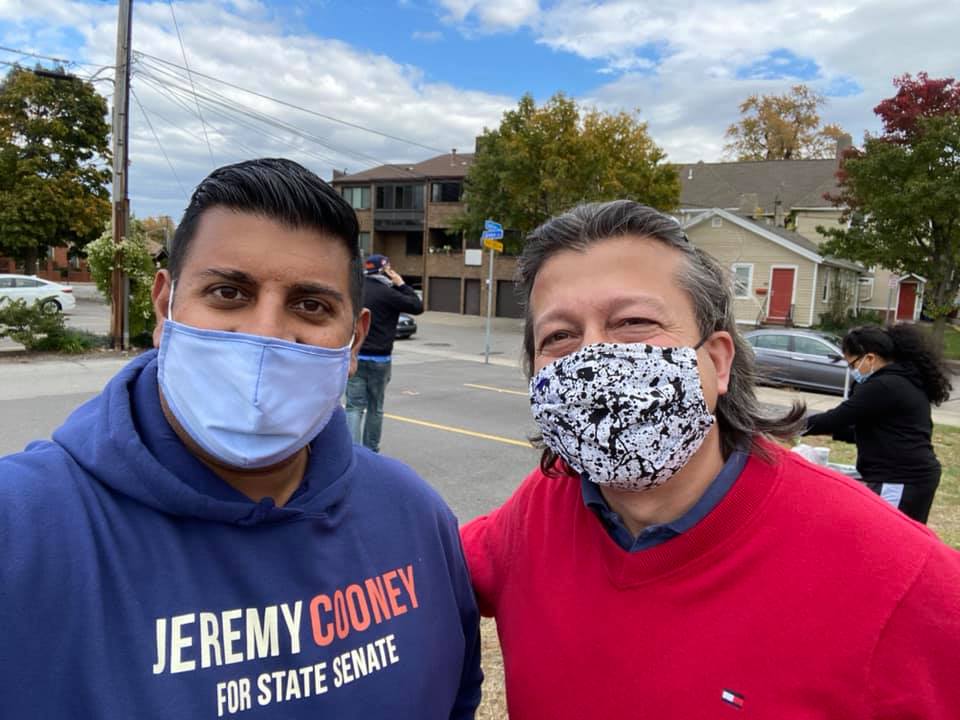 Jeremy Cooney is a graduate of the district and the son of a public school teacher. "My role will be to ensure both our urban and suburban school districts get their fair share from Albany, which is not the case right now," he says on his website. "… I will do everything possible to prevent devastating cuts to programs and teachers/aides, giving our educators the resources they need to provide for our students."
Samra Brouk, who's running in the district adjacent to Cooney's, has a similar message for voters. "Our local schools and universities are facing tremendous financial and operational challenges during this pandemic," she has said. "We know our students will need more support, not less, as they rise to the challenges of learning in new ways through this pandemic … We must send a fighter who understands the value of education to Albany to get our fair share of funding for public schools and quality child care."
Cooney and Brouk have been endorsed by New York State United Teachers, which is also directing money to independent expenditure campaigns in support of incumbent Democrats in battleground races, including Pete Harckham, who's running against former Republican Westchester County executive Rob Astorino.
In another part of the Hudson Valley, Michelle Hinchey, daughter of the late Democratic Congressman Maurice Hinchey, has also promised to fight for public school funding, and for broadband access for her district's rural schools. Gripper said she's not certain about whether the district will go blue this November, despite the Hinchey family legacy.
"We've tried to flip that seat so many times," she said.
Other progressive candidates secured their wins during the Democratic primary this summer. Jabari Brisport, a math teacher from the Prospect Heights section of Brooklyn, is one of them. After receiving an endorsement from the Democratic Socialists of America, Brisport won a Senate seat in District 25, which has historically been the most progressive in the state.
The contender spoke with The 74 after wrapping up his first day back in the building at Medgar Evers College Preparatory School, where he's been teaching for two years. The school funding issue is personal for Brisport, whose school recently confronted a coronavirus scare and had to send everyone home for remote learning.
"I can't think of something more destabilizing than massive cuts to education," he said. "That has a ripple effect through the next 10, 20 years. If our students aren't getting a decent education — what about when they grow up and have to enter the workforce? Or when they become the next leaders in their community? And we screwed them over on education. What's that gonna do?"
If elected, a historically progressive legislature could also issue decisions on a range of other education issues, from a "solutions not suspensions" bill to reform school discipline that's been pending for years, to admissions requirements for specialized high schools and a potential moratorium on new charter schools.
Support The 74's year-end campaign. Make a tax-exempt donation now.