The Alliance for Quality Education Organizes March to Albany to Hand Cuomo $3.9B Bill in Overdue School Aid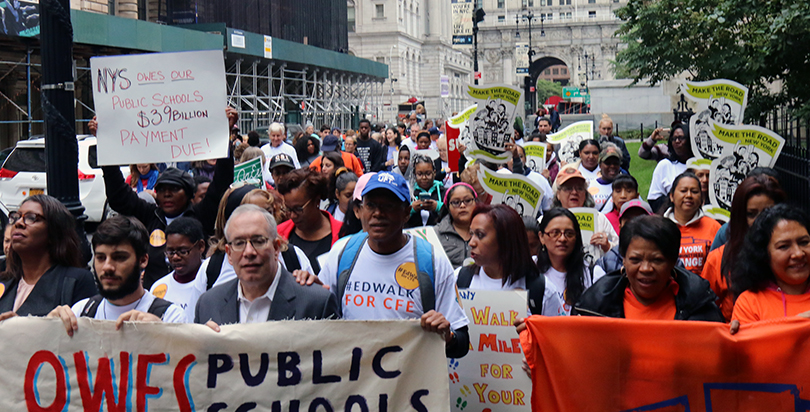 New York City
In 2006, Zaire Kiran was 5 years old and had just entered the New York City public school system.
On Sunday, Kiran, now 15 and a sophomore at Nelson Mandela School for Social Justice in Brooklyn, stood on the steps of Tweed Courthouse in lower Manhattan to demand billions of dollars in state education funding she said students like her have been missing out on for the past decade.
"Me and thousands of other students in New York City shouldn't be held back from opportunities because the state refuses to give us the resources that we need," she said. "We won't wait any longer."
Kiran was among about 100 people who rallied on a gray Sunday morning to kick off the first leg of a 150-mile march from New York City to the state capitol. The 10-day "Ed Walk" is organized by the Alliance for Quality Education, a statewide labor-backed advocacy group, and reprises a similar trek made 13 years ago for the same cause.
While only 16 people are committed to making the entire journey this time, some walkers will join for shorter stints, and the group will pause as it heads north to Albany on Route 9 for rallies with local supporters at high schools, parks and churches along the Hudson River. A rally in the city of Beacon is planned for Wednesday at 4 p.m., followed by a press conference and rally at Poughkeepsie High School on Thursday at 3 p.m. Five people are biking from Buffalo to the capital region to show their support.
Everyone will convene October 11
at the state courthouse to demand that Gov. Andrew Cuomo and Albany lawmakers release $3.9 billion in state aid advocates say is owed to schools throughout New York. They trace the money to a 2006 court decision in the Campaign for Fiscal Equity lawsuit, a decades-long battle between a group of New York City parents and the state over long-standing funding inequities in public schools.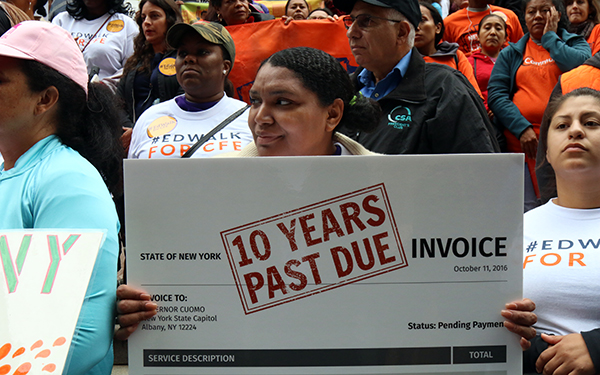 This month marks 10 years since a landmark Court of Appeals ruling that New York failed to provide the resources necessary for students to get the "sound basic education" guaranteed by the state constitution.
Former New York City councilman Robert Jackson, a lead plaintiff in the original Campaign for Fiscal Equity case filed in 1993, recalled the eight-day walk to Albany he made 10 years after that, in 2003, during the drawn-out appeals process.
"That's history, but we don't want history, we want $3.9 billion," he said to applause at the courthouse gathering Sunday. "There's so many young people and adults that are in prison right now because they did not get the type of education that they need in order to be positive adults, educated adults, holding good jobs, supporting their families. This is a fight for our future."
"Governor Cuomo, it's personal!" Jackson added, noting that Cuomo's children did not have to attend New York City public schools or those in struggling upstate districts like Buffalo, Schenectady or Syracuse.
In 2007, the legislature and then-Gov. Eliot Spitzer came up with a solution: Boost education spending statewide by about
$7 billion
over four years. However, the amount was never fully paid out, as the recession hit, leveling tax collections. The recession-year losses canceled out smaller education spending increases that came later with the economic recovery, leaving the state with a $3.9 billion debt to its schools, according to
an AQE analysis
.
Other supporters who showed up Sunday included New York City Comptroller Scott Stringer, New York City Public Advocate Letitia James, representatives from the United Federation of Teachers, state elected officials and leaders of allied advocacy organizations.
"The concept, the legal principle of a sound, basic education is being denied, and for 10 years it has been delayed, and a delay is a denial," James told the crowd. "And unfortunately this is having a disparate effect on low-income communities and children of color in this entire state."
Kiran, the high school sophomore, said her school in Brooklyn's Bedford-Stuyvesant neighborhood is owed $192,000 by the state, according to AQE's analysis — money that she and her peers believe should be directed to extracurricular activities, homework help, Regents test prep, science labs and night school to help struggling students make up credits.
"My school tries really hard," Kiran said, but it doesn't offer an after-school program and there are "barely" any Advanced Placement courses, making it tough for students to be competitive when applying to colleges.
Striding north along Broadway in lower Manhattan, past the upscale boutiques in SoHo on Sunday morning, Bronx resident Lydia Hampton said she was excited to walk the entire 150-mile route to fight for resources for her daughter, who is in eighth grade in District 9. The South Bronx district serves some of the poorest students in the city, most of them black and Hispanic.
"We will not stand by," her friend and fellow
District 9
parent Ronnette Summers said. "If we have to march again, we'll march again, but they're going to give us our money."
New York City schools are owed $1.63 billion, while several assembly and senate districts in western New York and Long Island are owed more than $100 million each, according to the group's analysis.
"Even though we spend a great deal of money in Albany on education, we are not spending enough," New York State Assemblywoman Cathy Nolan, chair of the education committee, said Sunday at Tweed Courthouse. "We are not spending what we need so that our children can become part of the 21st century and have the skills that they need, whether it's technology, computers, English literature — all the things that children need, we have to provide."
During budget negotiations last year, the Democrat-led Assembly proposed
increases
to education aid that would have fulfilled AQE's request, but they were quashed by Cuomo.
In recent years, Cuomo has been largely dismissive of education advocates' efforts, legal and otherwise, to push for more school aid. When advocacy groups and parents in
February 2014 filed a lawsuit
against the state alleging similar school funding violations to those outlined in the Campaign for Fiscal Equity case, Cuomo told a radio host, "We spend more than any other state in the country. It ain't about the money. It's about how you spend it — and the results,"
The Wall Street Journal reported
at the time.
At the Democratic National Convention this July, Cuomo
appeared to shift
on the issue of educational inequity, telling the crowd at the arena in Philadelphia that "right now in this country we have two education systems. Not public and private, but rich and poor."
The governor's office on Monday referred a request for comment to the state Division of Budget. In an email, Division of Budget spokesman Morris Peters accused AQE of "deceptively mischaracterizing" the 2006 Campaign for Fiscal Equity decision and "resorting to a publicity stunt" in demanding $3.9 billion from the state.
Peters noted that New York's annual expenditure of $20,610 per pupil in public schools is 87 percent higher than the national average.
"The call to 'reinstate' Foundation Aid has become a misguided rallying cry for those with a vested interest in growing the education bureaucracy," Peters said, in an apparent reference to teachers unions. "It means 'more money,' which is a fine political argument, but has no legal basis."
Get stories like these delivered straight to your inbox. Sign up for The 74 Newsletter