154 Candidates. 38 States. Meet the Newcomers Who Ousted State Incumbents in the Primaries — and See How They'll Fight to Reshape Education Priorities If Elected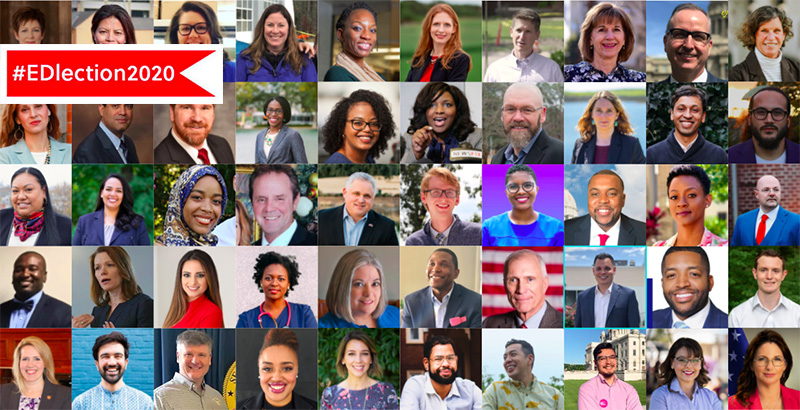 Education has become a surprise hot-button issue in the 2020 presidential election thanks to the challenges of educating during a pandemic, but most laws dictating the day-to-day operations of our nation's schools still come from state and local government. Now with primary elections officially over, and ballots (mostly) counted, at least 154 candidates — including 25 former educators — have unseated state legislative incumbents and are poised to win seats in November. An original analysis by The 74 explores who makes up this change-making cohort and how they stand on education.
Source: Data consolidated from New York Times, Ballotpedia, and author's research of candidate websites.
The 154 primary defeats figure similarly to 2018, when incumbent candidates experienced 147 defeats in state legislative primaries. But these numbers are a jump above those of 2014 and 2016, in which 131 and 123 candidates unseated state legislative incumbents in primary elections, respectively. University of Illinois professor and state politics expert Christopher Mooney cautions against reading too far into that uptick, pointing out that there are more than 7,300 state legislative seats across the country, most with elections every four years. "There's gonna be a lot of randomness in there," said Mooney.
The majority of defeats came in Republican primaries. Ninety-three Republican candidates unseated incumbents, as opposed to only 61 Democratic candidates. However, the average years of incumbency tended to be much higher for ousted Democrats, at over 10 years, compared with that of dethroned Republicans, at under five years.
Teachers beat incumbents on both sides of the aisle: Out of the 25 former educators who outpolled incumbents, 11 were Republicans and 14 were Democrats.
The victors' education platforms may offer a window into the direction of education policy at the state level. Fifty-three Democrats and 46 Republicans publicized an education platform on their websites. Among Democrats, many progressives beat establishment incumbents — some of whom had tenures stretching as long as 29, 35 and, in one case, 47 years in office. The new candidates aligned around issues such as equitable funding of schools, affordable college and universal pre-K. Republican candidates diverged in their stance on President Donald Trump but tended to converge around issues such as local control over education and the expansion of school choice and charter schools.
"We're in a polarized situation," said Mooney. "You get more extreme people on both sides."
The issue of charter schools and school choice, for instance, which enjoyed bipartisan support during the Obama administration, now splits decisively along party lines. Over 32 percent of Republicans supported the expansion of school choice, while not a single Democrat voiced support for such policies.
"Through the Trump administration, this issue has become partisan," explained Mona Vakilifathi, an assistant professor at New York University and a specialist in K-12 education governance, citing a study that found liberals to be less likely to support charter schools when they knew such schools were supported by Trump.
Still, a bipartisan consensus emerged around a number of issues. Most notably, Democrats and Republicans alike called for increasing teacher pay. Support for expansion of vocational education programs and reductions in standardized testing also saw support from both sides of the aisle.
Vakilifathi believes the bipartisan support for teacher compensation may come as the combined result of the 2018 #RedForEd teacher strikes and more recent appreciation for teachers during a pandemic.
Many kids are attending school from home, noted Vakilifathi, and as a result, parents are recognizing the important role played by teachers. "You see how much work goes into educating a child on a day-to-day basis," she said. That appreciation could "further advance the narrative that Red for Ed was playing in these Republican states."
Some states had especially high levels of legislative turnover. In Kansas, New Hampshire, Rhode Island and West Virginia, incumbent defeats totaled in the double digits. In New Mexico, where in 2018 voters approved three key education-related bond measures, four former educators were victorious over incumbents.
Mooney believes that the recent groundbreaking wins of candidates from historically marginalized groups, such as Rep. Alexandria Ocasio-Cortez, may also be at play this year in state and local elections, having inspired new candidates to run.
"A lot of people that haven't had their voices heard before are rising up and making them heard, and that's going to shake up the status quo."
Support The 74's year-end campaign. Make a tax-exempt donation now.