Nearly Half of LGBTQ Youth Seriously Considered Suicide in the Last Year, Survey Finds. A Simple Strategy Could Save Lives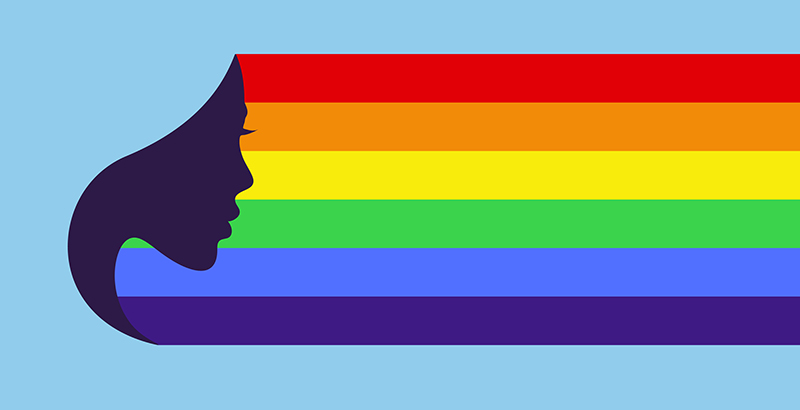 Get stories like these delivered straight to your inbox. Sign up for The 74 Newsletter
The pandemic and the raucous political climate have taken a devastating toll on the mental health of LGBTQ youth — nearly half of whom have seriously considered suicide in the past year, according to a nationwide survey released Wednesday.
The rates of suicidal thoughts among LGBTQ youth have ticked upward over the last three years, according to the fourth annual survey conducted by The Trevor Project, a nonprofit suicide prevention and crisis intervention organization for LGBTQ youth. While 45% of LGBTQ youth said they seriously considered suicide in the last year — including 53% of those who are transgender or nonbinary — and 14% reported they had carried out a suicide attempt.
The survey comes at a particularly fraught moment for advocates of LGBTQ rights as Republican lawmakers push for rules that prohibit classroom instruction about sexual orientation and gender identity, ban books featuring LGBTQ themes, curb transgender students' ability to access gender-affirming medical care, participate in school athletics or use restroom facilities that match their gender identities.
"When we take a group of young people who are already very vulnerable to poor mental health and then we initiate these conversations," the hardships compound, said Jonah DeChants, a research scientist at The Trevor Project. Not only are young people being targeted by these laws, but they also now have to wake up and log onto social media or turn on the news and hear elected officials talking about their identities in very misinformed, ignorant and in many cases very anti-LGBTQ perspectives."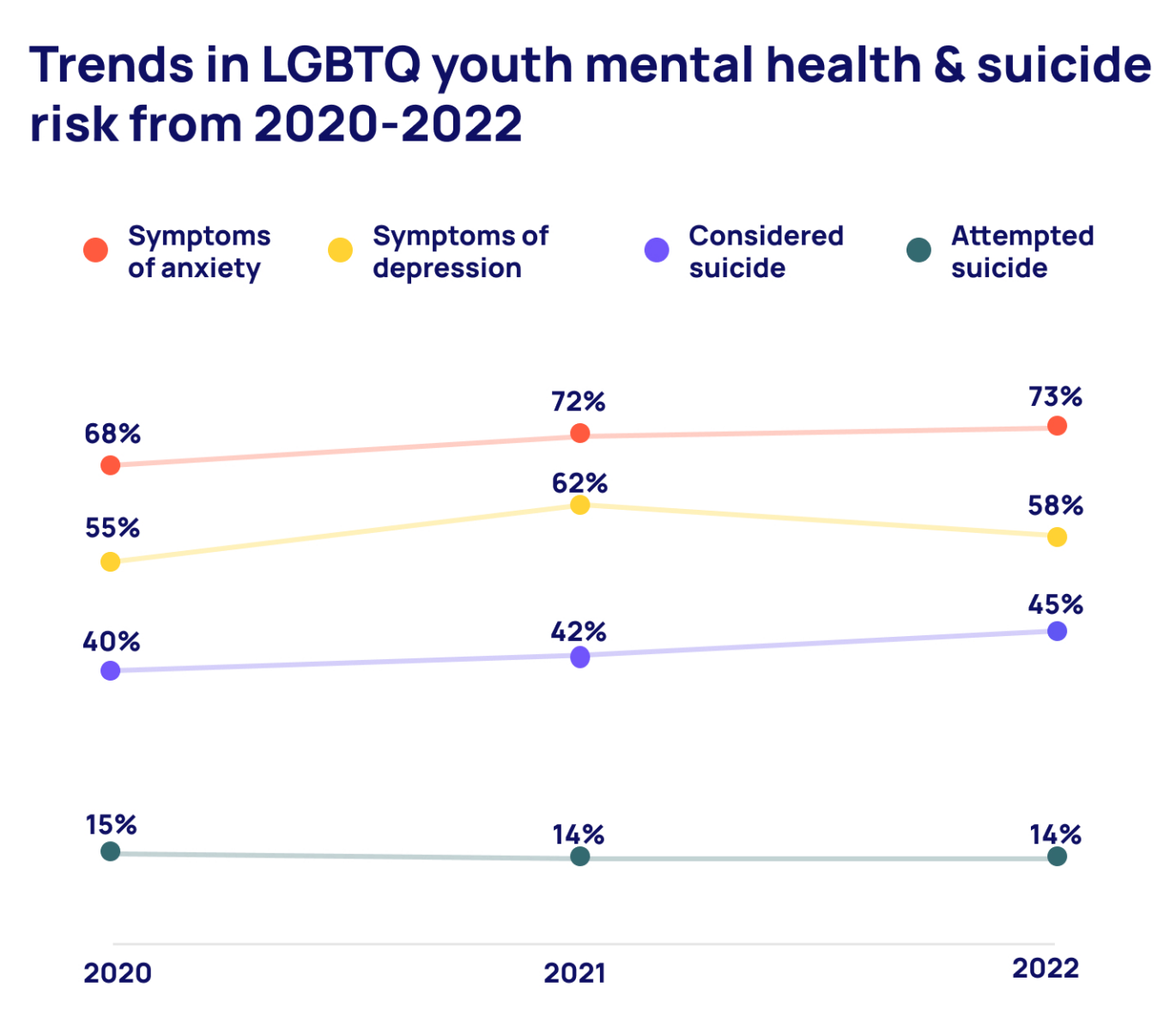 DeChants stressed that LGBTQ youth are not "inherently more suicidal" than their straight and cisgender peers. Poor mental health outcomes, he said, are the result of "minority stress" like social stigma and are not the direct result of their sexual orientation or gender identity.
"It's the fact that you wake up and you have to navigate a society that doesn't want to allow you to love who you want to love or express your gender the way you want to express it," he said. "That is what creates these poor mental health outcomes, not young peoples' internal identity."
The survey suggests a simple path forward that could shield young people from serious harm: Welcoming communities. LGBTQ youth who felt strong affirmation from their families reported attempting suicide at less than half the rate of those who lacked social support. Suicide attempts were also reported at lower rates among LGBTQ youth who found affirmation in their schools and broader communities compared to those who felt ostracized.
Yet fewer than a third of transgender and nonbinary youth reported that their homes were gender affirming. In the face of the stark uptick in anti-LGBTQ legislation in the last year, officials at The Trevor Project argue that affirmation isn't political — it's a matter of life or death.
"The science actually shows that when communities push back against these attacks and choose to affirm LGBTQ young people — whether that's talking openly about these issues and not banning discussions or books from libraries — those steps are actually potentially life-saving," DeChants told The 74. "Those have a real, positive impact on young people's mental health."
The survey also identified stark racial disparities among LGBTQ youth who attempted to die by suicide in the last year. About a fifth of Black youth carried out a suicide attempt, compared with 12% of those who are white.
Almost all youth who are transgender or nonbinary — an overwhelming 93% — said they worry about state or local laws denying them access to gender-affirming health care, and a similar share said they were concerned about being denied access to the bathroom. More than four-fifths of transgender and nonbinary youth said they worried about being denied access to school athletics.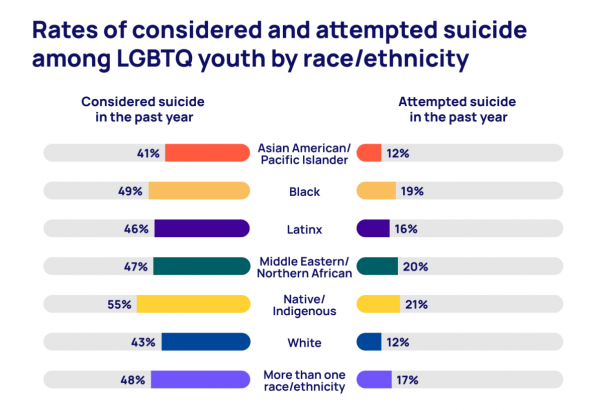 The survey also highlights the extent that LGBTQ youth are targeted with harassment and physical violence — attacks that ultimately heightened their risk of suicide attempts. More than a third of LGBTQ youth reported that they have been physically threatened or harmed due to their gender identity or sexual orientation, and 73% said they've experienced discrimination at least once in their lifetimes.
The pandemic has also taken a detrimental toll on LGBTQ youth, the survey found. More than half of survey respondents — 56% — said their mental health was poor most of the time or always due to COVID-19.
The online survey was completed by nearly 34,000 LGBTQ youth in the U.S. between the ages of 13 and 24 between September and December 2021 — even before officials in states like Texas and Florida launched the latest round of policy attacks against LGBTQ youth. Among survey respondents, 45% are youth of color and 48% identify as transgender or nonbinary, making it one of the most diverse surveys of LGBTQ youth ever conducted, according to the nonprofit.
Another recent survey, released in March and conducted by Morning Consult for The Trevor Project, found that a majority of adults oppose efforts to ban books or censor school curricula featuring LGBTQ topics. Just 1 in 3 adults expressed support for laws that ban gender-affirming medical care for minors.
The latest survey results resemble data released in March by the Centers for Disease Control and Prevention, which found that LGBTQ youth were significantly more likely to consider or attempt suicide during the pandemic than their straight and cisgender peers. Reported rates of physical abuse, homelessness and hunger were also disproportionately high among LGBTQ youth, the CDC survey found.
While 73% of LGBTQ youth reported experiencing anxiety and 58% said they struggled with depression, Trevor Project survey respondents also highlighted major barriers to mental health care. In total, 60% of those who wanted mental health care in the past year said they were unable to receive the help they needed due to a range of issues including the fear of discussing their mental health concerns, the lack of affordability and the fear of getting outed to their parents.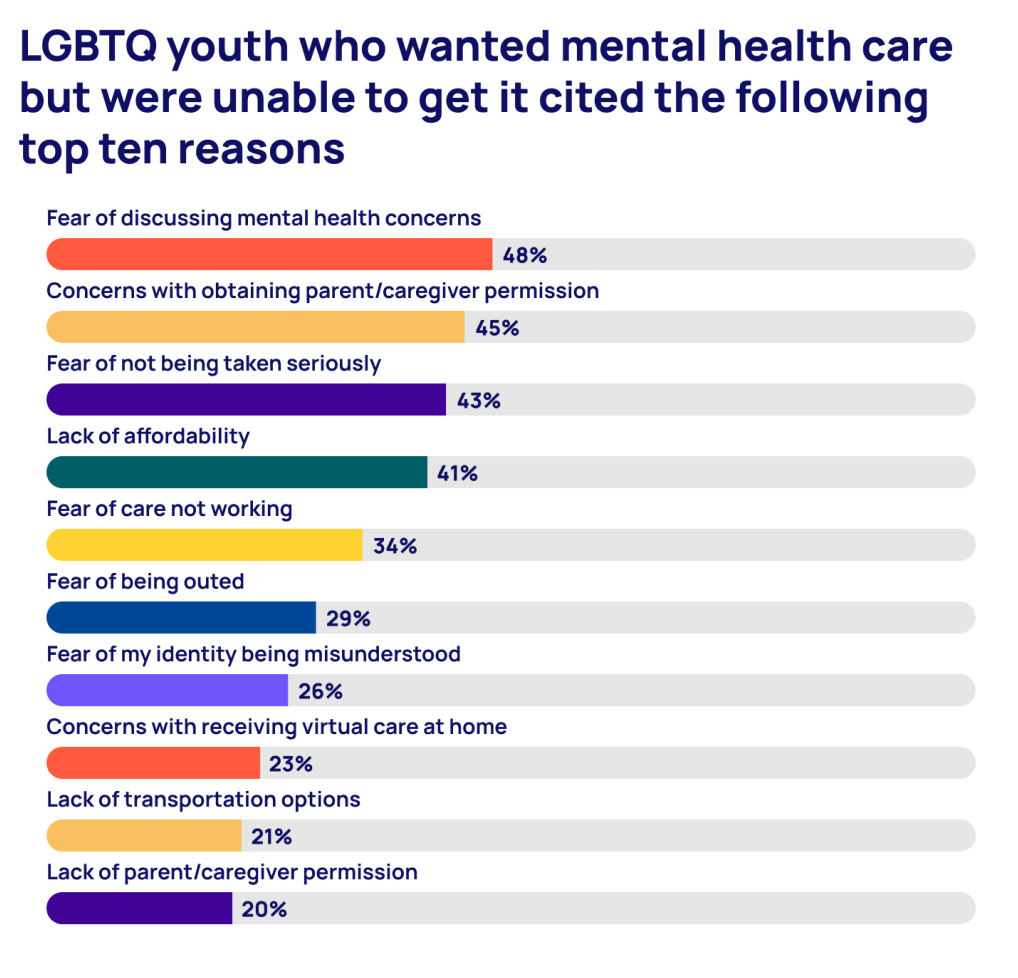 If you are in crisis, please call the National Suicide Prevention Lifeline at 1-800-273-TALK (8255), or contact the Crisis Text Line by texting TALK to 741741. For LGBTQ mental health support, contact The Trevor Project's toll-free support line at 866-488-7386.
Get stories like these delivered straight to your inbox. Sign up for The 74 Newsletter