D.C. Public Schools Welcomes Hundreds to School Hoping to Expand After Thanksgiving; Advocates Ask that Safe, Clear Transportation Plans be Top of Mind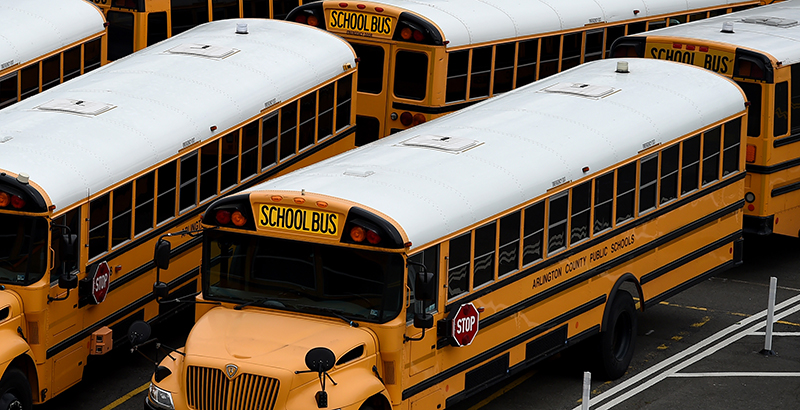 Update Nov. 18: D.C. Public Schools opened 48 CARE classrooms on Wednesday across 25 schools, instead of the 29 mentioned. The district said this was due to shifts in "staffing availability," adding that, "Families were informed of this change and those classrooms will open at a later date."
AFSCME Local 1959 president Corey Upchurch, who represents about 900 bus drivers and attendants in D.C., has spent weeks in a holding pattern, watching as local plans for school reopening shift.
What's made that wait particularly concerning for him and his members, he said, is not being given a clear game plan to ensure safety as more students trickle back to school starting this week.
What if a student can't wear a mask? Or doesn't understand social distancing? Many of the bus drivers and attendants Upchurch represents are older, some with pre-existing conditions like diabetes and asthma.
"Folks love their jobs and folks will be committed, but folks want to make sure that safety is first," he said. "We can be proactive. And we need to hear these answers."
After cancelling in-person instruction, D.C. Public Schools on Wednesday plans to welcome more than 400 students — prioritizing those with disabilities, homeless and English learners — back to 29 schools for monitored virtual learning in "CARE" classrooms, though it hopes to bring hundreds more back in subsequent weeks. About one third of the city's 66 charter networks are reportedly offering limited in-person services.
As D.C. and other districts nationwide think through a future, larger-scale return to in-person learning, student transportation "needs to be one of the first things that districts address and feel prepared to handle," Meghan Whittaker, director of policy and advocacy at the National Center for Learning Disabilities, recently told education journalists.
In D.C. especially, where yellow school busses serve special needs students and the majority of kids normally rely on public transportation to get to school, advocates said robust safety measures are going to be critical to a successful broader reopening.
"The kids with the most needs are also going to be the hardest to bring back," Maria Blaeuer, director of programs and outreach at Advocates for Justice and Education, said. "Being transparent about that and providing really individualized solutions is going to have to be the answer."
Many districts nationwide have struggled to craft a plan for safe transportation, often hamstrung, experts like Whittaker said, by constrained resources and funding. And it's only an increasingly complicated question, as returns to school now coincide with backsliding progress nationally in containing COVID-19. D.C. is at a growing 4.6 positivity rate.
DCPS reached a tentative agreement with the teachers union last week on how to reopen school buildings, though Chancellor Lewis Ferebee on Monday didn't offer a time frame for when a new in-person instruction plan might be presented. He did note that the district expects to "ramp up" its CARE classroom capacity quickly, though, with a goal of adding an additional 900 seats after Thanksgiving.
Ferebee confirmed that the district has "had many planning conversations with [Washington Metropolitan Area Transit Authority]," as well as with the Office of the State Superintendent of Education (OSSE), which oversees the city's school bus operations, "on the ramp up of CARE and in-person learning, and the need to provide transportation for students" safely.
OSSE on Tuesday said nearly 200 students from nearly 30 schools in D.C. are using its transportation services. Normally, about 3,000 students of some 100,000 citywide do.
It wasn't clear by publication if that count includes any DCPS students slated to return on Wednesday. A spokesman noted that, "All eligible students with a transportation request form submitted by DCPS, as of last week, are routed for services beginning Wednesday." DCPS is still reaching out to families with seat offers.
The city's unique student transportation trends have sharpened advocates' demands for robust planning. The school bus system only serves eligible students with disabilities, and some — those who are "medically fragile," non-verbal or have behavioral disabilities, for example — may not be able to follow existing bus safety protocols like wearing a mask, Blaeuer said.
D.C. is also a city of choice, with about 46 percent of its public school students attending charter schools. Only about a quarter of kids attend their neighborhood school, so thousands typically ride the Metro —more than 33,500 Kids Ride Free program cards were distributed in the 2018-19 school year. That, too, could put more students at risk for exposure.
"How do we think differently about the challenges of a school system that is based on choice, where students are moving across the city to get to school?" Ward 1 D.C. Council member Brianne Nadeau asked at a council hearing in late October. "How are we correcting for that in terms of spread?"
Parents are thinking about this, too, said LaJoy Johnson-Law, who has an elementary school daughter with a disability. If her daughter's charter resumed in-person learning, Johnson-Law would drive her to school, rather than put her on the bus.
"A lot of parents have children in both DCPS and charters. So you could have one kid who's eligible for the [school bus], and then you have to get another on Metro," adding another "layer" of complexity, said Johnson-Law, a parent support specialist for Advocates for Justice and Education. "Have we talked about those things, and what does that look like?"
What we know about initial measures
While there hasn't been enough of an influx of students yet to warrant more frequent train service, WMATA "has been closely coordinating with entities such as DCPS and the DC Public Charter School Board in order to stay informed about the operating status of local school systems and to distribute Kids Ride Free SmarTrip cards," a representative told The 74.
Kids Ride Free cards are available to students every year, and still need to be obtained in person via coordinated pickup with a child's school.
Chancellor Ferebee added that conversations also center on "ensuring that WMATA has the appropriate safety protocols" in place, with expectations of regular cleanings and strong enforcement of mask-wearing requirements.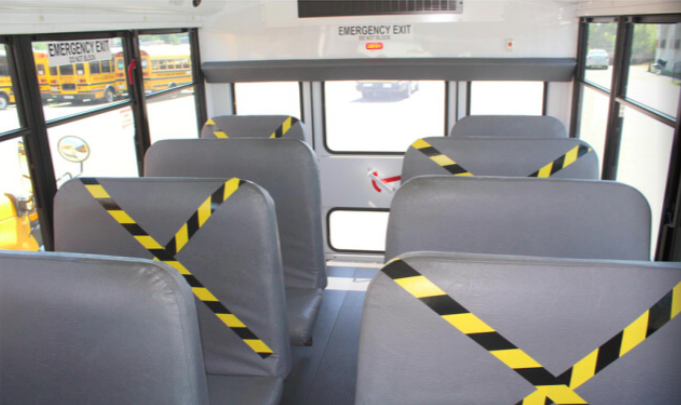 With school bus transportation, some of OSSE's safety protocols outlined online include "Z style" seating that keeps kids spread out and reduces capacity, daily bus cleanings, mask mandates and a monthly supply of face masks, shields, gloves and hand sanitizer on each bus.
Parents of eligible students, OSSE noted, can also opt to receive reimbursement in lieu of school bus transportation.
Union leader Upchurch thinks the guidance should be more specific and responsive. How should bus drivers and attendants be interacting with parents and school administrators on both ends of the transportation routes? When and how should they dispose of gloves and masks?
"The worst thing I don't want," he said, "is something happens and we're trying to figure it out then."

Get stories like these delivered straight to your inbox. Sign up for The 74 Newsletter