Mascareñaz: Why Susana Cordova Is the Right Pick to Lead Denver's Schools Into the Next Chapter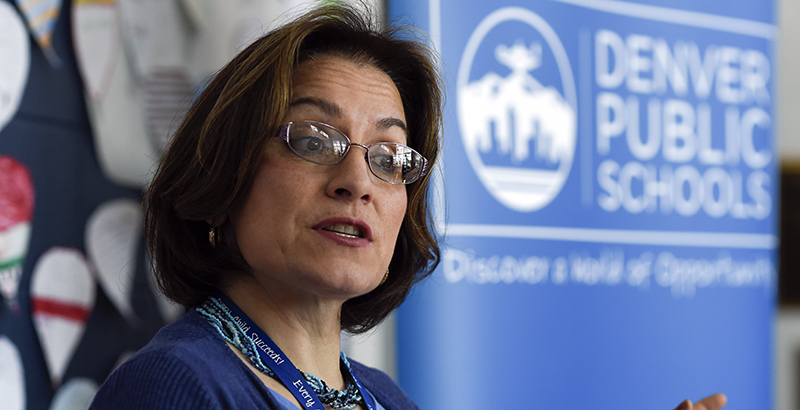 The Denver Public Schools school board on Thursday named Deputy Superintendent Susana Cordova as the sole finalist for the job of leading our "premier urban district." The Denver School Board made this decision after receiving nearly 50 applications, vetting potential candidates and narrowing the list down to three — with both of the other candidates dropping out and not advancing to final rounds. The board now will engage the community and make a final selection in the next two weeks.
I want to offer my sincere congratulations to Cordova. Before considering her qualifications below, I think it is also worthwhile to reflect on the process itself.
The Denver School Board wanted bold change, but wanted to continue with progress. It wanted a national search, but also wanted prominent internal and local candidates. It wanted community feedback, but also wanted its role as an elected body to be respected.
It wanted major up-front community engagement feedback, so it hired an outside firm to conduct independent analysis and engagement. This was done with the right spirit, yet it raised expectations enormously, creating a situation where everyone now expects major conversation in the second phase with finalists (emphasis on the "s").
So when the news came out this week that there would be no announcement of finalists on Monday, many were shocked but not surprised. In a Chalkbeat article the next day, the district and board would not even give a reason for the delay. How about, "We are finalizing all the candidate issues and the forthcoming engagement process," or "We want to make sure we get this right, and there are still some final details to figure out"?
To build suspense for months and then give the entire community silence — and not give stakeholders a heads-up — was not comforting. The board ended this silence Thursday with the announcement that Cordova was their sole finalist.
In a superintendent search where communities wanted an educator, a person of color, and someone with deep knowledge of Denver communities, Cordova stood tall above many other candidates from the start of the process. 
And let's be completely clear — because of her talents and experience, she would be a finalist (and the top choice) in any major school district or state education system around the country.
Yet in a world where democracy and liberal institutions are under attack, critics of the district could discredit the process from the beginning with the simple questions, "Aren't they just going to pick Cordova? So why have a rigged process?"
Essentially this critique boils down to: "If a qualified person wins that I don't like, we know it was rigged." A broken argument, for sure, but one that sadly resonates in our fractured political climate.
Yet like a person doing everything possible to avoid sabotage but ending up in self-sabotage, the board did just that. The board conducted the national search. It hired the search firm. It engaged the community. And then it managed a process that ended up with only one finalist. Even if that finalist is someone eminently qualified, the board ended up giving its critics all the fire they ever needed in our combustible political environment. The process still resulted in a strong outcome, despite these challenges.
None of this is Cordova's fault. Blaming the job candidate for the job search requires some serious leaps of conspiracy-addled logic. Cordova applied in good faith, interviewed in good faith, and has long said openly that she aspires to lead the district. She is not responsible for the expectations given to the community during this process, but she can now repair it.
Many folks, including myself, will be cheering for the selection of Susana Cordova as the next superintendent of Denver Public Schools. Few people in public spaces have the natural talent and adeptness she has. Between her roles as a teacher, school leader, and central office administrator, much of the district improvement in the past decade can be traced to her leadership.
She meaningfully and thoughtfully engages communities and families in authentic ways. Having watched her speak directly and empathetically time and time again in front of diverse audiences, I believe her skill is nearly unparalleled in this arena. I have also seen her in action in meetings, in crisis situations, and working often to think creatively about the problems in front of the district. And in my opinion, her leadership is exactly the kind Denver needs right now.
Most of the critique of Cordova has to do with her role as Superintendent Boasberg's deputy.  Many folks (both against and allied with the district) wanted a bold departure and consider her to be a continuation of the status quo. The irony is that anyone who knows her personally or professionally knows she is anything but a replica of Boasberg in identity, life experience, philosophy, or approach to building relationships. If anything, she is his opposite.
Boasberg led a life of privilege, had only a brief stint as an educator, and brought a deep distrust of the district's ability to improve. Cordova grew up modestly in Denver, reclaimed her ancestral Spanish language as an adult, and has spent a lifetime as an educator who believes the system can serve all kids.
She is personally responsible for ensuring that DPS schools prioritize English language development. She promoted district-led, community-driven school design that is showing success across the district. She has been open to collaboration between district, innovation, and charter schools. She has decades of close relationships with organizations across the city. She is exactly what this moment calls for — less confrontation, more listening, and deeper partnerships.
Some of her opposition has come from the education reform community. Yet unlike many chicken-hawk reformers, she actually attended — or had family and friends who attended — many of the schools where she was asked to lead challenging change management conversations.
How many of these self-proclaimed reformers have led tough community conversations in schools they once attended? How many have had to look their cousins and family friends in the eye and have a difficult discussion about how the district is not serving their school and community? Or about the imperfect options moving forward? Far from being a critique of Cordova, it is a sign of her public courage.
True, her quick turn as interim superintendent was arguably an uneven one. But any interim leader never has the true freedom or ownership of someone who has the job. And if anyone has spent time with her, they will hear a reflective and honest leader who takes responsibility for mistakes and commits to learning from them. That is the kind of leader I want.
Other opponents of the current district leadership may oppose her hiring because she is too tied to troubling decisions in the past. They see this as evidence that she is too detached and too removed from communities.
Anyone who knows Cordova knows this is also an absurd charge. She lives in our communities, has worked in them for years, and has spent more time than anyone in this city building deep knowledge about each and every school at DPS. She, herself, has disagreed with some of the decisions over the past decade. Ever worked at a company and tried to do good work while disagreeing sometimes with the approach? It is not as cut-and-dry as the sideline cynics would have you believe.
Others have claimed they don't have a problem but that the "community" does. When you dig a little deeper, you discover that they are ascribing small, legitimate, and vocal opposition to Cordova to the entire African-American community.
That is a racist logical fallacy. "Because some people think this, that is what everyone in that group thinks!" Absurd. Sure, Cordova has critics in this community (as she has supporters and critics across lines of affinity), but according to an independent survey of DPS families, 59 percent of African-Americans who were surveyed believe the district is headed in the right direction.
While we are having this debate in Denver over the next couple of weeks, the education community should draw a firm line against attacking and demeaning a qualified woman of color.  Disagree with her on policy, but bully her on social media or diminish her accomplishments? Too many on the social justice left seem perfectly fine watching this happen, and it is disgusting. As we enter this next phase, folks of all persuasions should call out casual racism and sexism in critiques of her and reorient the conversation toward substance.
Her supporters are many and wide-ranging. They include a significant amount of the school leadership staff of the district. They now include 5-2 of the elected representatives of the Denver school board to advance her as a finalist. They include this author and many other community members and education leaders as well.
The truth is that this is Cordova's moment. She has worked her entire life for this opportunity, and we should all be united in wishing her the best, because the best for her is the best for our kids.
I believe that she is indeed the leader we need for these uncertain times. I still believe a message of progress and hope is a winning message and now believe she can be the messenger.
Because she has seen the past decade up close, she knows what hasn't worked and what has worked. She believes in the vision of great schools, regardless of governance type. She is an educator. As a woman of color who learned her family's language after the school system tore it away, she is, and will be, an incredible role model to our kids. In my experience, she will listen, learn, and adapt.
Clearly the DPS board has challenges in the way it operates and works together. It has deep divisions in terms of generation, outlook, and experience. Who better to work with this group than someone who knows them personally and is a listener? Who better to bring people together than someone who has built a shared vision for a classroom, for a school, and for more than 100 schools?
We all need to do whatever it takes for Denver's kids, and if Cordova doesn't deliver, then we will need a team that can. If in some time our gaps aren't closing, our communities aren't being listened to, and we are further away from the promise of great schools in every neighborhood, then we will need a new leader.
We must not lose sight of the work to do: Just 42 percent of our third- through eighth-graders are reading on grade level. This is unacceptable and requires urgent action. This district is awash with conflicting priorities and requires new focus. The new leader of the district is inheriting a mass exodus of staff and declining enrollment. It will not be easy times.
We are in the winter of 2018 with school board elections coming soon in the fall of 2019. We have wide gaps across all student groups. We need a listener to repair trust in our communities. We need a leader who knows how the system works and has a deep understanding of our city's strengths. We need someone who has deep passion and proven commitment to communities of color. We need someone who cares what community groups and educators think. We do not need an untested leader in these times or a newcomer to our city. We need a collaborator, not a confronter.
This is Cordova's moment to lead the next chapter of Denver Public Schools. What comes next is the big question.
Landon Mascareñaz is senior partner for advocacy and alliances for the education advocacy group A+ Colorado. Prior to that, he was executive director of strategy development and family empowerment for Denver Public Schools.
Get stories like these delivered straight to your inbox. Sign up for The 74 Newsletter