Mascareñaz: How Denver's Schools Can Embrace Change While Building on the Best of Tom Boasberg's Tenure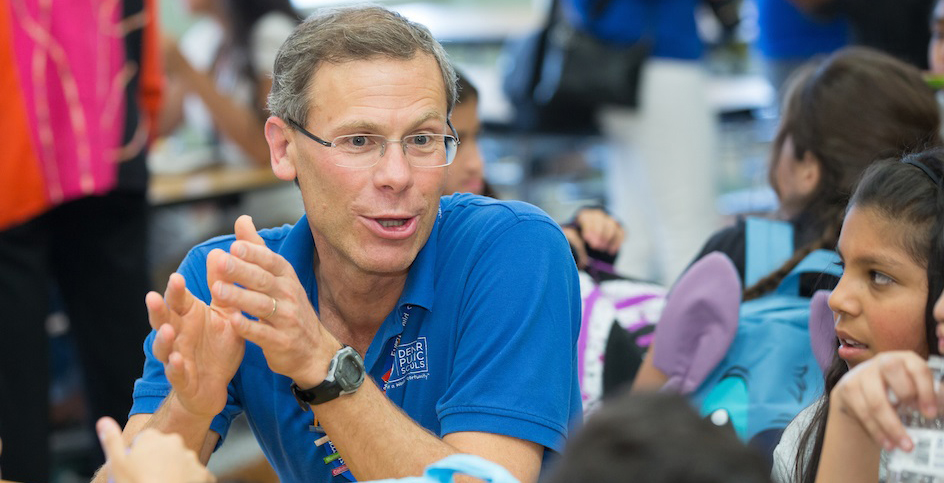 This was published in partnership with A+ Colorado
When Julius Caesar crossed the Rubicon and marched towards Rome, a (likely) apocryphal story had him saying: Alea iacta est. The die is cast. The phrase has marked for centuries momentous turnings of fate and deep uncertainty about what would come next.
In Denver this past week, Superintendent Tom Boasberg announced he was rolling the dice. His departure unleashes a very unpredictable series of events and the end of an era. Denver is entering a new phase after a decade of consistent and steady leadership, of meaningful gains mixed with uneven results and real challenges.
In my previous piece, Wandering Towards Revolution, I argued that we stood on an era of generational change and uncertain times in our community. I heard from folks all over the country about stories in their own cities and towns, where generational change was powering discontent among those who want something better for kids.
Now with Tom's departure and the first open superintendent search since Michael Bennet was appointed in 2006, hand-wringing and maneuvering commence. The decision about the next superintendent will be a choice about how to enter an uncertain and complicated time. It will also be a choice about what values we hold and what future we want for our kids. The consequences of the choice will be enormous. The context of generational change will not just be an idle thought in the background, but will now emerge into the foreground of all of these decisions.
Some will loudly and forcefully advocate for someone national and "bold" to come in and accelerate the current agenda. Others will likely use this opportunity and rising national backlash to education reform as leverage for their agenda. As usual, neither will likely get what they want. A third group will likely articulate that there is much to continue and much to change. In this group, our hope lies.
True to form, not even giving Boasberg a day of gratitude for service, opponents of the district have reissued their called for a moratorium on charter schools and even for a boycott of certain charters. Will they now take the next step and advocate the closing of current charters where students and families have chosen to attend? If so, what a gift this overheated rhetoric would give to charters — they could turn to their families and say: "Here is a group of people that want to kick you out of your school!"
It would be a true irony to see critics co-opting the closing schools' frame that they have long used to lobby against the "reformers." While this may be good for their base in the short term, this will be even more fuel to long-building charter efforts to organize parents. There are over 12,000 students now attending highly rated blue or green charter schools in the district. Do most Denverites really believe the answer is to deprive these families of the schools they have already chosen to attend? Unlikely. What is their alternative vision? If not closure (and if a moratorium is where we already are at practically, if not in policy) then we will need to hear exactly what they envision.
For many supporters of the current approach, we hear, "We need to change leaders now to make sure we can win 2019." The 2019 school board elections loom large in their minds. But many of these leaders are also unable to articulate a new vision of where Denver schools should go in this next stage. "Protect the status quo!" is not an effective rallying cry, strategy, or solution.
If the Denver project is running out of reform gas, it's not because it doesn't have drivers but because there is no vision for what road to take to refuel. By launching the new Engage Denver effort, the board and Boasberg have handed a new superintendent a major opportunity to shape that vision. It will take community listening but with a willingness to collaborate with others outside of their comfort zone to find success. Many critics of the district have legitimate issues that must be resolved as a part of any new effort. It is essential that whatever new vision starts to emerge must be effectively communicated broadly, not just inside a clique of education insiders.
It would be a shame in the midst of all of this uncertainty to miss some of the most important lessons from Tom Boasberg's time as superintendent.
Under his leadership, Denver's rising star truly emerged as a national example of what was possible. A homegrown great-schools movement sprung up and thrived. His heterodox ideology resisted false dichotomies. He was adamant that it wasn't about choosing between charter schools, district schools, or innovation schools — what mattered was "great schools" — regardless of the governance type.
Therefore, in Denver, district schools replicated alongside charters, charters were closed at higher rates than district ones, and district improvement efforts had consequences (though not nearly enough to address the urgent need). He defied easy characterization and rejected the blanket ideology of some of his peers in other cities or states.
Boasberg believed that the power of the Denver model (in contrast to those in New Orleans and New York) was that a board-governed school system could hold all of these tensions. Charter and district and innovation. Central investments and autonomies for schools. Choice and neighborhood boundaries. Equity and universalism. Family empowerment and expert opinions in decisions.
So it should be unsurprising that a significant theme of Boasberg's tenure is how little he pleased everyone. Charter advocates routinely felt that they weren't given what they were due (and sometimes overplayed their hand, at that). District administrators felt he had sold out to charters. Innovation leaders never felt they really could go as far as they wanted. Community leaders rarely felt their voice heard, even though he launched more listening tours and invested more in engagement than most superintendents in the country.
Educators and families often felt left out, even though he has invested in them through increased pay and teacher leadership programs. Urgent outside advocates pushed hard on the lack of progress while DPS showed growth. Many families felt he never owned up to failed promises at Montbello or West high schools, while promises that were met in other communities didn't materialize into significant political backing.
The lesson of his tenure can't be a rejection of holding these tensions, for this is the stuff of real leaders. New district leadership should take a page from Tom's rejection of false dichotomies and get serious about the balancing act it requires. They can call for major change and build on what is working.
A message of progress and hope is a winning message. There is much truth behind it. It also helps that voters want to believe this, especially in the middle of a national climate that is going in the opposite direction. But it must be combined with hard, cold facts about the reality of where we are at and an urging of patience. People appreciate honesty. We should all know we are failing too many kids, and certain communities more than others. Own it. But also be clear that we might just actually be a little bit closer to knowing how to create an urban school system for all.
And if the new leadership of the district is serious about this being a long-term and community effort, they can recruit the next generation of leaders who are ready to run for school board, run major district departments, and lead schools. They can combine this new talent with wise and experienced leaders (from inside and outside the district) to aid in this transition. By infusing this generational dynamic into the heart of this vital endeavor, the new superintendent has the chance to redefine the terms of the debate. They can generate new momentum while moving forward on what is working. The project becomes a broad-based effort, an essential community endeavor. Boasberg worked toward these ends; they must be reinvigorated.
Whoever is picked will not start with a blank slate, empty political baggage, or a shortage of pessimists lined up at their door to tell them what they have already gotten wrong. But they will have this new chance to prove to our communities and to ourselves that Denver actually deserves the recognition of the past decade — if they can fulfill the promise of great schools in every neighborhood.
As summer fades into fall in Denver, the die has now been cast. Which path will we choose?
Landon Mascareñaz is senior partner for advocacy and alliances for the education advocacy group A+ Colorado. Prior to that, he was executive director of strategy development and family empowerment for Denver Public Schools.
Support The 74's year-end campaign. Make a tax-exempt donation now.