In State Where Academic Performance and School Funding Rank Near the Bottom, Education Is Top of Mind in Race for Nevada Governor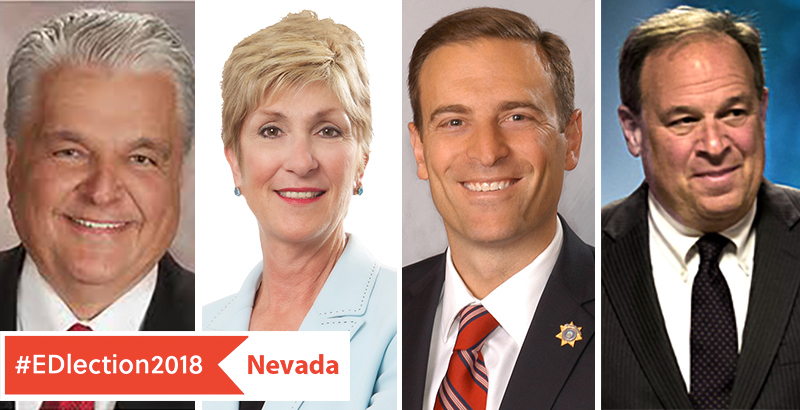 There's no state in the country quite like Nevada.
Over the past 25 years, the state's population has doubled, growing four times as fast as the United States's overall. Two of Nevada's 16 counties are home to 90 percent of its population. Though Clark County, home to greater Las Vegas, represents just 7 percent of Nevada's land, it houses three-quarters of the state's residents and two-thirds of its public school students. Since 1990, the student body of Clark County has more than tripled — the district is now the fifth-largest in the country.
Yet while the state's population soared, the quantity and quality of its schools stagnated. In four of the past five years, Nevada ranked last in the country on Education Week's index of states' educational performance.
Nancy Brune, executive director of the Nevada-based, nonpartisan Guinn Center for Policy Priorities, told The 74, "We haven't really prioritized education as a state for very long."
And yet, as the Silver State prepares to vote in the June 12 gubernatorial primaries, there is an inverse relationship between its schools' recent results and its education leaders' sky-high optimism.
That burgeoning confidence is largely the work of term-limited Gov. Brian Sandoval, a popular Republican who championed an unprecedented tax increase that's led to signs of the school system's turnaround. While local education leaders bemoan the dearth of seats in schools across the district, charter, and private sectors, and teachers are frustrated over average class sizes that rank as the largest in the country, there is a sense that the schools are beginning to catch up with the extraordinary population growth that continues to reshape the state.
The question for voters is not whether Sandoval's successor will continue to prioritize education, but how and by how much.
Two candidates with education experience are leading the Democratic primary. Steve Sisolak, 64, served on the state Board of Regents, which oversees the higher education system, for a decade. Chris Giunchigliani, 63, who trails Sisolak in recent polls, was a special education teacher for more than 30 years; she joins a national wave of educators running for elected office this year, including in nearby Arizona and Colorado.
On the Republican side, state Attorney General Adam Laxalt, 39, is far ahead of his competitors, including state Treasurer Dan Schwartz, 67. Though neither Laxalt nor Schwartz has as much education experience as the two Democrats, Laxalt successfully defended the constitutionality of the state's school choice program — which Fordham Institute President Michael Petrilli called "a voucher on steroids" — and Schwartz wrote the regulations for it.
Education has taken on a prominent role in both parties' primaries. If elected, Schwartz has vowed to "not sign a single bill until he has a parental choice [funding] bill on his desk," while Sisolak has said he'd donate his salary to charity until the schools are "turned around."
The Landscape
The state's population is increasingly diverse — Nevada has been called "the future face of America." Whites make up less than half of the population, as they are expected to do nationwide by 2045. Hispanics make up 29 percent of state residents, blacks 10 percent, and Asian Americans — the fastest-growing segment of the population — 9 percent. Students in Clark County schools speak more than 154 languages.
As Nevadans are loath to hear repeated back to them, Nevada again ranks 51st, last in the country, including Washington, D.C., on Education Week's 2018 Quality Counts index of educational performance. Its students' average ACT scores are lowest in the country. And the challenges start early: "Due to limited funding," the state's public preschool program "only serves 1.6 percent of the estimated 3- and 4-year-old population," according to the Nevada Department of Education.
As Schwartz, the long-shot candidate for the Republican nomination, often says, "Our state is consistently at the top of every bad list, and the bottom of every good list in the country."
Or, as Sean Parker, the executive director of Teach for America–Las Vegas Valley, told The 74, "When you look at the map and at non-private schools, non-magnet schools, and non–[career and technical education] schools, there are very few schools that are performing at the highest level in the state."
But in 2015, Sandoval signed the largest tax increase in Nevada's 151-year history, which raises more than $1.1 billion through cigarette and business taxes for education initiatives focusing on English language learners, early literacy programs, and struggling schools. Although it's too early to determine the success of these programs, local leaders say the substantial investment in schools represented a dramatic and helpful shift in mindset.
"People think of Nevada and of Las Vegas as places of individual opportunity, and we're really at this pivotal point of collective opportunity," Jana Wilcox Lavin, executive director of Opportunity 180, a Las Vegas–based nonprofit that advocates for more high-quality traditional district and charter schools, told The 74. "We have a real opportunity to take advantage of."
By some measures, those opportunities are paying off. Nevada is now the fastest-improving state in passing Advanced Placement exams, and, according to the National College Access Network, is one of "only four states in which FAFSA completion rates both exceed the national completion rate and are higher in lower-income districts than in higher-income districts." Nevada is prioritizing growth, not proficiency. In fact, the focus of the state's plan for complying with the Every Student Succeeds Act, which was the second in the country to be approved, is to make Nevada the fastest-improving state in the nation.
Don Soifer, president of the pro-choice group Nevada Action for School Options and a policy analyst who has read many states' ESSA plans, told The 74 that Nevada's is "one of the more ambitious in the country."
But while policy is improving, politics are a mess. The Clark County School District, the state's largest employer, just announced it has a $68 million budget shortfall and that layoffs are likely. The district, which hired a new superintendent earlier this month, is also taking on the Nevada Department of Education and the state legislature as they try to force the mammoth district to reorganize, as well as fighting the local teachers union over an arbitrator's ruling in favor of a pay raise.
To further complicate matters, the union voted last month to disaffiliate from the state union.
Said Brune about where the state stands: "We are probably at the nadir of trust in this environment."
The Schools and the Candidates
Most political analysts view the governor's race as a toss-up. Nevada hasn't had a Democratic governor since 1999, but former president Barack Obama won the state in 2008 and 2012, as did Hillary Clinton in 2016. Nevada is one of eight states the Democratic Governors Association is targeting with a $20 million investment.
Sandoval often disregarded his party's orthodoxy, expanding Medicaid, endorsing DACA, and allowing "certain undocumented immigrants to receive teaching licenses," according to the Nevada Independent. His heresies inspired Politico to label Sandoval "Nevada's party pooper," but residents largely have cheered his actions — Sandoval is consistently ranked among the 10 most popular governors in the country.
In this year's race, much of the focus on education has to do with funding. Most people believe the state's 50-year-old funding formula is antiquated and underfunded — Nevada ranks 44th in the nation in per-pupil spending — but no one seems to have figured out how to pay for an updated version. Nevada has one of the better charter school laws in the country, according to the National Alliance for Public Charter Schools, but advocates want more money for facilities. Last year, Sandoval temporarily increased funding for Opportunity Scholarships — a voucher-like program for low-income students — after legislators deadlocked on funding the more robust Education Savings Account program. But the scholarships have become popular, making it tough to phase them out when the current funding ends. As Soifer explained, "What you now have are happy families who have something and it's going to be politically difficult to take that away."
And, there are the programs and increased funding created by Sandoval's tax hikes. Much of that funding was earmarked for specific literacy or school improvement programs.
"That was how they were able to convince the business community that it wouldn't just be a billion dollars going into a black hole," said Brent Husson, founder and president of Nevada Succeeds, a business-backed education advocacy organization.
Laxalt, who was ahead of his nearest opponent by 51 points in a recent poll, has pledged to "to continue to champion those programs" started by Sandoval, though he has not committed to keeping the taxes that raise revenue for them in place, since "the state is on track to bring in increased revenue," according to responses provided to The 74 by Laxalt spokesperson Andy Matthews. Laxalt's camp maintains that "we will never go backward from our current levels of education spending."
Other parts of his education platform include a pledge to double the amount teachers can be reimbursed for classroom expenses and an endorsement of Education Savings Accounts. A recent poll found 49 percent of Nevada voters support the program, with 38 percent against.
Laxalt is also trying to use his Democratic opponents' education experience against them. In the statement to The 74, Matthews said, "It's ironic that career politicians Chris Giunchigliani and Steve Sisolak both tout themselves as education champions based on their long political careers and involvement in education, while at the same time complaining about how broken our education system — the one they've been overseeing for decades — remains today."
(Laxalt also has an intriguing personal story: His father, Pete Domenici, was a U.S. senator who had an extramarital affair with Michelle Laxalt, daughter of fellow senator Paul Laxalt. None of this was revealed until 30 years later.)
On the Democratic side, the discord between the statewide teachers union and the Clark County affiliate has extended to its gubernatorial endorsements. Although Giunchigliani served as the president of both the Clark County Education Association (1983–87) and the Nevada State Education Association (1987–91), she only secured the endorsement of the latter, with the local union endorsing Sisolak instead and going on the attack against one of their own.
Neither union responded to multiple requests for comment.
On policy, there are few substantive differences between the two candidates, who both serve as Clark County commissioners, though Giunchigliani's education plan was far more detailed (14 pages) than Sisolak's (20 bullet points over two pages). Both praise Sandoval, and both prioritize increasing teacher salaries and decreasing class size. Both plans would require increased funding, which the candidates say they would find by redirecting revenue raised through hotel room and retail marijuana taxes. Giunchigliani criticized Sisolak at a recent forum for supporting the state's $750 million contribution to a football stadium being built in Las Vegas while education funding lagged.
Although Sisolak was significantly ahead in an April poll, Soifer said the wave of activism by teachers across the country could help the candidate widely referred to as Chris G.
"Right now, teachers are frustrated," Soifer said. "There is one of their own in the race on the Democratic side. She's behind in the published polls and is working aggressively to harness that teacher energy to build momentum for her campaign."
Get stories like these delivered straight to your inbox. Sign up for The 74 Newsletter