Key to Preventing Children's Learning Loss — and Social Regression — During COVID-19 School Closures: Support from Family and Peers, Study Finds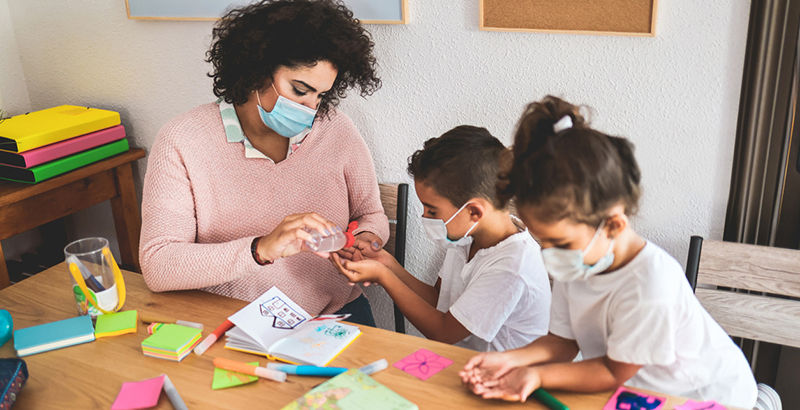 As researchers around the world attempt to quantify the effect of COVID-19 shutdowns on student learning, a report from England suggests the most important factor is one that usually isn't measured — the support children receive from the adults and other kids in their lives.
The study, drawn from more than 900 in-person visits to schools and day care providers, showed that the students who suffered most weren't necessarily economically disadvantaged, but rather those who had poor support structures. Children who spent less time with parents and other kids showed the biggest declines in academic learning and social development, according to the report from Britain's Office for Standards in Education, Children's Services and Skills, known as Ofsted.
"The knowledge and skills that matter aren't learned instantly," said Amanda Spielman, Ofsted's chief inspector. "They have to be practiced and reinforced — ideally, both at home and in school."
"Some students have thrived in lockdown," she said, especially those whose parents could be home, working flexibly and helping with remote learning. The study even showed improvements for some children with learning difficulties, especially if they enjoyed learning at their own pace without the pressures of a typical school day. The more time these students spent with family or caregivers, the more their language, literacy and communication skills improved.
The children studied came from a wide range of backgrounds, including some within the country's social services system. This showed, Spielman stressed, that time spent with family or caregivers wasn't an economic issue.
The data come from a series of fall visits that aimed to measure the impact of last spring's school shutdown. Most schools in Britain resumed in-person classes in the fall and have remained open even as infection rates have risen in the U.K. and many restaurants and nonessential business have closed.
The report certainly wasn't only good news; it showed that some students have not only missed learning during the lockdown, but have regressed in basic skills. In some cases, very young children who were previously potty-trained went back to needing diapers, while others have forgotten how to eat with a knife and fork. Some also lost early progress in numbers and words.
"Time didn't just stand still for them, it went backward," Spielman said.
The report allows the agency to better understand how education and social care are responding to the pandemic's challenges, she said. "Children in their earliest years of education whose parents were unable to work more flexibly experienced the double whammy of less time with parents and less time with other children."
The Ofsted report contained no statistics. Spielman said that while learning loss "is inarguable, it is hard to assess.
"Closing schools to most pupils had an enormous impact," she continued. "The decision caused a great splash, the boat is still rocking and we don't yet know how far the ripples will go." But she waved off what she called "alarming extrapolations" about the impact of learning loss to students' futures. "The most important thing is to get on with the job of teaching children. Good parenting and good teaching will fill most of the gaps."
While there have been several studies in the United States about learning loss, "We haven't seen this level of detail of data," said Dr. Nathaniel Beers, a member of the American Academy of Pediatrics' Committee on School Health. "This acknowledges [children's regression] is not only a wealth issue, it's a time issue."
In the U.S., a new report from the nonprofit assessment company NWEA found that reading scores for students in grades 3-8 this fall were about even with results from fall 2019, though math scores were 5 to 10 percentage points behind. But about one in four of the students tested last autumn did not take the exam in fall 2020, and these missing students may be the ones struggling the most, said NWEA CEO Chris Minnich. "When those students do return, what will be the arc of their education," he asked.
"Learning loss did happen," Minnich said. "It was somewhat less bad than our projections. Remote learning [in the spring] was not an extended summer break, which was our worst fear."
The Ofsted report showed that older children had lost ground in reading and writing and that some have even lost physical fitness. Other children exhibited signs of mental distress, including an increase in eating disorders and self-harm.
Beers said students in the United States have faced greater food and housing insecurity, which, added to frequent switches between in-person and remote learning in some schools, increases stress. "Our job is to give kids as much structure as possible," he said, but that's hard when schools switch learning modes quickly.
In a national survey in the U.S., 14 percent of parents reported worsening behavioral health in their children. Visits by children and adolescents to emergency rooms for mental health problems has increased 24 percent during the pandemic, according to a report by the Centers for Disease Control and Prevention.
"We know from research on the impact of natural disasters on the mental health of children that prolonged exposure to this kind of toxic stress is damaging," said Dr. Sally Goza, president of the American Academy of Pediatrics. "Most natural disasters have an end, but this pandemic has gone on for over eight months."
Get stories like these delivered straight to your inbox. Sign up for The 74 Newsletter