Biden Supreme Court Nominee, Praised for 'Stellar Civil Rights Record,' Could Face Conflict on Upcoming Harvard Admissions Case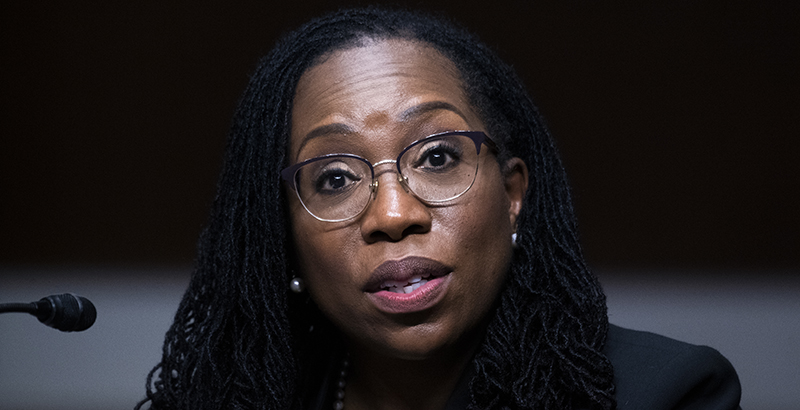 Support The 74's year-end campaign. Make a tax-exempt donation now.
Updated April 7
The Senate on Wednesday confirmed Judge Ketanji Brown Jackson to replace retiring Justice Stephen Breyer on the U.S. Supreme Court. With a vote of 53 to 47, Jackson picked up support from three Republicans — Sens. Susan Collins of Maine, Lisa Murkowski of Alaska and Mitt Romney of Utah.
According to the White House, Jackson, who will be the first Black woman on the court, watched the vote with President Joe Biden.
President Joe Biden made history Friday when he nominated federal appeals court Judge Ketanji Brown Jackson to be the first Black woman on the U.S. Supreme Court. If confirmed, however, she'll likely face pressure to sit out one of the most important cases involving race and education in recent years. 
In 2016, she recused herself from a sexual misconduct case against the U.S. Department of Education because she has served on the Board of Overseers of Harvard University, where she previously graduated magna cum laude and served as editor of the Harvard Law Review. Prior to her confirmation hearings for a federal judgeship, she explained in a questionnaire that she "was serving on the board of a university that was evaluating its own potential response" to sexual assault guidelines.
That rationale is likely to be revisited if she sits on the court next term when it hears an upcoming case in which the university is a defendant, one of two challenging race-based admissions policies. Plaintiffs argue that affirmative action policies at both Harvard and the University of North Carolina discriminate against Asian Americans by giving preference to Black and Hispanic students.
Charles Geyh, an expert in judicial conduct at Indiana University, said Jackson's first responsibility would be to ask herself whether she can be impartial. But the degree of the board's involvement in creating and implementing the policy also factors into the decision.
"The more involved she was, the more a reasonable person would look at this and say, 'I don't know if she can weigh this thing in an even-handed way,'" he said. "It wouldn't shock me to find that some senators will try to leverage that."
Students for Fair Admissions v. Harvard is one of several high-profile education cases the court will hear in coming years. Other potential issues expected to work their way up from the lower federal courts involve religious school choice, the rights of transgender students and the public status of charter schools.
Jackson, who attended a Miami-Dade high school, is the daughter of public school educators, whom she thanked Friday during remarks at the White House.
"My father made the fateful decision to transition from his job as a public high school history teacher and go to law school," she said. "Some of my earliest memories are of him sitting at the kitchen table reading his law books. I watched him study. He became my first professional role model." Her father served as a school board attorney for the Miami-Dade County Public Schools and her mother was a principal at one of the district's magnet schools for 14 years.
Despite her strong public school connections, Jackson has served on boards of private schools in the D.C. area — Georgetown Day School and a Christian school in Maryland that has since closed.
The Montrose Christian School opposed abortion, another issue Jackson could face on the court. The school's mission statement also said marriage should be limited to those between a man and a woman. Questioned by Sen. Josh Hawley, a conservative Republican from Missouri during confirmation hearings last year on her nomination to the appellate court, she responded that she did not "necessarily agree with all of the statements … that those boards might have in their materials."
None of those potential conflicts came up Friday, however, when Biden formally announced her nomination.
"Her opinions are always carefully reasoned, tethered to precedent and demonstrate respect for how law impacts everyday people," he said. "It doesn't mean she puts her thumb on the scale of justice one way or the other, but she understands the broader impact of the decisions."
If confirmed, Jackson won't change the ideological make-up of the court, where conservatives have enjoyed a supermajority since 2020. That means on a major educational issue like school choice — where liberals typically oppose public funds for religious schools — the addition of Jackson would be unlikely to affect the outcome.
But as the first Black woman on the court, Jackson would likely be more attuned to issues of race and gender as reflected in school dress codes or restrictions on Black hairstyles like braids, and she might see "discrimination that maybe another justice might not," said Preston Green, an education professor at the University of Connecticut.
Jackson would join the court at a time when conservative justices have signaled they're open to rolling back abortion rights and have already moved in the direction of more religious freedom.
"This court is really undoing a lot of decisions that people have thought were off the table," Green said.
'So long overdue'
Prior to her service on the D.C. Court of Appeals, Jackson served as a trial judge on the Federal Court in Washington for 8 years. Biden called Jackson's experience as a trial judge a "critical qualification," and civil rights organizations celebrated the nomination.
In 2020, she blocked the Trump administration from allowing child welfare agencies receiving federal grants to turn away LGBTQ youth and families. And in 2018, Jackson ruled that the Trump administration failed to follow proper procedure when it sought to end funding for teen pregnancy prevention.
"I'm elated. It's groundbreaking, and so long overdue to have a Black woman on the Supreme court," said Sasha Buchert, senior attorney at Lambda Legal, which focuses on the rights of LGBTQ students and adults. "She has a stellar civil rights record."
Buchert is among the legal experts who expect a case involving the rights of transgender students to reach the court at some point. The 11th Circuit Court of Appeals, which heard oral arguments in a Florida case last week, could clash with the 4th Circuit,which ruled in Grimm v. Gloucester County School Board that a transgender boy could use the bathroom that matched his gender identity. The Supreme Court turned down an appeal of that case, but conservative Justices Clarence Thomas and Samuel Alito said they would have heard it.
Joshua Dunn, a political science professor at the University of Colorado, Colorado Springs, said the court also could ultimately confront the issue of whether transgender girls should be able to play women's sports.
"I don't see any way that they can dodge that one," Dunn said. "There will be some split circuit decisions sooner rather than later."
Hecox v. Little — a challenge to Idaho's ban on transgender girls in women's sports — is currently moving through the 9th Circuit. Long considered one of the most liberal appellate courts, the circuit court has shifted recently because of appointments by former President Donald Trump. The Alliance Defending Freedom, a conservative Arizona-based law firm, is also expected to appeal the dismissal of a case challenging a Connecticut policy that allows transgender girls to play in girls high school sports.
Dunn said it's hard to predict how justices would rule in such a case, adding that if Jackson is confirmed, all three liberal members of the court would be women.
The conservative members, he said, could be "suspicious" of ruling that bans like Idaho's should stand, but added he could see "some of the liberal wing of the court having concerns" about transgender girls in sports.
The fact that Justice Neil Gorsuch, a conservative, wrote the 2020 opinion in Bostock v. Clayton County could be a factor in any future cases involving LGBTQ rights. In that case, the court decided that federal law prohibits employment discrimination against LGBTQ workers. But Buchert said the ruling also left open the door for restrictions outside the workplace.
A 'minimalist course'
Before the end of the current term, the court will issue an opinion in Carson v. Makin, which challenges a Maine law banning some religious schools from receiving public funds for tuition assistance. How the court rules in that case could determine whether Jackson might face a similar school choice issue if she's confirmed.
Experts expect the court to rule in favor of the plaintiffs, who say the state is discriminating against religious families. "My sense is that [Chief Justice John] Roberts's ability to keep the conservatives on the minimalist course that he established is over," Dunn said, but added that the court could also leave open the possibility for similar cases in the future.
A decision in a 4th Circuit case, which focuses on whether a student can sue a charter school under the federal equal protection clause, is expected this spring.
Jackson won't be on the court to hear a church-state separation case this term in which a football coach argues he should be allowed to pray publicly after games. But when she clerked for Justice Stephen Breyer, the Supreme Court justice she's in line to replace, the court ruled that student-led prayer at football games violates the First Amendment.
In choosing Jackson, Biden passed on California Supreme Court Justice Leondra Kruger, and J. Michelle Childs, a federal district court judge in South Carolina, who not only went to public K-12 schools like Jackson, but also earned a law degree from the University of South Carolina.
Support The 74's year-end campaign. Make a tax-exempt donation now.