Jeb Bush Calls for 'New Coalitions of the Willing' to Back Education Reform in Era of Intense Divisiveness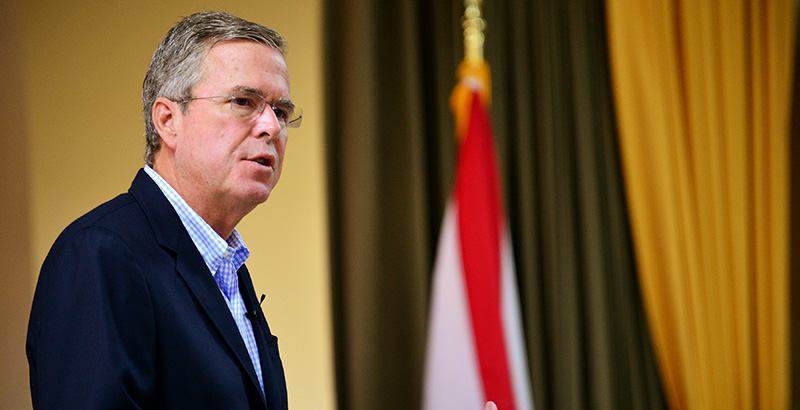 Bipartisanship is essential to advancing education reform efforts, former Florida governor Jeb Bush said Thursday, even if it's harder and harder to come by these days.
"Education should not be a partisan issue. There are enough partisan things we can fight over … We need to have broader coalitions, broad left-right coalitions, and that's been tattered," Bush said at the annual summit of the Foundation for Excellence in Education, the organization he founded a decade ago.
Education reform, of course, hasn't been immune from the political divisiveness infecting seemingly every aspect of American society. Progressive and left-leaning advocates and organizations, for instance, have decried President Donald Trump's policies on immigration and health care, even though they back the administration's support of charter schools. Reformers on the right have said non-education issues should be left out of the conversation about improving America's schools.
Any big policy change requires support from people on both sides of the aisle, but cooperation has been supplanted by partisan divide, Bush said.
"My hope is we find new coalitions of the willing to embrace the challenge in a way that will make sure students succeed," Bush said.
Advocates should continue to support good education reform policy, even if they don't support the messenger, an idea particularly important in state capitols that may not yet be as heavily burdened by party divisiveness as Congress and the White House, Bush argued.
"Keep supporting the policy. Don't let the contagion that exists in Washington, D.C. … spread into your state capitols. Let's focus on building policy across the aisle," he said.
Bush himself was a staunch critic of Trump, his bitter and often-insulting adversary in the 2016 primaries. At the event Thursday, Bush, who was suffering from a cold, joked, "I have high energy, but I'm sick," a reference to Trump's frequent jab that Bush was "low-energy."
Despite their rancor, Bush pushed successfully for Betsy DeVos to be nominated as education secretary. He praised DeVos during his speech at the Nashville summit as "the epitome of a principled reformer who puts kids first." She was scheduled to speak to the conference later Thursday.
Bush said the country has made remarkable progress on education reform efforts the foundation advocates for — such as charter schools, private school choice programs, early literacy, and A–F school ratings systems — since its creation 10 years ago.
But supporters shouldn't be satisfied with the status quo, Bush said.
"Reform fosters reform. The past has proven that success is never final, reform is never finished, and we need to encourage ourselves … to not check the box and say, 'Well, I got that done, now I can go [do something else]' … Education reform requires constant attention," he said.
One area in particular that demands focus is accountability, Bush said. Though he espouses "a total transformation away from the [school] system we have" to one that is completely personalized, test-based accountability remains essential in the interim, he said.
The foundation has long pushed for an A–F grading system for schools, which proponents say allows parents to compare schools more easily and succinctly. States, which this year developed new ratings systems under the federal Every Student Succeeds Act, have taken up a mix of summative ratings, including A–F and number of stars, and broader "dashboards" of data.
It's worth highlighting "transparent" accountability systems, Bush said. In a possible reference to California's multi-hued dashboard, he panned those that use a "kaleidoscope of colors" to rate schools.
"You have to put a light on that and show that that's absurd," he said.
Disclosure: The Walton Family Foundation, Bloomberg Philanthropies, The Eli and Edythe Broad Foundation, the Bill & Melinda Gates Foundation, William E. Simon Foundation, Doris & Donald Fisher Fund, and the Triad Foundation provide funding to The 74 and the Foundation for Excellence in Education.
Get stories like these delivered straight to your inbox. Sign up for The 74 Newsletter