As Charter Fans Fret About Trump's Support, Leaders Warn Funding Boost Not a Done Deal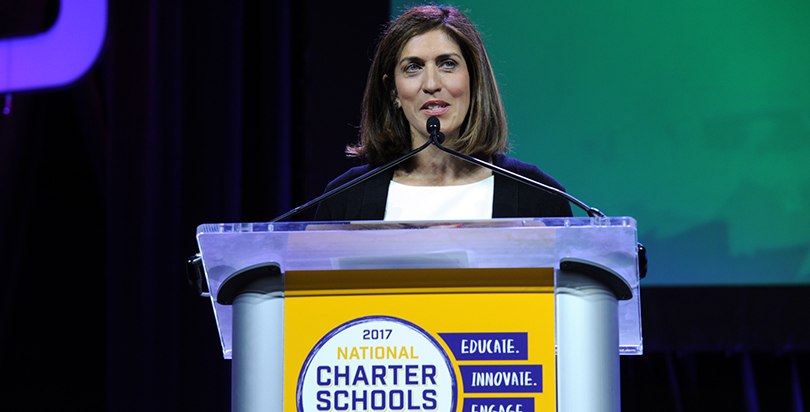 There's been something of an existential crisis hovering over the charter schools movement in recent months: How should advocates react to the very public backing of President Donald Trump and Education Secretary Betsy DeVos, even as the administration also pushes policies anathema to many in the movement?
Advocates at the National Charter Schools Convention this week urged attendees (more than 4,500 people attended the three-day event) to keep their eye on the ball: Trump's 2018 budget, which proposed raising the federal charter schools program to $500 million even as it made big cuts to other education programs, is far from settled.
The $167 million increase Trump proposed "is not a slam dunk by any means," Erik Fatemi, a former staffer for Democrats on the Appropriations committee and now a lobbyist with Cornerstone Government Affairs, told attendees at the conference's closing session Wednesday.
Nina Rees, the president and CEO of the National Alliance of Public Charter Schools, which runs the conference, kicked it off with a similar warning not to take either party's support for the program, which has long enjoyed bipartisan backing, for granted.
Democrats are "skittish," she said, and nervous about being associated with anything Trump likes. Republicans may take the opportunity to push even larger choice proposals, Rees said.
In fact, DeVos herself in remarks to the conference Tuesday urged charter advocates to accept a broader view of school choice and innovation.
(The 74: DeVos Urges Charter Advocates to Embrace Wider View of School Choice, Warns Them Not to Become 'The Man')
"If Democrats are afraid to ever say yes to Donald Trump, and if Republicans don't think charter schools need to be a priority, we could be left out when the big decisions are made," Rees said Monday.
At the closing session of the conference Wednesday, Fatemi and two other lobbyists who work on education issues reminded attendees that members of both parties have criticized Trump's budget.
(The 74: Trump Ed Budget Fleshes Out Choice Proposal, Justifies Deep Cuts)
"Charter schools are in a strange situation, because charter schools do great in the president's budget when it comes to education and practically nothing else does," Fatemi said. "Congress is in the mood to disregard almost everything in the president's education budget."
Complicating matters is the general situation on Capitol Hill, which the panelists described as unsettled and tense.
There isn't agreement on the total amount to be spent on all programs for fiscal 2018, which begins Oct. 1, so members can't decide how much to allocate for specific programs. Congress also will have to vote at some point in the next few months on raising the federal debt ceiling, which recently has come with spending cuts.
Large-scale legislative battles over health care and tax policy, plus the ongoing investigations into Russia's meddling in the 2016 election and possible ties to the Trump campaign, are also muddling the legislative picture.
Lindsay Fryer, who worked for Senate education committee chairman Lamar Alexander before joining the Penn Hill group, predicted lawmakers would make some sort of grand bargain early this fall to raise the debt limit and decide on new spending for defense (a Republican priority) and non-defense (key for Democrats).
That would set the scene for an omnibus spending bill incorporating most, if not all, of the 13 individual appropriations bills sometime around December. Incorporating many bills into one, of course, raises the number of funding and policy issues in the debate.
A key question for the fate of the additional $167 million in charter funding, Fryer said, will be whether it's a make-or-break priority for the president.
"Is that the thing that he needs in order to sign an appropriations bill?" she asked.
Speakers urged attendees to continue advocating, ideally by inviting members of Congress or their staff to visit schools, a more powerful tool than facts and figures.
"Our personal thoughts on the White House can't get in the way of doing what's right for students," Rees said in an emailed comment after the conference. "We need to remain active, and loud, and make sure the White House and Congress understand how important it is for public charter school students to receive equitable funding, and for families to have access to public school choice."
Speakers from across the political spectrum were well received at the conference, Rees said. "I'm heartened by the level of engagement across the aisle, across districts, and across educational institutions, and I'm leaving this year's conference confident that the charter school movement is more committed than ever to moving the needle for students and families."
Support The 74's year-end campaign. Make a tax-exempt donation now.