It's Time for Free Community College: Here Are 5 Reasons Why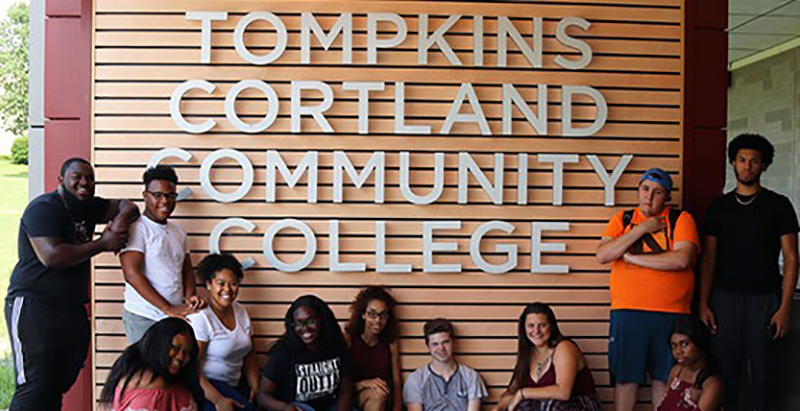 Updated, June 22
A version of this essay first appeared on The Kresge Foundation.
Making community college tuition-free should be a national priority.
It would help counter recent enrollment declines at our nation's community colleges. It would help produce the trained employees businesses say they are lacking. Most importantly, it would bring low-income students and students of color into higher education, a place where they have traditionally been excluded.
President Biden's proposal to make community college tuition-free isn't the only way to accomplish these goals. But it's bold, and it's on the table, ready for action.
The American Families Plan outlines a sweeping array of investments in child care, education, and teacher training, and commits $109 billion to eliminate tuition at community colleges. Recognizing that tuition is not the only hurdle students face, Biden's plan includes a $62 billion investment in student retention and degree completion strategies and $80 billion to increase Pell Grants.
The plan also calls for other investments that would benefit community college students, including reductions in child care costs, expansion in nutrition assistance and establishment of a national paid family and medical leave program.
President Biden's free tuition proposal would build on state programs for recent high school graduates (Tennessee Promise and Oregon Promise) and adult learners (Tennessee Reconnects and Michigan Reconnects). According to pre-pandemic polling, it's a political winner, especially among younger adults and those without a college degree.
Here are five goals political and education leaders have championed for years that could be accomplished with the right legislation.
First, a national initiative to make community college tuition-free would communicate a clear message to all potential students that they will be able to afford at least some of the costs of college — and that they should consider attending.
Second, this initiative could reduce racial disparities in who gets a college education. Programs that provide free community college tuition have been found to increase college enrollment for Black and Hispanic students. Some education beyond high school is increasingly needed for "good jobs." Yet access to higher education is unequal, as demonstrated by persisting differences in college-related outcomes across demographic groups. Without action, these differences in college access and degree completion will likely increase, given the disproportionate negative impacts of COVID-19 on underserved people and communities and enduring systemic racism.
Third, this policy could catalyze other efforts to address the systematic inequalities that limit educational attainment. Only 27 percent of first-time, full-time students who first enrolled in a community college in 2015 completed a certificate or associate degree within three years. This is an opportunity to ensure that more students who enroll finish. It's also an opportunity to help more students move from K-12 to higher education, and from community college to a four-year university, without loss of credit.
Fourth, assuming that state and local governments at least maintain their support, this initiative could ensure that community colleges have the resources needed to serve their diverse and historically underserved populations. When enrollment declines, tuition revenue and government funding based on enrollment also decline. Even before the pandemic, community colleges spent less per student than other institutions. Advising, academic support, and other wraparound services can improve student outcomes, but they require resources.
Finally, this is an opportunity to reconsider the roles and responsibilities of federal, state, and local stakeholders in providing high-quality, affordable, equitable, and accessible public higher education. Free community college could encourage stakeholders to create a shared understanding that everyone should have access to "12 + 2" years of education. It is also an opportunity to systematically align resources available from other sources (such as Supplemental Nutrition Assistance Program, Temporary Assistance for Needy Families, Medicaid, workforce training, etc.) to meet the needs and circumstances of adults and other learners.
Community colleges are an essential component of our nation's higher education system. Often the most geographically proximate higher education institution, community colleges enroll diverse students with diverse educational goals and needs. Eighteen and nineteen-year-olds beginning the path to a four-year degree. Hourly workers who want careers. People who had one career and now want or need another. Many have kids. Most have at least one job.
Making community college tuition free won't be easy. As Biden's plan recognizes — we will need to invest new resources. We will need to ensure these initiatives reduce costs for low-income students. And we will need to design a federal-state partnership that rewards states for their investments in higher education, compensates for differences in state wealth and other resources, and recognizes that state higher education systems and policies vary.
Yet a well-designed federal initiative that partners with states to make community college tuition-free could encourage renewed effort toward making system-level changes that address seemingly intractable issues. Making America's community colleges tuition-free could revitalize these institutions, ensure that employers have skilled workers, and enable people from low-income families and other underserved groups to get access to better jobs and the many other benefits of a college degree.
Laura W. Perna is vice provost for faculty and GSE Centennial Presidential Professor of Education at the University of Pennsylvania. Edward J. Smith is program officer with The Kresge Foundation. Perna and Smith are co-editors of Improving research-based knowledge of College Promise Programs (American Educational Research Association, 2020).
Get stories like these delivered straight to your inbox. Sign up for The 74 Newsletter