Spring Came, the Pandemic Improved, the Economy Got Stronger, But College Enrollment Numbers Actually Got Worse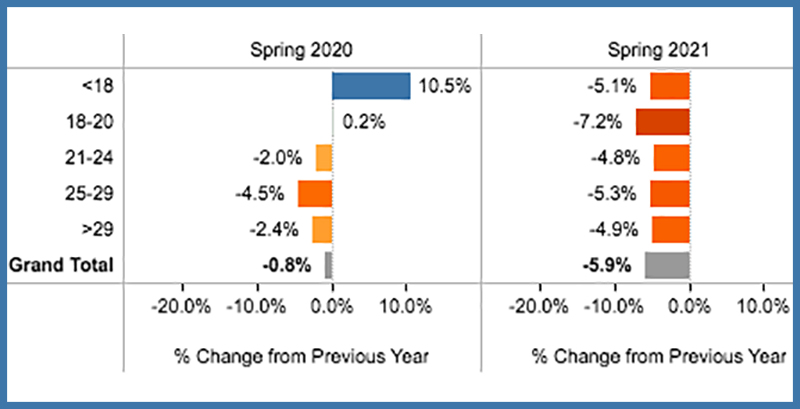 Get essential education news and commentary delivered straight to your inbox. Sign up here for The 74's daily newsletter.
The hopeful assumption that college enrollment would start bouncing back as the economy fires up again now looks like a mistaken assumption.
Spring 2021 college enrollments dipped even further compared to last spring, far more than anyone expected and especially at community colleges, according to data released Thursday by the National Student Clearinghouse Research Center.
Overall, undergraduate enrollment is down almost 6 percent compared to last spring, when the pandemic was well underway. At community colleges, enrollment is down 11.3 percent, compared to a fall of 9.5 percent last fall.
It's possible that Americans got misled by the scores of news articles about application surges at elite colleges. Maybe enrollments are not a challenge at Stanford and Princeton, but the rest of the county is experiencing something profoundly different.
This ominous data raises several questions that probably can't be answered for another year. Have young Americans fundamentally changed their opinions about the benefits of a college degree? Have lower-income students changed their attitudes about the value of skills training obtained at a community college?
"The continuing slide in community college enrollments is of great concern," said Doug Shapiro, executive director, National Student Clearinghouse Research Center. The Clearinghouse, which tracks high school graduates into and through college, is the nation's best resource for higher education trends.
"In a sign of potentially long-lasting impact on the level of skills and credentials in the workforce, there is still no age group showing increases at community colleges, even after a full year of pandemic and related unemployment," said Shapiro.
For now, the Biden administration appears to be pinning its hopes on its $1.8 trillion American Families Plan, which would raise taxes on the rich to pay for several societal investments, including free tuition at community colleges.
Given the investment First Lady Jill Biden, a longtime community college professor, is making in this proposal, the administration is likely to push hard for Congress to approve the free community college tuition. But there are two reality checks in play here.
First, the political odds don't favor the Biden plan winning quick approval. "The question is how soon this can happen," said Shapiro. "Can it be in place to have an effect on fall term 2021? If not, there's going to be a lot of pain for community colleges."
Second, given the Clearinghouse numbers showing accelerating declines, is tuition really the barrier to enrollment at community colleges? In California, for example, community college is free for low-income students and heavily subsidized for others. And yet there was an above-average decline of 12.3 percent for California two-year college students.
If the problem lies elsewhere — a lack in confidence that the time invested in a degree will produce a meaningful boost in life, or a desperate need to support the family, even by working minimum wage jobs — then the country faces a far bigger challenge.
In short, how can the United States remain internationally competitive if young citizens lose their faith in higher education?
If that sounds dramatic, consider this: The data show sharp declines not just among community college students, but also four-year students. Traditional college-age students, especially 18- to 20-year-olds, saw the largest declines of all age groups: 7.2 percent. That's especially ominous considering that age group makes up the largest share (41 percent) of all undergraduates.
"For the four-year college students, there are questions about the value of the online experience compared to the typical college experience people expect," said Shapiro.
Will enrollment at traditional four-year colleges rebound when the pandemic mostly passes, or students feel more comfortable at places where vaccinations are now required? That's possible, but as with these accelerating declines, nothing seems certain.
Also troubling are the widening gender gaps in college enrollments. Male enrollment is falling far faster than female enrollment across the board, regardless of race, ethnicity and age group. Overall, Black and Hispanic students continue to see the largest enrollment declines. It is these students who suffer most from internet connection issues — spotty reception for budget connections and hotspots and a lack of a space to engage in online learning from home.
"College is challenging during normal times, but the past year has tested even the strongest of students," said Dr. Richard M. Rhodes, chancellor of Austin Community College District.
"Like many things in our lives, college looks different right now. Many students have been hit hard by the COVID-19 pandemic, and as a result, fewer are enrolling in higher education. The latest reports indicate enrollments on average across the nation continue to fall. It is up to us to adapt and embrace the new landscape of higher education and make it even better than before."
Get stories like these delivered straight to your inbox. Sign up for The 74 Newsletter