The Diploma Disparity: Inequity In Higher Education Costs U.S. $956 Billion Per Year, New Report Reveals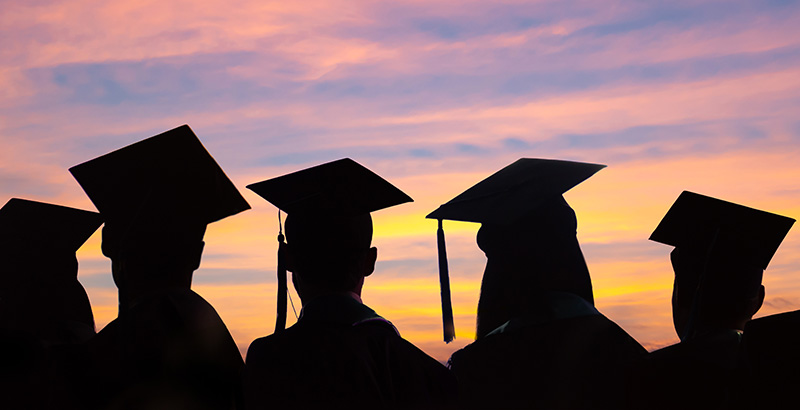 Get essential education news and commentary delivered straight to your inbox. Sign up here for The 74's daily newsletter.
Subsidizing college tuition and student loans can be pricey. But how much does it cost state and federal governments to neglect those investments?
As much as $956 billion per year, a new study from Georgetown University suggests.
The report, released Wednesday by the university's Center on Education and the Workforce in collaboration with the Gates Foundation-funded Postsecondary Value Commission, examines the potential benefits of raising college degree attainment for underserved groups like Black, Latino and low-income white students.
It finds that equitizing college completion rates would come with a steep price tag — $3.97 trillion up front — but that an added $956 billion per year in tax revenues from boosted wages would mean that the long-term benefits far outweigh the costs.
"Economic and racial justice are good for public finances," said lead author Anthony Carnevale, who directs the Georgetown Center. "Our thought experiment revealed the untapped potential in the higher education system for unrealized public gains."
Read more: THE B.A. BREAKTHROUGH: How Ending Diploma Disparities Can Change the Face of America
The Postsecondary Value Commission published Carnevale's paper in conjunction with another report by the Institute for Higher Education Policy that examines economic mobility and the return on investment for a college education.
Together, the sibling studies offer a refined picture of who has access to college completion, what jobs those degrees lead to and what those trends mean for society.
Here are six key takeaways:
1 Race, class and gender gaps persist in degree attainment & earnings
Rates of college completion differ greatly along lines of race and class, the papers found, in alignment with significant prior research.
Among the top 60 percent of American income earners, 57 percent have an associate degree or higher, compared to only 28 percent of earners in the bottom 40 percent, according to Carnevale's report. Only 21 percent of Latino adults and 31 percent of Black adults have a postsecondary degree, compared to 46 percent of white adults.
"Moving through that [higher education] system and getting a decent job is largely race and class based," the Georgetown researcher told The 74. "And stubbornly so."
Even once college students earn their diplomas, pay gaps across gender and race remain persistent. Men who completed four-year colleges on average make $14,000 more than female graduates from those institutions, according to the counterpart analysis.
And in the University of Texas system, white students who dropped out of college made almost as much as Latino and Black peers who graduated. Fifteen years later, white dropouts earned average yearly salaries of $60,400 as opposed to $60,700 and $64,800 for Latino and Black graduates, respectively.
2 Closing gaps pays dividends
Carnevale's team examined what could happen if the bottom 40 percent of income earners attained college degrees at the same rate as the top 60 percent and if rates of postsecondary completion were equal across racial groups.
In that scenario, an additional 10.2 million Latino Americans, 5.9 million Black Americans, nearly half a million Asian Americans and 12.9 million low-income white Americans would have post-secondary degrees.
While the researchers estimate that raising college completion to those levels would require an upfront investment of $3.97 trillion, the ledger would balance quickly they say, contributing an additional $222 billion annually to U.S. GDP while reducing spending on social services like health care and incarceration — for a yearly $956 billion net.
The cumulative benefits of equity in college-going and completion would outweigh the cumulative public costs in approximately 17 years, according to the research team.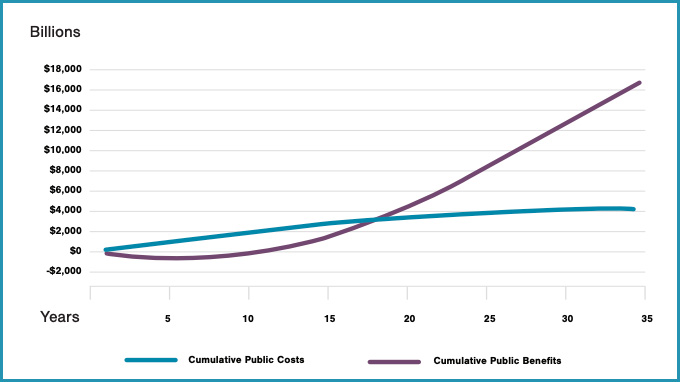 3 Beyond budgets, equity in degree attainment yields social benefits
On top of the nearly $1 trillion yearly estimated windfall from boosting college completion to equal levels across race and class, the study also identifies many non-monetary benefits.
Postsecondary education has a positive relationship with health outcomes like longer life expectancy, increased public safety and boosted levels of civic engagement activities like voting and involvement in community causes, the report says.
In addition, in our changing world, ensuring students see college success is a moral imperative, adds Carnevale.
"This is a new age in American education," he said. "Everybody needs at least some post-secondary [schooling]."
4 Most schools yield positive return on investment — but not all
Of the roughly 2,900 institutions evaluated in the Institute for Higher Education Policy analysis, the majority offered a positive return on investment for graduates.
At over three-quarters of schools, by the 10-year mark after matriculation, students were on a path to earn at least as much as a high school graduate, plus enough to recoup the cost of their higher education.
However, approximately 650 out of 2,900 colleges and universities did not even meet that minimum threshold, with for-profit schools concentrated within that inauspicious cohort. The report does not name which ones.
Thirty-one percent of four-year and 64 percent of two-year for-profit colleges failed to put their graduates on a path toward earnings high enough to offset the cost of their degree, as compared to average high school graduates. Only roughly 15 percent of public universities failed to miss that mark.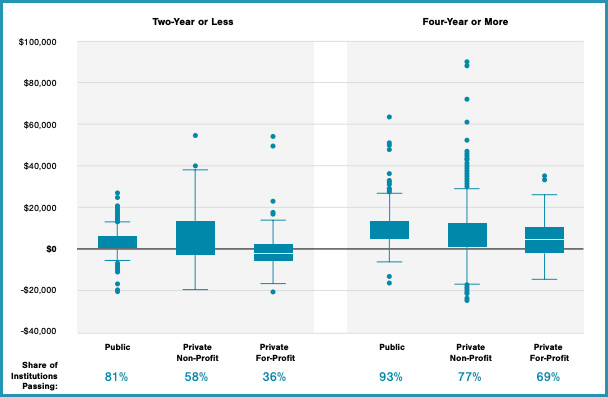 5 The program matters more than the institution
High school seniors often spend weeks and months fretting over which college or university to attend. But according to the Center on Education and the Workforce director, that's not the most important choice — financially speaking, at least.
Though there are differences between schools in average earnings, Carnevale says the key determining factor is a student's chosen course of study.
"There's much more variation [in future income] by program than there is by institution," said Carnevale.
But still, he underscores that money should not be the only factor at play in students' decisions on their post-secondary pathways.
His advice to learners? Explore, ask questions, figure out what you're most drawn to.
"You're going to change your mind a lot," Carnevale said.
6 What data don't we yet know?
Not included in this update from the Postsecondary Value Commission is a school-by-school data tool for students and families to explore earnings potentials, broken down by race, class and gender. That resource will be available sometime this summer, said researchers.
Other searchable databases, from Third Way and Georgetown, for example already allow prospective college-goers to explore similar figures.
Every student deserves to be armed with these numbers, says Carnevale.
"It's not just completing education that matters, it's the outcomes thereafter."
Disclosure: The Bill & Melinda Gates Foundation provides financial support to The 74.
Get stories like these delivered straight to your inbox. Sign up for The 74 Newsletter