It Won't Be Surprising If Chicago Teachers Strike Over Reopening Schools, But It Could Change the Rules for Labor Actions in an Unprecedented Crisis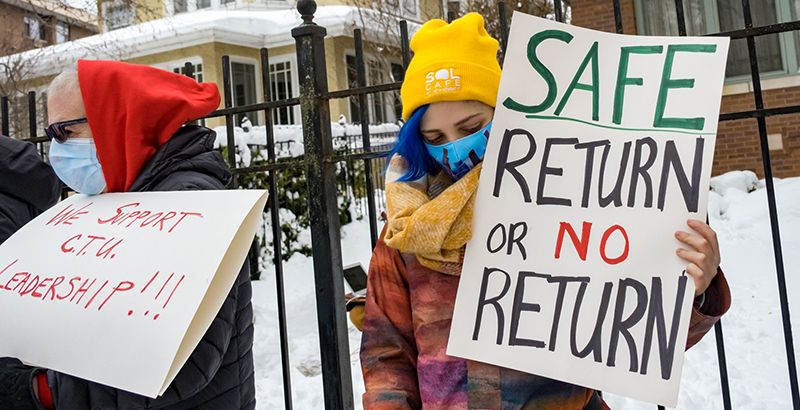 Updated, Feb. 10: The Chicago Teachers Union, by a more than two-thirds vote Wednesday, approved a deal to reopen schools in the nation's third-largest district. The agreement averted what would have been Chicago's third teacher strike since 2012 and came after a weeks-long standoff between the union and the city over what measures were needed to safety resume in-person learning. The resolution means teachers and students in pre-K and special education classes can return to school Thursday, K-5 teachers will report to school Feb. 22 with those students back in the classroom March 1 and then the city's middle schools resuming a week later. High schools were not included in the agreement.
When Chicago Mayor Lori Lightfoot stepped up to the podium for a press conference on Thursday morning, the tone in her voice conveyed pure rage.
"We are deeply disappointed to announce that we still have not reached a deal," she said in reference to heated labor negotiations between America's third-largest school district and its teachers union over reopening classrooms for in-person learning during the pandemic. "Yesterday, there were a series of steps backward that were simply not productive."
Lightfoot's fury highlighted the raw emotion the debate over school reopening has become in Chicago and nationally as many students struggle in makeshift remote learning arrangements and teachers fear that returning to classrooms without adequate safety protocols in place could endanger their health. In Chicago, the issue has boiled over into a public, closely watched feud that could end up in the city's third teacher strike in nine years. As of Thursday, Chicago Public Schools and the union were at an impasse with no deal in sight and a 48-hour "cooling off period" was extended "for the final time through the end of the day."
Though negotiations between city officials and union brass continue, Lightfoot declared Thursday that her "patience is over," and accused union leadership of "fear mongering." The union, meanwhile, has accused the district of putting the lives of teachers and students in danger.
While the standoff carries significant implications for both educators and students, experts studying organized labor said the battle in Chicago isn't terribly surprising. Since the pandemic closed schools nationwide nearly a year ago, unions across the country have played an instrumental role in shaping districts' response. In fact, some researchers argue that union pressure has had a greater influence on school reopening plans than community infection rates of the virus.
At play with the Chicago union, in particular, is a long history of "militant" activism, said Jon Shelton, an associate professor of democracy and justice studies at University of Wisconsin-Green Bay. That includes several teacher strikes over the last decade, most recently an 11-day walkout in 2019. That history of spirited activism, both for improved educator conditions and broader community changes around progressive issues like affordable housing and defunding the police department, made Chicago a likely epicenter for tension over the contentious school reopening issue, he said.
Yet in many ways the standoff is unprecedented, in part because the learning conditions are so novel — there are no classrooms to boycott when most teachers and students are already not in school and the district, through its technology, controls the means of instruction — and could ultimately have national ramifications.
"Unions elsewhere are absolutely going to be watching this" as they navigate their own school reopening disputes, he said, adding that the pandemic has elevated tension because there are no easy answers. "Right now, this really is basically a conflict between the health and safety of teachers and the community versus the mental health and the learning outcomes of students. Both sides have a good argument and that's what makes this so difficult."
In an emotional effort to bring thousands of K-8 students back to classrooms for the first time in months, the district points to research from the Centers for Disease Control and other public health experts recommending a return to in-person learning with safety protocols like mask requirements in place. On Wednesday, CDC Director Rochelle Walensky said vaccinating teachers is not a necessary prerequisite for in-person learning, setting off a Twitter feud between the Chicago district and the union.
To bolster confidence in its reopening plan, the district has highlighted a $100 million investment in safety protocols, including upgrades to school ventilation systems. But it's the safety protocols where opinions diverge. The union has argued that Chicago infection rates remain too high for a return to in-school learning, and by not allowing teachers to work from home if they have safety concerns, they're being forced to put their health on the line for their job. Roughly one in four teachers nationally have health conditions that put them at greater risk if they contract the virus, according to an analysis by the Kaiser Family Foundation.
On Thursday morning, union leaders held an emotional press conference with parents who said their students missed instruction because their teachers had been locked out of online learning tools by the district. Remote learning took place on Thursday as the cooling off period was extended and schools were already closed Friday for a pre-scheduled professional development day. Whether thousands of Chicago students will be allowed to attend school in person Monday is still a looming question.
Meanwhile, in an open letter to parents, the union accused the district of failing to meet its own safety protocols. Though they've met with district officials for 10 months to reach an agreement, the union argued that it "never had a willing partner on the other side of the table."
"That's what our members' fight is about — safety," the union said in the letter. "Mayor Lori Lightfoot and CPS leadership have unilaterally tried to impose a plan to return educators and students to in-person learning without involving our members, principals, students or parents."
As the situation continues to unfold in Chicago, a similar conflict was averted in Washington, D.C. For the first time in nearly a year, public schools in the district reopened for in-person learning this week despite fierce opposition from many teachers. In fact, earlier this week the school district asked a judge to grant a temporary restraining order preventing the Washington Teachers' Union from meeting to discuss a potential strike that could unravel reopening plans. In Montclair, New Jersey, school officials announced a plan this week to sue the teachers union in an attempt to reopen classrooms after it struggled to find enough teachers willing to return in person. Across the country in San Francisco on Wednesday, the city sued its own school district for failing to open for in-person classes.
Meanwhile in Chicago, equity concerns on both sides only add more fuel to the fire. As evidence builds that remote learning was a resounding failure for many kids' educational progress, Chicago officials have highlighted that private and parochial schools and those in the surrounding suburbs have reopened for students who want to learn in person.
"While remote learning works for some, it absolutely does not work for everyone — not by a long shot," Lightfoot said, highlighting that distance learning has resulted in an increase in failing grades, depression and isolation among the district's "Black and brown kids who look like me, coming from circumstances like the one that I grew up in, who are struggling and failing. We are failing those children by not giving them the option to return to school."
But communities of color have been disproportionately affected by the pandemic, and many Chicago families remain hesitant to embrace in-person learning. Only about 20 percent of eligible students showed up for in-person learning last month and when initially given the choice, 34 percent of Black students and 31 percent of Latino students opted for in-person learning versus 67 percent of white students.The union has highlighted this reality in its negotiations.
"Like our members, you have witnessed decades of broken promises from CPS, which have hit our most vulnerable Black and Brown communities the hardest — much like the coronavirus," the union said in its letter, noting that many parents have chosen to continue distance learning. "Perhaps you didn't trust the plans in place, or perhaps the COVID threat was just too great."
In many cases — Chicago included — the pandemic hasn't necessarily created new fractious relationships between teachers unions and district leadership, said Bradley Marianno, assistant professor of educational policy and leadership at the University of Nevada, Las Vegas. Rather, the pandemic-induced disruptions simply magnified tensions that have long existed.
"Where there were more congenial relationships" between management and labor, "we saw those continue during COVID-19," he said. "It's really shone the light on areas around the country where labor relations were already strained pre-COVID-19. And then when discussions around reopening were launched, they continued forward in that same vein."
Yet as negotiations drag on behind closed doors — after more than 80 meetings between city officials and union leadership, according to Lightfoot — public perception of the debate is critical.
"Behind the scenes they're negotiating back and forth," Marianno said, but through press conferences, social media and letters, both sides are trying to win public support that could ultimately "sway reopening decisions in either direction."
While being able to lock teachers out of online learning platforms is an unprecedented tool in the district's arsenal, Shelton argued that the idea backfired.
"You've seen how risky of a strategy that was," he said. "The teachers sort of called the school district's bluff and the school district has backed off" with the cooling-off period. For the district, locking out teachers carries significant "risk of being seen as an entity that provokes a strike when teachers are still willing to teach" online.
But the building controversy also carries significant risk for teachers, Marianno said. Early in the pandemic, the public tended to view teachers as heroes, he said. Tension over the return to in-person learning could change that, he said. Especially if teachers choose to strike.
"It remains to be seen how parents would react," he said, "but the most probable reaction would be one of frustration."
Get stories like these delivered straight to your inbox. Sign up for The 74 Newsletter