Interactive Map — The Great Shortage: Explore How Districts in All 50 States Are Grappling With Missing Teachers, Nurses, Cooks, Bus Drivers & Other Essential Workers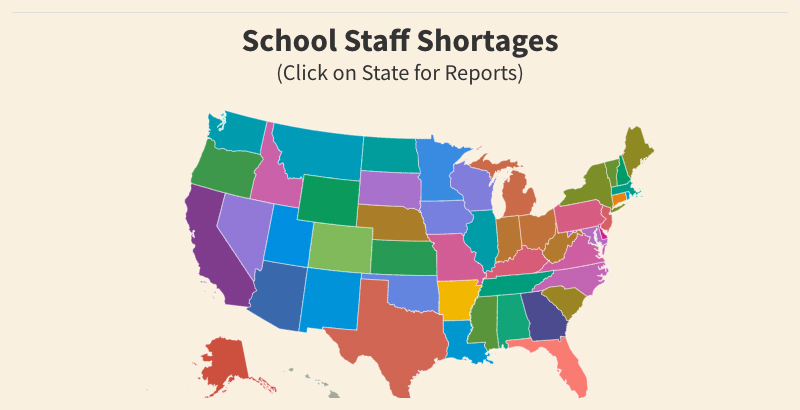 Get stories like these delivered straight to your inbox. Sign up for The 74 Newsletter
After 18 months of shuttered schools, children across the country are back in class — but thousands of teachers and other critical school workers across the country are not.
Faced with burnout, low wages and now COVID-19, scores of education workers — including not just teachers but also school bus drivers, special education paraprofessionals, cafeteria and afterschool workers, nurses, school safety agents and custodians — have left their posts.
Districts have been forced to cancel classes, close cafeterias and feed students pizza, bring back remote classes, and hire per diem emergency workers. School officials have also increased salaries and other incentives to attract and retain staff.
The 74 has found school staffing shortages in all 50 states.
The U.S. Bureau of Labor Statistics' most recent data show there were 460,000 state and local education job openings in July. The rate of workers leaving their job only increased in two industries — wholesale trades and education.
"I fear the worst is yet to come," Highline public school superintendent Susan Enfield told The 74. Her district outside of Seattle has had to send central office staff to fill teaching positions. Enfield believes the approaching cold and flu season and new vaccine requirements will exacerbate shortages in the coming months.
In one Idaho district, the staffing situation was so dire, schools were closed Wednesday "due to excessive staff absences and the shortage of substitute teachers."
When schools managed to open, staffing shortages created headaches for students: A lack of cafeteria workers meant children at S. Weir Mitchell Elementary in Philadelphia weren't served breakfast or lunch one day in September.
Many students haven't made it to school at all because of a shortage of bus drivers. In a National School Transportation Association survey, more than half of the school district officials polled described their bus driver shortage as "severe" or "desperate."
In Minnesota's St. Francis Area Schools superintendent Beth Giese got her bus driver's license to help ease the shortage.
"​​A very wise mentor once told me, never ask an employee to do anything you wouldn't do yourself. Guess who got her bus license!" Giese wrote in a Facebook post.
To see how widespread and pervasive the school staffing shortages are, click on states below to see ways they're experiencing — and tackling — the back-to-school hurdle.
If you are having trouble viewing the interactive, click here
Get stories like these delivered straight to your inbox. Sign up for The 74 Newsletter