Inside the Surprising SXSW Education Panel That Turned the Spotlight on the Gap Between White Families With Educational Options — and Black Neighbors Who Have None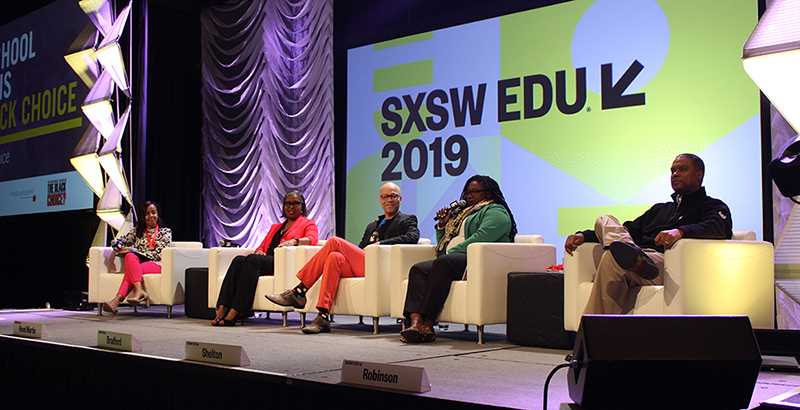 Get the latest news, analysis & commentary delivered straight to your inbox; sign up for The 74 Newsletter
For many years, Derrell Bradford says, he never understood why his mother and grandmother used to gather at the kitchen table when he was a child, debating whose address they would lie about to get him access to a better public school.
It wasn't until he began working in education policy later in life that he says he came to fully understand their predicament: For the majority of American families, the quality of their child's school is tied irrevocably to the affluence of their neighborhood. And while affluent parents can move their families to a better school district if they're unhappy with their current options, or enroll their child in private school, struggling families are left with few choices.
Bradford relived this personal history onstage Tuesday night at the South By Southwest Education Festival in Austin, Texas. And then he went a step further: asking the gathered audience how many of them either had parents who lied about their address or knew someone's family that had done so.
As dozens of audience members raised their hands, a moment of silence fell on SXSW. Many attendees stopped looking at the stage for a moment to turn left and right, several visibly surprised by the mass confession.
How access to a quality education, as well as robust educational options, is divided along racial lines was the key topic of discussion at Tuesday's "Why School Choice Is the Black Choice" panel at SXSW. The event was organized and sponsored by the nonprofit advocacy group EdChoice; The 74's Mimi Woldeyohannes moderated the panel and was joined by Bradford; Naomi Shelton, the director of K-12 advocacy at UNCF; Gerard Robinson, the executive director of the Center for Advancing Opportunity; and Jacquie Hood Martin, co-founder of J Hood and Associates.
"To me, we are not talking about moving from a system of no choice to a lot of it," said Bradford, the executive vice president of 50CAN, an education advocacy nonprofit, and a frequent essayist at The 74. "We are talking about changing the rules of a system where some people have it and other people don't."
The night's panelists argued in favor of school choice as a mechanism through which families could give their children educational options outside a system that is failing students of color, especially black students. They pointed to statistics such as how only 6 percent of black students are deemed college-ready in math, science, English, and reading on the national ACT exam.
They also noted the financial disparities: A new report found that schools serving students of color receive $23 billion less than schools serving mostly white students.
"One of my colleagues summed it up really well: 'The way that I see school choice is, why can't black kids have what rich white kids have?'" recalled Shelton, director of K-12 advocacy at UNCF, which supports African-American college students. "Why can't they have the full swath of opportunities that are afforded to those who have the money and means to afford [them]?"
Government numbers show that many black families are indeed turning to the choice options that are available: While black children make up 15 percent of students in public schools, they represent 27 percent of students in charter schools (33 percent of students in charters are white and 32 percent are Hispanic).
About 3.2 million students attend the 7,000 charter schools that exist across 43 states and Washington, D.C., according to the National Alliance for Public Charter Schools. Private school choice options include programs such as vouchers and tax-credit scholarships, and are used by nearly 500,000 students in 26 states.
These choice options aren't without controversy, as panelists and audience members pointed out, especially when it comes to questions of whether they exacerbate an already segregated school system and impact the finances of struggling school districts. An Associated Press investigation found that charter schools are among the most segregated, though supporters note that many charters are specifically located in neighborhoods with deeply segregated housing.
But the push for school choice isn't a recent phenomenon, as evidenced by the voucher and charter programs that began in the 1990s, said Robinson. He sees school choice as part of a pursuit for education that began when it was illegal for black individuals to receive one. "When I think of the term, 'Why is school choice a black choice?,' really for me it is: 'Why is black choice the latest articulation of black people's quest for education in the United States?'" Robinson said.
Panelists also touched on solutions to support black leaders in this space by cultivating and promoting pipelines for black educators through teacher residency programs, supporting historically black colleges, and embracing charter schools launched by black founders and run by black school leaders.
Parents, ultimately, should be given a voice in their children's education, said Martin. "How do we advance the conversation and help parents understand that they are their best advocate for their child?" she said.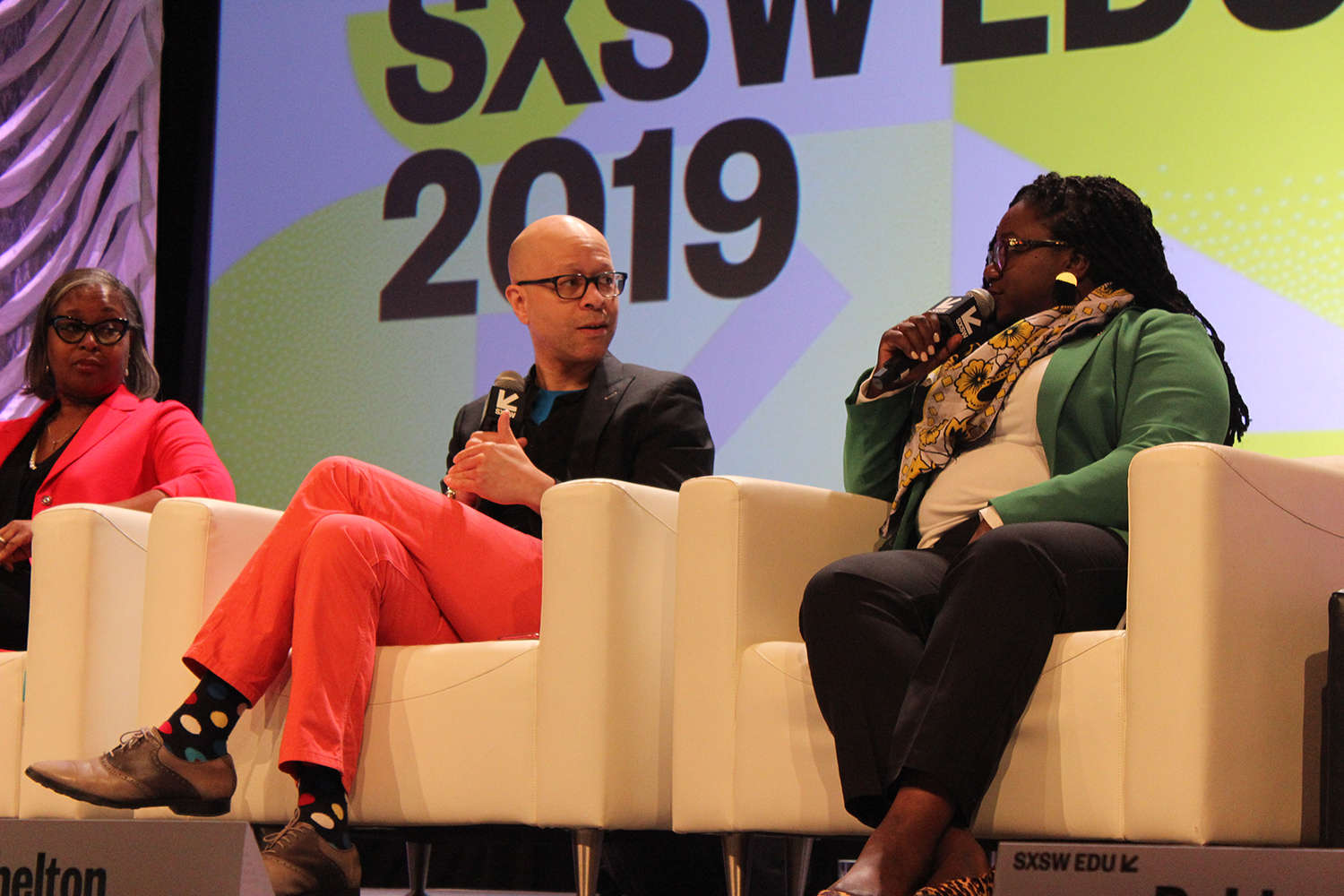 See the full conversation: 
Tuesday's event was only one of the sessions being moderated by The 74 staffers during South By Southwest Education, which continues through Thursday in Texas. Wednesday afternoon, Senior Editor Emmeline Zhao will moderate "Millennials Matter: Ed Reformers Need to Hear Us." We've also profiled the panelists leading a unique Wednesday session about how to expand a school district's data system to better measure social-emotional learning, titled "Integrating SEL into Data Systems for Improvement." (Read our full feature on how eight large California districts are using data to decode SEL)
SXSWedu is an annual March gathering of educators, school leaders, thinkers, and journalists, with a wide range of topics spanning classroom practice, equity, and innovation. A number of this year's sessions focused on the newest experiments in personalized learning; a number of presenters penned essays about their efforts and lessons for The 74, and you can read all their pieces right here. 2020 will mark the festival's 10th anniversary.
Support The 74's year-end campaign. Make a tax-exempt donation now.