In Oklahoma, Squad of College Students Lead Math Recovery
Oklahoma University pilot brings high-dosage Algebra tutoring to high schoolers at no cost, targets those who need it most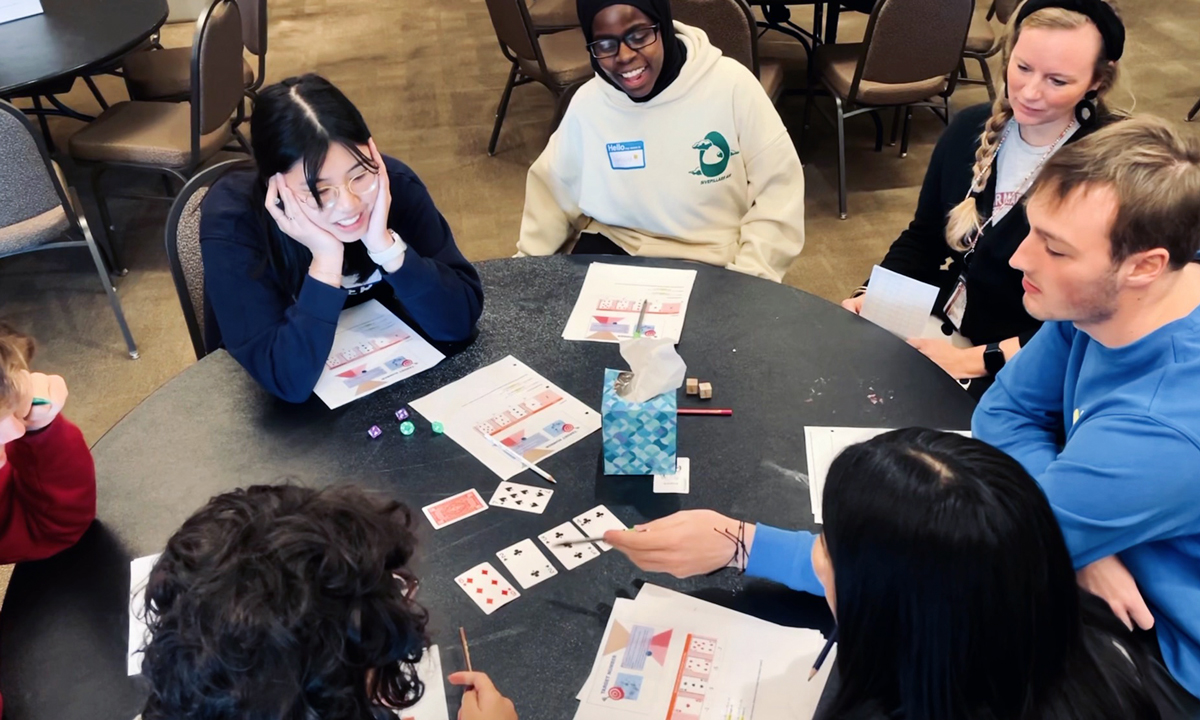 Get stories like these delivered straight to your inbox. Sign up for The 74 Newsletter
A new program in Oklahoma is tapping a diverse and unique group to offer high-dosage high school math tutoring — college students.
Currently being studied in a randomized trial at five high schools in and around Oklahoma City and bringing individualized help to 183 students since 2021, the Transformative Tutoring Initiative rolled out at a critical moment.
Roughly 74% of U.S. eighth graders are not proficient in math according to the latest NAEP results, or the Nation's Report Card — the starkest achievement decline in decades. Oklahoma's students scored 10 points below average, outperformed by 43 states. The state has also relied on emergency-certified teachers to fill vacancies.
Researchers tout high dosage tutoring as a powerful intervention for struggling learners. Beyond academic growth, it has the potential to boost feelings of belonging. A double dose of Algebra in particular can help students graduate high school, persist through college and earn more later in life.
Yet many K-12 schools struggle to establish quality in-house tutoring, given the strain on finances and staff. High quality programs are costly, between ongoing training, reasonable compensation and research.
Now in its second year, the program at the University of Oklahoma has honed in on a local solution, looking to expand partnerships between universities and their surrounding K-12 schools.
"It's going to be an everyday thing until we can catch up as many kids as we can and eliminate the issue altogether in the state," said program director and veteran educator Cristina Moershel.
Each tutor is paired with two students for a full 50-minute period, three days a week. They're compensated $10,000 each year, split between scholarships and stipends.
Marcus Ake, a second year tutor studying meteorology, math and German, starts some periods off the page. He asks students, look around the room, what math do you see? From right angles on white boards to parabolas in desk chairs, "I just want to show everyone else that math is all around."
Of the 9th grade students served by OU tutors, 42% more than doubled the average expected growth on the NWEA Map math test in just one semester. On average, students gained 3.41 points, over a point beyond the average 2.24. Scores for students at one school grew 8 points, about four times the average.
The jump is a big deal. Students are those most likely to not show huge gains, closing out 8th grade scoring in the 15-25th percentile. But if they continue at this rate, they will reach the 50th by the end of 9th grade.
"They're basically beating projections for students who are at the 50th percentile by a full point," said Daniel Hamlin, professor and lead researcher for the project at the University of Oklahoma. "It's actually really substantial."
Getting creative
Contrary to tutoring programs that support with homework help or replicate a lead teachers' lessons, OU tutors fill foundational gaps in math that vary student to student. There's no script: Tutors stop and start wherever students need, pulling a page from mastery instruction.
For many, the starting place is multiplying and dividing fractions, exponents and cubed roots. Others need a refresher on integers and adding like terms before they add variables to the mix.
Tutors make games and songs for algorithms like the Pythagorean theorem, cut and color code paper to bring life back into what used to feel like confusing, irrational rules like the switch-flip method for dividing fractions.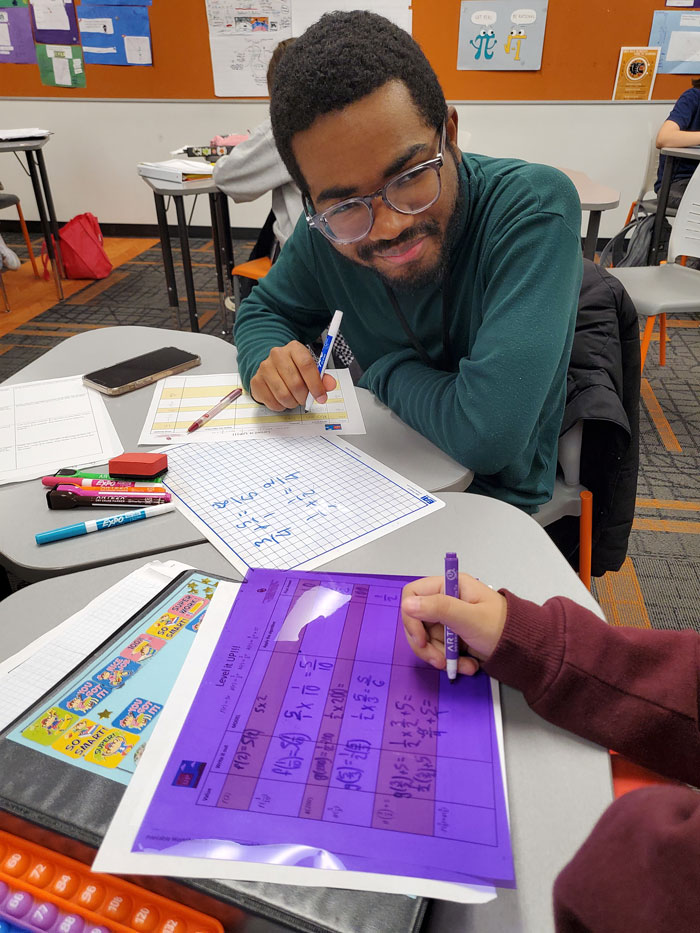 It's the individualized attention many wealthy families pay for. But for the hundreds of students now involved, many of whom are first generation or low-income Americans, the support wouldn't be possible without it being free and during the school day.
The Stephenson family, who funded the $3 million pilot, wanted to target instruction to the kids who most needed support and would not be able to afford it otherwise. Their interest piqued after reading research out of the University of Chicago and Saga Education, which shaped the foundations for OU's program.
Recruiting college students to tutor and mentor may also give students faster access to adults that look like them or relate to their life experiences. In the last two years, OU tutors represented 17 countries. This fall semester, 7% identified as Native American or American Indian, 15% as Asian, 15% as Black and 17% as Latino.
And exposure to college students means exposure to college pathways. Most of the 158 tutors are working toward STEM, economics, or healthcare-related degrees, often able to share with students how they continue to use math everyday, or answer questions about what college actually looks like.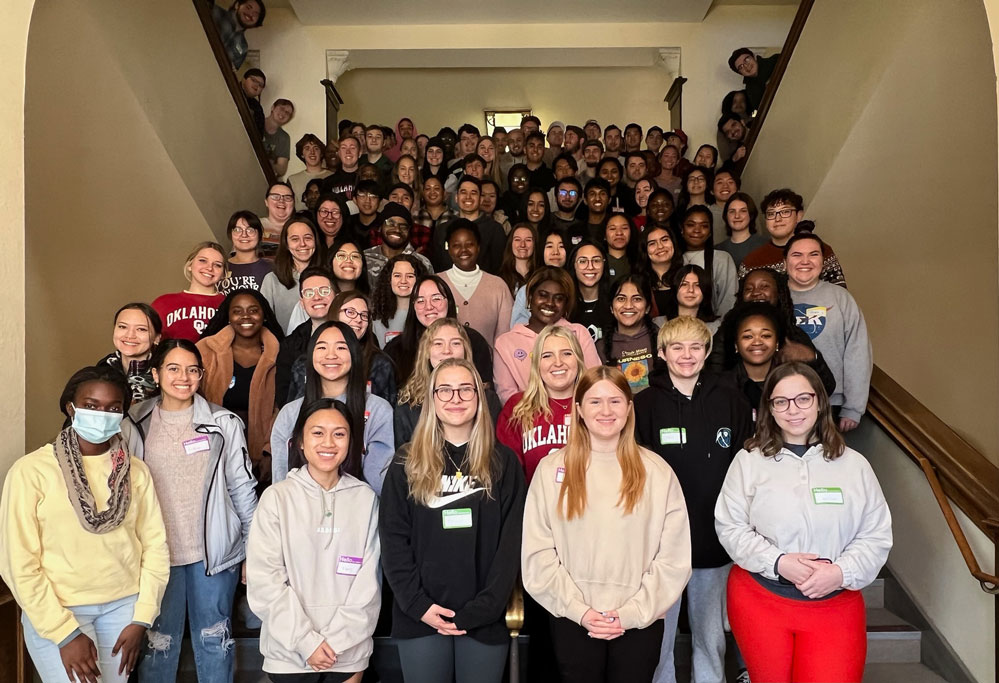 For first semester tutor and computer engineering student Anurag Rajkumar Doré, the reality check includes breaking down the stigma or shame many kids feel about math.
"I remember the first couple sessions. They wouldn't even talk because they were afraid of getting the wrong answer. But I told them, 'I don't care if you have the wrong answer as long as you have the right reason,'" Doré said.
"At the end of the day, math is more about understanding what's happening than just memorizing steps…when you apply math to the real world, you're not going to have a list of answers."
First-time OU tutors go through a three day bootcamp at the start of the semester, learning a mix of pedagogical strategies while refreshing key math concepts. They attend weekly training for one to two hours, planning lessons and getting feedback from each other and veteran educators.
Those involved say the high-quality training is a key ingredient for the model's success.
Doré sometimes messes up on purpose, so his two students see it as normal and practice explaining a different approach. He knows they hesitate with fractions, so naturally he gives bigger and bigger ones. Most recently, 180 over 360 times 35 over 35. The examples drive home the importance of simplifying first — math and many of life's problems.
The Initiative is one of three jobs he balances, but he never thinks about giving it up. Some days he feels he's taught them more about confidence than math.
"I'm able to pay rent because of this program," Dore said. "I can do all this and I can still help the community."
Growing pains
What started at two high schools has now grown to five — two rural, two midsize urban, and one large urban, all with their share of logistical hurdles and lessons learned.
While the university picks up much of the financial and staffing hurdles, the model leans on high schools to get everyone on the same page so there's no stigma or misinformation spread. Some parents were apprehensive, for instance, when their child qualified for tutoring.
"It may be that their child in eighth grade had an A in eighth grade math, but then they're testing in the 20th percentile. Parents may say, 'Well, my child is doing just fine,' " explained lead researcher Hamlin. "There's a lot of communication that needs to be done with parents and schools and it has to be on an ongoing basis."
The excitement tutors like Marcus Ake feel on day one is not always shared by students, either. One in particular was chronically absent, sometimes walking the halls.
"The very first thing they said to me was 'look, I know I'm bad at math. I don't need you to tell me that,' " he said.
Ake stressed the truth: "I'm not here for that… I'm literally here to hang out and do some math at the same time. This is low stress." By the end of the semester, the student showed up every day, and asked if Ake would be there next semester.
Oklahoma has established an out-of-school tutoring corps, but administrators told The 74 a main draw of this partnership was the fact that it supports students within the school day.
"You're going to be really challenged to get kids to skip football practice, or not have their part time job or go home to take a nap," said Chris Brewster, Superintendent for Santa Fe South schools.
Their high school, he said, was lucky — already offering a foundational math class for students who needed another dose. Accordingly, they didn't have to hire an outside teacher of record or do any scheduling gymnastics to get kids enrolled.
Some school sites approached for the partnership declined, citing those very barriers. They couldn't spare a teacher to supervise the period or didn't want to take away student electives.
"These are very costly interventions. I can't imagine at this point, if I had to bear that cost," Brewster added.
OU is gearing up for the long haul, to establish a center that will serve as a hub for high-dosage tutoring in the state. Talks with other universities have begun, including a March symposium to share training and funding resources, like local foundations, banks and national organizations.
On the research end, the University will look into how the program has affected discipline, attendance, tardiness rates and student GPAs, to publish early findings later this spring. Next year, they'll study how effective a 3:1 student to tutor pairing can be.
Students say the tutoring is, "giving them confidence in math that they didn't have before and that the relationship with their tutors is meaningful… something that makes them happy about being at school," Hamlin added.
Other tutoring offerings often pair students with many instructors, and if virtual, can make it difficult for students to build trust and comfort.
For Ake, who supports two students with completely opposite learning styles, the common denominator is a human one. They talk school drama, weekend plans, birthdays, track meets or whatever students bring up offhand during the period.
"Showing an interest in their lives has gone a long way," he said. "I can show them that I'm not just some stranger but I am someone who cares about them as well."
Get stories like these delivered straight to your inbox. Sign up for The 74 Newsletter