Principal's View: How High-Dosage Tutoring Transformed My NYC Middle School
Jones: High-dosage tutoring accelerated learning and created a pipeline of new teachers. Advice for state, district and school leaders on how to start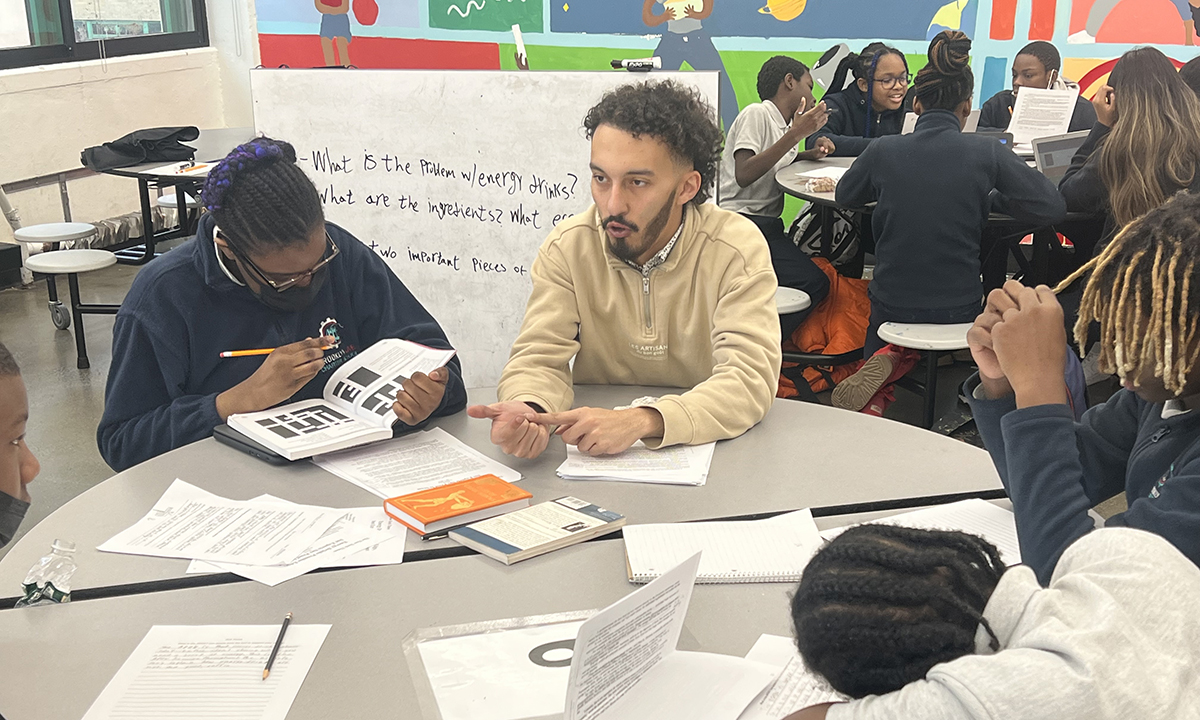 Support The 74's year-end campaign. Make a tax-exempt donation now.
What would you say if I told you there's a program that could help alleviate two of the most persistent problems in education? Many states, cities and even the federal government are championing high-dosage tutoring as a key strategy in accelerating learning. They aren't wrong, but they are missing another crucial outcome from this increasingly popular strategy. High-dosage tutoring, when implemented well, can also help alleviate teacher shortages.
As principal of Brooklyn Laboratory Charter Middle School, I've seen firsthand how high-dosage tutoring not only accelerates learning, but can also create a pipeline of new teachers.
Last year, the majority of Brooklyn Lab students outpaced the national averages for growth in both math and reading on the NWEA MAP test. This is especially notable considering that recent data shows the gaps widening between higher- students and lower-performing students, like those we serve primarily at our school. Without high-dosage tutoring, this kind of widespread and accelerated growth would not be possible.
At Brooklyn Lab, each student in grades 6 to 8 attends tutoring four days per week for 50 minutes — that's 200 total minutes per week. This time is built into the academic schedule, and students are grouped based on need. They receive grades, and content is planned in collaboration between tutors and classroom teachers. Once a week, all tutors join classrooms to observe and support instruction.
Integrating tutors in our school not only benefits students, but has resulted in higher staff satisfaction, increased retention and an influx of new talent. We implement high-dosage tutoring through a fellowship program that can ultimately lead tutors, or fellows, into a pathway to become fully certified teachers. We recruit fellows by partnering with local colleges and education schools — from John Jay School of Criminal Justice to St. John's University's School of Education to local colleges like Medgar Evers and the New York City College of Technology — and they help identify candidates for the program.
These fellows, who are almost entirely recent college graduates and primarily people of color, enter into the program with an emerging interest in the field of education. During the fellowship, they gain exposure to the day-to-day work of a school and receive the same professional development opportunities as our teaching staff. From the beginning, they know that after their two-year fellowship, Brooklyn Lab will support them in applying to a teaching residency program and cover the costs of their tuition while they move into a full-time role at our school. While not every participant chooses that path, over the last five years, 83% matriculated into a teaching residency program to earn their credentials after completing their fellowship.
After nine years of this program, we now have teachers, team leads and a dean who are all former fellows. Our current seventh-grade team lead began her career at our school six years ago. Following her fellowship commitment, she obtained her dual special education certification through the Relay Graduate School of Education while continuing to teach at Brooklyn Lab and became a fully credentialed member of our team. Her job now includes ensuring all seventh graders are meeting learning goals, leading parent engagement and coaching new educators, all of which have a significant impact on our students and staff.
While the benefits have been substantial, like most impactful strategies in education, high-dosage tutoring is not simple. To yield the kinds of results we've seen takes time, commitment and investment. Here's my advice to any state, district or school leader beginning a high-dosage tutoring program:
Create time for it. Treat high-dosage tutoring must be a permanent fixture in your school, with the same value and attention as core subjects like math or English. Build it into the daily schedule, provide a dedicated place for it to occur and determine the outcomes you are driving toward. Brooklyn Lab's fellows spend their time addressing students' skill or knowledge gaps, building relationships and providing individualized instruction for kids who most need additional support. Integrating the time into the school day and coupling that with clear expectations and support is what ultimately accelerates learning.
Build a culture around it. Tutors are typically recent college graduates, entering the workforce for the first time. Schools must build their culture around that reality. Our fellows are integrated members of our team; they run school events, participate in professional development, observe and support classroom instruction, and build relationships with families. This creates a sense of belonging, allows them to explore the teaching profession and invests them in our school's success. For veteran educators, this not only provides an opportunity to mentor and coach, but relieves some of the strain of teaching by adding another individual who can assist with daily tasks such as lesson planning, grading and communicating with families. The culture we build both attracts new teachers and retains our current staff.
Make it a viable choice for diverse candidates. In order for high-dosage tutoring to succeed, schools must be intentional about who they recruit and how they support them. For schools serving primarily students of color, having talented, diverse teachers who can connect with students is a game changer. This means building programs that attract candidates of color, compensate them with a livable wage and give them a viable pathway to a long-term career. Making high-dosage tutoring a gateway into the teaching profession is the best way to get the most out of this approach.
High-dosage tutoring has been transformational for our school. Serving a population of students that is majority Black and low-income, means capitalizing on every opportunity to give students the exceptional education they deserve. But high-dosage tutoring should not be viewed simply as an immediate remedy to the damage of the pandemic. This is an approach that can accelerate learning, attract and train new teachers, and meaningfully shift a school's entire culture. For anyone considering the full scope of high-dosage tutoring, my advice is simple: invest the time, money and attention to make it work.
Support The 74's year-end campaign. Make a tax-exempt donation now.