Helping Students Learn at Their Own Pace: Why Some Ohio Schools Are Adopting a 'Mastery' Approach in Hopes of Closing COVID Learning Gaps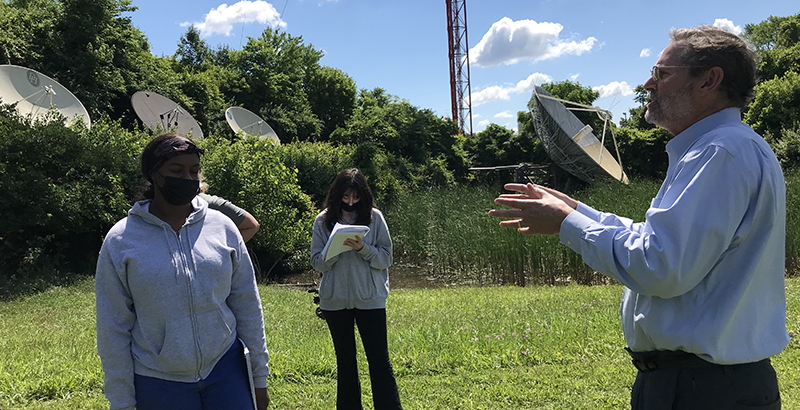 Get essential education news and commentary delivered straight to your inbox. Sign up here for The 74's daily newsletter.
A group of 14 Columbus high school students and their teachers walk behind the Columbus NBC TV-4 station, headquarters past a drainage pond and satellite dishes aimed at the sky.
They follow Ken Freedman, general manager of the station, to a chain link fence that surrounds a field – 2 ½ acres of dirt, debris and tree stumps- that the station owns but has never used.
Freedman has a task for the students as part of that district's COVID-sparked summer learning program.
"What," he asks the students, as he points to the field, "do we do with this?"
Researching and proposing a use for this all-but-ignored land will dominate summer learning for these students, with each given tasks depending on their strengths and weaknesses, requiring them to use math, public speaking, writing, art and even biology skills.
But there's a lot more going on here than just going on here than just a summer project.
With many students needing academic intervention after the pandemic, school district officials in Columbus and Cleveland, are turning to "mastery" learning as a strategy to catch them up.
The mastery, or "competency" approach lets students learn at their own pace, making sure they fully understand key skills before moving on.
That could be a good fit when students return to school in the fall after making drastically different progress online or in very limited in-person classes.
The Columbus school district has built mastery concepts into its summer program to let teachers, students and the district test-drive them. The Cleveland school district, which uses it in a few schools already, hopes to expand its use quickly. District CEO Eric Gordon, long a fan of mastery, has named using more in schools as one of his top four priorities in the district's post-COVID academic plan.
"Over time, [it] will actually close achievement gaps more quickly and effectively," Gordon said.
Kenton Lee, head of secondary curriculum for the Columbus schools, said that mastery concepts have been a major topic in planning COVID recovery. Administrators, he said, are bothered by an increase in F grades in a difficult year when students may have learned material partially from home and can learn the rest now that they are back in classrooms.
"Mastery was brought up a lot," he said. "The question is how do you operationalize it in a district that is as large as ours and to scale it."
And leading the charge in Ohio and nationally, is the Cleveland-area Hawken School, a private school that opened a new mastery-based high school last fall to test and showcase the model, and is now partnering with Columbus as it explores mastery.
The Mastery School of Hawken had to adapt during the pandemic and couldn't bring visitors in to demonstrate the highly-individualized model, but it hopes to promote it to private and public schools alike this fall as educators look at new ways to run schools after COVID.
"COVID really called for an attempt to try to personalize the school experience for kids in the face of de- personalizing of a deadly virus," said Hawken Head of School C. Scott Looney, who dismisses traditional classrooms as too cookie-cutter and industrialized. "We were separated by masks and plexiglass and by technology and the industrial production model does that too. The combination made it really clear for people that we can't go back."
The mastery approach throws out standard expectations that students learn certain skills in a given grade or semester. It instead recognizes that students learn at different paces and may start a school year at very different learning stages. Schools give students time to learn at their own pace, repeating and reinforcing skills until they "master" them.
If students haven't learned something by the end of a school year or grading period, they don't get a D or F. That would be imposing a schedule on learning, instead of recognizing students might just be still learning the material. So schools give them an "incomplete" or "developing" or something similar, instead. In some cases, schools don't even advance students a grade level each year, but whenever they show they are ready to move ahead, even mid-year.
Looney, one of the strongest backers of the approach nationally, said the upheaval of the pandemic calls out for schools to use mastery, instead of what he calls the industrialized approach of expecting students to all learn on a fixed and standardized timetable.
"The pandemic didn't do anything but expose… the flaws of teaching the same kids the same thing at the same time with the same deadlines," Looney said. "It's not a good idea to begin with, but during a pandemic when some kids are home in Zoom and some kids aren't, and some teachers are teaching with kids, it really got exposed for what it is, which is a machine."
Teachers at the Mastery School of Hawken say the approach, which expects students to be at many different stages of learning any given skill, is perfect for a post-COVID world where students have missed varying amounts of classes and learning,
"Each student is just progressing along at their own pace and wherever they get to, they get to," said teacher Nick Cheadle. "There's much less pressure to get through any set of material than there is at a traditional school."
Columbus has already shifted away from standard grading for elementary school students toward one more focused on progress that'sa key part of a mastery system. The district skips traditional A-F grades and instead rates student progress on multiple skills – for grades 1 through 5.
Students receive a 1 if they are doing work below state standards for a skill, 2 for progressing toward the standard, 3 for meeting it and 4 for exceeding it.
Parents, Lee said, still see a 1 on a report card and think their child is failing. But Lee said the district teaches parents that score is evolving and not a "permanent snapshot" of a child's performance for a quarter. Ratings that low are normal early in a year and students can progress to meet standards over time.
Students already meeting state standards will receive other academic enrichment to learn beyond.
"Even that report card is a pretty big paradigm shift," Lee said.
For high school students, the district has not made any broad changes yet, Lee said. But it hired Doris Korda, a former Hawken administrator who helped design the mastery school there, to train teachers for its summer program that federal COVID-recovery dollars are paying for. Mastery School of Hawken teachers will also support Columbus teachers over the summer.
Korda helped teachers plan several projects for students designed to grab student attention and have them learn academic and social skills by trying to solve real world problems. Teachers will target academic needs of students or help them learn beyond standards as they work on projects.
And students will demonstrate their mastery of the topic by giving presentations at the end.
In the case of the TV station project, students will visit urban farms to learn about using the land as a garden.They will look at using the pond to water plants. They will talk to neighbors, many of whom are immigrants, as well as to a neighborhood mosque and other civic groups. They will then present options to Freedman.
Taylor Rush, one of the teachers leading the project, said she hopes students will take ownership of the project and what they need to learn to solve it.
"The students are really going to get a chance to get hands-on and get more engaged through the excitement of creating a solution for a real world problem," Rush said.
The Cleveland school district has used the mastery approach at several schools in recent years, including at MC2STEM High School, which grades students as A, B or incomplete to let them keep working to fully learn academic, as well as social and emotional, skills.
Gordon has encouraged other schools to use mastery concepts over time, even saying last spring he had hoped to use more last fall – a hope that COVID and the district's shift to online classes made impossible. He has repeatedly said that traditional grade levels and learning schedules force structure onto students that hurt learning.
In the district's three-year recovery plan, which will be released in the next few weeks, Gordon plans to help schools already using mastery expand its use. But he wants to give other schools a year of staff training and planning time before expanding it further. Some district teachers are already teaching other teachers some mastery concepts this summer.
That's important, say national experts on the model, who say it can take a few years to really learn and use well.
Both Cleveland and Columbus, however, are struggling with how mastery grading systems will affect high school students as they apply to colleges. Columbus hasn't changed high school grades out of concerns that colleges won't accept them.
Gordon this month is joining the governing board of the Mastery Transcript Consortium, a national panel of about 400 schools founded by Hawken's Looney, to develop a common grading system and transcript for students using the approach.
That transcript, now in use at 14 schools, tosses aside traditional grades and grade point averages for an interactive and online report that shows where students stand in specialized skills that are normally just part of a grade in a traditional subject.
Math, for example, now includes whether a student is competent in things like statistical reasoning and scientific experimental design. And English is broken into things like language analysis and analyzing claims. Students are also rated on social and emotional skills like entrepreneurship, collaboration and self-direction.
Started in 2016, the consortium is already seeing successes. Twelve schools used the transcripts this past school year and had students accepted into 166 colleges using them, including Harvard and the Massachusetts Institute of Technology.
To date, most have been private schools that have reputations and relationships with colleges. Gordon, who has been frustrated by not being able to use a full mastery grading plan at his high schools, hopes to change that – and to help convince more colleges to accept new transcripts.
"They (the board) believe that part of the case to be made for a mastery transcript is that it is not exclusive to elite, private schools but that it can be an outstanding demonstration of a student's content and skills in the public K-12 sector as well." Gordon said. "That traditional transcript has been a limiter in moving to a more full competency-based model."
Looney is also glad to have him and to share ideas right in the same city.
"We can talk about ways we can reinforce each other's work," Looney said.
Support The 74's year-end campaign. Make a tax-exempt donation now.