The Financial Catastrophe Looming Over Chicago Public Schools, in 6 Numbers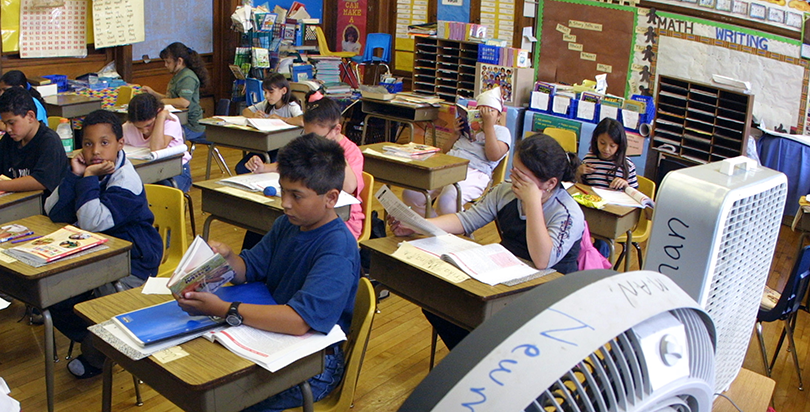 T
he enduring struggle to fund public education in Chicago reached a milestone Wednesday when the Board of Education approved a
$5.4 billion operating budget
for the 2017 fiscal year.
The battle is far from over, however. Ballooning pension costs, stalled contract negotiations between the city and its teachers union, and the inability of Illinois leaders to agree on a state budget for more than a year have left the school district's finances in crisis. The new budget relies heavily on borrowing and the long-shot hope that state lawmakers and the union will agree to chip in on the district's pension payments. The union has already said it would strike if asked to take on those costs.
(Read: Chicago Public Schools 101: The Politics, Passion and Hopeless Financials Behind a System in Crisis)
The financial perils threatening Chicago Public Schools are highlighted in the following six numbers.
$6,700,000,000
The size of the CPS's long-term debt as of June — prior to its request Wednesday to continue to borrow. The district also had $870 million of outstanding short-term debt as of June.
$1,500,000,000
The board approved CPS's request for a $1.5 billion credit line on Wednesday, which will require setting aside another $35 million for interest payments. Since last August, all three major credit agencies had rated the district's debt as "junk." As a consequence, CPS will be forced to pay higher interest on future loans.
$945,000,000
The board also approved CPS's request to borrow $945 million for capital improvement projects, including school construction and improvement. Some analysts questioned the district's plan, noting it already sold $725 million worth of bonds earlier this year to investors at an extraordinarily high 8.5 percent interest rate. That debt won't be paid off until 2044.
$250,000,000
After a year-long stalemate, Illinois Gov. Bruce Rauner and lawmakers agreed in June to approve a stopgap budget that will keep the state afloat for six months and allow school districts to open their doors this fall. The deal allowed the board to levy an additional property tax in Chicago estimated to yield $250 million to cover teachers' pensions. (The district will still need the state and teachers union to help with pension payments, per below.)
@ClaypoolCPS thanks Chicago taxpayers for helping #CPS fill a budget gap. Homeowners of avg $250K house to spend $245 more on schools

— Lauren FitzPatrick (@bylaurenfitz) August 24, 2016
$215,000,000
The CPS' budget also relies on the state giving the district an additional $215 million for its pension bills, but Rauner and state lawmakers agreed the money would only be released if the state also etches out a plan to restructure its own retirement system.
As Chicago Public Schools votes on budget, Gov Rauner says he doesn't know if pension deal will be reached to give CPS $215 mil in state $

— Tony Arnold (@tonyjarnold) August 24, 2016
(Read: 'I'm Scared for Kids in This City': Yet Another Chicago Public Schools Showdown Leaves Parents Fuming)
2%
Under Illinois law, teachers are required to contribute nine percent of their salary into the retirement system but Chicago teachers pay two percent; the remainder is picked up by the CPS. The district proposed phasing out that benefit in its last contract offer but the union rejected it and threatened to strike. The budget approved by the board assumes that the union will accept a concession similar to CPS's proposal. Earlier this month, however, Chicago Teachers Union president Karen Lewis reiterated the labor group's threat to strike over the pension pickup.
Make no mistake, if CPS enforces a 7% pay cut,we will STRIKE!!!

— Karen Lewis (@KarenLewisCTU) August 8, 2016
(Read: Rahm vs. the Teachers Union II? Teachers Vote To Strike, Will Politics Play Differently This Time)
Support The 74's year-end campaign. Make a tax-exempt donation now.