Idaho's Ban on Transgender Girls in Sports a Big Win for the Powerhouse Law Firm Suing Schools to Enact Bathroom Bills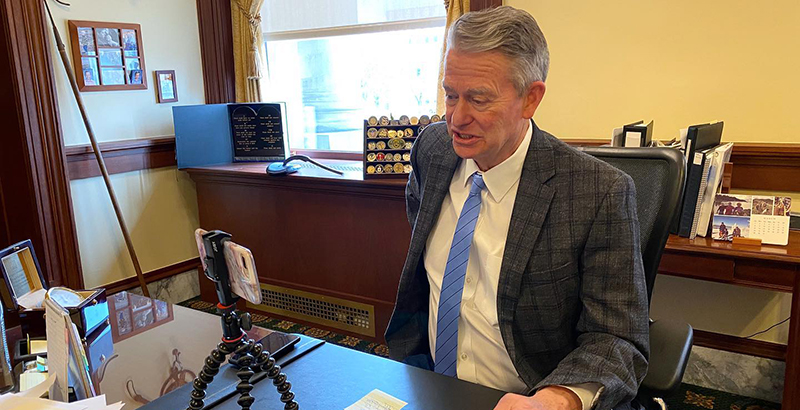 Idaho Gov. Brad Little this week signed legislation prohibiting transgender girls and women from competing on women's athletic teams sponsored by public schools, colleges and universities. The new law, which does not apply to men's sports, requires any "dispute" over a student athlete's gender to be resolved by an examination of "the student's reproductive anatomy, genetic makeup, or normal endogenously 19 produced testosterone levels."
Little also signed into law a measure that will bar transgender Idahoans from obtaining new birth certificates with their gender identities. Two years ago, a federal court struck down a similar law, warning that any future measure prohibiting the amendment of birth certificates could face "heightened scrutiny."
The state's attorney general warned lawmakers that the measures were possibly unconstitutional. Before the coronavirus pandemic crowded out headlines about the workings of state legislatures, which now meet with less public scrutiny, Little had been on the fence about signing the bills, saying he was concerned that Idaho's business climate could be seen as hostile.
The American Civil Liberties Union promised swift action to seek to overturn the laws. "Leaders from the business, faith, medical, education and athletics communities will not forget this decision or what it says about the governor's priorities during a global pandemic," the organization said in a statement. "The ACLU will see the governor in court."
The new laws are the first decisive win for a law firm with a long history of suing school districts over protections for LGBT students. It has pushed nearly identical bills to prohibit transgender girls from participating in girls' sports in at least 15 states this year.
Like Idaho's new law, a number of the bills would require athletes whose gender, if disputed, to undergo physical exams including tests of testosterone levels and chromosomes before they are allowed to compete. This could also apply to public community colleges and universities as well as K-12 district schools.
GLSEN, which advocates for protections for LGBT students in U.S. schools, decried the campaign. "That this is all transpiring during an election year is no accident, and the LGBTQ+ community has seen the far-right use this tactic before," Executive Director Eliza Byard said in a statement. "But this current attack, in this moment when we all contemplate an uncertain future, is a new low."
Separately, last week, the U.S. Department of Justice filed a statement in a lawsuit seeking to overturn a Connecticut policy on participation of transgender student athletes in girls' sports. The statement said the policy contravenes Title IX's mandate to assure girls' access to athletics.
The bills' genesis can be traced to the Scottsdale, Arizona-based Alliance Defending Freedom, which raised almost $65 million in fiscal year 2019 to pay for legal advocacy, strategic relations and training and other activities "to facilitate an alliance of like-minded influencers from every sphere of the public square affecting law and culture," according to its financial records.
The organization's mission: "To keep the doors open for the Gospel by advocating for religious freedom, sanctity of life and marriage and the family."
Last year, the alliance filed a complaint with the U.S. Education Department on behalf of three female high school athletes in Connecticut who did not want to compete against transgender girls. The complaint argues that transgender participation violates Title IX's guarantee that girls can participate in sports — the opposite of the Obama administration's interpretation of the law.
In February, the group filed a federal lawsuit against the Connecticut Interscholastic Athletic Conference, seeking to overturn a policy that defines gender as gender identity and not sex assigned at birth. U.S. Attorney General Bill Barr's recent statement in that suit asserts that the policy is "at tension" with Title IX, which assures girls' participation.
The cisgender athletes who filed the Title IX complaint claim that two high school state champions who are transgender have an unfair advantage. Being forced to compete against them has kept the complainants from winning titles that would come with opportunities and scholarships, they say. Students born male, they argue, have physical advantages, including greater muscle mass.
Guidelines followed by adult sporting organizations have evolved over the past 15 years, with both the International Olympic Committee and the National Collegiate Athletic Association limiting how much testosterone a transgender participant's blood can contain if they want to compete with women. In general, this means the participant must have had their body's testosterone medically suppressed or have been receiving cross-gender hormone therapy, which typically weakens transgender women, for six or more months.
It's not clear that similar guidelines would quell controversy in K-12 schools, however. Transgender youth may or may not be undergoing medical intervention, or they may have had the body's production of testosterone shut down to halt puberty but have not started taking feminizing hormones.
LGBT rights advocates argue that bans deprive transgender students of the right to participate in an activity that's generally recognized as important to their physical and emotional well-being.
The issue of athletic participation is only the latest effort by the alliance. Founded in 1994, the powerful Christian organization has a successful track record. Among other cases, it has won lawsuits filed by bakers and others who say providing wedding-related services to gay couples violates their religious freedom. Its attorneys sued the city of Houston, seeking to roll back a 2014 antidiscrimination ordinance that would have extended protections lacking in Texas state law to LGBT residents and other groups of people. And it drafted legislation in Mississippi that protects businesses that fire LGBT employees or deny them housing, adoption services and health care.
In 2014, the alliance began campaigning to ban transgender students from school bathrooms and locker rooms that match their identities. It sent letters to thousands of school districts posing legal arguments for creating bathroom bans.
In 2017, its model bill, titled the School Physical Privacy Act, was introduced in 15 legislatures. In one of those states, Minnesota, the alliance wrote to every school district insisting that a state toolkit for schools that wished to accommodate transgender students was no longer supported by law because U.S. Education Secretary Betsy DeVos had withdrawn the Obama administration's guidance.
An alliance lawyer called on Minnesota's largest school system, the suburban Anoka-Hennepin School District, to ignore state guidance on accommodations for LGBT students. "The legal landscape has shifted significantly in the last several months in a direction that underscores the strength of student privacy rights and the incoherence of gender-identity policies," he wrote in a letter to the school board, warning that efforts to "intermingle the sexes" would "open the district to a serious risk of litigation."
The attorney, Doug Wardlow, ran for state attorney general in 2018. He lost after being caught on video at a fundraiser vowing to fire "42 Democratic attorneys right off the bat and get Republican attorneys in there."
Until 2017, the district operated under a consent decree with the U.S. Justice Department that resulted from a lawsuit filed in the wake of nine student suicides, several of them LGBT-related. The suit charged that district policy barring staff from having conversations about homosexuality and gender identity created an atmosphere of rampant bullying.
Despite the settlement agreement, however, the school board ordered a transgender boy on a high school swim team to stop using the male locker room. The boy was subsequently hospitalized due to mental health concerns. The district then remodeled the locker room, creating a segregated "enhanced privacy" facility with a separate entrance.
The dispute ground on for two more years, at which point the student and the state Department of Human Rights sued the district, noting, among other things, that the school board chair was relying on the alliance's reasoning. The plaintiffs have asked a Minnesota appeals court to reaffirm that state law specifically protects LGBT students.
In addition to bills to bar transgender athletes from being on female teams, statehouses around the country in the past year saw the introduction of measures to criminalize medical treatment of transgender minors. Last year, Tennessee lawmakers entertained legislation that would compel the state attorney general to defend any school district facing a legal challenge for enacting "a policy or practice designed to protect the privacy of students from exposure to others of the opposite biological sex in situations where students may be in various states of undress by designating multi-person restrooms, locker rooms or other facilities for use based only on one's biological sex."
Several state legislatures are considering the athletics bans. In early March, the Arizona House of Representatives passed one such measure, sponsored by a lawmaker who has promoted alliance positions in the past.
"When we ignore biological reality and force female athletes to compete against biological males, women and girls become spectators in their own sports," said Matt Sharp, alliance senior counsel and state government relations national director. "In athletics, they're losing medals, podium spots, public recognition and opportunities to compete."
Kasey Suffredini, CEO of Freedom for All Americans, which campaigns for nondiscrimination laws, said he's not surprised by the wave of proposed legislation. Bathroom bans have been rejected by lawmakers and school districts in numerous states in recent years, and by voters in Alaska and Massachusetts.
"These proposed bills are designed not to protect any group of people but simply to harm LGBTQ people, especially transgender youth," he said. "They are ill-informed, unnecessary and dangerous, and they should be resoundingly rejected."
Support The 74's year-end campaign. Make a tax-exempt donation now.