In 'Enormous Victory for Transgender Students,' Supreme Court Declines to Hear Appeal in Doe v. Boyertown; Prior Ruling That Kids Can Use Facilities Matching Gender Identity Stands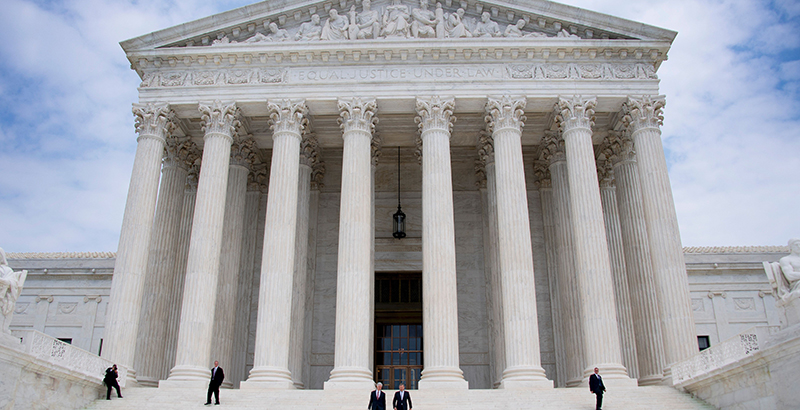 The Supreme Court announced Tuesday it will not hear Doe v. Boyertown School District, a case in which a non-transgender student argued that accommodations for transgender students in his suburban Philadelphia district violated his right to "bodily privacy."
The high court's pass means that a lower court ruling, which upheld the school district policy allowing transgender students to use locker rooms and restrooms matching their gender identity, stands.
Ria Tabacco Mar, an attorney with the ACLU, in a statement called the news "an enormous victory for transgender students across the country" and said the decision allows schools to move forward with policies that support transgender students.
The Alliance Defending Freedom, a religious liberty law group that brought the student's case, decried school districts that are "adopting radical changes" and "ignoring the privacy rights of all students."
As we covered previously at The 74, the Doe v. Boyertown legal arguments marked a new turn in the escalating fight over transgender students' rights: Up to this point, most lawsuits in this area have been brought by transgender students seeking to use bathrooms and locker rooms that match their gender identity rather than their biological sex. The newer lawsuits flip those arguments on their head, alleging that accommodations for transgender students violate the "bodily privacy" of non-transgender students.
Prior to May 28, justices had delayed the decision to take up Doe v. Boyertown School District several times. Another case, Parents for Privacy v. Dallas School District, came from Oregon and is currently awaiting a July 11 hearing in the Ninth Circuit. Lower courts in both cases sided with the school districts that adopted policies accommodating transgender students.
That's not to say that the first wave of lawsuits, brought by transgender students seeking accommodations, has died down.
The 11th Circuit in Atlanta could soon hear the case of Drew Adams, a transgender boy who was required to use gender-neutral facilities.
"Trans people are still being discriminated against, so when that happens, cases are going to be brought. I think that in terms of activism and litigation from more conservative corners, that has picked up. They're no longer just playing defense," said Scott Skinner-Thompson, an associate law professor at the University of Colorado Boulder.
The Boyertown lawsuit was brought by a former student at a public school in suburban Philadelphia referred to as Joel Doe, who said he was was marked down in gym class for failing to change clothes in a locker room with a transgender student and "eventually felt forced to leave the school entirely," according to his lawsuit.
Attorneys with the Alliance Defending Freedom, a nonprofit law firm that works to protect religious rights, wrote that Boyertown's policy violated Doe's "constitutional right to bodily privacy," deprived him of equal access to an education guaranteed by Title IX, and violated Pennsylvania privacy laws.
Justices "can and should say that it is not reasonable for a student's privacy rights to change based on what someone else believes about their own gender," the attorneys wrote in their petition asking the Supreme Court to take the case.
Arguments that expansion of civil rights protections for one group infringes on another "have not been terribly successful to date," both in other areas of civil rights generally and in this case specifically, Skinner-Thompson said.
The Third Circuit, which sided with the school district, cited in its decision the availability of single-user facilities for students who chose to use them, and said that the minimal privacy concerns that remain are outweighed by the need to protect transgender students.
Advocates for transgender students argued that the case's primary argument — that expanding protections for transgender students necessarily comes at the expense of cisgender students, as non-transgender students are called — is both inaccurate based on schools' experiences and harmful to transgender people broadly.
Read more about the Boyerstown case, and the case law surrounding these issues, right here.
Support The 74's year-end campaign. Make a tax-exempt donation now.