Idaho Governor Hopefuls Make Education a Campaign Priority In the 'Scroll-Down State'; Differ on Key Elements of Early Education, School Choice, Guns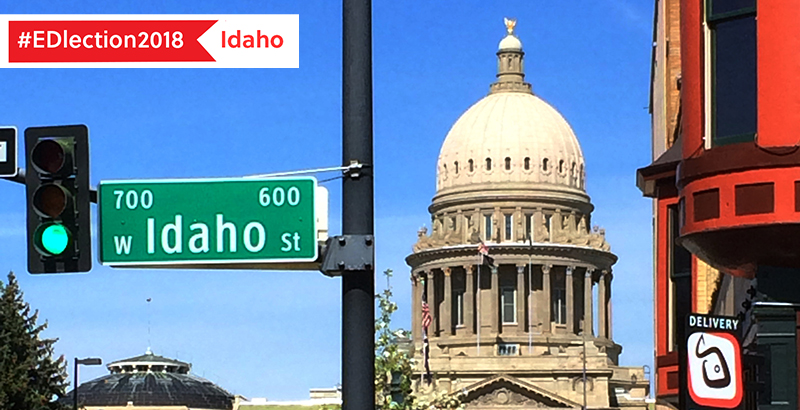 Updated
This is the latest education-oriented campaign we've profiled in our ongoing #EDlection2018 series. See our complete preview coverage of the 2018 elections — including key races in Indiana, Florida, California, and beyond — at The74Million.org/Election.
When it comes to education, Idaho has been called "the scroll-down state," as in, finding the Gem State on state-comparison lists of early education, school funding, and teacher salaries requires scrolling down to the very end.
Perhaps that's why most candidates in the 2018 gubernatorial race have listed education as their top priority as they seek to replace three-term Republican Gov. C.L. "Butch" Otter, who is not seeking reelection.
Five leaders have emerged before the May 15 primary: three Republicans (businessman and political newcomer Tommy Ahlquist, Rep. Raul Labrador, and Lt. Gov. Brad Little) and two Democrats (Boise school board member A.J. Balukoff and state Rep. Paulette Jordan). Polls declare the race up for grabs in both parties.
Dominated by a Republican legislature, Idaho hasn't had a Democratic governor in more than 20 years. Since 1995, Republicans have held a trifecta of power in the state Senate, House, and governor's office.
But polls show that so far, none of the five has jumped out in front. An Idaho Politics Weekly poll from March found that, overall, support is divided, with 16 percent for Labrador, 15 percent for Jordan, 15 percent for Ahlquist, 11 percent for Little, and 8 percent for Balukoff, while one-third of voters are undecided.
Even in a red state, Idaho columnist Chuck Malloy wrote, the Democratic primary the "one to watch," with 72-year-old businessman Balukoff the "presumptive frontrunner" over Jordan, 38, a member of the Coeur d'Alene tribe, which could represent a significant voting bloc amid expected low voter turnout. "The future is in the hands of people of her generation," Malloy wrote.
The candidates agree on the need for more pathways from high school to college and career, as well as support for rural districts, but they differ in their stances on school choice options, weapons in schools, and how to address funding for schools in impoverished neighborhoods.
The state of education in Idaho:
Idaho spends very little on education compared with other states, ranking 48th in per-pupil spending, with $6,899 allotted per student.
Much of the debate around education spending points back to a 2006 tax overhaul that left education spending on precarious ground. An Idaho Education News analysis found that the overhaul technically allowed for more taxable revenue for schools but created funding disparities among districts. The smallest, rural school districts were the hardest hit by the overhaul, as they have the most difficult time getting voters to pass supplemental levies.
In 2016, 18 percent of children, or 76,000, were living in poverty, a middle-of-the-pack ranking when compared with other states, the Kids Count Data Center found.
Teacher pay is also taking center stage. An analysis of U.S. Bureau of Labor Statistics data found teachers in Idaho make an average of $47,000 per year, 44th in the nation. This issue topped Otter's agenda at the beginning of the legislative session, and the state is in the midst of a politically popular five-year, $250 million plan to boost teacher pay that has produced raises of 2 percent in 2015–16, 2.9 percent in 2016–17, and 3.6 percent in 2017–18, Idaho Education News reports.
Nearly 80 percent of Idaho students graduate from high school, four percentage points below the national average. But test scores are slightly above the national average, according to the latest National Assessment of Educational Progress, with 40 percent of fourth-graders and 35 percent of eighth-graders proficient in math and 38 percent of fourth-graders and 39 percent of eighth-graders proficient in reading.
As for school choice, the state House passed a bill last month to support the creation of tax-credit scholarships, though the measure has not made further progress. Idaho has just over 50 charter schools, and the strength of its 20-year-old charter law was given a middle-of-the-pack ranking this year from the National Alliance for Public Charter Schools. The state does not have a school voucher program, as the constitution prohibits it.
Early education is still very limited. Idaho remains one of six states that do not fund preschool, despite several attempts to change this, including a bill last year. But the legislature won't budge, for reasons that many say boil down to a belief in the limited role of government and the idea that families should be primary caregivers for their young children.
The state was also in the national spotlight this year for a controversy over climate change in its science standards. After removing mentions of human-caused climate change last year, the Idaho legislature reversed itself this year after protests and approved new standards that included them.
Meet the candidates:
Tommy Ahlquist, Republican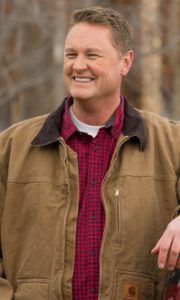 Ahlquist, 50, is a businessman who is running for public office for the first time. His campaign is trying to spin that to his advantage by criticizing his "career politician" contenders, emphasizing that he comes from the "real world" and arguing that his business background is conducive to creating jobs.
His list of education priorities includes connecting schools with industries to better prepare high schoolers for work in the state, as well as supporting university degree programs that align with state industries. He supports early education but doesn't think preschool should be state-funded.
Ahlquist wants student achievement to be defined by benchmarks in third-grade reading and eighth-grade math.
He supports school choice options and has applauded high-achieving charter schools and school vouchers but has cautioned against disruption they could cause in rural areas.
He's reiterated support for the Second Amendment, but rather than backing arming teachers in schools, he has supported making schools more secure against intruders as well as providing more mental health supports.
While he has critiqued the roll-out of the Common Core standards, he has not shared any plans to replace them.
In an interview with Idaho Education News, he seemed to take a more hands-on approach to education: "Something as urgent as education," he said, "will require the governor to be front and center on these issues."
Ahlquist did not respond to a request for comment.
A.J. Balukoff, Democrat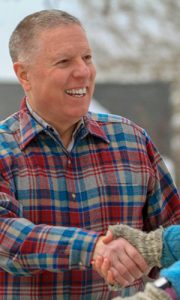 Balukoff, 72, is a businessman and school board member in Boise who challenged Otter in 2014 and lost by 15 percentage points. But he told The 74 that his chances at the polls as a Democrat in a red state are better than ever. As he's traveled the state talking to constituents, he said Idahoans are tired of being the "scroll-down state" and want someone who can change the status quo.
Balukoff has spent 21 years on the Boise School District board. He said the greatest issue facing Idaho schools is funding, especially in rural areas, and wants to give greater taxing power back to local school boards. When it comes to guns in schools, he also reiterated his support for local decision-making.
Preschool education for all Idaho children is also a priority. One recent success in the Boise district is a preschool pilot program that a study showed improved children's test scores in kindergarten. Because the state doesn't fund preschool programs, local tax dollars and community donations were collected to fund Boise's.
Balukoff's board approved the first charter school in the state, but he isn't a fan of several school choice measures. He opposes vouchers and tax credits, arguing that they take away money from public schools. Although he doesn't oppose charters outright, he said he's been disappointed by the results of charters in the state, noting that their promise of creating and sharing innovations with traditional public schools hasn't been fulfilled and that the students who attend those schools aren't the ones who need the most help.
"I would address that issue by having [charter schools] really live up to the promise that the charter school law was sold to us on, which is, these schools should be innovative," he told The 74. "They shouldn't be duplicating what we're already doing in public schools."
Paulette Jordan, Democrat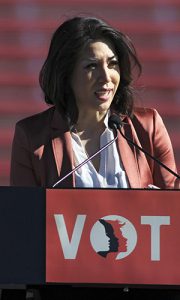 Jordan, 38, is serving a second term as a state representative. In her campaign, she has demanded better funding for rural schools, underlining education as her top priority in a state with one of the worst rates of per-pupil funding in rural areas.
"Let's be cognizant of the fact that we are failing our school system. We're barely getting by on supplemental levies and we're hurting our kids — our future," she said, according to the Shoshone News-Press.
Teacher pay and recruitment are also priorities for Jordan. She opposes arming teachers but supports arming school resource officers and hiring more mental health therapists.
Jordan is more supportive of school choice options like charter schools than her Democratic opponent. During a forum with both candidates, Jordan said charter schools are important for students who are not being served by their neighborhood schools, though she also emphasized her support for fully funding traditional public schools, according to Idaho Education News. But she does not support school vouchers.
In a statement to The 74, Jordan said she supports developing a statewide universal preschool program, investing in CTE programs, expanding AP classes, and providing dual credit opportunities to high-schoolers.
Jordan is a member of the Coeur d'Alene tribe. If elected, she would become both the first woman governor of Idaho and the first Native American governor in the United States.
Raul Labrador, Republican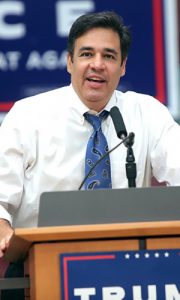 Labrador, 50, is a four-term U.S. congressman who also served in Idaho's House of Representatives.
His education priorities emphasize preparing students for careers after high school graduation by encouraging dual-credit programs, vocational and career and technical education courses, and remediation. Labrador has said he thinks education isn't suffering from a lack of funding, but rather, from the misuse of how dollars are spent.
He said he will "end" the Common Core standards and replace them with Idaho standards, stating that Common Core is "stifling innovation in our classrooms and tying the hands of teachers," according to a prepared statement sent to The 74.
He supports school choice options like homeschooling, tax credits, and vouchers. When it comes to charter schools, Labrador said he wants to make them more competitive and innovative. If elected, he said, he would conduct a review of the Public Charter School Commission, "to make sure government isn't standing in the way of education choice."
Labrador said teachers should be allowed to have guns in their classrooms. But he also emphasized mental health issues and a lack of good male role models as factors in gun violence.
Brad Little, Republican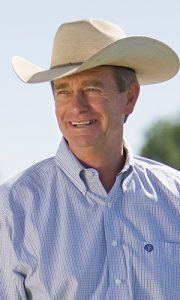 Little, 64, is lieutenant governor of Idaho and a former state senator. Like the other candidates, he has emphasized the need to prepare Idaho students for Idaho jobs with more vocational and CTE training, certificates, and competency-based learning. He also supports allowing colleges to keep sales tax generated on their campuses to reduce tuition.
"We've got a fundamental obligation in our constitution to get these kids trained," Little said, according to the Post Register.
To help schools in rural areas, he has proposed encouraging resource-sharing among districts as well as offering signing bonuses to teachers as an incentive to work in these schools. He said he is committed to strengthening broadband services in rural areas.
He wants to increase teacher pay and has proposed raising starting salaries to $40,000. He also thinks pay increases should be linked to performance outcomes like student growth.
Responding to gun violence in schools, Little said solutions should lie in boosting mental health options for students, improving background checks, and making schools safer by installing cameras and armed officers.
Although he isn't against vouchers, Little said he opposes taking money away from public schools and has critiqued the disruption they could cause in rural areas.
Little did not respond to a request for comment.
Go Deeper: More previews of key 2018 races that could shape American education The74Million.org/Election.
Get stories like these delivered straight to your inbox. Sign up for The 74 Newsletter