The State of Education in Idaho: Low Teacher Pay & High Turnover, Secrecy on Accountability, Big Hurdles for School Choice & More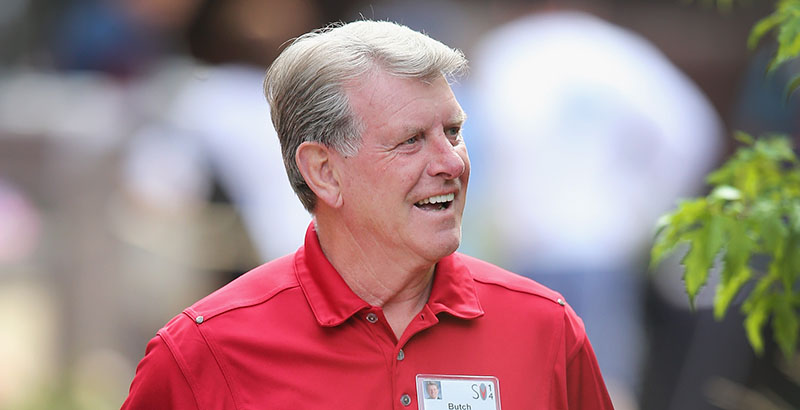 Updated, April 2
Idaho Gov. Butch Otter was unable to attend the Feb. 23. event.
The 74 is proud to partner with Axios and the Walton Family Foundation to present a special conversation about schools and state-level education policy with a trio of governors from across the political spectrum. "Raising the Bar: A Conversation on Education in America" (see details and RSVP here) will bring together Governors John Hickenlooper (D-Colorado), Roy Cooper (D–North Carolina) and Butch Otter (R-Idaho) to speak with Axios executive editor Mike Allen in Washington, D.C., on February 23. This is one of three articles we've produced to offer insights into the key education issues affecting their states:
With an unadjusted per-pupil outlay of $6,621, Idaho has the second-lowest rate of K-12 education spending in the nation, according to Education Week's 2018 annual Quality Counts survey. No surprise, then, that financial issues have dominated Republican governor C.L. "Butch" Otter's three terms in office.
This year's legislative session, his last before retiring, is no exception. Known for playing his policy cards close to the vest, Otter revealed this year's education priorities at his final State of the State address in January.
Atop the agenda is the continuation of a plan to increase teacher pay, a revamp of the state's education finance system, and a headline-grabbing effort to rewrite a 50-year-old sex education law.
In 2011, Idaho lawmakers passed a trio of bills that included tenure reform, the use of student achievement in teacher evaluations, merit pay, and an infusion of technology for schools.
The laws were overturned the following year, prompting Otter to appoint a broad-based task force to recommend reforms more likely to garner support. Living wages for teachers topped the list. In 2015, lawmakers signed off on a plan to spend some $250 million on better teacher salaries.
The need is great: Nearly half the state's 291,000 K-12 students are impoverished, and just a little more than a third of fourth- and eighth-graders scored at or above grade level on the 2015 National Assessment of Educational Progress.
On Friday, at an event hosted by Axios, presented by The 74, and sponsored by the Walton Family Foundation, Axios executive editor Mike Allen will interview Otter about his tenure and the priorities he hopes his successor will pursue.
Here's a primer on some of the education issues Idaho schools currently face.
Low teacher pay, high teacher turnover, and an outdated school finance formula
This year, the Idaho Legislature must decide whether to fund the fourth year of the 2015 "Career Ladder" plan to make it easier for districts — many small and rural — to recruit and retain teaching talent. Teacher turnover in 2017 was 11.5 percent, though rates have topped 20 percent in recent years.
Since the salary revamp began, teacher pay has risen 8.8 percent, according to Idaho Ed News. Yet minimum starting salaries are still only $34,600. This year, the state's average teacher salary inched above $48,000.
At the same time, lawmakers are considering what to do about Idaho's outdated school funding formula. A committee has spent two years studying the convoluted system, which is based on attendance.
Last year, the committee recommended moving to a student-centric enrollment model in which funding geared to individuals' needs follows students. In February, the state House Education Committee voted to delay a decision in favor of having the committee study the issue for a third consecutive year.
---
Read more:
---
Issues of accountability and transparency
School accountability in Idaho is a moving target, with the state's plan for fulfilling the mandates of the Every Student Succeeds Act awaiting approval. State Department of Education officials and their federal counterparts have gone back and forth about technical provisions in the plan.
An outside review by Bellwether Education Partners and the Collaborative for Student Success released in December praised Idaho for setting high standards and relying on quality assessments but had sharp criticisms of the plan for evaluating school performance. In particular, the reviewers said a decision to create a "dashboard" containing multiple points of data — some of them problematic — would be incomprehensible to families.
Accountability reporting is one of the topics taken up by a Red Tape Committee appointed by state Superintendent Sherri Ybarra, a Republican seeking re-election to a second term later this year. The committee will also examine teacher evaluations, literacy, school improvement plans, and charter school performance.
How much the public will learn about the committee's work is an open question. Ybarra recently announced that meetings of the 17-member panel, which is made up of state, district, and charter school administrators, will not be public. The media, her office said, would be provided with updates.
---
Read more:
---
6 new charter schools opening, but impediments are great
At the end of 2016, 6,000 Idaho children were on charter school waiting lists. There is no cap on the number of charter schools under state law, but school choice proponents say practical obstacles prevent new schools from opening where there is need.
As in many states, Idaho's would-be charter school operators are hampered by a lack of facilities funding. In addition, state law makes it hard to open schools in rural areas, where access to high-quality education options varies widely.
Some 18 of the state's 149 school districts have only one school, and state law says no district may be made up entirely of charter schools, so in some places district-run schools remain the only option.
Six new charter schools are slated to open at the start of the next school year. One, a unique public Waldorf school, will open with a waiting list that's larger than its inaugural class.
---
Read more:
---
Controversies over standards for teaching climate change and sex ed
Idaho lawmakers have waded into controversies involving subjects that schools must teach, last year becoming the first state to remove all mention of human-made climate change from state science standards.
Also at issue is a proposal to remove language from state sex education law that says sex education is the purview of families and churches, though schools may supplement with instruction that "respects community values."
---
Read more:
---
Disclosure: Andrew J. Rotherham, a co-founder and partner at Bellwether Education, is a senior editor at The 74 and serves on The 74's board of directors.
Support The 74's year-end campaign. Make a tax-exempt donation now.