How Does Remote Learning Work If Students Can't Even Get Online? Census Data Show Major Cities Like Cleveland, Miami and Memphis Lag Behind in Basic Internet Access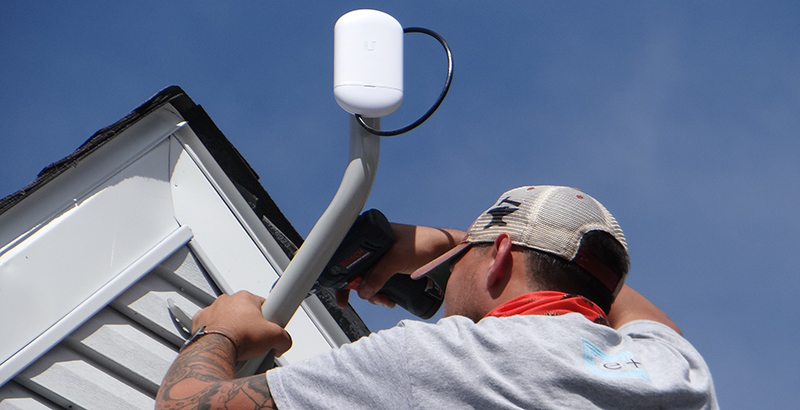 Cleveland now ranks as the worst-connected big city in the nation, newly released U.S. Census data show, even as the need for online learning has skyrocketed during the COVID-19 pandemic.
Almost 31 percent of Cleveland households have no internet access at home at all, not even through cell phones, according to new 2019 American Community Survey data released late last week by the Census Bureau. That's the highest percentage of all cities with 100,000 or more households. Rankings from a year earlier placed Cleveland as fourth among the worst-connected large cities.
Miami, Newark and Memphis followed close behind, with between 25 and 30 percent of households lacking internet access.
With about half of the nation's school districts starting the school year online, and with the pandemic all but guaranteeing that online classes will be part of school for the foreseeable future, internet connectivity has become crucial to keeping students learning.
Click here to see the data compiled by the National Digital Inclusion Alliance.
The number of connected households has been improving nationally in recent years, as home internet access becomes more standard. Five years ago, the 2014 data showed that almost 20 percent of households in cities with 65,000 or more people lacked internet. That dropped to about 12 percent this year.
In 2014, six large cities had higher rates of unconnected households than Cleveland's 2019 rate of 30.7 percent.
That's because many cities saw large gains in connectivity in the past five years, including Houston, New York and Phoenix, which shaved about 15 percentage points off their rate.
Cleveland improved its rate by less than three percent, the third-lowest gain over the five years of any big cities. Only Las Vegas, with a 2.5 percentage point improvement, and Newark, with the nation's only decline among large cities, fared worse. Las Vegas's small gains let other cities pass it and move the city from 28th-worst in 2014 to ninth-worst in 2019.
The two worst-connected big cities five years ago, Detroit and New Orleans, rose to fifth- and seventh-worst in 2019 after improving their connectivity rates by 13 or more percentage points in that time.
Cleveland's lack of internet is about twice that of cities such as Chicago, at 16.4 percent; Philadelphia, at 15.8 percent; and New York City, at 14.9 percent; those cities rank 17th, 19th and 26th respectively.
"We need our A game NOW to address this!" Dorothy Baunach, head of DigitalC, a nonprofit working with the Cleveland school district to make internet access akin to a public utility in the city, said in an email. "This took the wind out of my sails. Our work together is more important than ever."
DigitalC is still in the early stages of its plan to connect 10,000 homes with Cleveland school district students by May and all 38,000 district students by 2022.
The school district, which had to delay classes three weeks this fall to shift to online lessons, did not respond to a request for comment. Partly because students lacked internet access and computers, Cleveland lagged behind other districts in putting classes online when COVID-19 shut all Ohio schools in March.
Bill Callahan, a Cleveland-based research and policy adviser for the National Digital Inclusion Alliance, which has produced connectivity rankings for several years, noted that the new data run through 2019 and do not include any improvements made in response to the pandemic. That will come in next year's data.
"Look at these 2019 numbers as 'the digital divide before COVID,'" Callahan said. "They should help community leaders and policymakers understand the dimensions of the barriers they've become aware of during the past six months, and the scale of the efforts that are needed to overcome them."
The data will also be a baseline to gauge the impact of efforts school districts nationwide have made to connect students to online classes. That includes districts like Cleveland giving students portable hotspots or other districts helping families find low-cost internet services through private providers. Callahan cautions that next year's data might not change much, however, since all households will be measured, not just those with school-age children.
"Families of schoolchildren aren't the majority of unconnected households, by a long shot," he said. "No one is buying thousands of hotspots for seniors yet."
The poverty of residents also plays a role, since poorer families often can't afford internet service.
"There's a direct correlation between poverty and household broadband internet adoption," said Leon Wilson of the Cleveland Foundation, who helps run the new Greater Cleveland Digital Equity Coalition, which formed to tackle connectivity issues during the pandemic. "As Cleveland has now surpassed Detroit in regards to poverty level, it has also done so with household broadband adoption."
The same 2019 American Community Survey data set Cleveland's poverty rate at 30.8 percent, slightly higher than Detroit's.
The National Digital Inclusion Alliance chart below shows how more than a third of households nationally with less than $20,000 in annual income have no internet. But that percentage drops dramatically as income rises. Once income hits $50,000 or more, only 10 percent of households don't have internet.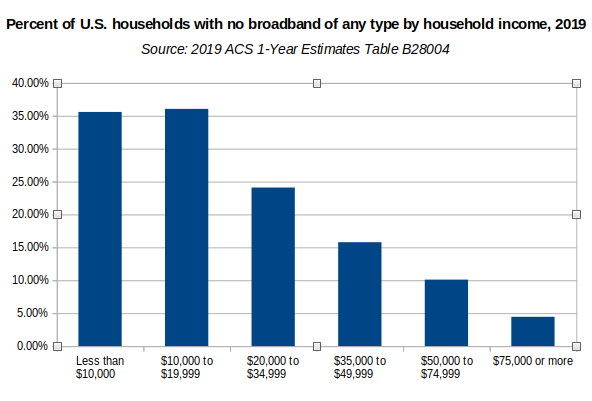 Support The 74's year-end campaign. Make a tax-exempt donation now.