Giving Parents Choices as Pandemic Continues: How Some Cleveland Parochial and Charter Schools Go Against County Health Recommendations and Open for In-Person Classes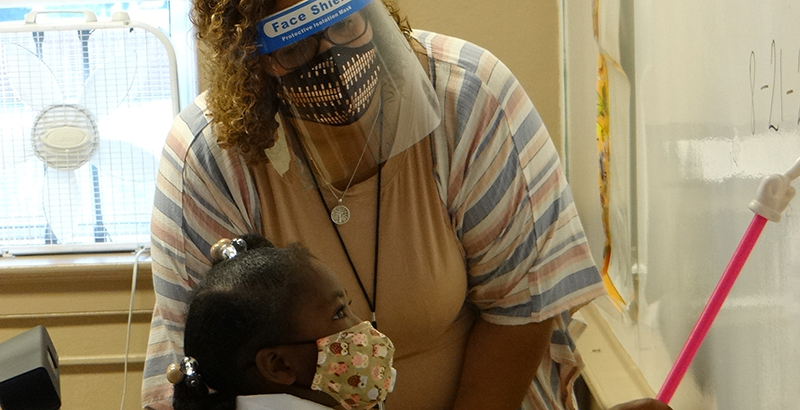 "Take out your math books," teacher Jessica Montanez tells her first-graders at Cleveland's St. Stanislaus Elementary School, looking at her students through her plastic face shield. "Take out your pencils."
As students in the classroom, all wearing masks, start going through their desks, Montanez turns away and looks at the webcam on her own desk at another group of students who need her attention — the students in her class whose parents chose to start this school year online.
"Good morning, friends at home," she says, as more first-grade faces look back at her from her computer screen. "Everyone at home, you should be taking out your math book and your pencils. We're going to get started."
St. Stanislaus is one of a handful of parochial and charter schools in Cleveland that have chosen to open on-time and welcome students back into classrooms, despite the Cuyahoga County health department's recommendation that schools start the academic year online-only.
More parochial schools will offer in-person options after Labor Day.
Most schools in the city, including the Cleveland Metropolitan School District, are starting remotely this fall or at least delaying opening until after Labor Day.
The Catholic Diocese of Cleveland notes that COVID-19 metrics have been improving and the county recently was upgraded from a red to orange risk rating by the state, so the danger has been decreasing.
St. Stanislaus has been teaching kids in Cleveland's Slavic Village neighborhood for more than 130 years. But traditional patterns had to be tossed aside when the school reopened last week and became one of the first in the city to let students take face-to-face classes during the COVID-19 pandemic.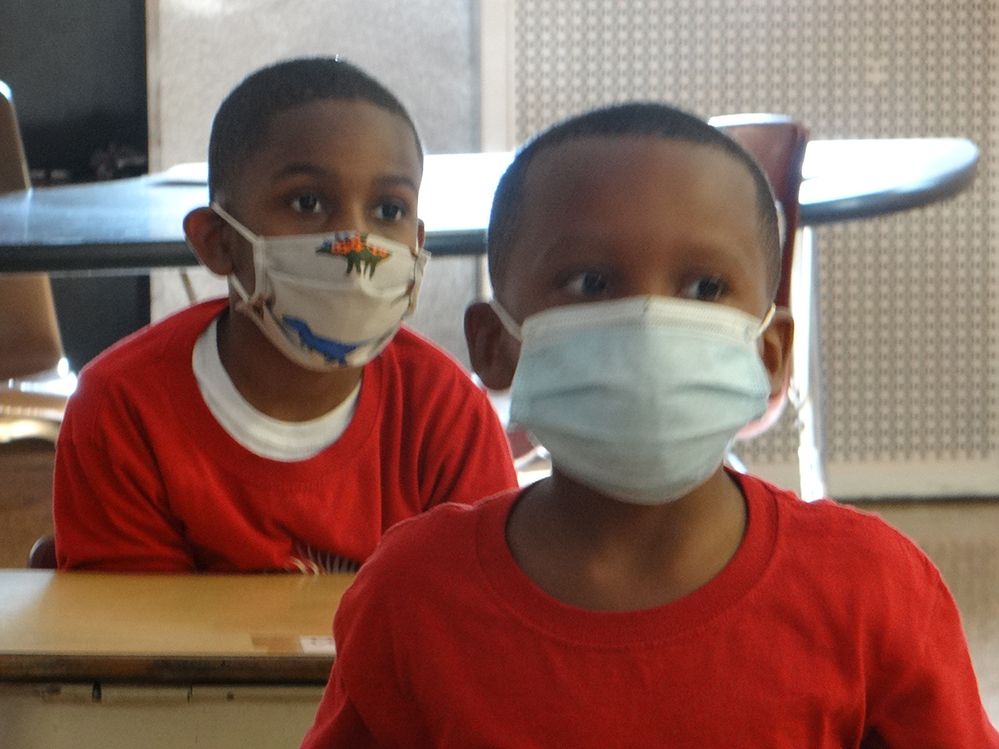 For St. Stanislaus Principal Deborah Martin, letting parents decide was an easy choice.
"Our ministry is serving the community and children," Martin said. "We know learning in person has value above and beyond what we can deliver in online instruction. We trust the parents to make the decision that works for them."
About 60 percent of St. Stanislaus students have chosen to come to school every day, Martin said, with 40 percent joining their classmates via webcam and computer.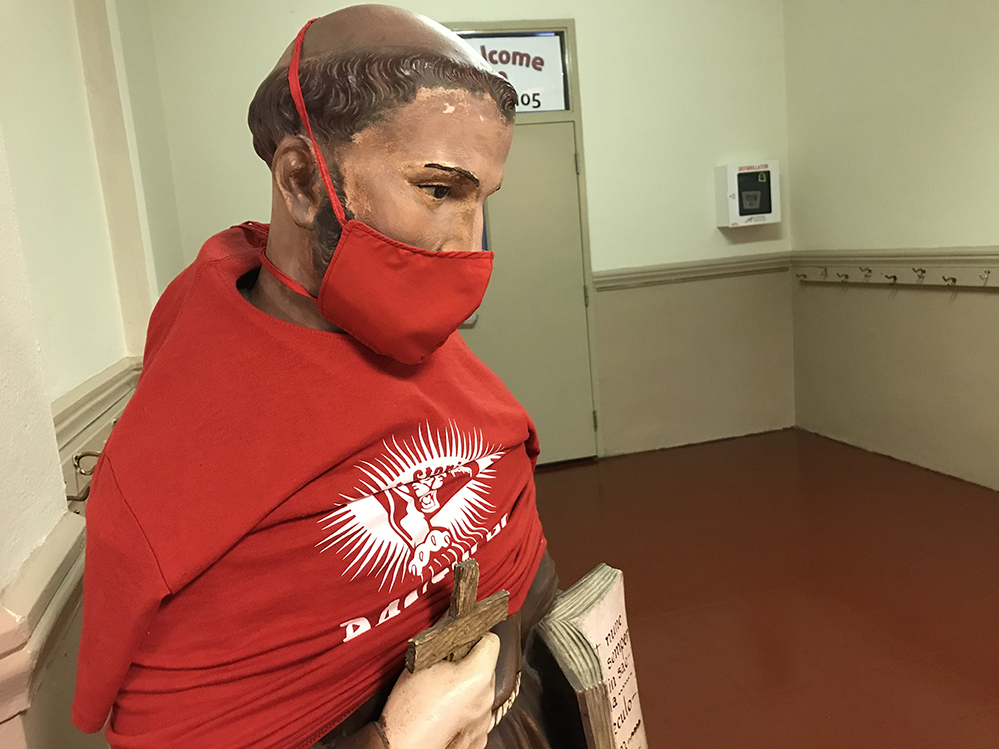 Sheila Sherman, principal of the East Academy charter school in Cleveland's Collinwood neighborhood, takes a similar approach. She and the 42 other Accel charter schools in Ohio are letting parents choose between sending kids back for in-person learning five days a week, for just two days a week, or taking classes entirely online to start the year.
Her school opened last week with about a third of families picking each option, she said. An Accel spokesperson said other Accel schools in Ohio that are opening early have about half of families picking the online-only option.
"[The county] made a recommendation, so it wasn't mandatory," Sherman said. "We know we have diverse needs among our families … A lot of them need to go to work."
"By offering these three modalities, we put the decision in the parents' hands," she added. "They make the best decision for their families."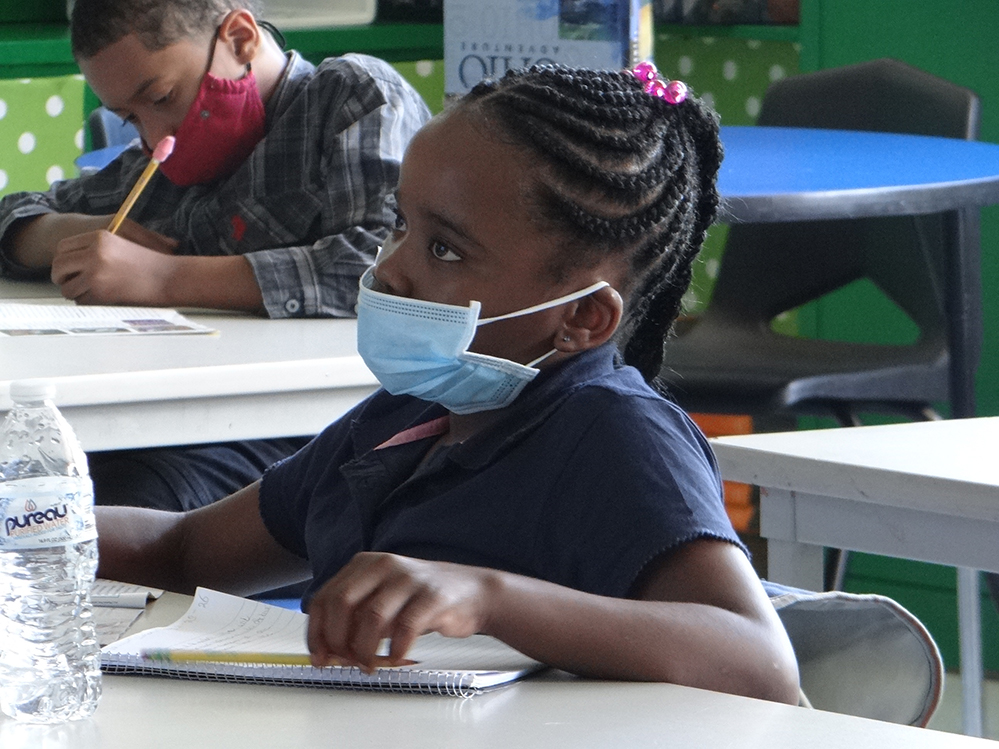 Demetrious Wright, father of a first-grader at East Academy, appreciates the choice. He is glad his daughter can have a full day of classes, not just a few hours online every day.
"They need more hands-on learning," he said. "I really want her to let her mind grow, rather than just being on the tablet all day."
A mother of an East Academy sixth-grader who declined to give her name said she needs school to help her son learn while she works at Walmart.
"A lot of people don't understand, when you have kids and you have to work, who's going to sit with your kids when they're at a computer all day?" she said. "Who's going to make sure they do the homework? It's hard. You have to make the choices that are best for you and your family."
Both schools are using some of the same safety steps to keep students and teachers safe, even as Cleveland's coronavirus infection rates remain high. Hand sanitizer is plentiful. As the state orders, all students must wear masks. Both schools give students constant reminders when masks droop below noses.
Masks are not required when students are out on the playground or outdoors for gym class, though teachers constantly remind students to stay a few feet apart.
Students are spaced out in classrooms more than normal, though St. Stanislaus keeps students sitting one to a table and East Academy often has two at a table using a three-foot distance requirement, not six feet.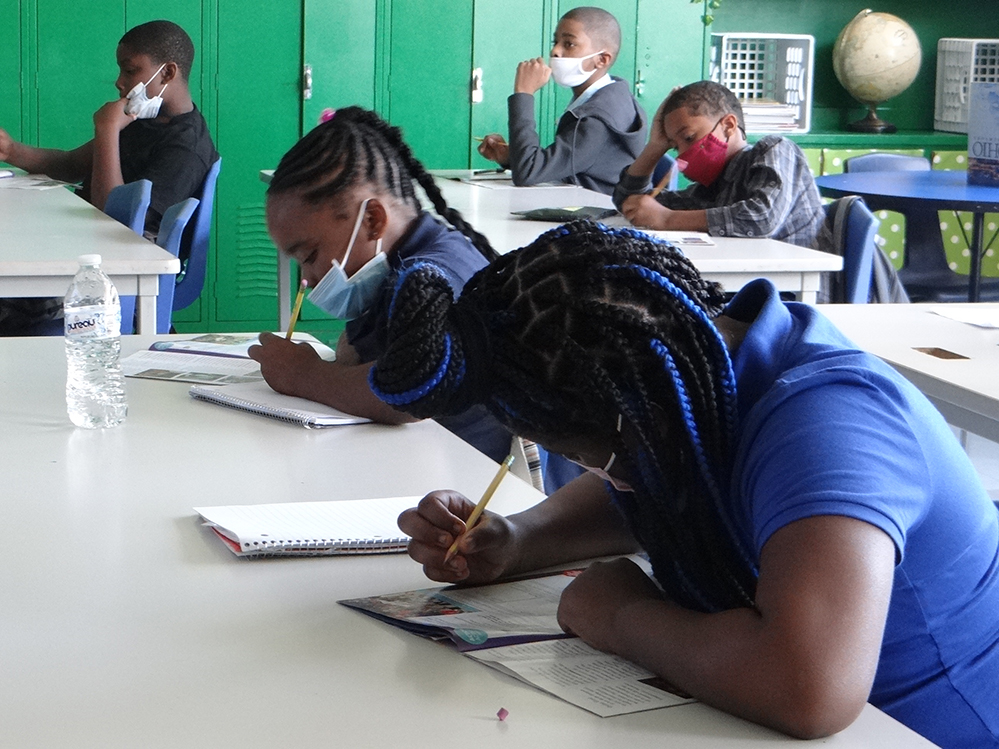 East Academy has blocked off water fountains and instead provided filling stations for students' own water bottles. Stickers on the floor remind students to keep six feet apart. And East Academy teachers have students extend their arms out in front of them when students are in line to go to the lunch room or outdoors to make sure they do not come too close to others.
"Pretend like you're driving a car!" teacher Ericka Schmidt tells her students as they walk down East Academy's hall. "Lots of space between you."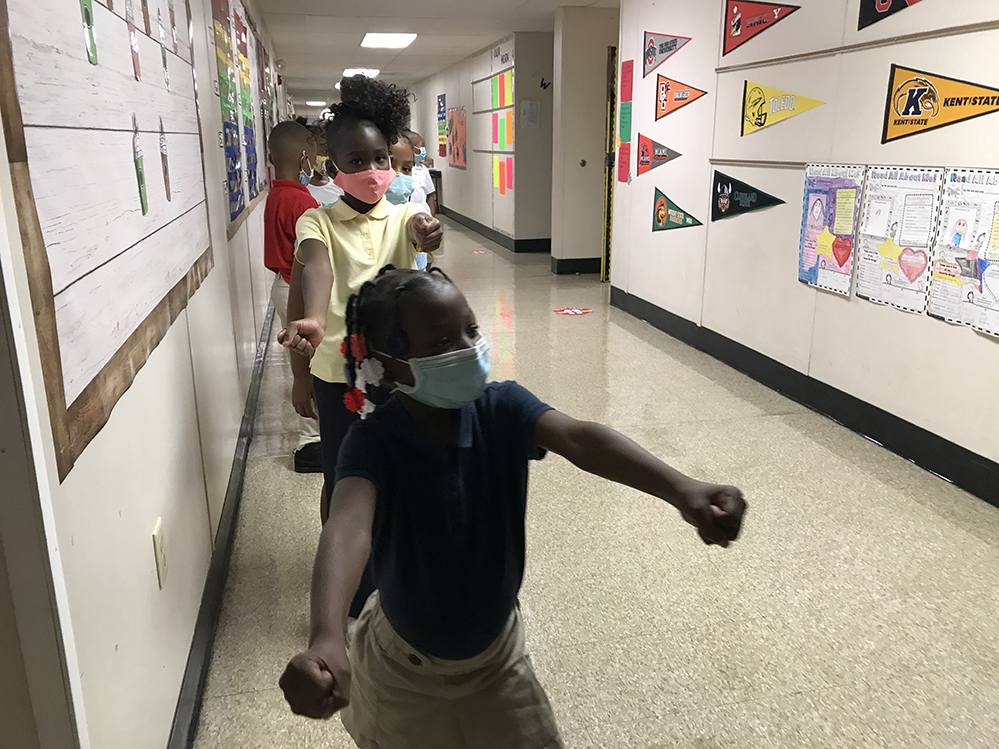 "We need a mask break, so we're going outside," Schmidt says. She is happy to be back in school with her students and says the school's precautions make her feel safe enough to teach.
"I'm great," she said. "I'm here. I'm ready to learn. I'm going to do what's best for kids."
"If I had a kid, they would be in my room too," she added.
Down the hallway, middle school science teacher Zoe Kunsman prepares for her next class. Though East Academy has teachers in early grades teaching either in-person, online or hybrid classes, by middle school grades a teacher handles all three. She teaches six classes a day — an online and an in-person class for each of sixth, seventh and eighth grades. Because the in-person and online classes are similar, she has to prepare three lessons.
Since school was still in the first week, she said she was still helping kids understand the online system. But she's excited to start doing demonstrations for her online students.
"We can't necessarily do all the experiments at home, but I want to show them so they can see it happening," she said.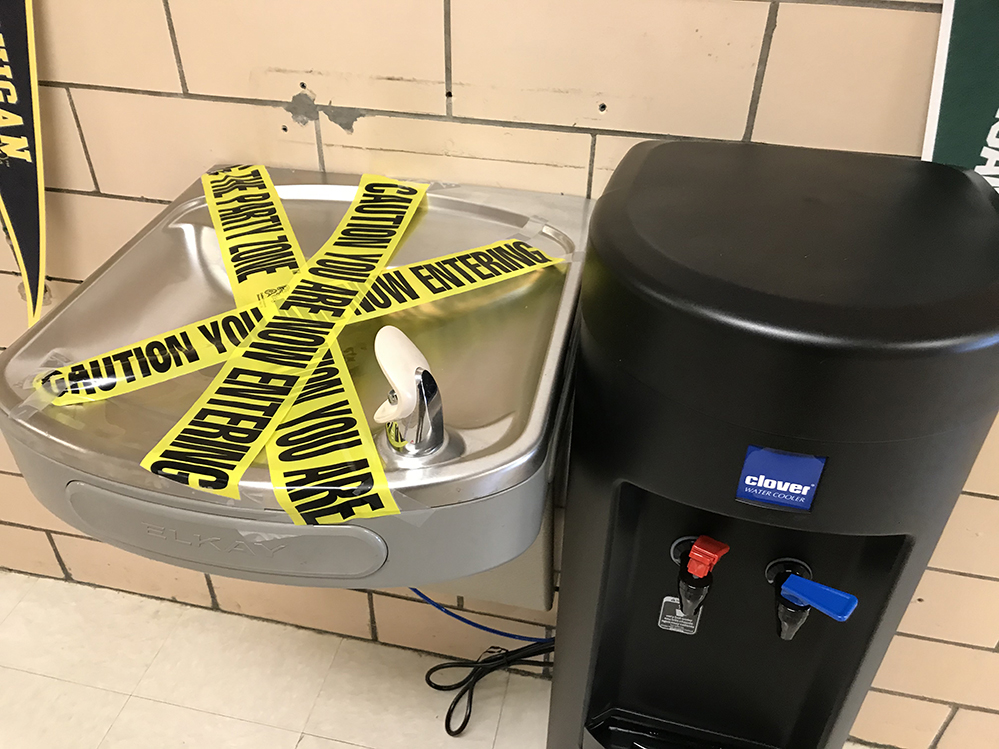 St. Stanislaus chose a different path for online classes, since it has just one classroom per grade, Martin said. With teachers teaching the online students as they instruct those in the classroom, the online students can ask questions right along with their classmates. And if all choose to return to the classroom later, they keep the same teacher and classmates.
Down the hall from Montanez, second-grade teacher Mary Enos has students in the classroom coloring a workbook that shows large letters and a drawing of an item that starts with that letter. She then holds the book up to her webcam to make sure online students see the page they are using.
"As you get the coloring done, ask yourself, what letter is that?" she says. "What sound does it make?"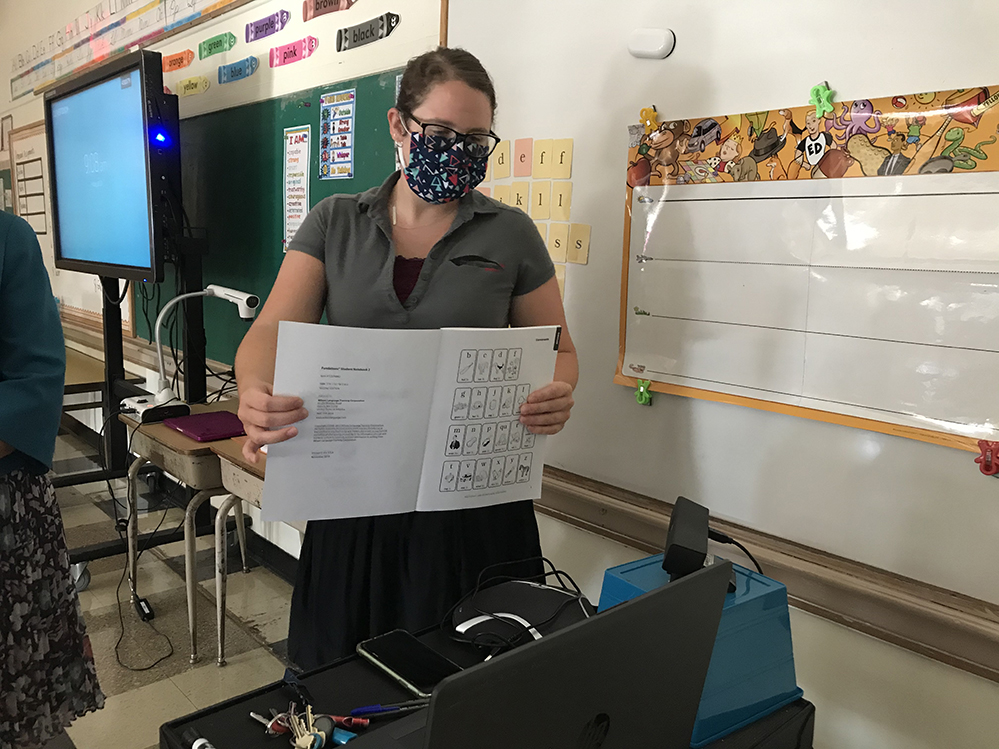 Martin said she expects these adjustments to work, though the school could stop in-person classes if the school has a lot of COVID cases. For now, though, she is glad she can offer some normalcy to students.
"This is where the children belong," she said. "In the classroom. With their peers."
Get stories like these delivered straight to your inbox. Sign up for The 74 Newsletter