Generation Meh: Students Give Schools Middling Marks, Gallup Poll Finds
The inaugural State of American Youth Survey contains undeniable bright spots, but also concerning areas related to student engagement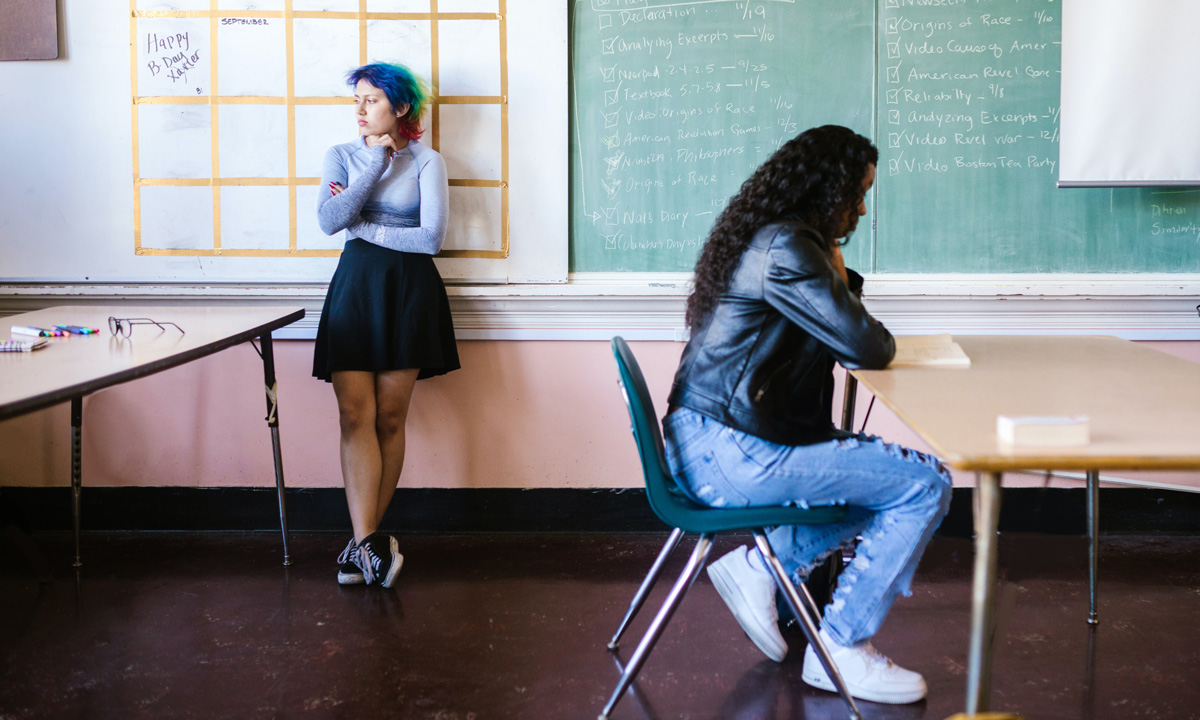 No paywall. No pop-up ads.
If grade inflation is really trickling down from college to K–12, nobody told American students.
In a new Gallup poll, middle and high schoolers handed out just-okay marks to their own schools, assigning them a B-minus for average performance. About two-thirds of those surveyed granted their local school a grade of A (22 percent) or B (44 percent), while 34 percent rated them a C, D, or F as the 2022–23 school year came to a close.
It's a report card that offers unmistakable bright spots, but also lots of areas for concern as school systems pull further away from the once-in-a-lifetime tumult imposed by COVID-19 and prolonged exposure to online learning. While schools received middling grades across 11 categories related to academics and school climate — the highest grade was a B, the lowest a C-plus — the poll showed that engagement and enthusiasm in school is lagging. Certain sub-groups, including older students and African Americans, were also relatively less sanguine about their own experiences in school.
The State of American Youth Survey, released Wednesday by Gallup and the Walton Foundation, was administered in April and May to over 2,000 public and private school students between the ages of 12 and 18.
Stephanie Marken, who leads Gallup's education division, said that while many respondents were "blasé or neutral" about the performance of their schools, the poll offered a window into the mindset of kids that is rarely captured in other public opinion research. In the years to come, she added, Gallup will regularly re-poll some of the same questions used in its first such survey, while "episodically" revisiting others according to their relevance to current events. The project's design will allow the research team to track the same students over time.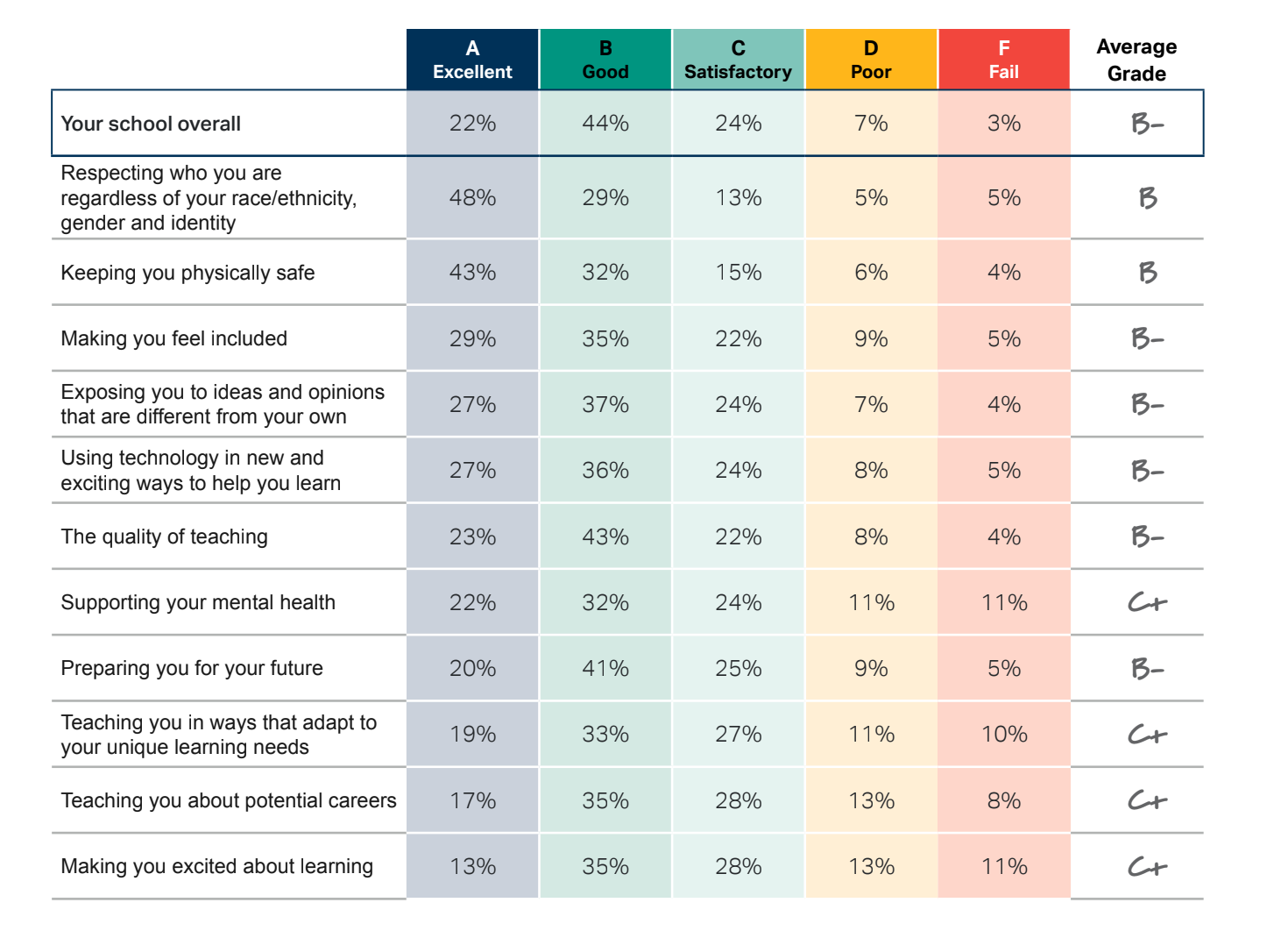 "The benefit of this research is that we're going into far greater depth with this generation than any other study has the ability to do," Marken said in an interview. "A lot of people don't take the time to interview students directly because they believe — incorrectly, I think — that they don't have something to offer that's unique on these issues. But there's no replacement for speaking to youth directly."
Overall, kids had fairly positive things to say about some of the most important aspects of academic culture. Nearly half gave their school an A for "respecting who you are regardless of your race/ethnicity, gender and identity." Another 29 percent chose a B grade for the same question, while just 3 percent said their school failed in this respect.
Perhaps even more impressive, 75 percent of respondents granted either an A or B to their school for keeping them physically safe — an encouraging finding given recent concerns over a wave of violent misbehavior and bullying that coincided with students returning en masse from remote instruction. A further 64 percent rated their school either an A or B in terms of making them feel included, with just over one-third of students assigning a grade of C or below.
But the news was somewhat worse in other areas. American middle and high schools received average grades of just a C-plus in four categories: supporting mental health, adapting to students' learning needs, teaching about potential careers and making students feel excited about learning. Thirty-nine percent of schools also received grades of C or below with respect to preparing students for the future.
Those concerns can loosely be grouped under the umbrella of "student engagement": i.e., how educators cultivate not just feelings of student security and inclusion — which should be a given — but also involvement. Especially following the pandemic, with student absenteeism rates climbing to staggering highs in many districts, both teachers and school leaders are grappling with how to persuade kids that what they learn is directly relevant to their future lives and careers.
Concerningly, but perhaps intuitively, existing research has shown that student engagement tends to dip as children make their way through the K–12 years. A Gallup report from 2018 found that while three-quarters of fifth graders reported high levels of engagement in their schooling, just one-third of high school students said the same. In the latest poll, just 44 percent of high schoolers gave their schools an A or B great for making them excited about learning, compared with 54 percent of middle schoolers.
"That high school students feel more negatively than middle school students is a concern," Marken said. "The more time they're spending in their school system, they're getting less and less engaged over time."
Distinctions existed across not only grade levels, but also school types. Among private school students, 37 percent gave their schools an A grade, with 43 percent assigning a B; just 20 percent of their public school counterparts gave an average grade of A, with another 45 percent assigning a B.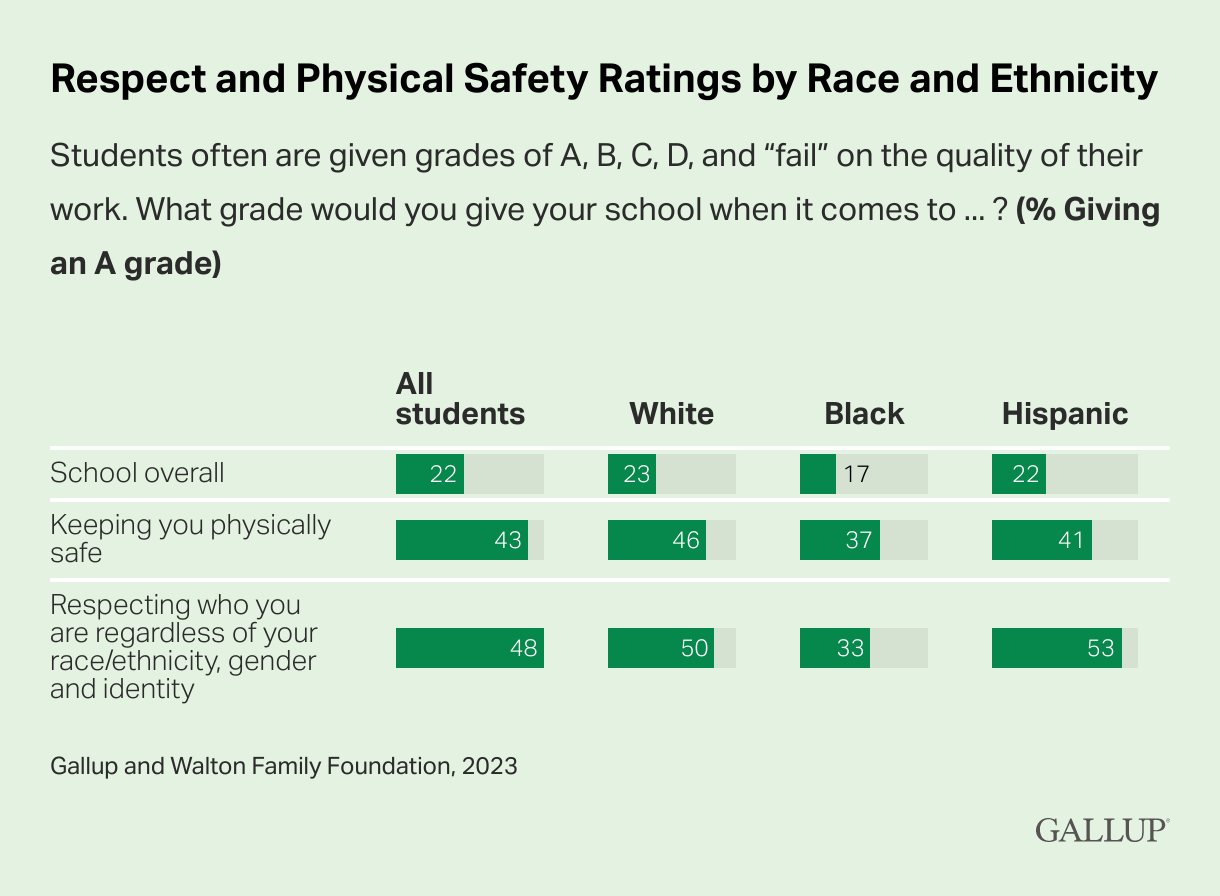 Finally, a disturbing divergence was observed among participants of different races. Thirty-seven percent of African Americans gave their schools an A for keeping them safe in the classroom, compared with 46 percent of whites and 41 percent of Hispanics who gave their schools the highest marks; just one-third assigned an A for making them feel respected regardless of their race or ethnicity (compared with 50 percent of whites and 53 percent of Hispanics).
"Black students fared far worse than all other students on those topics, and they also gave less positive ratings to their schools overall," Marken lamented. "So they're having a clearly distinctive experience that needs to be addressed."
Disclosure: The Walton Family Foundation provides financial support to The 74.
Get stories like these delivered straight to your inbox. Sign up for The 74 Newsletter