New Data: Post-COVID, School Leaders Frustrated in Efforts to Curb Misbehavior
Compared with the pre–pandemic era, the School Pulse Panel suggests that schools are increasingly dissatisfied with their behavioral strategies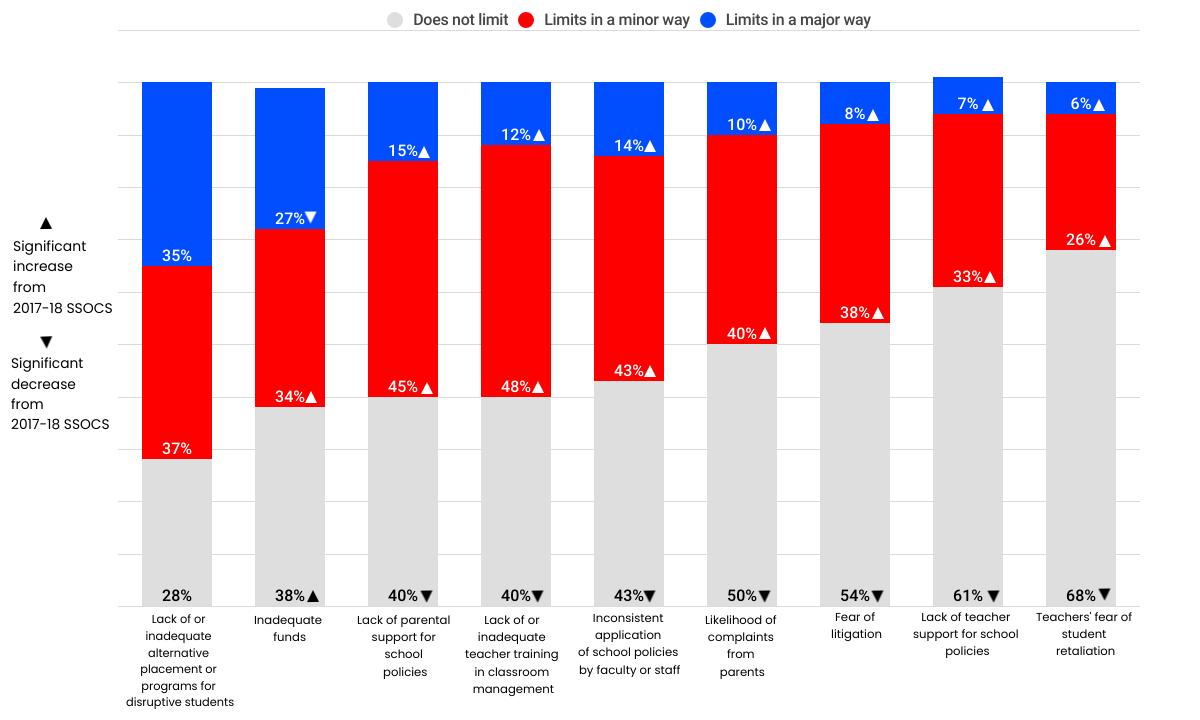 Support The 74's year-end campaign. Make a tax-exempt donation now.
U.S. school leaders feel increasingly hampered in their ability to curb student misbehavior, according to federal data made public Thursday. Inadequate training in classroom management, pushback from parents, and fear of student retaliation were all cited as greater obstacles than they were before the pandemic.
The revelations came from the latest release of the School Pulse Panel, an ongoing data collection effort led by the National Center for Education Statistics. And while the results don't include data on the number or rate of behavioral problems observed by school staff, they illustrate the methods that educators are embracing to address those problems and their sense of their own effectiveness.
Especially during a period when many teachers say they are dealing with more violence and disorder among their pupils than in the pre-COVID era — last week's shooting of a Virginia teacher by her six-year-old student stands out as the latest and most extreme example — the findings will likely influence discussions on school discipline at local, state, and federal levels.
Thurston Domina, a professor of educational leadership at the University of North Carolina, said that he believed that behavioral struggles have "become more acute in the last few years" both as kids have returned to full-time, in-person instruction and as schools have come to grapple with the effects of controversial disciplinary strategies like student suspensions.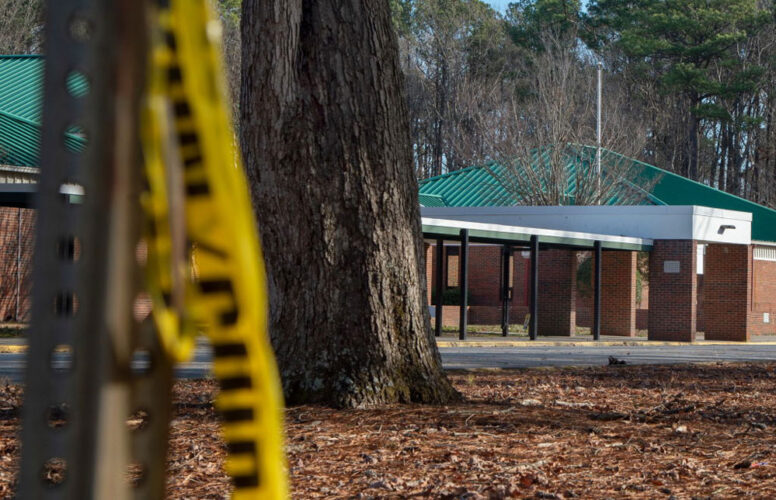 "These data suggest two things: First, that schools are facing substantial behavioral challenges, and second, that they don't feel confident about the strategies they have to address them," Domina wrote in an email.
The School Pulse Panel solicits survey responses from school officials (primarily principals) around the country, periodically circulating findings to paint a picture of COVID's impact on K–12 schools. Thursday's update presented responses gathered from over 1,000 public schools last November, each relating to school safety, attitudes toward security personnel, and the post-COVID classroom environment.
Those school responses are of particular interest in that they can be directly compared with answers to similar questions from another authoritative NCES report from before the pandemic: the 2017–18 School Survey on Crime and Safety, which also quizzed school leaders on the disciplinary climate of their institutions and the strategies they employed to improve it.
Notably, 50 percent or more of all respondents to the panel survey said that they were limited in either major or minor ways by a wide array of hindrances. Nearly three-quarters of participants said they were constrained by a lack of "alternative placements or programs" for disruptive students, while majorities said the same of inadequate funding (61 percent), lack of parental support (60 percent), insufficient teacher training in classroom management (60 percent), and likelihood of complaints from parents (50 percent).
Less numerous, but perhaps more disturbing, were the minorities who said they were held back by lack of support from teachers themselves (40 percent), or by teachers' own fears of retaliation from students (32 percent).
In most cases, these factors were cited significantly more than they were in the report from five years ago. For example, while just 6 percent and 33 percent of 2017–18 respondents said that they were limited (in either a major or minor way) by lack of teacher training in classroom management, 12 percent and 48 percent said the same thing last November.
The apparent desire for increased training stands out particularly given that it was one of the only behavioral and safety strategies listed in the survey that is not offered more frequently by schools than it was five years ago. By contrast, significantly higher percentages of schools now report engaging in "positive behavioral intervention strategies" (93 percent), crisis intervention (84 percent), recognizing self-harm or suicidal tendencies (84 percent), and recognizing bullying (84 percent).
In a development that reflects the national and local efforts to reduce the use of what some detractors call "exclusionary" disciplinary policies, a significantly lower percentage of schools reported using out-of-school suspensions than did in 2017–18 (69 percent versus 74 percent). The widespread move to curtail the practice has come as federal authorities, including Secretary of Education Miguel Cardona, have explicitly urged schools to keep kids in class as much as possible.
Matthew Steinberg, a professor of education at George Mason University who has conducted prior research on the effects of school discipline reforms, noted that Thursday's release didn't clearly show that behavioral conditions were deteriorating inside American schools. Still, he added, the documented decrease in exclusionary discipline and the lack of new guidance suggests that schools aren't "providing the necessary supports for teachers and educators to address student behavioral issues in the classroom."
"The question is whether or not student behavior and misconduct have gotten worse in the wake of COVID, independent of whether suspension is used as a disciplinary consequence," Steinberg said. A reduction in suspensions might result in the presence of more students exhibiting COVID-related behavioral problems, he added — which might, in turn, "adversely affect the environment within classrooms, with potentially important implications for student learning."
Support The 74's year-end campaign. Make a tax-exempt donation now.