From a Sea of Senate Questions: 6 Key Takeaways in Betsy DeVos's Answers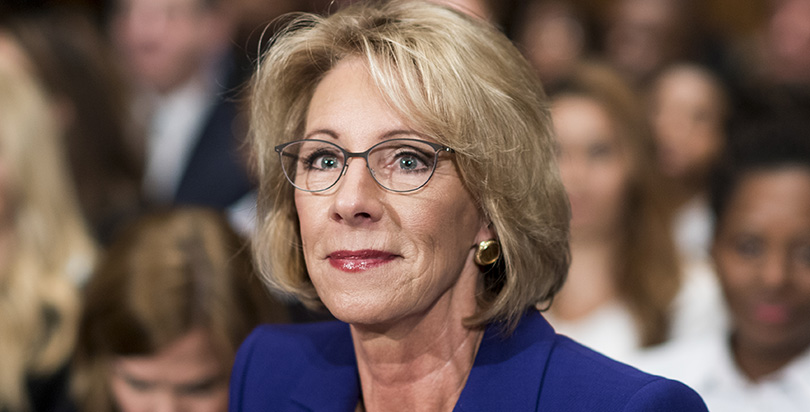 Updated Feb. 2
All eyes were on the Senate as Betsy DeVos squeaked through a committee vote to get a chance to be confirmed by the full body as secretary of education.
(The 74: Betsy DeVos Nomination Clears Hurdle, Leaving Acrimony and Uncertainty About Full Senate Vote)
Her answers to the nearly 1,400 questions submitted by senators give a hint — though hardly a guarantee — of how she might govern if confirmed. Politico published her responses to several hundred of those queries posed by Democratic senators Robert Casey, Al Franken, Tim Kaine, Patty Murray, Bernie Sanders and Elizabeth Warren. All voted against her nomination. (The published answers brought a new wave of controversy, as The Washington Post reported that a couple of passages seem to be cribbed from other sources without attribution; a White House spokesperson called the report "character assassination," saying DeVos had long used similar language.)
As The 74 combed through the numerous questions and responses, several key themes emerged.
1. DeVos promises to maximize local control and flexibility
In a number of her answers, DeVos emphasized that if confirmed, she will lack both the power and the will to override local authority. In a representative answer to a question from Franken about discipline, DeVos said, "Discipline is a local issue, and state and district school officials should work with their school leaders to develop appropriate policies to promote proper discipline techniques that limit any time out of school or class for students." DeVos told Warren that she supports "providing maximum flexibility to states" in implementing ESSA, but she said there is a role for the department to provide "technical assistance and guidance."
Although to some extent these statements are at odds with her influence in Michigan, they suggest that DeVos would not continue the Obama administration's push to reduce school suspensions and ensure equitable school funding provisions, which critics of both said amounted to federal overreach. It also indicates that DeVos would give states significant leeway in the implementation of ESSA.
DeVos also said, in a reply to Murray, that any school voucher program pushed by the Trump administration would be voluntary for states, indicating in other responses that the initiative could be funded through Title I dollars that currently flow to high-poverty schools.
2. DeVos doubles down on her support of virtual charter schools — though says they must be held accountable.
Multiple senators asked DeVos about her history supporting online charter schools, despite research indicating they lead to large reductions in student achievement. Murray mentions former Tennessee education commissioner Kevin Huffman's repeated — and failed — attempts to close low-performing virtual schools, which he recounted in The 74.
DeVos did not back down, writing in response to a question from Murray: "High quality virtual charter schools provide valuable options to families, particularly those who live in rural areas where brick-and-mortar schools might not have the capacity to provide the range of courses or other educational experiences for students. Because of this, we must be careful not to brand an entire category of schools as failing students."
DeVos cites seven online schools with graduation rates over 90 percent. Education Week subsequently reported, the schools' graduation rates as being much much lower, ranging from 33 to 67 percent. The numbers DeVos used were calculated by excluding students who drop out in 9th, 10th, and 11th grades, according to a blog post from K12, which operates the schools DeVos named.
In response to a question from Sanders about virtual education, DeVos indicated that "new models of teaching" should be an option for college students.
She also stated that "charter schools can — and should — be closed when they fail to meet the obligations outlined in their charters." DeVos did not address the political influence of online operators that may make such closures less likely to happen.
DeVos also said that she is no longer invested in K12, the largest operator of online schools in the country, and has not been "in nearly a decade."
3. DeVos says school choice can address segregation, but some research suggests otherwise.
When asked by Murray about whether she would support a school choice plan that exacerbated segregation, DeVos wrote, "I do not support programs that would lead to increased segregation. Empirical evidence finds school choice programs lead to more integrated schools than their public school counterparts." Similarly, in reply to Warren, DeVos said, "Research shows that students in school choice programs attend more integrated schools than their traditional public school counterparts."
But this appears to be an inaccurate description of research evidence when it comes to charter schools, where some, though not all, studies suggest they exacerbate segregation, including in DeVos's home state of Michigan, as well as in North Carolina. There are a handful of charter schools that have prioritized offering intentionally integrated environments.
There appears to be relatively little recent research on how vouchers affect segregation, though one study released last year found that Louisiana's voucher program for low-income students had small positive effects on racial integration.
4. DeVos backs applying some anti-discrimination rules to school voucher programs.
In response to separate questions from Kaine and Warren, highlighting the fact that private school choice programs are often free from anti-discrimination rules that apply to public schools, DeVos favorably highlighted D.C.'s voucher program, which bans discrimination based on "race, color, national origin, religion or sex." She stated, "I would imagine any voucher program approved by Congress would maintain these common-sense requirements."
Such a stand may garner criticism from social conservatives and skeptics of federal involvement in education. Notably, D.C.'s program appears to have the most robust anti-discrimination rules of any voucher system in the country. Many other such initiatives do not cover religion or sex, and model legislation promoted by DeVos's former group, the American Federation for Children, does not include such provisions.
However, D.C.'s voucher program does not specifically ban discrimination based on sexual orientation — a rule to do so was voted down in Congress last year. In response to a question from Franken on whether public funding should go to private schools that "kick out or ban LGBT students," DeVos wrote, "When an entity is in receipt of federal funding the entity must abide by the rules governing that funding. If confirmed, I will ensure every grantee and subgrantee is in compliance with the law, including all anti-discrimination laws." The Supreme Court will hear a case this term on whether Title IX, the federal law that prohibits discrimination in schools based on sex, applies to gender identity.
5. DeVos says she supports the Department of Education's Office for Civil Rights.
Facing opposition from nearly 250 civil rights and education groups, DeVos vowed, in response to a number of senators' questions, that she would protect students' civil rights as education secretary. In most cases, she did not get into specifics.
For instance, in answers to Warren, she described the Office for Civil Rights's data collection as an "important, long-standing tool" that "will continue to have my support." DeVos told Franken, "If confirmed, I will ensure the Office for Civil Rights continues to enforce the civil rights laws under the Department's jurisdiction."
During the campaign, Carl Paladino, acting as an education surrogate for Trump, described the office as "self-perpetuating absolute nonsense." Politico reported that DeVos told Republican Sen. James Lankford that she would rein in OCR, though she disputed that characterization during her confirmation hearing.
6. DeVos promises to enforce the Individuals with Disabilities Education Act (IDEA).
DeVos's misstatement on IDEA received significant attention during her
confirmation hearing
. In answers to senators, she sought to assure them that she would support and enforce the law. "The procedural safeguards enshrined in IDEA for students with disabilities in public schools are essential to protecting their rights to the free appropriate education provide by IDEA, and I will continue to strongly enforce the law if confirmed as Secretary," she wrote to Casey.
However, DeVos defended her support for programs that send public money to private schools that are not required to comply with IDEA. "I do not believe there is a conflict between protecting IDEA and ensuring that those rights are enforced and offering parents a different opportunity," she said. "If parents are not satisfied with the private options available, they maintain all their current options and rights within their local public school system."
The Dick & Betsy DeVos Family Foundation provided funding to The 74 from 2014 to 2016. Campbell Brown serves on the boards of both The 74 and the American Federation for Children, which was formerly chaired by Betsy DeVos. Brown played no part in the reporting or editing of this article.
Support The 74's year-end campaign. Make a tax-exempt donation now.