Football's San Francisco 49ers Turn Their Stadium STEAM Lab Into a Digital Playbook for At-Home Learning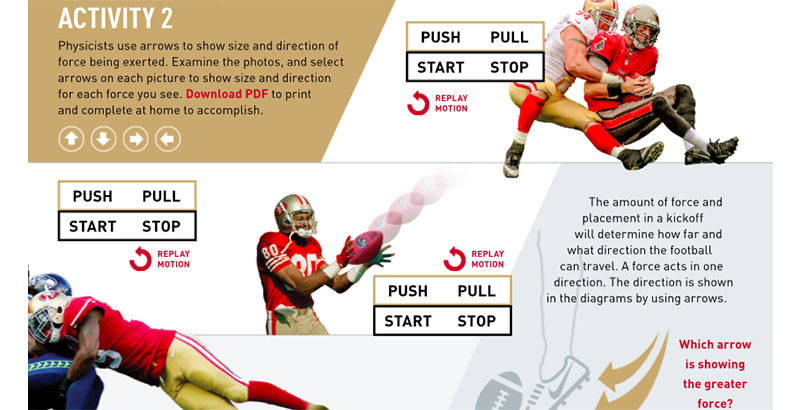 In normal times, more than 60,000 students and educators from across the Bay Area visit Levi's Stadium every year to get hands-on with the San Francisco 49ers' on-site STEAM lab, full of football-focused activities to help sharpen kids' mathematical and analytical skills.
But this year, with the busiest part of the 49ers EDU field trip season canceled because of the pandemic, the team called an audible to ensure that STEAM education remained relevant while students learned from home. And they turned what had been an on-site workbook into a digital playbook with interactive opportunities.
The 49ers EDU playbook — about 50 printed pages in its original format — was created in 2014, when the team's STEAM lab opened its doors. More than 300,000 playbooks are already in circulation in the Bay Area, aligning the on-premises experience with concepts to explore beyond the field trip, giving students and teachers an activity book to use in school or at home.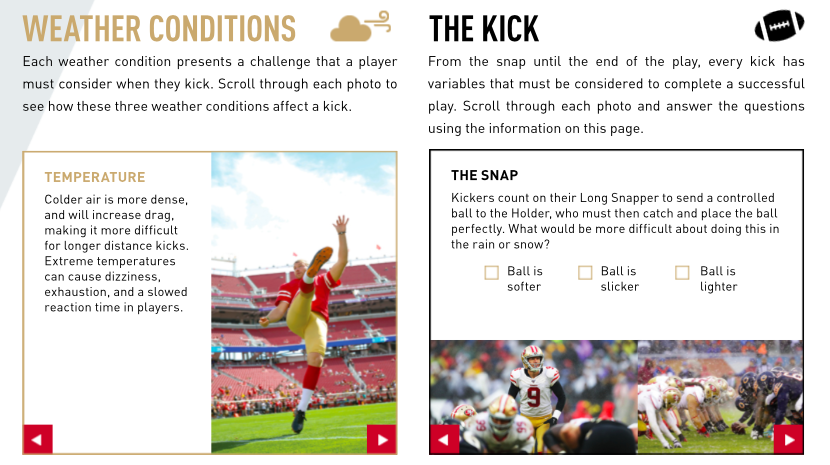 "What we did was essentially re-created the whole thing using the same content," says Jesse Lovejoy, 49ers EDU director, about the digital version. Its six full-time educators "are teachers, but we are also parents, some of us. We looked through the prism of what do we need to change in terms of the activities we create and the interactive pieces to make it relevant for at home. It doesn't just work as a straight 'put it online' — we had to do a lot of thinking about the right way to support kids learning about the engineering design process."
The football-focused theme remains the same — everything in the 49ers STEAM lab ties to the 49ers, athletics, the on-site 49ers museum or Levi's Stadium — but is presented in a way to work in an interactive digital format.
Take the forces of football flight, for example — basically a physics lesson discussing what forces are in play when a ball travels. When students are on site, they run, throw, jump and handle footballs filled with various amounts of air. "It is a tangible way to feel and touch the forces," Lovejoy says. "That is my preferred way to do it. In this sense, we had to say, how do we find another way to do that in an interactive textbook fashion?" What they landed on was an animation in which students see players moving and have to click to identify the proper force and movement. "You'll see guys getting tackled and diagrams of a ball and how it moves," he says. "We are having the kids look at that and push-pull, thrust-drag, lift-gravity. Normally, the book would be a supporting tool, and now it has to be the whole thing because we are not there to deliver it."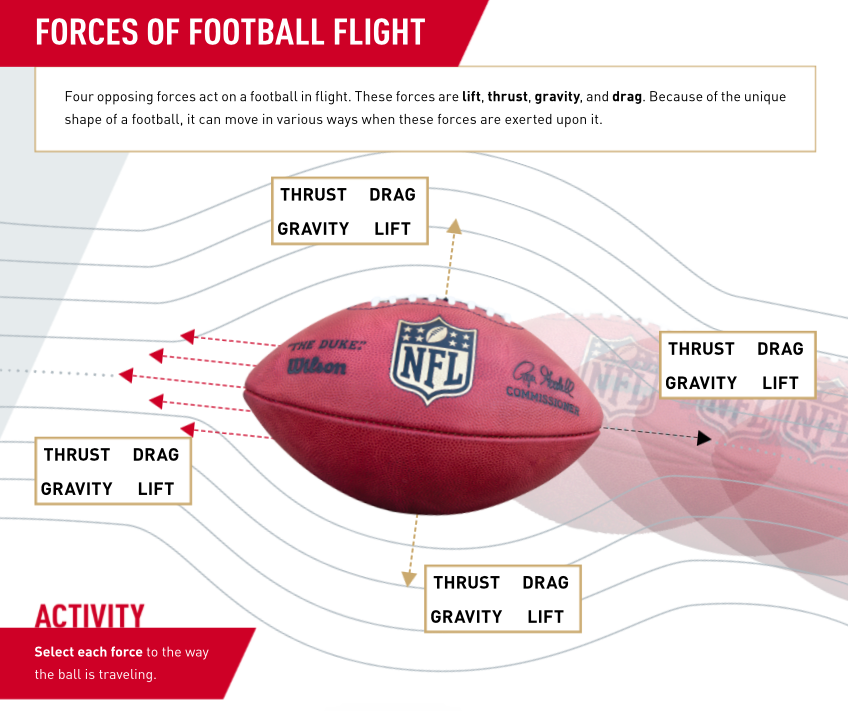 The playbook covers the STEAM subjects — science, technology, engineering, art and math — in addition to touching on weather and environmental sustainability in relation to stadium design and water usage. Activities range from football physics to helmet design, and they even encourage students to get outside and time themselves doing speed and agility drills to understand various math concepts. They learn about how different weather conditions affect a kicker's ability to make a field goal and how different cities with different environments create unique variables a team must plan for.
Lovejoy says March and April are the busiest time for scheduled visits. The 49ers subsidize travel costs for schools within 75 miles, with more than 50 percent of students receiving Title I funding, meaning that hundreds of schools from dozens of districts use the 49ers' facility for free. The EDU digital playbook was sent to all educators whose trips were canceled and to previous visitors. The 49ers EDU team has used social media and connections with the Silicon Valley Education Foundation to push the content out to students.
"I know the content works, is compelling, and kids love it," Lovejoy says. "The real exponential growth and usage will come from people who try it and recognize that and tell other people. We are starting to see that in usage figures, and I think that will continue to grow as people adapt to distance learning."
The 49ers EDU has proved popular enough that it has spawned EDU Academy, a free service in which the six educators help other sports teams and museums create connections with their local communities. The change to the digital playbook has already yielded three calls from interested NFL teams. "After having seen the success," Lovejoy says, "they are basically saying, 'How did you do this? Can you please help us do it?'"
Along with the STEAM program, the 49ers partnered with Chevron, the Silicon Valley Education Foundation and the Santa Clara Unified School District to operate a six-year immersive STEM education program for students, the STEM Leadership Institute. This program, unlike the field-trip-focused aspect of the STEAM lab at Levi's Stadium, was operated at Santa Clara High School and Cabrillo Middle School, with students joining a cohort in seventh grade and taking their math and science classes together in the schools and participating in 300 hours of extracurricular activity.
The first cohort, which started in seventh grade in 2014, is graduating with the Class of 2020. "These kids are the first," Lovejoy says. "They are — I will start to get all weepy and sappy — I have known them for a long time, and they have been through everything with us."
For years, the 49ers have been planning for the conclusion of that first cohort. But with schools closed, the team is pivoting to make the best of the situation and create a virtual experience that includes 49ers players, musical performances and messages of support from across the country.
Get stories like these delivered straight to your inbox. Sign up for The 74 Newsletter