Where Sports and Science Meet: San Francisco 49ers Expand Support of STEM With New Lab at Calif. HS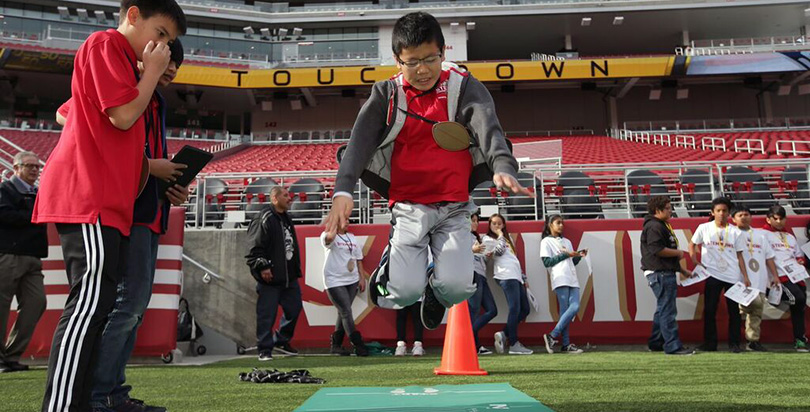 Updated Dec. 19
Since 2014, when the San Francisco 49ers made their first foray into STEM education, the local Santa Clara schools have revolutionized how they engage students in the study of science, technology, engineering and math. The 49ers STEM Leadership Institute, which started with 60 kids at Cabrillo Middle School, now has 180 students in grades seven through nine who study a rigorous curriculum both in and out of school.
(The 74: Super Bowl Surprise: Inside the Stadium That Will Host the Big Game, a First-of-Its-Kind STEM Curriculum)
And even though they spend time in class, on weekends and over the summer studying STEM, the kids are practically begging for more.
"With this first group in particular, we didn't know exactly how they would flourish," Jennifer Lee, 49ers STEM Leadership Institute program director, said of the first group of 60 students who applied to the institute during the 2014–15 school year. "We knew they would flourish, but we are seeing amazing changes in their deep familiarity with STEM content, taking math and applying it to the real world in advanced and honors classes. It has been a big development for us, and an eye-opening experience for the kids."
With such intense demand from the students, and with the original 60 kids set to start 10th grade next year, the district's STEM offerings needed to expand beyond middle school. And the 49ers have obliged, extending the institute's program to Santa Clara High School.
Joanne Pasternack, 49ers vice president and executive director of community relations for the 49ers Foundation, told The 74 that in September, the team opened a STEM education lab at the high school, the next phase in a six-year plan that will eventually see the institute stretch from seventh through 12th grade in the Santa Clara schools and serve 360 students.
Known as a Fab Lab — connected to a network of more than 800 labs internationally through a corporate partnership with Chevron — the high school space comes equipped with two 3-D printers, two laser cutters, a full-size milling machine for wood carving, a vinyl cutter and plenty more equipment for fabricating just about anything.
(The 74: Chervon's Blair Blackwell on 5 Ways to Get More Women in STEM — Mentoring, Motivation, Mistakes)
"It is a very interactive space designed as a workspace lab and teaching environment," Lee told The 74. "The way the program is set up, students start at Cabrillo Middle School and focus on STEM subjects, leadership skills and giving back to the community while solving actual problems."
The new lab at the high school, she said, continues that effort, with the physical spaces at two schools allowing for what she called "one of the best resources" for STEM education as students move through the system.
Funded with $1 million annually from the 49ers Foundation, the institute — a partnership between the 49ers Foundation and the Silicon Valley Education Foundation — debuted by accepting the applications of 60 seventh-grade students and has grown by adding a new cohort of 60 seventh-graders every year.
Three program directors and a team of Santa Clara High School teachers help the institute's students dive deeper into STEM studies in their classes at school. The kids also meet once a week after school, two Saturdays a month and for three weeks during the summer to compete in challenges and participate in workshops that aren't part of the in-school curriculum.
Local universities have taken notice of the institute, with the University of California, Berkeley, inquiring about inviting 49ers STEM Leadership Institute students to its summer tech bridge program. That marks quite a change for the Santa Clara schools, where only 2 percent of high school graduates qualify for top-tier STEM colleges because the district has lacked the resources to offer advanced math and science classes.
(The 74: New Report Makes a Case: Build Your STEM Program Around Diversity and the Students Will Come)
The York family, which owns the 49ers, was well aware of this problem. "When we were breaking ground on Levi's Stadium, the York family and the senior executive team had a vision to create a lasting community impact on an actual need in our community," Pasternack said. STEM was a definite area of interest.
So when the National Football League stadium opened in 2014, it featured a museum and a learning space with its own STEM program using football as the hook, paid for by the 49ers Foundation. Some 60,000 grade-school students a year visit the stadium's classrooms and labs, getting lessons in sports and science and bringing back workbooks that help their teachers continue their STEM learning.
The 49ers have extended that program online as well, making them the first professional sports team to include content in the free, online-based education nonprofit Khan Academy content catalogue.
"Our vision is really to create something exciting, dynamic and well-known right here in Santa Clara, but then to invite all who are interested to come and learn from it," Pasternack said. "We are not looking to create 15 STEM institutes or build more museums, but we have a wide-open door and are so excited for people to come and learn from us."
Already, the 49ers have started working with the Los Angeles Rams on possibly creating a similar STEM program in L.A., and a number of other professional sports teams have begun looking at the STEM model as well.
"I want there to be a world where it is cool to be super smart and academically driven," Pasternack said. "I look at the kids and see excitement and enthusiasm, and it is astounding that we are able to help create that path for these kids."
Support The 74's year-end campaign. Make a tax-exempt donation now.