Super Bowl Surprise: Inside the Stadium That Will Host the Big Game, a First-Of-Its-Kind STEM Curriculum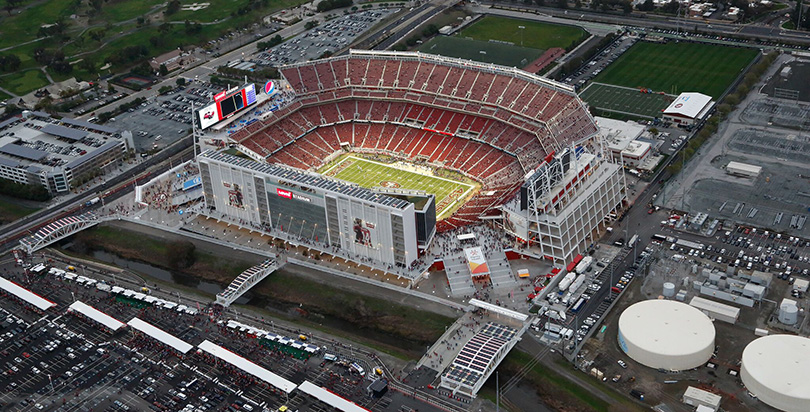 T
he physics of a perfectly thrown NFL spiral. The sustainable engineering of an NFL stadium. The science, technology, engineering and math (STEM) learning opportunities inside San Francisco's new Levi's Stadium, home of
Super Bowl 50
this weekend, are beyond ripe.
And the 49ers have picked the fruit at the tune of 60,000 local students a year going through a first-of-its-kind STEM program in professional sports.
"There is no other education program assoociated with a pro team constructed and executed like ours," says Jesse Lovejoy, 49ers museum director and director of its education program. "For an organization to commit the resources necessary, staffing necessary and overall philosophy to serve 60,000 kids in our building this year to teach the intersection of STEM and Levi's Stadium, there is nothing like that in the United States."
All of which means when the
Carolina Panthers
and
Denver Broncos
take the field Sunday afternoon, they will be playing in the first professional sports stadium with a dedicated classroom.
(Want more inspiring news like this, about education leaders and programs? Sign up for our newsletter — email info@the74million.org)
Levi's Stadium opened for the 49ers in Santa Clara in 2014, a new style of NFL stadium focused on sustainable construction. The York family, which owns the team, took the power of STEM learning intrinsic in the building and merged it with the allure of STEM learning culled from the game of football to create a meaningful STEM program in the new venue.
The 20,000-square-foot 49ers museum — composed of 11 galleries, 27 statues, a 100-seat theater and a learning space — marks an important piece of the stadium's STEM area, which is housed in an adjoining space complete with more interactive galleries and dedicated learning spaces. The STEM program consists of a Levi's Stadium tour, a tour of the museum and a 60- to 90-minute STEM project lesson, as well as a 60-minute movement lab where students go through non-contact football drills on the field's apron.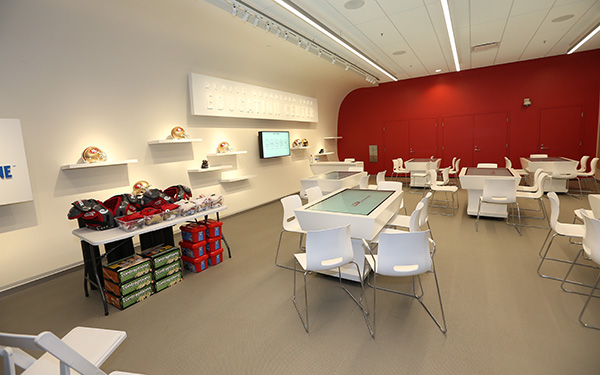 "We understand that our mission is to create relevancy around the concept of STEM," Lovejoy said. "We take concepts kids may look at as not interesting or they can't tackle — no pun intended — and try to help them understand engineering, environmental sustainability, physics, nutritional science and apply these things to things they do every day. They live and breathe in the game of football and this building. STEM is more than just an idea: it is real. I can see it. I can touch it. And it might be a little bit cooler than I thought it was."
Lovejoy says when the NFL's recent "Deflategate" controversy erupted last season, where the Patriots were charged with manipulating the air pressure of footballs, he was able to teach students about gas law and air as weight. To discuss force — not always a high-energy concept — real-life examples of a football flying on the field can open up the concept.
The program, geared toward fourth, fifth and sixth graders — about 45 percent of students going through the program fit in that age range, though slight revisions to the curriculum can quickly accommodate kids from kindergarten through eighth grade — is fully paid for, including transportation, by the York family. And that includes the high-tech classrooms.
"Our learning spaces, where kids sit down and do lessons, those are technology forward," Lovejoy said. "I would call them a classroom of the future. Kids sit down and they are presented with a number of different ways they can take in the material and leverage technology to do that."
Lovejoy says the beauty of the classroom space is that this STEM concept was embedded in the stadium from design, allowing the 49ers to build the classrooms to suit the program curriculum instead of the other way around.
This modern stadium serves as much a role in the STEM curriculum as the football played on the field.
"We use the stadium as a teaching tool as much as we do the football and we try to cross-pollinate as much as we can," Lovejoy said. "We try to demonstrate the massiveness and break it down into compartments. We help them understand how we capture solar power and use it, how we reclaim water and use it on the grass. We take this incredible teaching tool and put it to use, but also understand the most appealing thing we have to sell the kids is the game of football and the guys that play."
That appeal is taking a broader form during Super Bowl week. The NFL has set up Super Bowl City in downtown San Francisco leading up to the big game, and NFL sponsor Chevron has brought in the 49ers STEM staff to set up a movable STEM activation space within the temporary downtown location. This 50-foot-by-50-foot location will open up the 49ers' STEM curriculum to an entirely new audience.
As the 49ers have pushed the envelope in creating meaningful STEM education around both sports and stadium engineering, others have taken notice. Lovejoy says other NFL organizations have reached out to learn the value of a STEM space marrying the concept of football and a new stadium. With new NFL venues going up in Minneapolis and Atlanta — and now in Los Angeles — he says "stay tuned" on seeing the 49ers' model expanding in the NFL.
"The 49ers and the York family are very interested in getting other NFL, sports or informal institutions to look at creating content and curriculum around STEM because of how much we believe in that," Lovejoy says. "We are going to be in those conversations whenever we can."
Already, using football and architecture as the backdrop, the 49ers have started 60,000 meaningful STEM conversations. Expect the power of football to keep those conversations flying.
---
Tim Newcomb is a sports, education and pop culture writer based out of Washington State. He is the author of the book "STEM In Sports: Engineering," published by Mason Crest and a father to three girls.
Get stories like these delivered straight to your inbox. Sign up for The 74 Newsletter