Essay: We Opened Up Mental Health Services to All Our Students, Families and Teachers During the Pandemic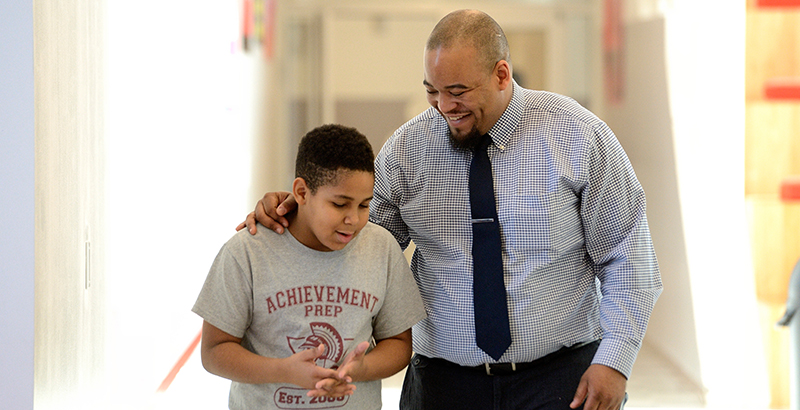 The COVID-19 outbreak forced schools across the country and around the world to suddenly shift in-person lessons and testing to remote learning channels with very little notice. With some U.S. schools, including ours, choosing to remain closed for the remainder of the 2019-20 school year, educators are working hard to keep scholars engaged and provide quality education under extremely challenging circumstances.
As we planned for distance learning, supporting families and making remote classrooms as easy as possible for parents was our main priority. We realize that parents are the first teachers of their children, but they are not curriculum experts. We made sure our educators had parents in mind and were thinking about the restrictions and challenges presented by remote learning as they developed their lessons for this new teaching environment.
Our elementary and middle schools share a single campus in Southeast Washington, D.C., a part of the city where poverty and racism are a fact of life for many of our scholars and their families in the best of times. Those issues are magnified when scholars are trying to learn from home but might not have internet access or a computer. Often there are multiple children trying to share the same resources and single parents who are doing shift work and may not be able to help with homework. Parents may also have lost their job or they may be employed at grocery stores or restaurants where they run a higher risk of being exposed to the coronavirus. 
That is why we saw it as our duty to help, not only with educational support but also with emotional support and general assistance. For example, we provide families with wellness packages that include things like face masks, laundry detergent, toilet paper, deodorant, toothpaste and soap. We even include word-search and crossword puzzle books for the parents as a means to "get away," if only for a minute. In addition, we have given families grocery gift cards and made sure they had the phone numbers of every leader in our building, including mine, in case they needed to reach out.
Members of our leadership team are having one-on-one phone conversations to help families that may be struggling. We are helping to connect families with resources so that they know where to go for food, city services, housing and other needs. This is in addition to the regular check-ins teachers are doing with scholars and families and the "Zoom room" office hours all of our teachers are keeping.
We have also extended counseling services through one of our partners, the AprilMay Company, Inc., an organization that works with D.C.'s Department of Behavioral Health to provide social-emotional and mental health care to schools and communities. During this remote learning period, we have expanded those services, and access to them, so that scholars' families can also take advantage of the support they provide.
In the past, scholars typically needed to be classified as "Tier 3" to be eligible for counseling, which required a specific mental health diagnosis. We have opened access to counseling so that it is available to any scholar, teacher or family member, while also continuing to provide specialized, individual and small group therapy for scholars already using the program's services, all through telehealth channels.
Through AprilMay, we are offering grief and trauma counseling, anxiety management assistance, family therapy and help on how to access community resources such as food banks and financial help.
We have several families that have already started to participate in the services, including one that needed support because its sole caregiver had a medical emergency. Our middle school scholars are using AprilMay's telehealth channel to stay connected to their peers and increase their creativity. Through that channel, they are sharing their favorite items around their homes or showing friends how they spend their time during the quarantine. 
Parents play a key role in the process. They make sure our scholars participate in scheduled sessions and communicate with clinicians regularly so that everyone can work together to monitor the scholars' progress and make any necessary adjustments, as well as communicate needs other family members might have.
Counselors have also been inspired to develop new activities for homebound scholars. One scholar's mother, for example, had asked a counselor for ideas to create ways for her son to exercise more, since he cannot go outside. The counselor helped the scholar create an indoor obstacle course using only certain materials. Feeling motivated, he started to record his time to finish the course and persuaded his brother to compete with him.
Teachers are also benefiting from the expanded services of AprilMay. They have received training on how best to work with scholars who have post-traumatic stress disorder, learned how to set up trauma-informed classrooms and have access to personal counseling sessions to help them with their own mental health.
During the coronavirus pandemic, we have had to invent new ways to keep our educational promise to our scholars while providing added support for our families under stress. I'm proud to say it's a responsibility our teachers and administrative staff have accepted with courage and compassion. We know other schools are doing the same.
Shantelle D. Wright is founder and CEO of Achievement Preparatory Academy in Washington, D.C.
Get stories like these delivered straight to your inbox. Sign up for The 74 Newsletter