Education and the Off-Year Election: 5 Big Storylines and 17 Key Contests That Could Affect Students & Schools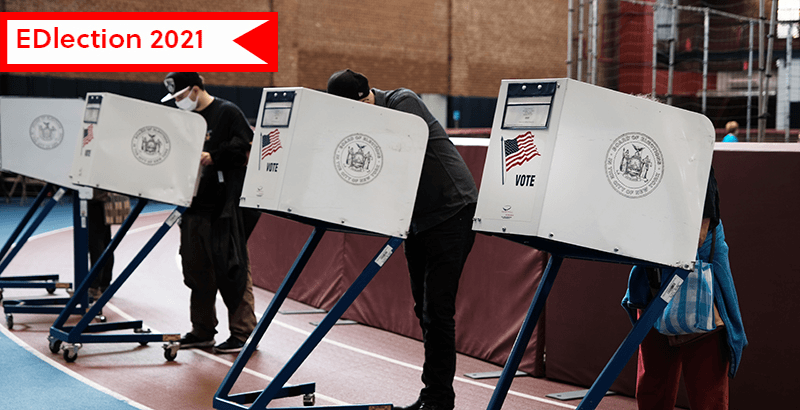 Get stories like these delivered straight to your inbox. Sign up for The 74 Newsletter
From New York City to northern Kansas, The 74 has been tracking a handful of noteworthy candidates and storylines through this off-year election cycle — some key votes with ramifications for America's largest school districts and others sure to become national bellwethers for how education will be used in state and federal campaigns during the 2022 midterms.
Over the past month, we've published a special series of off-year EDlection previews, spotlighting the names and votes to watch this week. As we prepare for the polls to open, here's a quick recap of what our newsroom will be watching on Election Day — and of course subscribe to The 74's newsletter to learn more about the victors: 
1 Governor of Virginia
Two of the top-tier elections being contested on Tuesday are the governor's races in both New Jersey and Virginia. Incumbent Gov. Phil Murphy looks like the surefire winner in the Garden State, where he's benefitted from the stout support of the powerhouse local teacher's union. In Virginia, however, things look much closer. Former Gov. Terry McAuliffe looked like the favorite after cruising to a Democratic primary win in June, but businessman and first-time candidate Glenn Youngkin has narrowed the race considerably with a combination of lavish spending and a nonstop focus on schools. Pledging to ban the teaching of critical race theory, the Republican has successfully tapped into public anger with school boards even in blue-trending counties in the northern part of the state. If he succeeds in turning the Democrats out of the governor's mansion for the first time in eight years, Youngkin will have shown the national GOP how to ride K-12 politics to a midterm triumph.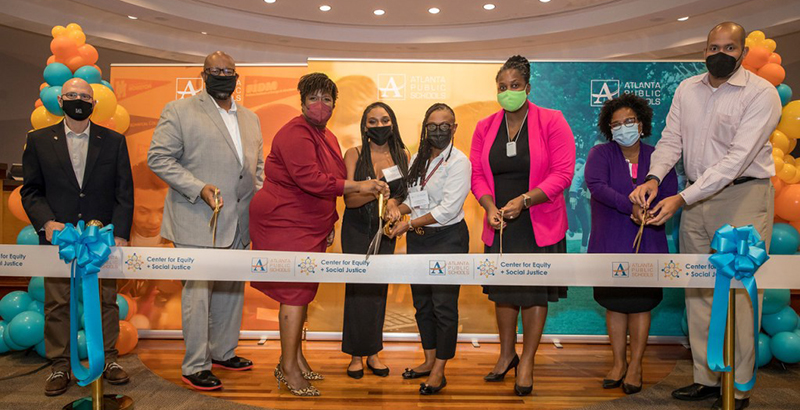 2 Atlanta School Board
Atlanta voters will choose from 22 candidates for all nine school board seats Tuesday in a race that some say will determine the future of education for Black and Hispanic students in the city's school district. Pre-pandemic test scores showed that only about a third of Hispanic and a quarter of Black students scored proficient or higher in math and English language arts, compared with over 80 percent of white students. "This election is where we start to say no more," said Ricardo Miguel Martinez, president of Latino Association for Parents of Public Schools. The election takes place as the city draws in more white, affluent residents and many Black and Hispanic families are fleeing the city for more affordable housing in the suburbs. Candidates for the board represent a wide cross section of the city, from those who prioritize the most marginalized students to others well-connected to the city's power structure. With voters also choosing the mayor and city council Nov. 2 — elections in which crime and housing have dominated campaigns — school board Chair Jason Esteves says the city is at a "pivot point." "The issues we have with poverty are manifested in the things we're seeing related to crime," he said. "How we tackle those issues directly impacts the school system." (Linda Jacobson published an extensive profile of the race and its implications in October; read the full preview)
3 Mayor of New York City 
New York City voters will decide their next mayor Tuesday in a contest where Democrat Eric Adams is heavily favored over Republican Curtis Sliwa. The pandemic's ongoing disruptions have placed K-12 education issues front and center in the race. Three leading ones are the fate of the city's gift and talented program, student vaccine mandates and disenrollment. Outgoing Mayor Bill de Blasio recently announced plans to phase out the gifted and talented program, which has long been criticized for deepening segregation in the nation's largest school system, but is highly prized by many parents. The question will almost certainly fall to Adams, who shares de Blasio's dislike for testing 4-year-olds, but has said he will keep the program without specifying in what form while also highlighting the needs of  students with learning disabilities. The city is grappling with a loss of students that totaled 4 percent last year as families fled classrooms during COVID. This year, NYC Department of Education officials say the city suffered only a 1 percent enrollment drop compared to the previous fall, but some school leaders have raised alarms over disastrously low attendance, despite a reported citywide rate just under 90 percent. Also looming are student vaccines with shots for children ages 5 to 11 authorized Friday by the Food and Drug Administration and now awaiting go-ahead from the Centers for Disease Control and Prevention. De Blasio announced last week he had already ordered 231,000 doses for that age group, but does not favor mandating shots for students. Sliwa adamantly opposes any mandate while Adams supports an immunization requirement and is mulling remote learning for those who resist vaccination, an option the city currently does not offer. (The 74 published two essays about the race leading up to Election Day, one about the need for city students to have a clearer path to college and career success, and the other about the urgent need for the next mayor to re-engage the families of students of color, English learners and students with disabilities hit hardest by the pandemic)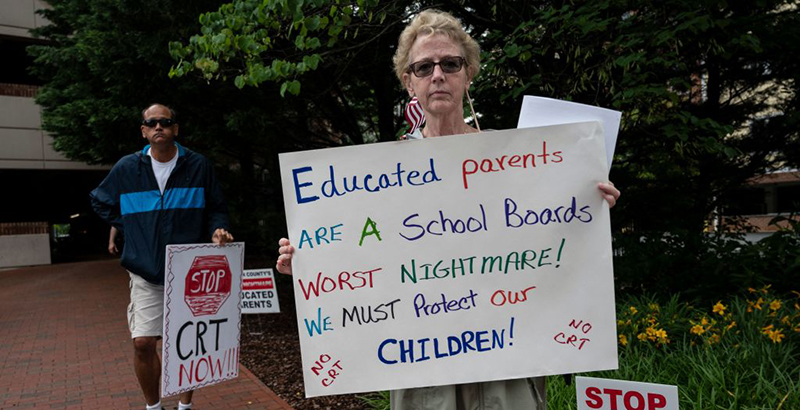 4 School Board Member Recalls
Two Midwestern races will put a spotlight on one of the most unusual electoral trends this year: an explosion in the number of recall attempts against school board members. Typically employed to settle small-bore controversies at the municipal or county level — think unpopular tax levies or school mergers — efforts to recall board members have more than tripled so far this year. Amy Sudbeck, a board member in the tiny Nemaha Central USD in northern Kansas, is facing a recall for voting in favor of continuing a school mask mandate this spring. Meanwhile, parents in suburban Milwaukee are trying to unseat four board members of the Mequon-Thiensville School District over a variety of transgressions, including COVID mitigation measures and payments made to a diversity consultant. The effort has received significant support from local conservative donors and nonprofits, with one national group holding the effort up as an example to activists around the country. (Kevin Mahnken published an in-depth look at school board recalls across the country; read the full feature, and scan our searchable database, right here.)
5 Police and School Cops in Minneapolis
After a Minneapolis cop murdered George Floyd, the city's school district cut ties with the police department and replaced sworn officers with "public safety support specialists" designed to promote positive campus climates, but lack the authority to make arrests. A similar strategy could soon go citywide. If voters approve Ballot Question 2, the Minneapolis Police Department would be replaced by a Department of Public Safety that will center community security around public health. Though sworn officers would likely be included in the approach, the question would amend the city charter to scrap a minimum staffing level and many questions about how the new agency would function remain unresolved. A recent poll of likely voters suggests a close contest. (Mark Keierleber recently published an investigation of the city's school resource officers, revealing several instances where school cops had histories of discipline or civil rights complaints)
—With reporting by Linda Jacobson, Mark Keierleber, Asher Lehrer-Small and Kevin Mahnken 
Get stories like these delivered straight to your inbox. Sign up for The 74 Newsletter